At a Glance
Expert's Rating
Pros
Hardcore fans will appreciate the use of Tom Chantrell's iconic poster art
Works as a decorative item for your Star Wars fan cave
Cons
Build quality and component quality are mediocre
Sound quality is inferior
Heavy tone arm increases risk of record damage
Our Verdict
The Star Wars Cruiser may satisfy fans aesthetically, but actual record enthusiasts should steer clear. This turntable's tiny, tinny speakers can't handle the rich sound vinyl produces, and the poor build and heavy tracking may actually damage your records over time.
Crosley's Star Wars Cruiser portable turntable is ostensibly an easy-to-operate record player for vinyl newbs who also happen to have a Star Wars-geek streak. As a first-gen Star Wars fan who started collecting records the same year that movie came out, I found the idea as seductive as the dark side of the Force. Unfortunately, real-world usage revealed this Cruiser (available on Amazon) to be more of a space-opera showpiece than a legitimate turntable. Check out our Star Wars Gift Guide for other products we tried and liked a lot better.
Design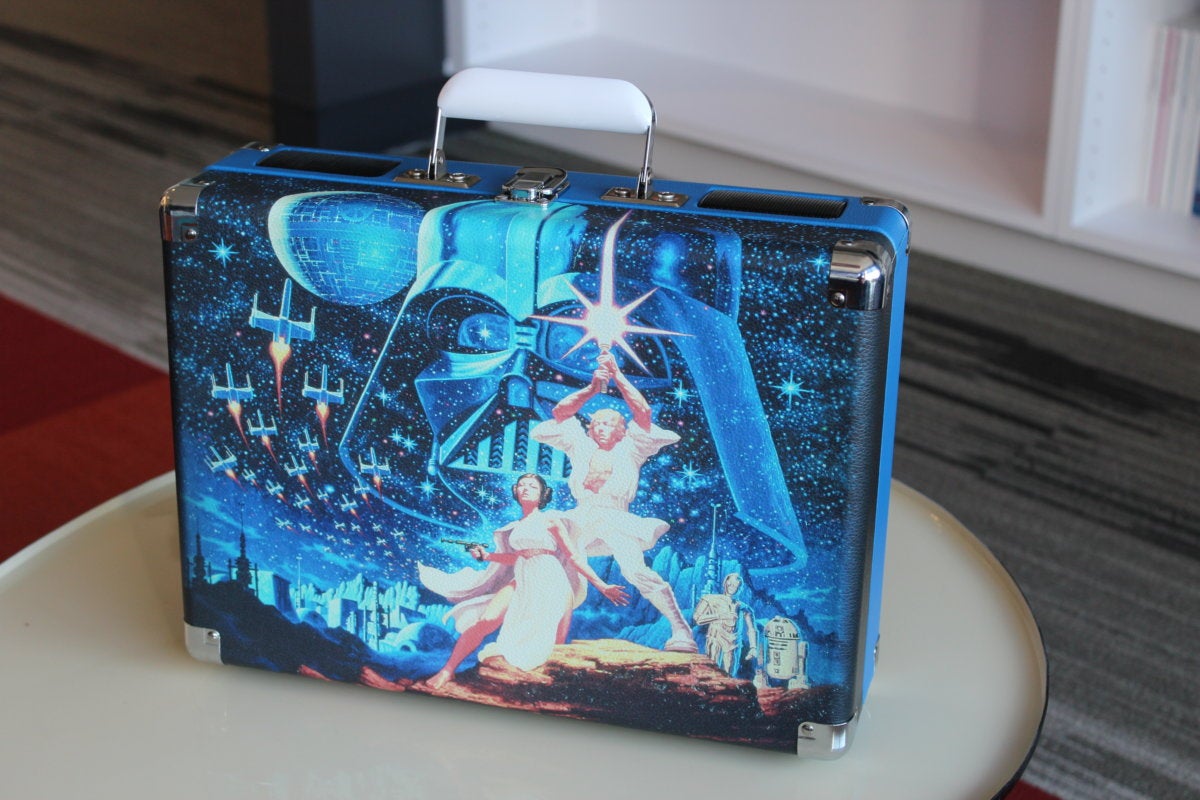 This isn't Crosley's first stab at appealing to vinyl-record-loving Star Wars fans. For Record Store Day 2017, the company issued a special edition turntable (CR8005D-SW, available on Amazon) skinned with Tim and Greg Hildebrandt's original 1977 poster art for "Star Wars: A New Hope." The version we've reviewed uses illustrator Tom Chantrell's iconic art—known to hardcore Star Wars fans as the first to use the actors' likenesses rather than the generic fantasy characters of the Hildebrandt brother's poster—printed on its midnight-blue leatherette finish.
Slightly different spin on Star Wars
Star Wars 40th Anniversary Cruiser Deluxe CR8005D-SW
Price When Reviewed:
$78.65
But under the lid, this is the same Crosley Cruiser Deluxe you'll find among the hipster housewares at Urban Outfitters or big-box retailers like Target. All the record-playing essentials are here: a belt-driven turntable, tonearm, cartridge, and speed selector for 33 1/3, 45, and 78 rpm records. There's also a power/volume knob, a switch for turning Bluetooth on and off, a pitch control, and a headphone jack.
As the Cruiser Deluxe was built for portability, two six-inch speakers have been built into the front of the case on either side of the carrying handle. However, on the backside is a pair of RCA jacks should you want to connect an external speaker. A 3.5mm input for plugging in your phone or MP3 player is adjacent to these. The suitcase-style enclosure secures with a simple chest latch.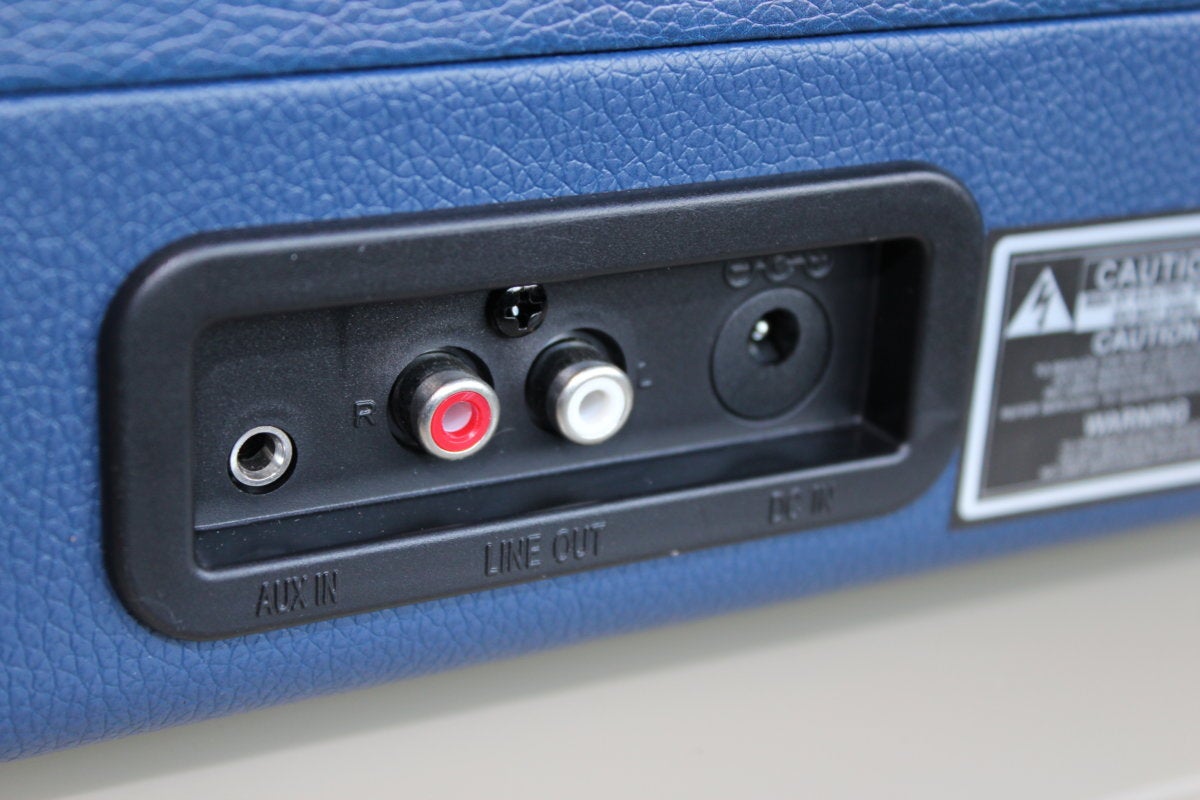 Setup and usage
The Cruiser Deluxe runs on AC power, so all you need to do is plug it in and switch it on. Crosley includes a rubber slip mat you need to place on the 7-inch platter, and you're ready to start spinning records.
Once you unlatch the tone arm from its cradle, though, it's pretty evident the build and component quality are mediocre. The second time I unlatched the tone arm, the latch itself came right off in my hand. I was able to reattach it, but there's no getting around the fact it's made of thin plastic that likely won't hold up to repeated use. The tone arm also has more play than anyone who cares about their records should be comfortable with. One slip of the hand could send it careening across—and scratching—your vinyl.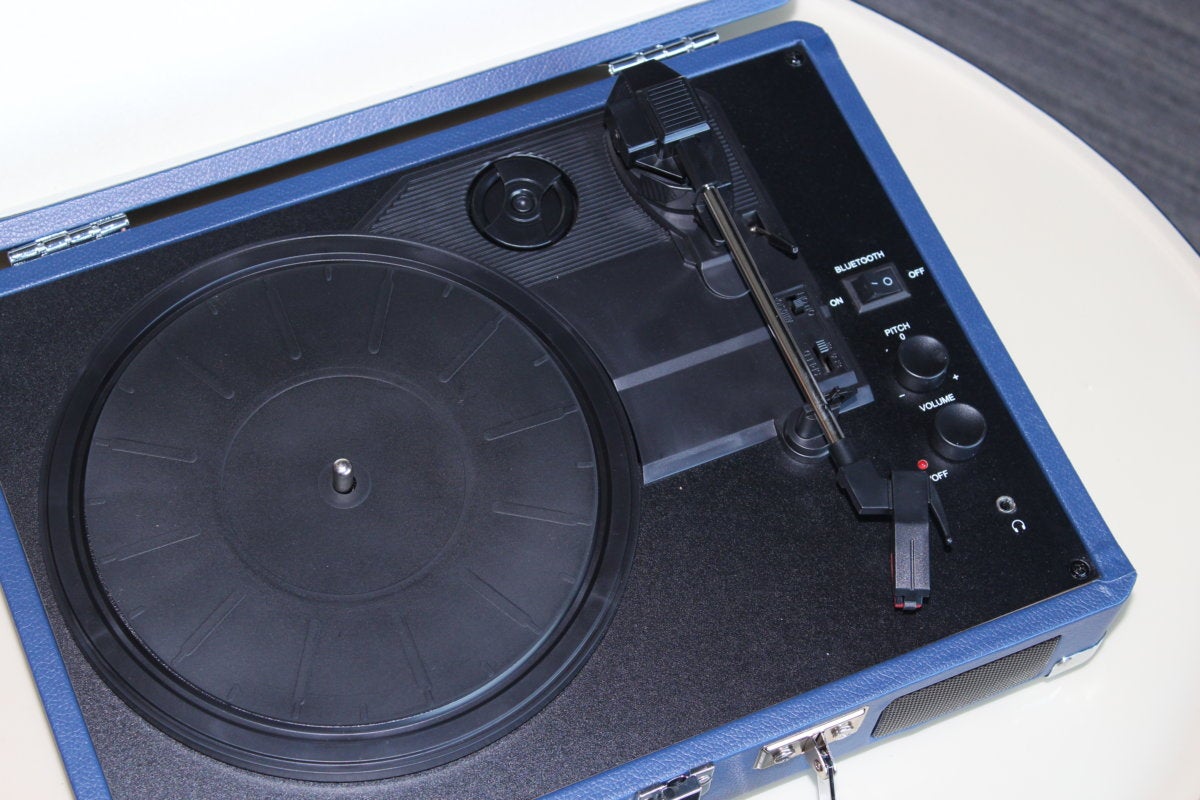 As soon as I put the diamond-tipped stylus on a record—even freshly cleaned ones—there was surface noise audible over the music. Crosley doesn't divulge the tracking force of its cartridges on its website, but from what I could glean from online audio forums, it could be as high as five grams or more. Better-quality cartridges typically track in the 1.5- to 2.5-gram range, so that may account for the noise. At the very least, such heavy tracking will shorten the life of both the needle and your records.
Most disappointing, though, was the sound. Everything I played on it— rock, jazz, classical, hip-hop —sounded tinny and shrill through the built-in speakers. Spinning Talking Heads' "Speaking in Tongues" LP, Tina Weymouth's deep, funky basslines were imperceptible. Overall, the audio was even thinner and more lackluster than playing tunes through your smartphone speaker, which pretty much defeated the purpose of streaming music through the Cruiser Deluxe's Bluetooth connection. Crosley was right to include a pitch controller, though: The turntable had some wildly varying playback speeds, and I often had to adjust the pitch from record to record.
Should I buy the Star Wars Cruiser?
The Star Wars Cruiser may satisfy fans of George Lucas' space opera, but record enthusiasts should steer clear. Vinyl is prized for its much-mythologized rich, warm sound, which this turntable's tiny, tinny speakers are incapable of bringing out. Further, the poor build and heavy tracking may actually damage your records over time.
No one would expect audiophile quality from a $90 portable turntable, but the Star Wars Cruiser is little more than a child's toy. Even vinyl newbies would be better off putting their money toward an entry-level turntable with decent built quality and a properly weighted tone arm. Unless you're just looking for a Star Wars tchotchke to add to your collection, pass on this one. Your ears and your records will thank you.