The first Chrome OS tablet knows exactly what it wants to do: Take on the iPad. Acer's Chromebook Tab 10 D651N challenges Apple's long-popular tablet in the education market nearly feature for feature.
We'll dive deeper into the specs in a moment, but let's savor the historical weight first. Chrome fans have been waiting a long time for their own tablet. A small group of Chromebooks with 360-degree hinges have dabbled with the concept, but Acer's Chromebook Tab 10 D651N, which will ship in April, finally commits to the form factor. Now that Chrome devices support Android, tablets like this one make even more sense. We hope this is the beginning of a trend.
Acer Chromebook Tab 10 vs. the iPad
Here's how closely the Chromebook Tab 10 D651N faces down the entry-level iPad. As you can see, every spec is a battle, though the underdog Acer has the edge in a few places:
Price: The same
Tab 10 D651N: $329
iPad: $329
Dimensions and weight: The iPad wins.
Tab 10 D651N: 6.78 x 9.38 x 0.39 inches, 1.21 pounds
iPad: 32GB: 6.6 x 9.4 x 0.29 inches, 1.03 pounds
Display specs: The same
Tab 10 D651N: 9.7-inch, 2,048×1,536 LED, 264ppi
iPad: 9.7-inch, 2,048×1,536 LED, 264ppi
Processor: Totally different, too early to compare
Tab 10 D651N: OP1, a Rockchip processor integrating a dual-core Cortex A72 and quad-core Cortex A53. We wrote more about it here.
iPad: 64-bit A9 chip with M9 coprocessor
Memory: The Tab 10 wins.
Tab 10 D651N: 4GB
iPad: 2GB
Storage: The same
Tab 10 D651N: 32GB eMMC
iPad: 32GB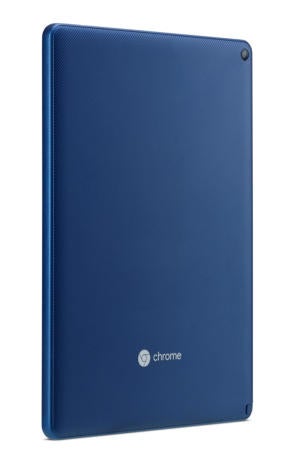 Camera: The Tab 10 has two, but the iPad's is higher-resolution.
Tab 10 D651N: Front 2MP, rear 5MP
iPad: Front 8MP
Pen support: The Tab 10 wins.
Tab 10 D651N: Wacom EMR stylus comes standard
iPad: No pen support.
Networking: iPad gets an edge with newer, faster, safer Bluetooth 4.2.
Tab 10 D651N: 802.11ac Wi-Fi + Bluetooth 4.1
iPad: 802.11ac Wi-Fi + Bluetooth 4.2
Ports: The Tab 10 D651N wins.
Tab 10 D651N: One USB 3.1 Gen 1 (5Gbps) Type-C, microSD
iPad: Nothing

Battery life: The iPad's looks longer, but your mileage may vary.
Tab 10 D651N: 34Whr, up to 9 hours
iPad: 32.4Whr, up to 10 hours
As you can see from the specs, these tablets are practically nose-to-nose on specs, with the few differences often too close to call. With the advent of Acer's tablet, Google finally has something small and simple, just like the iPad.
Why this matters: The lack of a Chrome tablet has allowed Apple's iPad to retain a competitive edge in schools. We won't know how well the Tab 10 D651N will be received until schools start to commit to hardware purchases for next year. A new iPad is also expected to be revealed at Apple's "Field Trip" educational event in Chicago tomorrow. Given how quickly Chromebooks have dominated in schools, however, bringing a tablet into the mix certainly doesn't hurt. We could be in for a great playground fight.