Lest desktop PC users think they were being neglected, on Tuesday Intel launched a number of 8th-gen Core desktop processors, plus four new desktop chipsets that mimic the always-listening "modern standby" experience of a smart speaker.
While the big announcement was Intel's powerful 6-core mobile Core i9 chip—and, to a lesser extent, the "Core i7+" and related brands that signal the presence of Optane within notebooks—Intel also announced three new "standard power" Core desktop chips, as well as six low-power T-series chips. All of the new Coffee Lake 8th-gen chips are priced at $213 or less, save one.
As the price suggests, they're all basic. Just one, the Intel Core i7-8700T, includes hyperthreading, making it the only 6-core, 12-thread part among the new offerings. All of the others include the same number of cores as threads, like the 6-core, 6-thread Core 3.1GHz i5-8600.
On paper, the four new chipsets look equally utilitarian, providing a thorough mixture of I/O for storage and graphics—including an integrated 2×2,160MHz 802.11ac connection that's theoretically faster than Gigabit ethernet. Their most important feature, Intel executives said, was something that won't necessarily show up on a spec sheet: a "modern standby" capability that essentially turns your PC into a smart speaker, able to wake up and respond quickly to a voiced command. Though notebook PCs offer this capability, it's a first for the desktop, Intel executives said.
Why this matters: While the new Core desktop chips certainly aren't as sexy as Intel's new mobile parts, they set the stage for PCs to make the argument that they're just as good as that cheap Alexa-powered Echo speaker you were considering for the office. In fact, that's on the horizon: Amazon's Alexa app is coming to the PC (and even integrating with Windows' Cortana) so there will be few places you can't order a crate of beef jerky at the drop of a hat.
New Coffee Lake desktop CPUs: Specs and features
Mentioned in this article
Intel Optane memory
Price When Reviewed:
$45.00
Intel officially announced these three standard-power (65W) and six low-power (35W) Coffee Lake processors on Tuesday. All support Intel's hard drive-enhancing Optane Memory. None are overclockable, and seem to be targeted at mainstream users. Intel already announced several Coffee Lake chips last September, which makes this recent disclosure the second chapter of sorts in the Coffee Lake story.
As it has been wont to do, Intel compared a Core i5+ 8400 system—note the "+," as it designates the presence of Optane memory—to a 5-year-old PC with a standard hard drive alone. The 8th-gen Core PC offers 2.5X better system responsiveness, 1.6X improvement in editing media, and 4.3X faster in loading game levels, it said.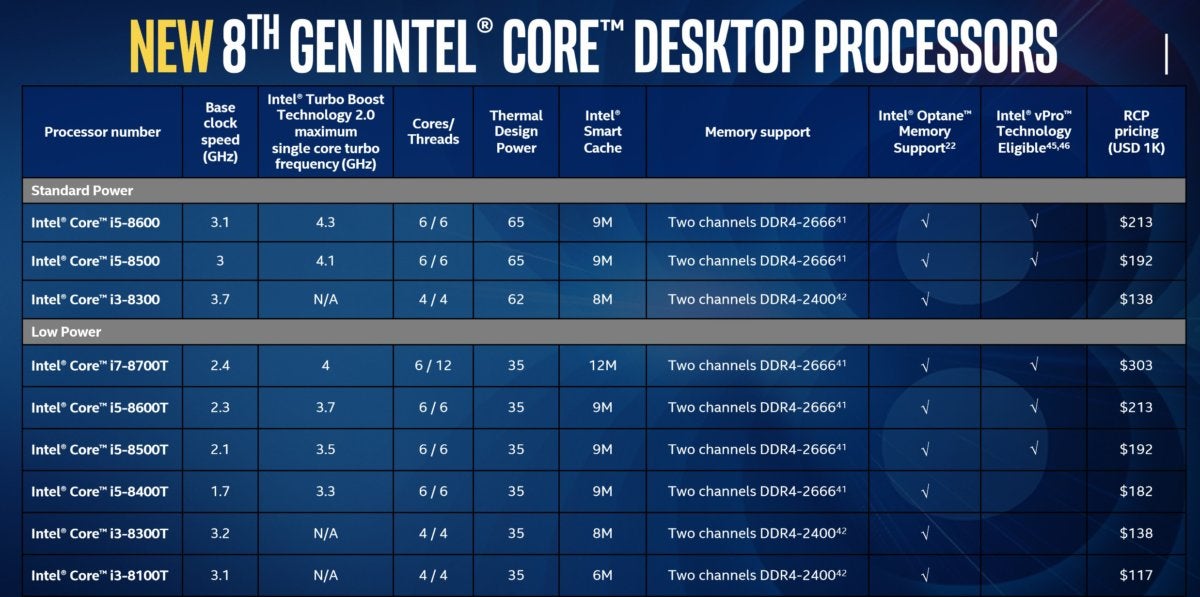 For reference, the slide below was part of the Sept. 2017 launch. As you can see, Tuesday's announcements (above) flesh out the cheaper, more mainstream portion of the desktop Coffee Lake lineup.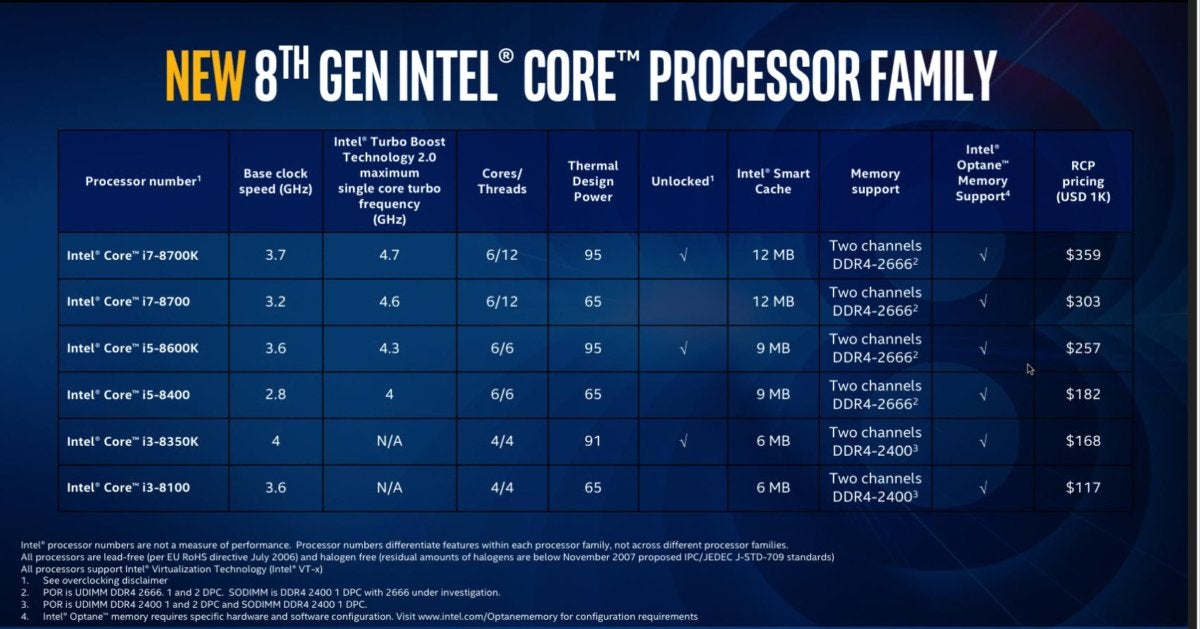 Consumers who didn't need the unlocked capabilities of the older Core i5-8600K, for example, might be willing to save a few bucks and buy the Core i5-8600 instead. Both top out at 4.3GHz after boost, but the i5-8600 runs at a more conservative 65W, albeit with a slower 3.1GHz base clock. On the other hand, the official price of the i5-8600 is also about $50 less.
Intel 8th-gen Core chipsets: H370, H310, Q370, B360
Intel executives originally promised that the single enthusiast-grade Z370 chipset that accompanied the original Coffee Lake would be fleshed out in early 2018, and that promise has been kept. Meet the four new chipsets: the Intel H370, Intel H310, Intel Q370, and Intel B360.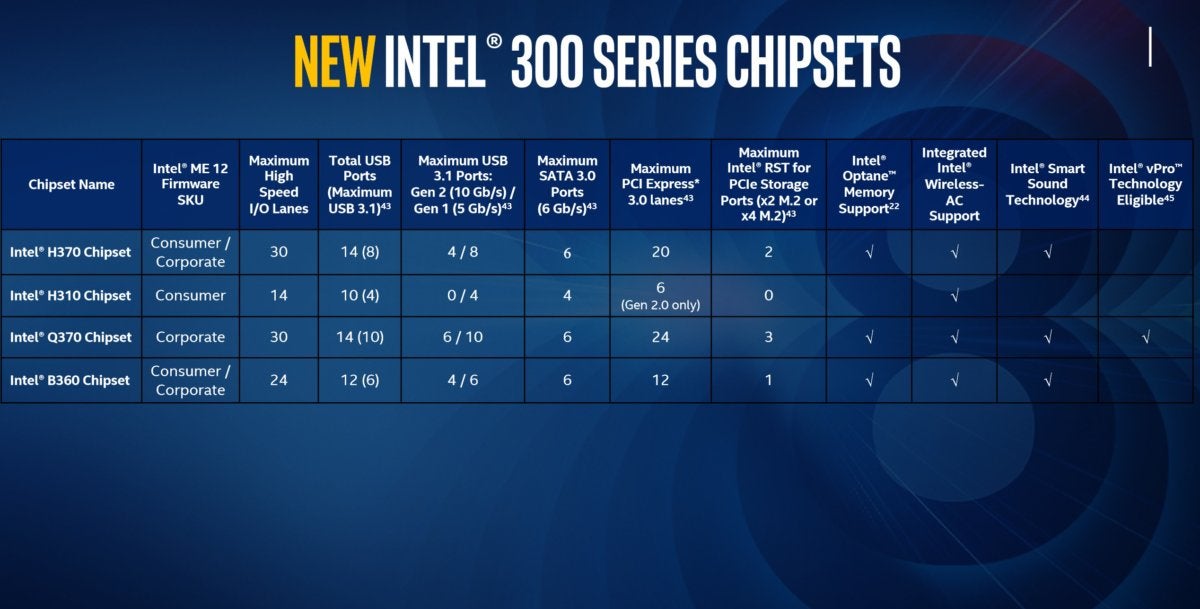 The Z370 remains Intel's flagship chipset, with 40 available PCI 3.0 lanes for storage, I/O, and graphics. Both the Intel H370, a consumer chipset, and the Q370, designed for corporate machines, offer slightly fewer capabilities.
All four of these new chipsets offer more than just what the spec sheets indicate. The modern-standby capabilities, for example, include wake-on-voice but also fast-resume capabilities that will bring the PC out of a deep sleep, quickly. Even during that sleep state the PC has the ability to connect to the internet and remain what Intel calls "data fresh."
Mentioned in this article
Asus RT AC87U Wireless AC2400 router
Price When Reviewed:
$199.99
Intel even integrated a portion of the Wi-Fi directly into the chipset, tapping into its small wireless business. Specifically, the 160MHz Wireless-AC 2.2 antenna runs up to twice as fast as standard 2×2 802.11AC Wi-Fi. But you'll also need to buy or own a router that takes advantage of these capabilities, and only a few (like the Asus RT-AC87U) are available.
Even still, Intel's new processors and chipsets help move the PC ahead. Intel views its new modern-standby and integrated Wi-Fi capabilities as future-proofing, even if you don't necessarily need to pay a lot to add these new features.