At a Glance
Expert's Rating
Pros
Very easy to use
Country list is good but not extensive
Cons
Middling speeds
App's simplicity sometimes works against it
Our Verdict
ZenGuard's ZenMate VPN is a solid choice for VPN novices that don't want a lot of fuss. Advanced users who prefer tweaking features and choices would do well to look elsewhere. ZenMate's speeds are not outstanding but are good enough in the locations that matter most.
Best Prices Today: ZenMate
ZenMate VPN in brief:
P2P allowed: Yes
Business location: Berlin, Germany
Number of servers: 300+
Number of country locations: 29
Cost: $60 per year
VPN protocol: IPSec + L2TP
Data encryption: 2048-bit PSK/ESP
Data authentication: AES 256/HMAC
Handshake encryption: IKEv2 sha256 with 4096-bit RSA
When you think of Zen you probably think of monks, meditation, and cryptic sayings meant to expand your understanding of the world. But the word also suggests a certain sparseness and simplicity. Germany-based ZenGuard took those latter notions to heart when it created its ZenMate VPN service.
ZenMate is by far one of the more simplified VPN services I've tested. Similar to SurfEasy it sits in the system tray and acts as a simple pop-up. There's no adjustable window, just a panel that cannot be moved.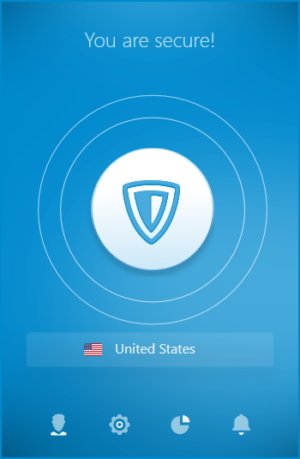 When I first saw this with SurfEasy I found it confining and a little frustrating to use. That's not the case here. The design is so simple and clean with lots of extra space that it doesn't feel as restricting.
There's really nothing to it. If you want to pick a specific country you click the bar with the connection, choose your country from the list, and you're off to the races. If you want to turn off the VPN, you click the shield in the center of the app.
Note: This review is part of our best VPNs roundup. Go there for details about competing products and how we tested them.
Features and services
That right there is the bulk of ZenMate. At the bottom of the panel are four icons that let you view your account, VPN settings, bandwidth statistics, and notifications.
That's all pretty straightforward, although ZenMate could've been a little more helpful to first-time users by indicating what each icon represents. An easy solution, without mucking up the design, would've been to show some pop-up text when you hover over each icon with your mouse.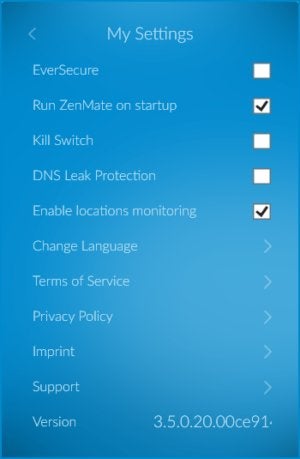 Looking under settings there's not a lot there. By default, ZenMate starts up at boot, and the VPN's EverSecure feature is active. EverSecure has different meanings on different devices, but on a PC it just means that it automatically connects to a VPN server when Windows boots up.
Beyond that there's also an option to enable a kill switch, which automatically cuts your internet connection when you lose your VPN connectivity. There's also a DNS Leak Protection feature, which some people may have to enable to make sure you're not leaking your true location. In my tests, I didn't need it on one PC, but I did on another.
ZenMate doesn't offer any built-in ad blocking as some VPNs do, but the company does offer a Chrome extension—ZenMate Web Firewall—that blocks trackers and ads.
ZenMate is available for Mac and Windows, as well as browser extensions for Chrome, Firefox, and Opera. There are also mobile apps for Android and iOS.
ZenMate costs $60 per year and payments are available via credit card or PayPal. There are no options for cash or pseudo-anonymous cryptocurrencies.
Performance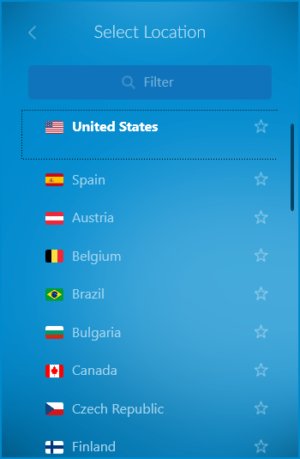 In my tests ZenMate's speeds were decidedly mediocre overall, failing to break 20 percent of the base speed. That's based on an average from five locations worldwide, which was hindered by poor showings in Australia and Japan.
The European, British, and American speeds were all acceptable around 20Mbps each. That's not amazing or fantastic, but good enough for most use cases.
Privacy, anonymity, and trust
ZenMate's business address is Ritterstr. 12-14 10969 Berlin, Germany. The managing directors are Simon Specka and Jörn Stampehl. All of this information is available on the company's imprint page on its website.
To sign up for ZenMate you need to provide an email address and a name. After you've registered, the company sends your login details via email so definitely don't offer a fake address.
ZenMate's privacy policy is both one of the clearest I've ever read as well as one of the least direct when it comes to certain promises. The bottom line, however, is that ZenMate does not log the websites you visit or maintain a long-term record of your true IP address.
Conclusion
ZenMate is a fine choice if you need a VPN that works well in Europe and North America. Power users, however, will probably want to look elsewhere. There just isn't a lot to offer advanced users, such as granular server selection or the ability to change VPN protocols.
For VPN novices, however, it's a reasonable choice thanks to its simplified interface—though sometimes that simplicity can be a little confusing as mentioned above.
Editor's note: Because online services are often iterative, gaining new features and performance improvements over time, this review is subject to change in order to accurately reflect the current state of the service. Any changes to text or our final review verdict will be noted at the top of this article.
Best Prices Today: ZenMate