At a Glance
Expert's Rating
Pros
Comfortable and incredibly lightweight, especially for a wireless headset
Dolby Atmos support is a neat novelty
Long-lasting battery
Cons
All-plastic construction feels fragile
Unintuitive and cumbersome sizing adjustment
Bass and treble both distort even at moderate volumes
Our Verdict
Incredibly lightweight and comfortable, the Plantronics RIG 800LX would be one of our favorite wireless headsets—if it weren't for a bass driver that's prone to heavy distortion.
A few years ago, $150 for a wireless headset was a bargain. Now it's a war zone. Seemingly every peripherals company has decided that's the target to hit, and the latest contestant is the Plantronics RIG 800LX. Plantronics brings along some extra ammo: full Dolby Atmos support (and free access too). That's intriguing, for sure.
But is it enough to make it stand out from some stacked competition? We went hands-on to find out.
[ Further reading: The best gaming headsets ]
Pop 'em off
The RIG 800LX takes getting used to. It's an odd-looking headset, especially in an era of peripherals that skew ever more minimalist. The RIG 800LX bucks the trend, with aggressive edges, multi-textured surfaces, prominent wiring and branding, and a bevy of controls on the rear.
It also has one of the strangest sizing systems I've ever seen. Most headsets (and headphones in general) feature a sliding headband for size adjustments, but the RIG 800LX instead opts for three predetermined holes on each side. If you need the headset smaller or larger, you pop off the earcups—completely—and then punch them back into the desired slots.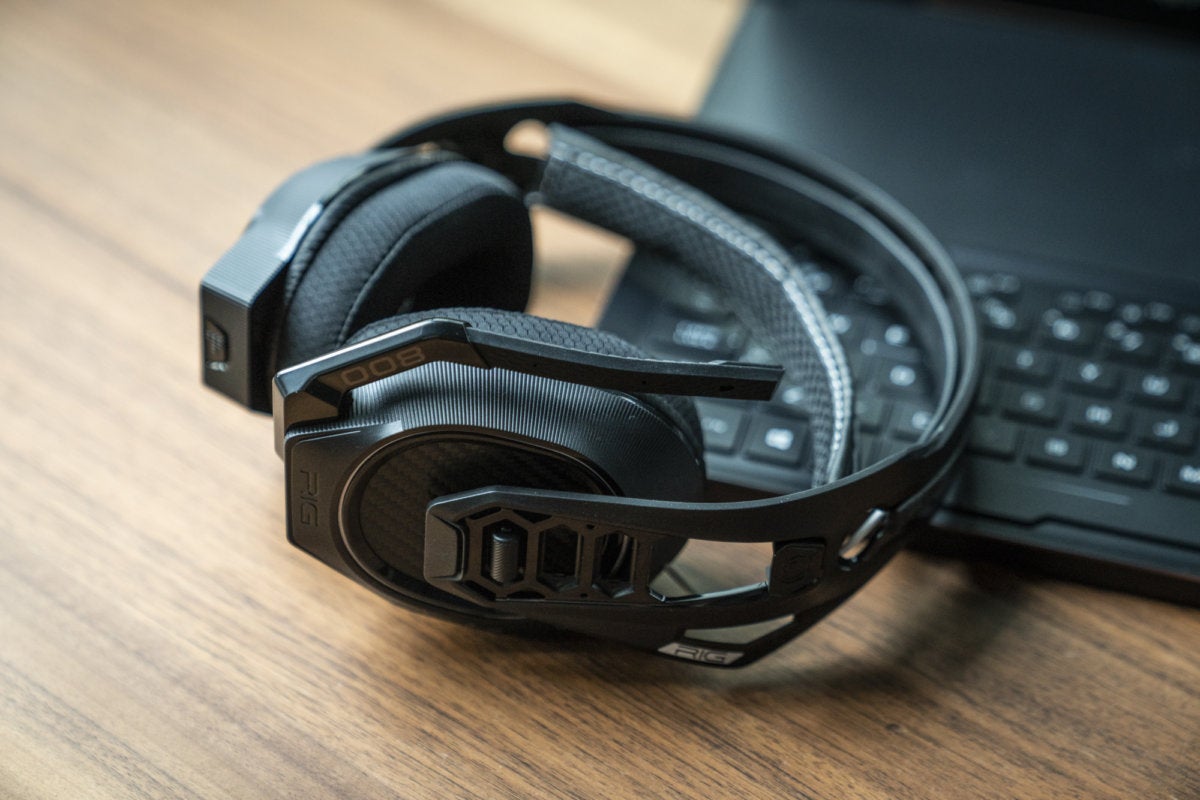 I wouldn't call it intuitive. More like terrifying, actually. When the earcups are detached from the band, the RIG 800LX is held together by one tiny and fragile-looking wire. That's it. I was all too aware of how easy it would be to pull too hard and accidentally break the whole contraption. It's also not very convenient if you plan to share with a friend/roommate/partner/child who has a different head size.
That said, it's comfortable. The RIG 800LX uses the floating headband design found in various other gaming headsets, including SteelSeries's Arctis line and HyperX's Cloud Revolver. This might be the most comfortable version I've ever tried though, owing mostly to the RIG 800LX's lightweight frame, cushy earcups, and adjustable size. It successfully balances comfort with security, tight enough that I never worried about it slipping off but also barely putting pressure on my head.
It's incredible, really—especially given this is a wireless headset. The RIG 800LX holds a battery and a wireless receiver, and still weighs in at around two-thirds of a pound. Or put another way, it's lighter weight than many of its wired brethren, including the aforementioned HyperX Cloud Revolver.
Mentioned in this article
SteelSeries Arctis 7
Price When Reviewed:
$149.99
Of course, there's a trade-off. Lightweight construction requires lightweight materials, and the RIG 800LX is almost 100 percent thin plastic. It's acceptably durable, and I spent some time flexing and twisting the headband to make sure it wouldn't simply snap in half. (I'm pleased to report it didn't.) But it doesn't feel "premium" like the Arctis 7's steel headband, or even the Logitech G533's more solid and weighty plastic. I wouldn't necessarily feel great throwing the RIG 800LX in a bag and traveling with it, for instance.
Rounding out the design, we've got a fold-down microphone with the usual flip-to-mute capabilities. It's not the most attractive, but has a decent amount of flex and is easily repositioned. There are also a handful of controls on each ear. The rear of the left earcup has a volume wheel, power slider/pairing control, MicroUSB charging port, and a game/chat mixer, while the bottom of the right ear has a quick EQ adjustment button. Both earcups are just large enough to make accessing these controls awkward, but they're easy to distinguish by touch and are otherwise inoffensive.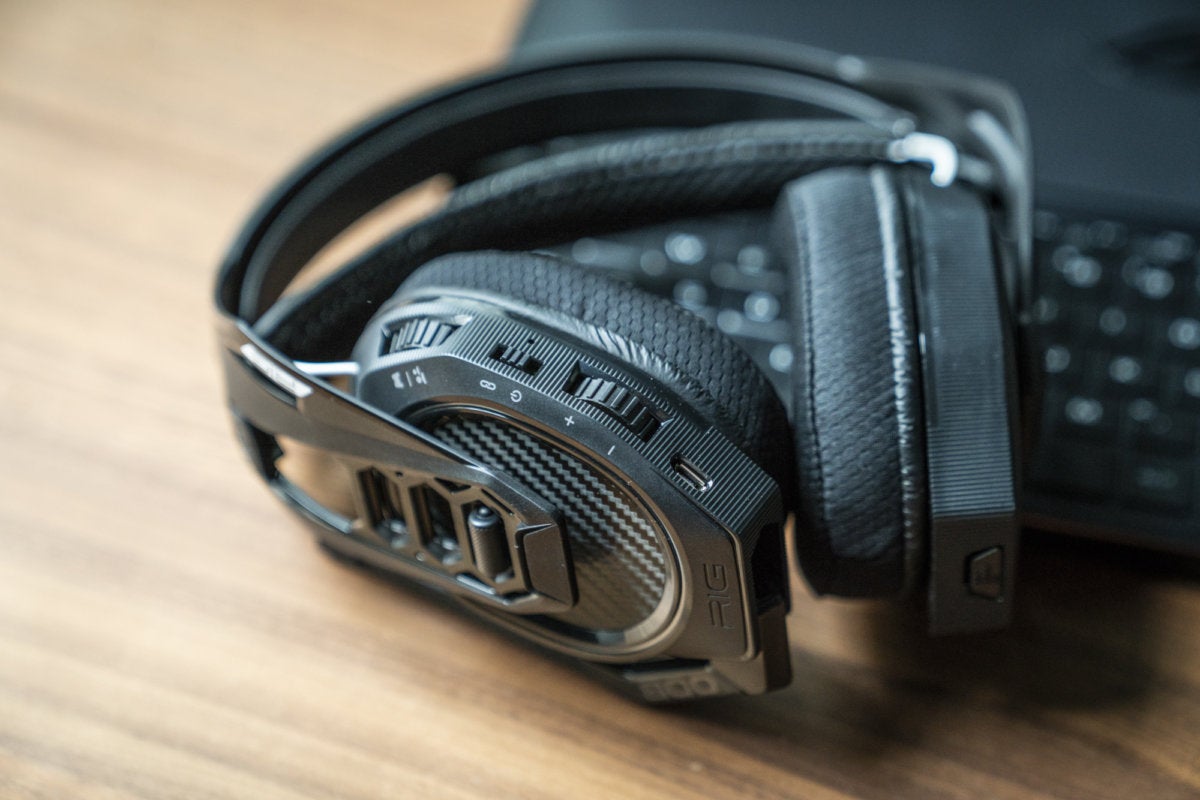 It's also worth mentioning the battery, which Plantronics claims tops out at 24 hours of use. It's hard to measure a period that lengthy, but I only needed to charge it every few days. It'll definitely last long enough to get you through even the longest day of gaming.
Peak bass
So far so good, right? Then let's dig into sound, because it's here that I find myself most torn on the Plantronics RIG 800LX.
My testing process usually involves putting a headset through its paces over days or even weeks at a time, and by its very nature entails running headsets through a wide range of audio. Lots of music, lots of games, and probably even some films and more casual viewing (i.e. YouTube).
Most headsets either survive the entire process, or they don't. Meaning: Good headsets usually sound good across music, games, and films, while the bad headsets usually sound universally bad. There's a sliding scale, with music the hardest to nail (lots of complexity) and games/films a bit easier, but still, headsets typically fall into one of the two camps.
The RIG 800LX is a conundrum because it doesn't follow those rules. I'd say probably 80 or 90 percent of what I threw at the Plantronics RIG 800LX, it handled well.
It's honestly a pretty great sounding headset, in most circumstances—simple music, basic day-to-day gaming. The mid-range, the core of any headset's sound, is near-perfect. That means voices, most instruments, and so on all sound excellent.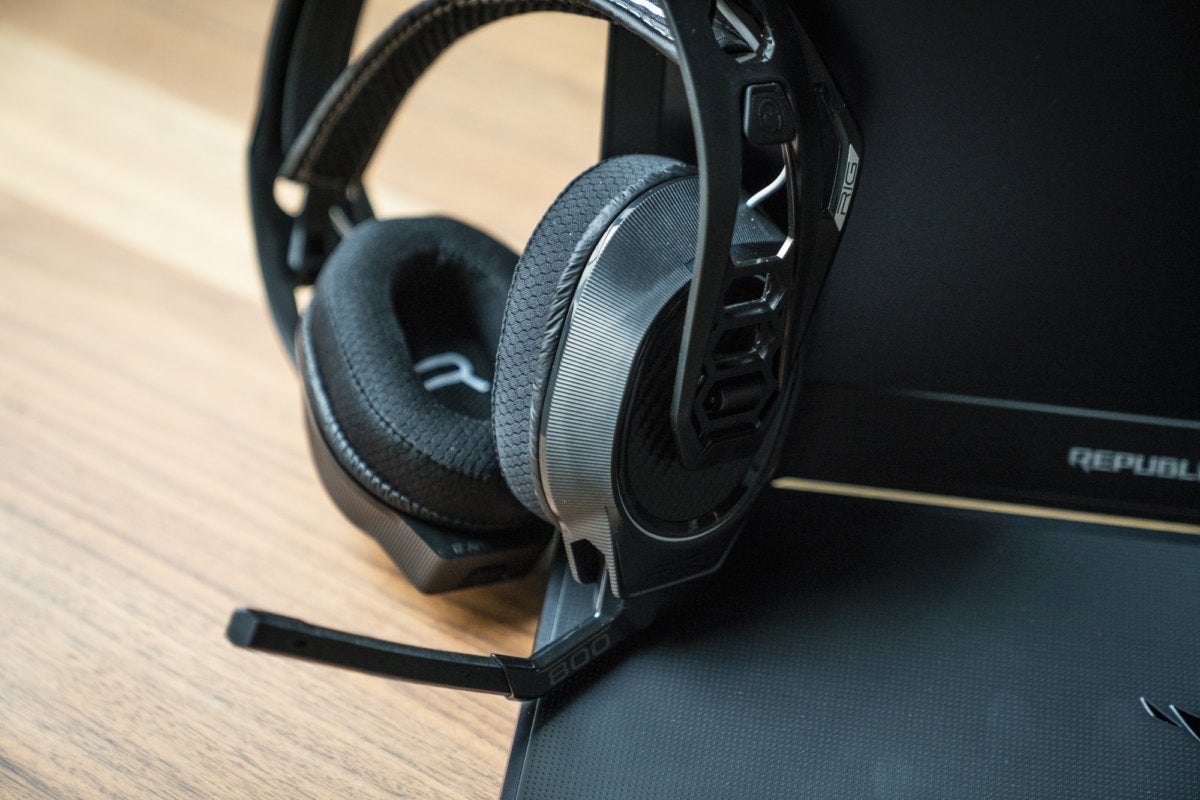 And even without Dolby Atmos enabled, the stereo presence is top-tier. Be it games or music, the RIG 800LX has that wide feeling that marks a good headset. Instruments separate out into their respective areas, gunshots and footsteps are placed correctly, et cetera. The list of games with Atmos support is scattershot so far (Overwatch, Assassin's Creed: Origins, a few others) but that effect is also impressive, or at least simulating the effect in a stereo headset. You get a bit of vertical awareness in addition to the usual surround sound—a shot going straight over your head, for instance. Cool stuff.
The RIG 800LX's bass presence is busted though, as is the top of the treble range. The drivers literally can't keep up. It's most noticeable with heavy chugging guitars—I first noticed it with Tiny Moving Parts' track "Feel Alive." The bass rattles and crackles a ton even at moderate volumes, and once you notice it there, you'll start to hear it in-game too. Explosions are particularly prone to the same distortion.
As I said, it happens on the other end too. Complex treble-heavy parts—say, the ending of "To Be Over" by Yes—also crackle and distort, like they're being played back through a cheap car radio.
Bottom line
Mentioned in this article
Logitech G533
Price When Reviewed:
$149.99
That breakdown in audio fidelity is frustrating, because in most respects the Plantronics RIG 800LX is an excellent headset. It's incredibly comfortable, lightweight, and durable, and most of the time it sounds good to boot.
[ Further reading: The best gaming headsets ]
The $150 price tier is a bloodbath these days though, and competition is fierce. Dolby Atmos support is a decent value-add, but it's not worth much if the underlying sound can't measure up—and with Logitech's G533 and SteelSeries's Arctis 7 right in the same ballpark, the RIG 800LX certainly doesn't measure up.
Hopefully the next go-round fixes the issue because the RIG 800LX is a headset I want to wear more. It's that comfortable. It just deserved better drivers than what it's got.