A few weeks ago Cyan surprise-announced Firmament with a short teaser and next-to-no details otherwise. We knew it was built for VR, knew it hewed closer to Myst's pseudo-steampunk trappings than Obduction did, and…that's it.
Lucky for me the Firmament demo was at GDC last week. Unlucky for me, there's not much more to say yet. The demo apparently represents a few months' work, and Cyan was mostly at GDC seeking funding to turn it into a full project. That means the previous teaser was less an "announcement" and more a "Let's pique your interest, hopefully." Keep your fingers crossed, in other words.
Most of what's built is what's been shown in screenshots already. I woke in stasis, encased in ice. Seconds later a machine came and chiseled me out, at which point I entered a dusty abandoned room with a dead body sprawled across a table. A robot floated over to me, and I heard the same lines about "forming a firmament" from the trailer.
Then I learned the basics of interacting with Firmament's world. The floating robot is actually a key of sorts, in that you use it to power switches. It goes wherever you point, and raising your hand summons it back to you. Most of the puzzles in the demo revolved around these two actions. "Oh, the power is out on this side of the bridge? I can send it to the conduit on the other side, and then the bridge will lower." That kind of stuff.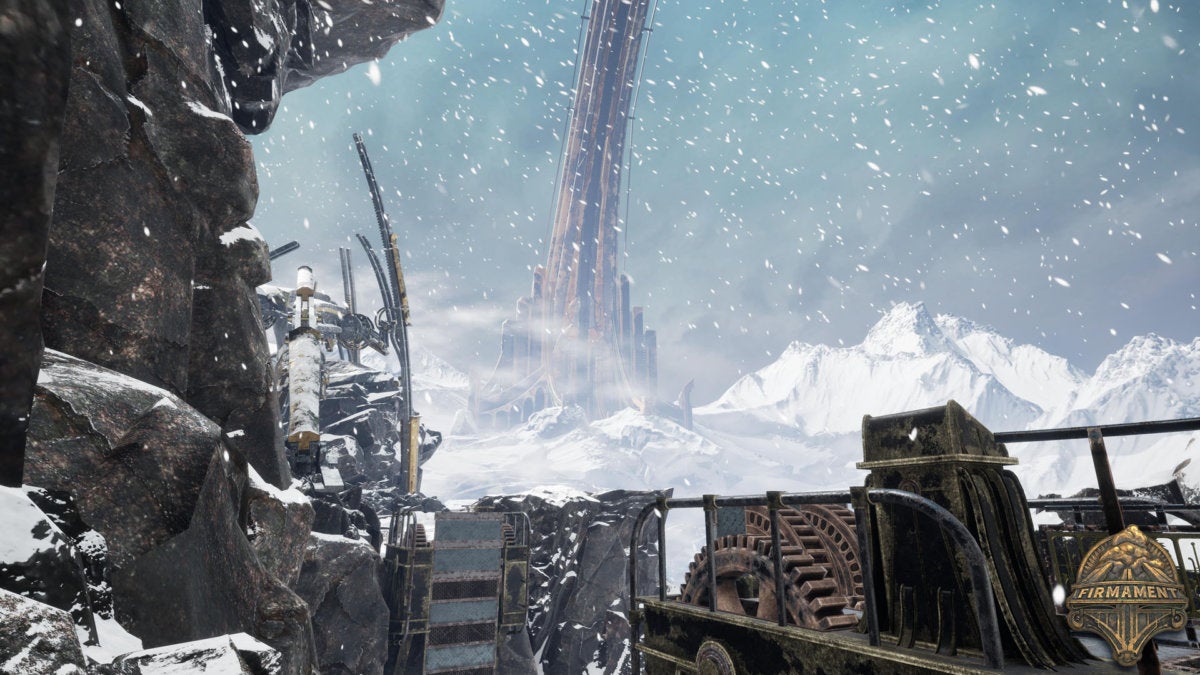 The final puzzle was a bit more complicated, requiring the player to send the robot to a series of conduits in a set amount of time—or just teleport around really fast, like I did. Regardless, none of them were real head-scratchers. Not only is it clearly the opening tutorial area, but I get the feeling that's not what this demo was about.
Instead, it's intended to convey the feel of Firmament, which is considerably more Myst-like than I expected even from the trailer. Lonely snow-capped peaks, off-kilter music, overcomplicated gear-clad contraptions. Obduction felt like Myst transposed to a more alien setting. Firmament feels like Myst minus the Myst name.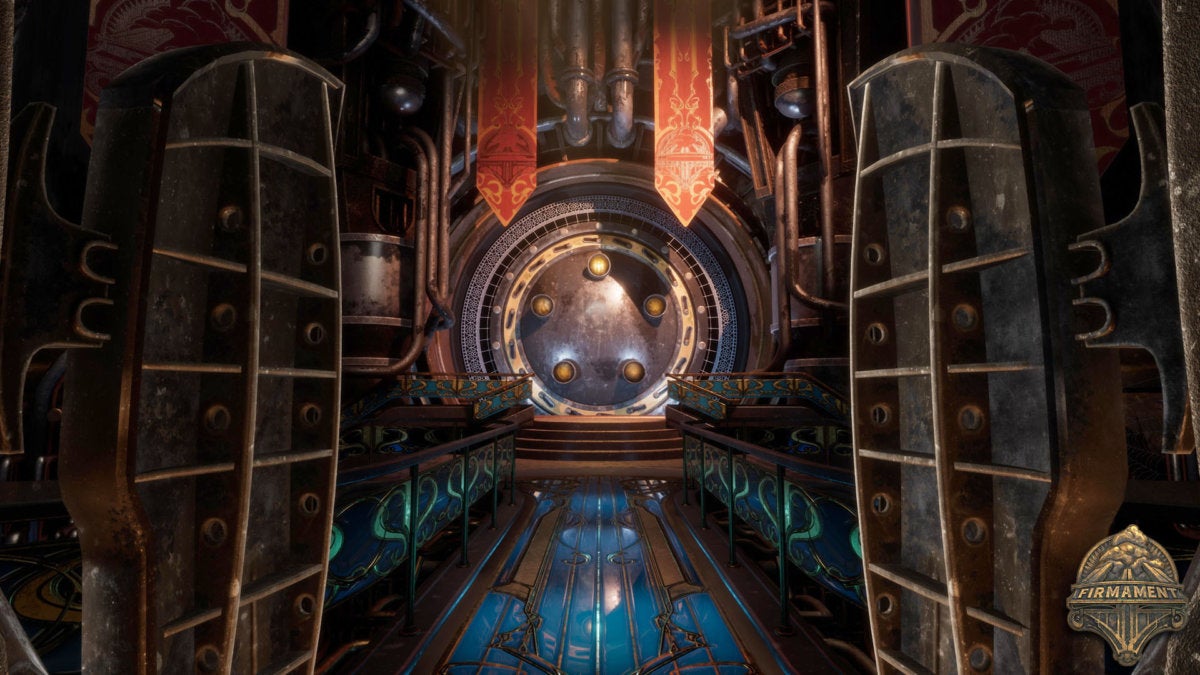 There were the usual demo-build problems—the little robot getting lost, getting stuck on some scenery, breaking the final puzzle by teleporting around like a wizard who uses VR a lot. (I heard Cyan's Ryan Warzecha say "That shouldn't work" when I did it, which is always exciting.)
I'm intrigued by what I saw though. Firmament builds on Obduction in some cool ways, and the art is incredibly evocative. It's amazing how much enjoyment a developer can wring out of simply climbing a mountain when that mountain's well-realized, when the snow is whipping around and bits of ancient machinery hint at ancient secrets to discover.
The demo ended with me reaching the enormous locked door from the trailer, with the disembodied voice from the trailer hinting at other lands for me to explore—a fire realm, an electric realm, and so on. Whether we'll ever get to explore them? As I said, fingers crossed.