At a Glance
Expert's Rating
Pros
Wireless mouse—with no battery inside
Reliable 99 percent of the time
Razer finally built a wireless mouse with an optical sensor
Cons
Limited to the single Mamba Hyperflux mouse model
The 1 percent of the time it fails is really annoying
Pricey, especially considering the competition
Our Verdict
It sounds like science fiction—Razer's new Mamba Hyperflux is a wireless mouse without a battery inside. It's real though and it works, aside from a few edge-case scenarios.
Razer's Mamba Hyperflux mouse and Firefly Hyperflux charging-pad combo sound like science fiction. Get this: It's a wireless mouse…without a battery. When I heard about it at CES, I didn't believe it would work. Now that I've had it in my hands for a few weeks I can confirm that, yes, it does. Even knowing logically how the trick works, I'm nevertheless fascinated by it.
It's only when the illusion breaks, that I'm reminded, oh yeah, this is a real piece of new technology, complete with some first-generation flaws.
This review is part of our roundup of best gaming mice. Go there for details on competing products and how we tested them.
[ Further reading: The best gaming mice ]
Three's company
Razer's Hyperflux is the third wireless-mouse charging solution to cross my desk in the past several months, and all are based on different principles.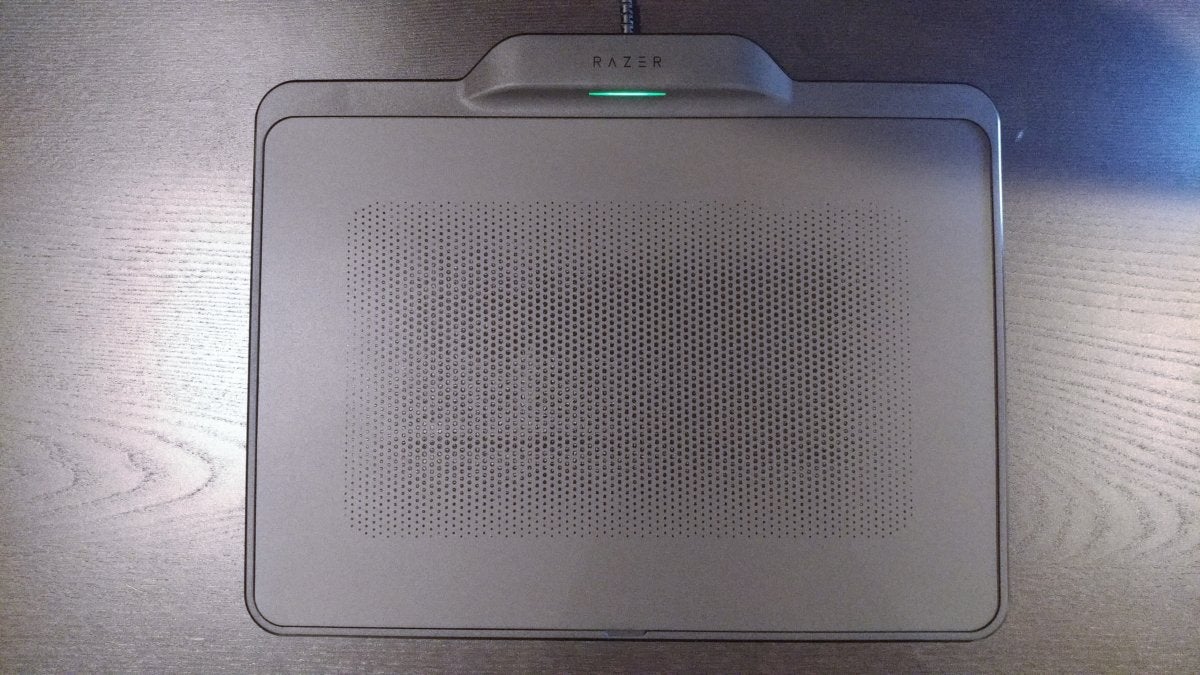 Mentioned in this article
Logitech Powerplay Wireless Charging System
Price When Reviewed:
$114.99
First came Logitech's Powerplay, which completely changed my opinion of wireless mice when it debuted last summer, and earned a place on our list of 2017's best hardware. The Powerplay wireless-charging mouse pad lets you take either a Logitech G703 or G903 mouse, plug a magnetic disc into the bottom, and then trickle-charge the mouse (to the tune of 1 or 2 percent per hour) as you use it. No Powerplay mouse pad? The G703/G903 will function as a standard wireless mouse, running down the battery, then recharging via USB. Seamless.
Then came Corsair's MM1000, which I was decidedly less sweet on. Corsair uses the open-source Qi charging standard, which is isn't as powerful than Logitech's solution and also covers less surface area. There, the accompanying Dark Core SE mouse could only be charged by placing it on a specific hotspot in the top-right corner. During use, it simply runs off the battery like usual.
Razer's Hyperflux is the most futuristic, at least in concept. In terms of usage, it's similar to Powerplay—a charging field is projected across a specially equipped version of Razer's LED-laden Firefly mouse pad. As I said though, the mouse you use (an adapted Mamba) has no battery inside. Instead, a capacitor stores enough charge to power the mouse for approximately 15 seconds.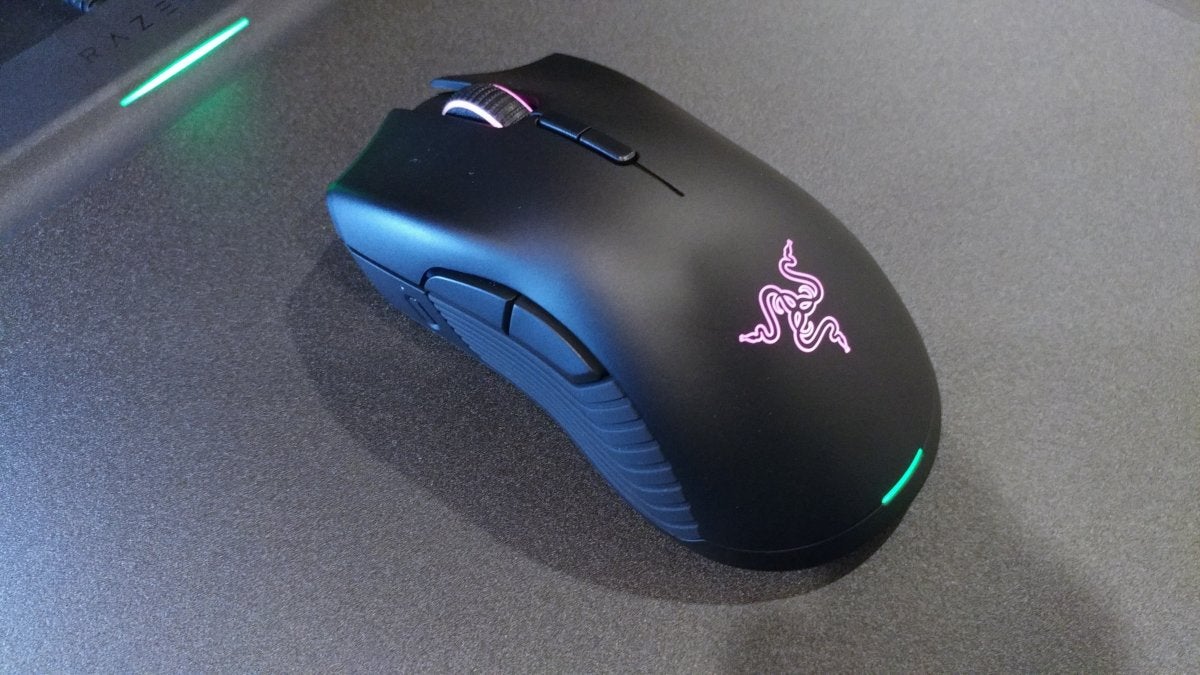 In other words, the Mamba Hyperflux works as long as it's on the Firefly Hyperflux mousepad. You'll see a little green light on both the mouse pad and mouse (as in the image above) indicating that the Mamba is receiving power. Separate the two, the light turns off, and the mouse will run for 15 more seconds and then die.
Mentioned in this article
Logitech G903
Price When Reviewed:
$149.99
It sounds strange at first. Dangerous, even—that doesn't seem reliable at all! Razer's wager is essentially that anyone buying Hyperflux will hook it up at a desk and never need to move it, and you know what? Razer's probably right. I've been using a G903 with Powerplay for over six months off and on now, and the number of times it's left my desk probably numbers in the single digits.
For day-to-day use then, the Mamba Hyperflux and the G903 are essentially identical. You plug in the mouse pad, you put the mouse on the mouse pad, and it works. Under the hood, the Mamba Hyperflux is feeding the charge through a capacitor while the G903 cycles its battery between 85 and 95 percent charge. But does anyone really care?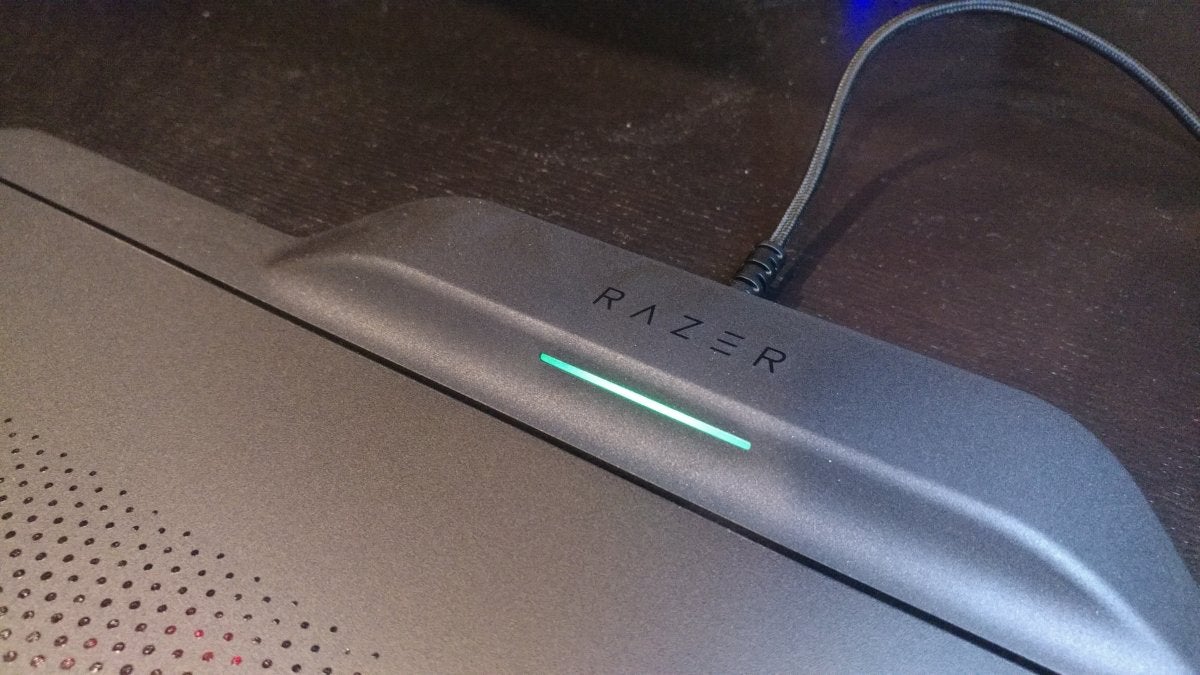 Well, maybe. See, the problem with Hyperflux is that when issues do arise there's nothing to fall back on.
Both Powerplay and Hyperflux have a quirk where the charging field doesn't quite encompass the entire mouse pad surface. From what I can tell (and what I remember of high school physics classes) the charging field is an oval, while both the Powerplay and Firefly Hyperflux mouse pads are slightly larger rectangles. In both cases, the charging field doesn't reach the corners.
But with Powerplay that's no big deal! If you leave a G903 on the edge of the mousepad accidentally, it seamlessly switches to running off the battery. With the Mamba Hyperflux it just…dies. Oops. Reconnecting the Mamba Hyperflux takes time too—upwards of six seconds to move the cursor after a full shutdown, with the mouse first regaining power and then (presumably) pairing again.
Is that going to be a common occurrence? Probably not. As long as you make sure the mouse is fairly well-centered on the mouse pad, the Mamba Hyperflux should work fine. You can even lift-and-adjust the mouse to your heart's content without worrying it'll run out of charge. That action takes a second at best, so you're safe.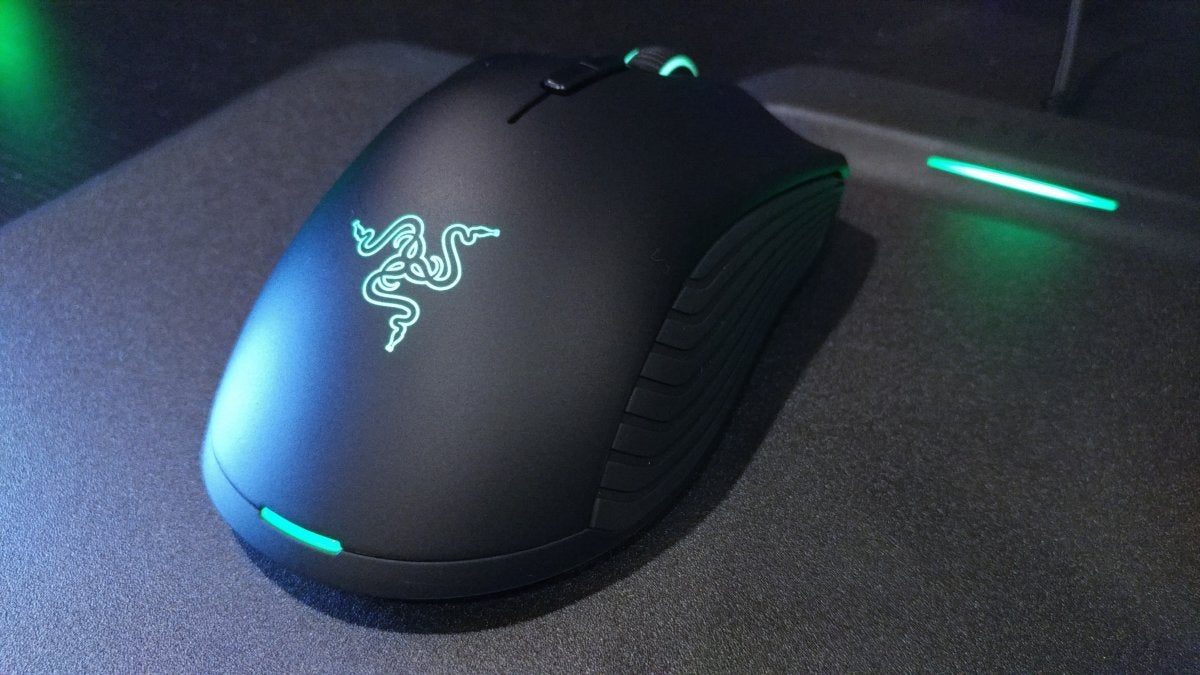 Twice during my review period the mouse did die though. Both times, I'd moved the mouse to the corner of the mouse pad without thinking about it, started watching a video, and then found myself waiting for the Mamba to "wake up" afterward. Rare as these disconnects are, it's very annoying when it happens, and completely breaks the spell.
The question is whether that edge-case (literally) annoyance is worth the trade-off. Namely, weight. The whole reason Razer eschewed a battery was to reduce weight, and it worked: The Mamba Hyperflux comes in at 96 grams, which is comfortably under the magical 100 gram barrier most pros cite as their cutoff.
It's a great mouse too. I like the Mamba. It's a comfortable right-hand scoop shape, glides nicely, has a tilt-wheel, and while I don't love the look of the rubber grips on the side they're still very comfortable. Good news for sensor nerds too: The Mamba Hyperflux features an optical sensor, presumably a version of the PWM3389 (Razer's PWM3360 adaptation). It's the first wireless Razer mouse to do so, as previous models like the Lancehead used laser sensors. (Ugh.)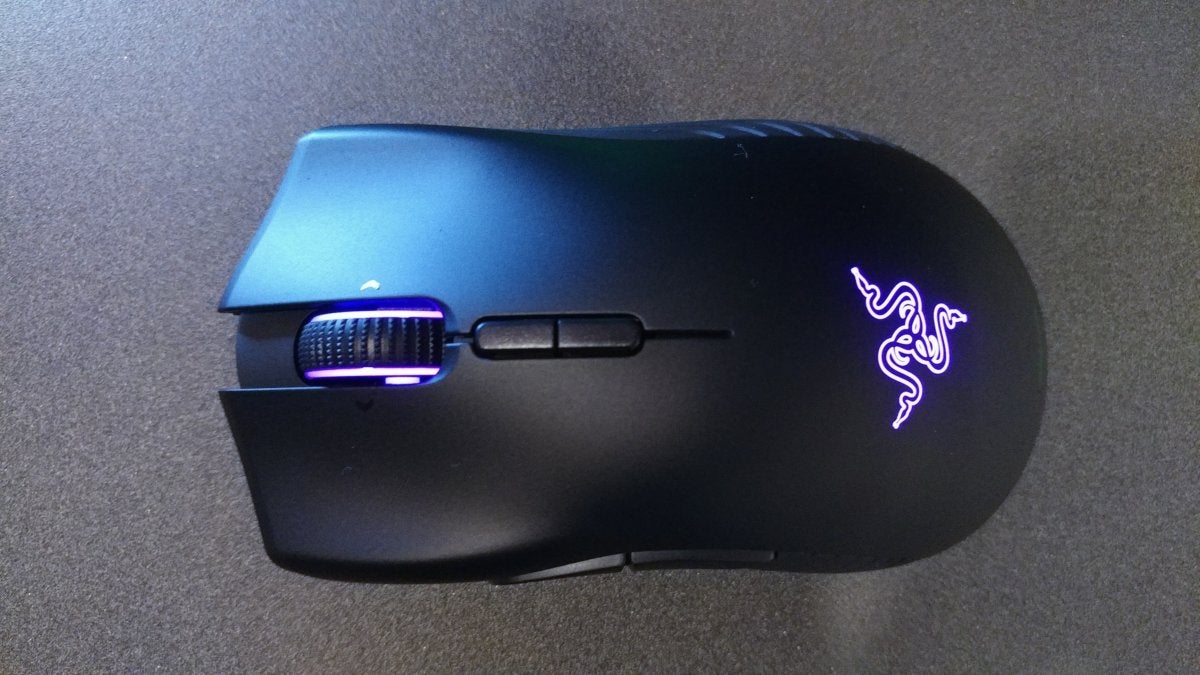 The Mamba Hyperflux performs well, it looks great, it weighs next to nothing—basically everything you'd want. And that's good, because like all these wireless systems, your selection of mice is limited. Really limited, in this case—the whole Hyperflux system, Mamba and Firefly, ships in one box. Even Corsair, which currently only has the Dark Core SE mouse to pair with its MM1000, still ships the two separately. But here it makes sense. After all, the Mamba Hyperflux is useless without the Firefly Hyperflux, whereas the Dark Core SE (like Logitech's G703 and G903) can be used as a standard wireless mouse.
That's small consolation for anyone who doesn't like the Mamba though, and we'll see whether Razer starts offering other models at some point in the future. You know, like the DeathAdder, only one of the most popular gaming mice in the world.
You can have that idea for free, Razer.
Bottom line
Hyperflux is cool. Like, really cool. As I said, I know how the trick is done, but the idea of a wireless mouse without a battery still feels futuristic to me.
That said, the benefits when compared to Powerplay are minimal. Hyperflux's main shout-from-the-rooftops feature is weight, but even there it barely wins out. Powerplay with a Logitech G703 will run you $50 less ($199 total), performs just as well if not better, and the only real difference is the G703 weighs 10 grams more. 10 grams. The G903 package can be had for the same $250 package price as Hyperflux, and it weighs 15 grams more than the Mamba. These are miniscule amounts, unnoticeable to most people.
Add in the fact the G703 and G903 are more adaptable—you can use them wirelessly even without the Powerplay mouse pad—and it's hard to claim that Razer's system has a strong advantage here. It's an amazing bit of tech, a great mouse, and certainly a viable option for those looking to get in on this new wireless charging trend. Way more so than Corsair's limited functionality. Logitech's still the system to beat though, albeit marginally.
Can't wait to see what the next round of competition brings!