I'm pretty sure building de_dust2 in any map-editing tool is the equivalent of running Doom on every device with a screen. It's mandatory. Mandatory. So it's no surprise someone already did it with Far Cry 5's spin-off Arcade mode.
A look at that, plus new trailers for Pillars of Eternity II and Jurassic World Evolution, details on a Red Faction: Guerrilla remaster and one for Mark of the Ninja too, and free copies of Spec Ops: The Line (for a limited time).
This is gaming news for March 26 to 30.
The discounts
Starting this week as always with everyone's favorite: Free games. This week it's Humble again giving away the goods, with "the goods" in this case being free copies of Spec Ops: The Line, everyone's favorite slightly-deeper-than-your-average-shooter shooter. It probably isn't as impactful in 2018 as it was in 2012—the shooter landscape's changed a lot. Still, nobody else has even attempted something better yet so…yeah. Pick it up, and fast. The deal only runs until Saturday.
Humble's also got a pretty great bundle going on right now, for those who don't mind shelling out a few dollars for hours of entertainment. Just the fact that Mini Metro is in the "Pay What You Want" tier makes it worth checking out, but great games like Soma, Keep Talking and Nobody Explodes, Poly Bridge, and Superhot are also in the mix, with more to come next week. Amazing value.
Lights, camera…
I don't buy much DLC, but I'll admit I've grabbed every single pack for Planet Coaster. I don't even play it much, but when I do I love having more props to work with. And that means I'll undoubtedly end up grabbing the new Studios Pack also, released this week. New Hollywood backlot props! New ride! Police cars! Yeah, okay, I'm in.
Dino-mite
Oh, and speaking of Frontier's excellent theme park builder, the studio's other theme-park builder is coming soon. I'm talking of course about Jurassic World Evolution, a.k.a. "What if Planet Coaster, but with dinosaurs?" Surprise, the release is timed to fall pretty much alongside the new Jurassic World film—June 12, to be exact. And did I mention it's narrated by Jeff Goldblum?
Sea of Rogues
I'm also very impatiently waiting for Pillars of Eternity II: Deadfire, which I originally thought I'd be playing right now and…well, instead I have to wait until early May. This week's trailer has me even more excited, showing off the game's new sailing systems, tighter-looking combat, and a whole host of beautiful environments.
Redder Faction
Red Faction: Guerrilla is one of those remasters where my heart says "Yes, please," but my head says "Eh…" A marvel back in 2009 when it released, Guerrilla's main gimmick was a terrain destruction system that was unparalleled at the time.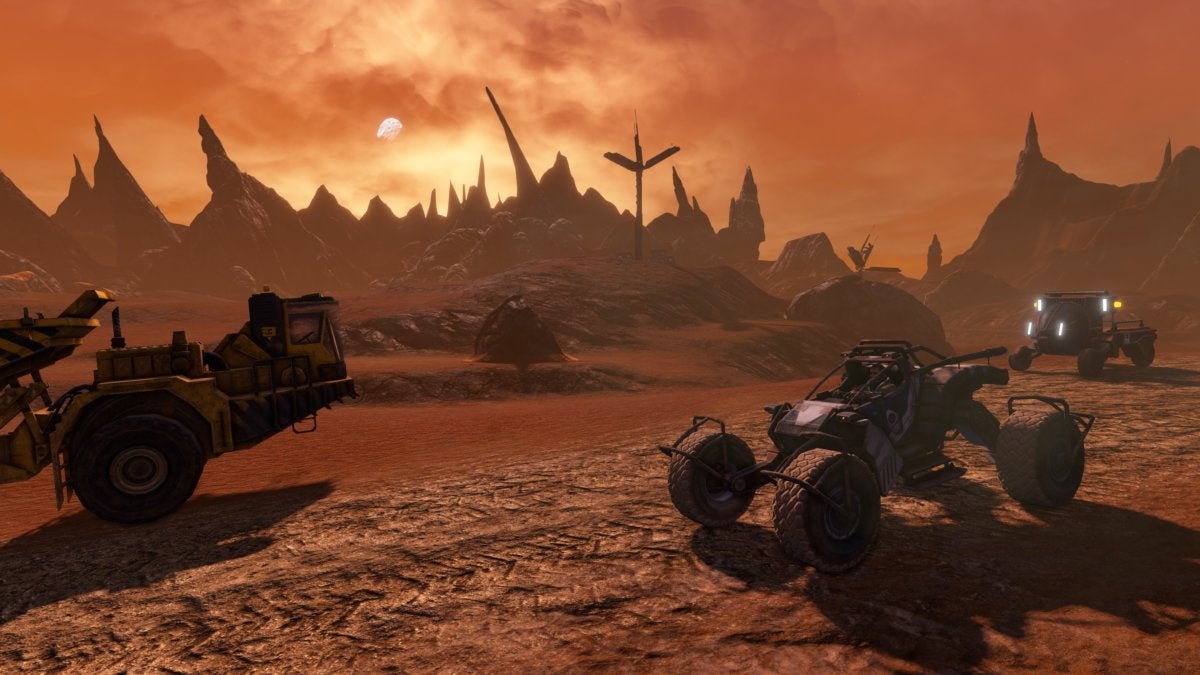 Destructible environments are a lot more common nowadays though, and outside of that feature Guerrilla was kind of a boring game with a very Ubisoft-open-world-circa-2009 feel to it. So the prospect of Red Faction: Guerrilla Re-Mars-stered? Aside from that excellent pun, I'm not sure how I feel about it. It's set to release this summer though, and will bring along 4K support, improved lighting, and so on. And hey, it's free for anyone who owns the original on Steam. That's great, at least.
Stealth upgrade
Speaking of remasters, Mark of the Ninja is getting the ol' spit-and-polish treatment. That surprised me—after all, Mark of the Ninja is a 2D game, and not even that old. Klei apparently is targeting "fully redone 4K visuals" though, as well as "enhanced audio and new particle effects." Sounds like most of the work was being done for Switch, and the PC version is just a nice side effect. Regardless, pretty nifty. (Via Rock Paper Shotgun )
Friendly skies
Hey, remember No Man's Sky? I just included it recently on a list of games that redeemed themselves post-launch, and for good reason: Hello Games has spent the better part of two years adding to the game, and with each update it's gotten a bit better. Now there's yet another update on the horizon, billed No Man's Sky: NEXT. Due this summer, it's free (as were the previous additions) and is being called the "largest update so far." Maybe one day it'll actually be the game people wanted.
Less friendly skies
I could've sworn we already knew when BattleTech was set to release, but apparently we just knew it was "in April" and didn't have a hard date. That's been rectified, with Harebrained Schemes slapping an April 24 release date on the tactical mech game this week, along with releasing this new story trailer. Looking good.
Clumsy cultists
Horror games have always been niche sellers, and it seems like the trend for countering that now is the "Story Mode." Soma added one last year, giving players the option to basically disable the monsters and turn it into more of a creepy adventure game. No surprise, since Soma already felt more adventure than horror to begin with.
More bizarre is that Outlast 2 is now doing the same—and that's just a straight-up horror game. According to Red Barrels, there will still be enemies and the player can still die, but it'll be fewer enemies, and dumber ones too. So it's more like an "Easiest" mode than a pure story mode in that case, but given how much people disliked Outlast 2's incessant chase scenes, maybe this will make the game more appealing.
Commander.
Okay, first of all, Mutant Year Zero: Road to Eden is a terrible title. Overly wordy and yet still so painfully generic, it's begging to be overlooked—which is a shame because this XCOM-alike seems pretty damn interesting otherwise. The developers shared 30 minutes of footage this week so you can decide for yourselves, but it really does look like post-apocalyptic XCOM. That's enough to pique my interest.
Dusted off
I'm more interested in Far Cry Arcade than Far Cry 5 proper, I think. For those who don't know, Arcade is an in-game map making tool that lets designers place props and set pieces from Far Cry 3, 4, 5 and Blood Dragon, Assassin's Creed: Origins, and Watch Dogs 2. It's so weird, and yet so fascinating.
And that weirdness has already started paying off. Just days after release, user "Izoolee" has already recreated Counter-Strike's legendary de_dust2 level. PC Gamer pulled this video of YouTube personality Widdz taking it for a spin, and now I'm starting to think there's a lot of potential here. I'll wait patiently for my recreation of Halo 2's "Lockout."