Intel's 8th-gen "Coffee Lake" mobile CPUs arrived en masse this month, packing more cores and higher performance than ever before. What does that mean for budget gaming laptops?
If you've been waiting for the prices of gaming laptops to plunge now that next-gen processors are here, prepare to be a little disappointed. Prices of older laptops generally don't drop too much when the next big thing shows up.
The reasons vary, but in general, PC vendors typically manage inventories fairly tightly to avoid being left with a lot full of Oldsmobiles when the new models come in. That's not always the case though, and sometimes you'll find some nice deals if you know where—and when—to look.
Discounts on older hardware isn't the only way Intel's 8th-gen CPUs will affect budget gaming laptops though. Beyond straightforward discounts, it's also worth keeping in mind that with the 8th-generation of Intel processors, you're essentially getting yesteryear's Core i7 performance in today's Core i5 chips—and at Core i5 prices too.
How to find (rare) discounts on older gaming laptops
Let's start by examining whether gaming laptops with older 7th-gen processors will get deep discounts.
Mentioned in this article
Predator Helios 300
Price When Reviewed:
$1099.99
We looked at Camelcamelcamel.com's historical data for Amazon's fourth best-selling gaming laptop, the superb Acer Predator Helios 300. This 15.6-inch laptop features a quad-core Core i7-7700HQ, 16GB of RAM, a 256GB SSD and a 6GB GeForce GTX 1060. It's a well-rounded laptop with a great price—you can basically get it all day at or around $1,049.
The release of Intel's 8th-gen CPUs pretty much mean this laptop is now old news and that's why you can get it at a heavy discount, right? Nope. The average price of the Acer Predator Helios 300 since May of 2017 has hovered between $1,000 and $1,050 for the past year. It's still a stellar laptop for the money.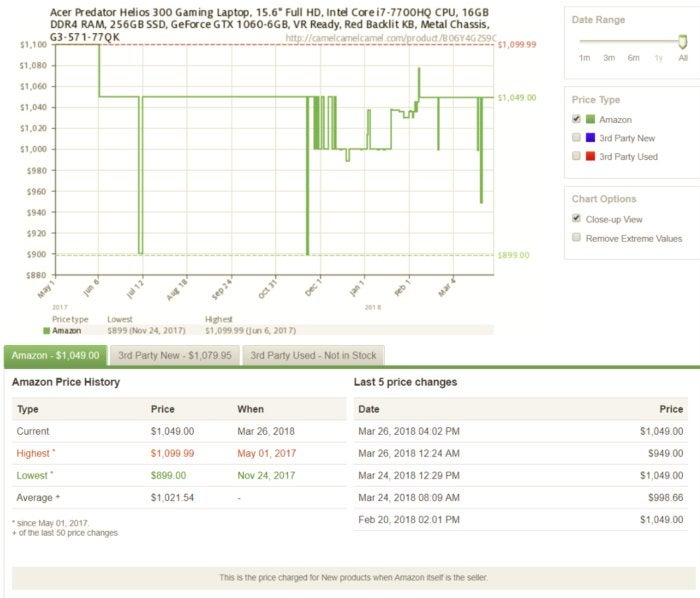 Acer hasn't announced a successor to the Helios 300 yet, though. Vendors typically lower prices just before a direct replacement model comes out.
For example, look at the No. 9 best selling laptop on Amazon when we ran the numbers: the Acer Nitro 5 (which is currently sold out). It packs a quad-core Core i5-7300HQ CPU, a GeForce GTX 1050 Ti, 8GB of RAM, and a 256GB SSD. It hit Amazon's charts when the price dropped to $699—a great price for an entry-level gaming laptop. That's about $56 off the average selling price of the laptop since October, and $100 off its $800 retail price. (The deal is still available on Newegg.)
But unlike the Acer Predator Helios 300, Acer was clearing out the old model for new model. Acer announced a new Nitro 5 with an 8th-gen Coffee Lake CPU inside, timed to coincide with Intel's announcement. The refreshed version packs an 8th-gen Core i5-8300H, a GeForce GTX 1050 Ti, 8GB of RAM, and a 256GB SSD for about $850.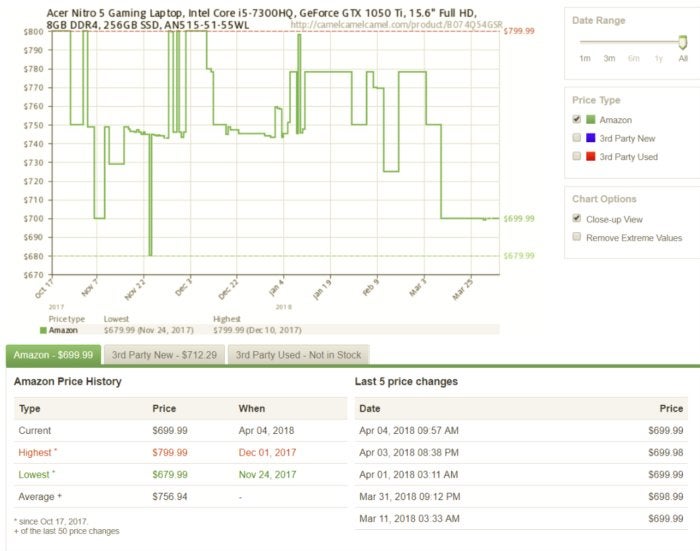 You'd save a big chunk of change with the discounted 7th-gen model, and its quad-core Core i5-7300HQ should do a fine job keeping up with the GTX 1050 Ti inside. If you look at the differences between the two Nitro 5 versions, the CPU is the only noticeable change.
Intel 8th-gen: Core i7 performance inside Core i5 chips
But while you might bemoan the price "increase" on the refreshed Nitro 5, the new chip does get you more performance—a lot more. The 8th-gen quad-core Core i5-8300H includes Hyper-Threading, a feature previously reserved for Intel's Core i7 chips. It also means the new Core i5-8300H should easily outperform the previous 7th gen Core i5-7300H by a decent margin in multi-threaded productivity tasks and the small number of games that can take advantage of more than four threads.
In fact, the 8th-gen Core i5 is likely to surpass or rival 7th-gen Core i7 processors in multi-threaded performance. While that won't make matter that much in the bulk of PC games, it'll help for people who can utilize the extra computing power.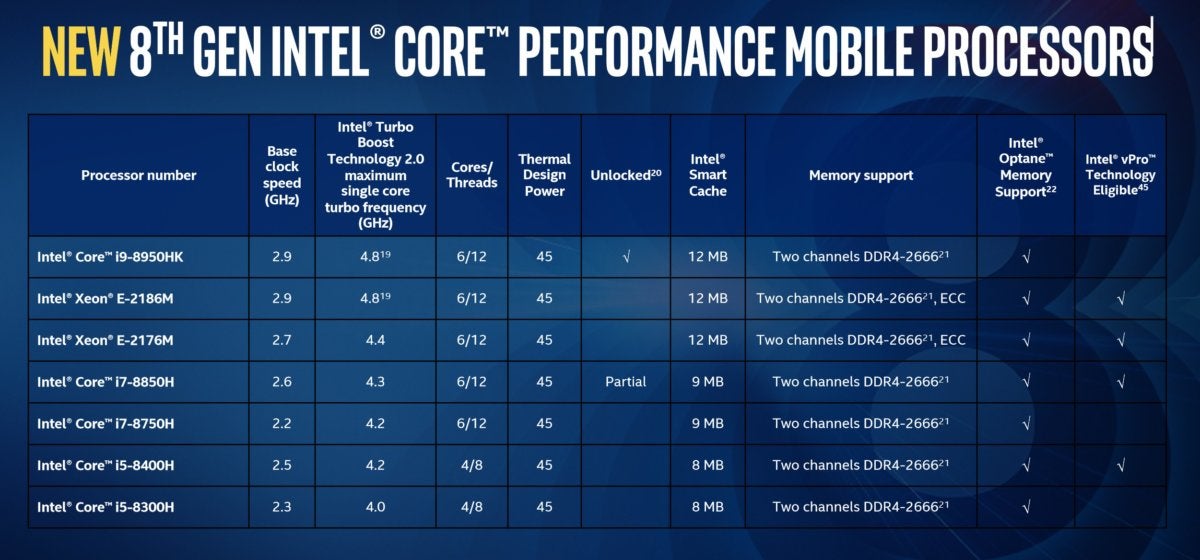 If you're the kind of person who wants to play a game while also streaming it live to Twitch or YouTube, the new Core i5 will also yield much better results than the 7th-gen Core i5 when the GPUs are equal.
Bottom line
So new 8th-gen budget gaming laptops will offer performance that rivals previous Core i7 chips, but with a Core i5 price tag.
Don't expect to see regular steep discounts for gaming laptops with 7th-gen processors, but if you're scrounging for a deal, keep an eye out on last-gen models in the days after an updated version gets announced. We've also seen a Dell Inspiron gaming laptop with a Core i7-7700HQ and a GTX 1060 inside selling for $850 on Dell.com—a remarkably low price. Notebooks with that GPU normally sell for $1,100 or more.
[ Further reading: Should you buy a Core i9 laptop? ]
Stay tuned to PCWorld's homepage as the transition from 7th-gen to 8th-gen CPUs continues. We try to shout whenever we see especially juicy laptop deals, because on the rare occasion when they do surface, they don't tend to last long.