Did you know in Crusader Kings II you can make a horse become ruler of the Roman Empire? And if that doesn't convince you to pick up a copy of the game for free this weekend, then I don't know anything that will.
More details on that below, plus Assassin's Creed: Origins adds cheat codes, Shadow of War deep-sixes loot boxes, Path of Exile temporarily goes battle royale, Lawbreakers studio Boss Key starts work on a new project, and maybe some Shaquille O'Neal news too.
This is gaming news for April 2 to 6.
Going medieval
As I said up top, this week's freebie is a big one: Crusader Kings II, the massive and ever-popular grand strategy game from Paradox, is free (to own) on Steam until early Saturday, Pacific Time. It's a bit of a "first hit's free" situation, as the plan is no doubt to a) Convince people to actually play grand strategy games that otherwise would never and b) Once hooked, convince them to purchase the loads and loads of Crusader King II expansions and DLC Paradox has put out since 2012.
Even the base game is enormous though, and you could get hours of entertainment from its stories of political manipulation, backstabbing, grandstanding, and medieval wedding-treaties. Might as well grab a copy and give it a shot.
More temporary, This War of Mine is free-to-try through Sunday. That's enough time to give its post-apocalyptic survival trappings a spin before developer 11 Bit's new city-builder Frostpunk releases in a few weeks.
Sunless for a reason
Murder a sun. There's a new trailer for Sunless Skies this week, and those three simple words just about got a fist-pump out of me. It's such a ridiculous, over-the-top prospect, and that's exactly what I want out of the game—all expressed in lovingly written prose, of course.
A long shadow
Last year's loot box fallout continues to spread. A few weeks ago Battlefront II overhauled its entire multiplayer progression to try and fix what loot boxes broke. Now it's 2017's other controversial game, WB and Monolith's Middle Earth: Shadow of War— you know, the one everybody was mad about until Battlefront II exploded on arrival.
Mentioned in this article
Middle-Earth: Shadow Of War
Price When Reviewed:
$59.99
Shadow of War is yanking loot boxes out entirely, with Monolith explaining that the pay-to-play nature "risked undermining the heart of our game, the Nemesis System." Uh…yeah. That seemed obvious before the game even released, but okay.
Anyway, the boxes are going away. At the same time, Monolith is overhauling the extremely tedious and drawn-out endgame, the "Shadow Wars," which involved slogging through a bunch of busywork sieges to get to Shadow of War's proper ending. It felt like a mode designed purely to get people to plop down money to bypass it, so I guess it's no surprise that it's being reworked now that money isn't a factor.
Hitmanned
WB is also involved in another of this week's big events: IO Interactive has a publisher again. Approximately a year after splitting from Square Enix, IO made the announcement that WB will now publish Hitman, and presumably any future Hitman: Season 2 or Hitman II or whatever the sequel might be called. Congrats to IO on the stability, though with WB's track record the past few years…well, I hope this wasn't out of the frying pan and into the raging bonfire.
Roblox Redux?
I've been eagerly awaiting another project from E-Line Media, the developers of documentary-slash-platformer Never Alone, but it's not exactly what I was expecting. Called The Endless Mission, it seems to be another in a long line of game-making games, a la Project Spark, Roblox, and so on. The Endless Mission has a few different genres—a platformer, a racing game, an RTS, and so on—which you'll be able to lift pieces from and combine into new types of experiences, like a racing game where you play as the platforming character.
It sounds interesting enough, though we'll see whether it can draw a critical mass of users to make interesting content.
Long live…Steam Machines?
You might've seen my colleague Brad Chacos opine earlier this week on the demise of Steam Machines—Valve quietly pulled down the dedicated Steam Machine page, presumably signaling the end of that rather short, rather underwhelming era.
A-ha, not so fast though! A post direct from Valve's Pierre-Loup Griffais clarifies the change was made "based on user traffic," not necessarily because Steam Machines are dead. In fact, Griffais wrote "We're still working hard on making Linux operating systems a great place for gaming and applications. We think it will ultimately result in a better experience for developers and customers alike, including those not on Steam."
Later on, there's this even more interesting bit: "We're continuing to invest significant resources in supporting the Vulkan ecosystem, tooling and driver efforts. We also have other Linux initiatives in the pipe that we're not quite ready to talk about yet." Could that last bit be a second generation of Steam Machines? Hard to believe. Like, really hard. But maybe. But even if Steam Machines were DOA, it seems SteamOS lives on.
Shaq attack
Did you remember that Shaquille O'Neal helped crowdfund a sequel to infamously terrible SNES/Genesis game Shaq Fu? I certainly didn't, and yet this trailer for Shaq Fu: A Legend Reborn exists. Hell, the game even has a June 5 release date.
I fought the law and the law broke
"So here is the very real truth, which may not come as a surprise…LawBreakers failed to find enough of an audience to generate the funds necessary to keep it sustained in the manner we had originally planned for and anticipated." No surprise indeed, though admirable that Boss Key's latest statement pledges to "continue to support the game in its current state."
Boss Key's evidently looking towards the future though. No, not free-to-play—at least, not yet. Boss Key says "While a pivot to free-to-play may seem like easiest change to make, a change of this magnitude takes publishing planning and resources to do it." Maybe one day.
In the meantime, Boss Key says it's "been working on something new…a passion project that we're in complete control of." Sounds like the relationship with Lawbreakers publisher Nexon is a bit strained, to say the least.
Mud crabs, eh?
Bethesda seems to have realized that for a certain subset of people, the word "Morrowind" is like digital catnip. First it was invoked to get people to care about Elder Scrolls Online ($40 on Green Man Gaming) and now it's being surfaced again to try and hook me into the card game Elder Scrolls: Legends with the new Houses of Morrowind expansion. There's even this bizarre teaser with cliff racers attacking a swing set and mud crabs hanging out in a subway station.
The worst part? It might work. I'm intrigued.
God mode
Mentioned in this article
Assassin's Creed Origins
Price When Reviewed:
$59.99
I didn't think Ubisoft would manage to turn Assassin's Creed: Origins into a games-as-a-service style experience the way it's done with its more multiplayer-centric titles like Rainbow Six Siege and Ghost Recon: Wildlands. Somehow the developers keep pushing out updates though, and this latest may be the most interesting of all: Cheat codes.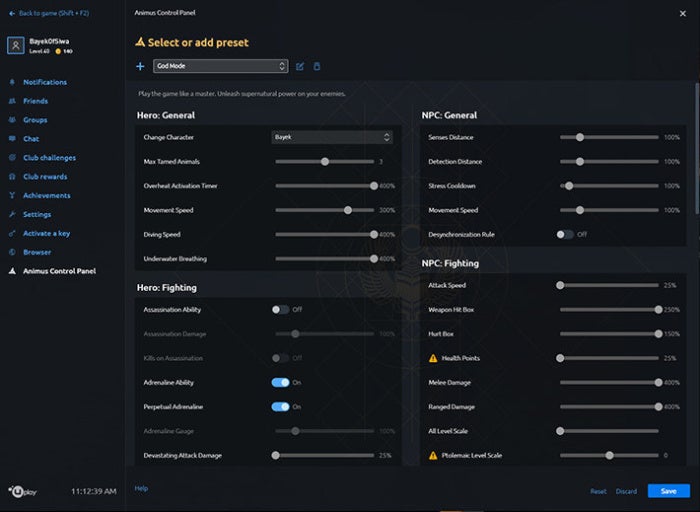 The upcoming "Animus Control Panel" will let you tweak all manner of settings, including movement speed, character model, NPC attack speed, and so on. The preset Ubisoft showed off is titled "God Mode," which is a fun little throwback, and the entire Animus Control Panel system will be PC exclusive (accessed through Uplay). Pretty damn cool. Look for it "later this month."
A hundred exiles drop onto an island
Wrapping up this week: I'm pretty tired of April Fools' jokes, mainly because so many of them are super low-effort. Path of Exile wins this year's award though, as Grinding Gear temporarily transformed the action-RPG into a 100-person battle royale game, adding a mode called Path of Exile: Royale.
Okay, so the name needs work, but talk about commitment. Check out the trailer below: