Windows PCs that use the battery-sipping Qualcomm Snapdragon ARM processor are just beginning to roll out, but they include some major caveats. One of them, the inability to run 64-bit apps, doesn't appear to be going away anytime soon.
According to a Microsoft representative, the company will "share more details" on a preview of its ARM64 software development kit (SDK) at its Build developer conference at the beginning of May. It's unclear when the preview version of the SDK will be released, when a final version will debut, or when apps based upon it will roll out to end users.
"We will be sharing more details on the ARM64 SDK Preview at Build," a Microsoft representative said in a statement. "Applications that are 64-bit only typically want to run natively for performance reasons. As a result we decided to focus our engineering investments on the native ARM64 SDK to enable developers to natively write their application for the device."
What this means to you: As a user, not much. Developers will have to decide whether they buy into the vision of Windows PCs running for most of a day, but that use an ARM chip inside. What Microsoft is doing here is addressing one of the platform's shortcomings, even if it will require some time before you'll see results.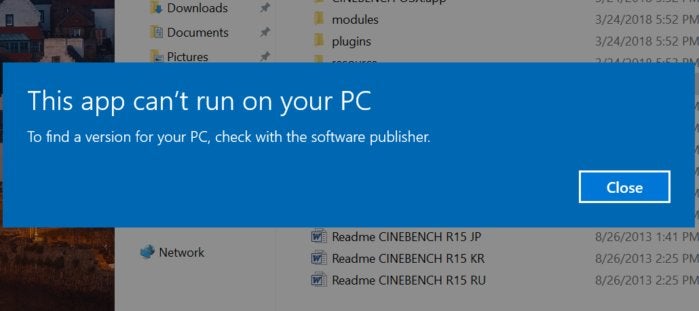 A roadblock for users
PCs like the Asus NovaGo currently include a 64-bit version of the Windows operating system, but will only run 32-bit apps. (Virtually all of today's PCs include a 64-bit version of Windows, and 64-bit apps.) The real difference between 32-bit and 64-bit apps concerns the amount of memory they can address; 32-bit apps are limited to 4GB of memory, meaning that some high-performance creative apps and games might not be able to run.
On one hand, that might not be a significant problem for PCs like the NovaGo and the HP Elite x2, which have been marketed as an always-connected, all-day computer rather than a performance powerhouse. But Windows also blocks 64-bit apps from being installed from the Store or elsewhere, without really explaining why. That can be disconcerting to a user who expects the "full" Windows experience. That roadblock will go away once 64-bit apps are supported on ARM.
The other sacrifice that owners of a Qualcomm Snapdragon PC have to make is to tolerate that apps written for the Intel Core chips have to be emulated, or interpreted—a translation feature that slows down the app somewhat. (Apps written for the ARM chips are processed natively, at full speed. The core Windows OS is never emulated, either, a Microsoft representative confirmed.)
The good news, Microsoft representatives added, is that as more developers check in code compiled for the ARM processor—either using the 32-bit SDK or, eventually, the 64-bit version—the Microsoft Store app will automatically download the updated apps to users. So while buying a Qualcomm-powered Always Connected PC currently carries with it several caveats, things should improve over time.