At a Glance
Expert's Rating
Pros
Premium construction and tough shell
Sliding cover for webcam lens
Impressive performance and battery life
Cons
Steep price tag
Tough-to-access memory card slot
Our Verdict
Tough, fast, and generous with battery life, the Lenovo ThinkPad X1 Yoga has a lot going for it, but a bargain price isn't one of them.
Best Prices Today: ThinkPad X1 Yoga (3rd Gen) Black
Tough, fast, and generous with battery life, the Lenovo ThinkPad X1 Yoga has a lot going for it, but a bargain price isn't one of them. We certainly admire the ThinkPad's top-notch construction, impressive performance and clever touches, like its retractable keys, built-in pen charger and privacy-minded webcam shutter. That said, expect to pay up for the ThinkPad X1 Yoga's premium features.
Lenovo ThinkPad X1 Yoga price and specifications
We tested the ThinkPad X1 Yoga model 20LD0015US ($1,673.10 from Lenovo), which packs in an quad-core 8th-gen i5-8250U processor, 8GB of LPDDR3 RAM, a 14-inch 1920-by-1080 touch display, a 512GB solid-state drive, integrated Intel UHD 620 graphics, and a Bluetooth-enabled ThinkPad Pen Pro.
One of the first things we should flag about the X1 Yoga's specs is its $1,673 price tag (as of this writing, anyway). For comparison's sake, our current editor's choice for 2-in-1 laptops, the HP Spectre x360, packs in a more powerful i7-8550U CPU, a 13.3-inch touch display, 8GB of RAM and a 256GB SSD for $1,270, while a version with a roomier 512GB drive goes for $1,430—still $200 less than the X1 Yoga. Granted, specs don't tell the whole story and prices change, but for now, this particular ThinkPad comes with a somewhat hefty price tag.
There are other available SKUs for the ThinkPad X1 Yoga, of course, including a $1,484 version with a smaller 256GB SSD and no pen. On the other end of the spectrum, the top-of-the-line $2,465 model of the ThinkPad boasts an i7-8650U CPU, 16GB of RAM, 1 TB of solid-state storage, and a 14-inch 2560-by-1440 display with Dolby Vision HDR support.
Measuring 13.1 by 9 by 0.7 inches and weighing a little over three pounds (or three pounds and 12 ounces once you toss in the AC charging brick), the ThinkPad X1 Yoga is a tad thicker and heavier than some of the recent 2-in-1 laptops we've tested, and like ThinkPads of yore, it lacks the snazzy design details you'll see in systems like the Asus ZenBook 13 (with its shiny, eye-popping shell) or Lenovo's own Yoga 920 (with its elegant watchband hinge).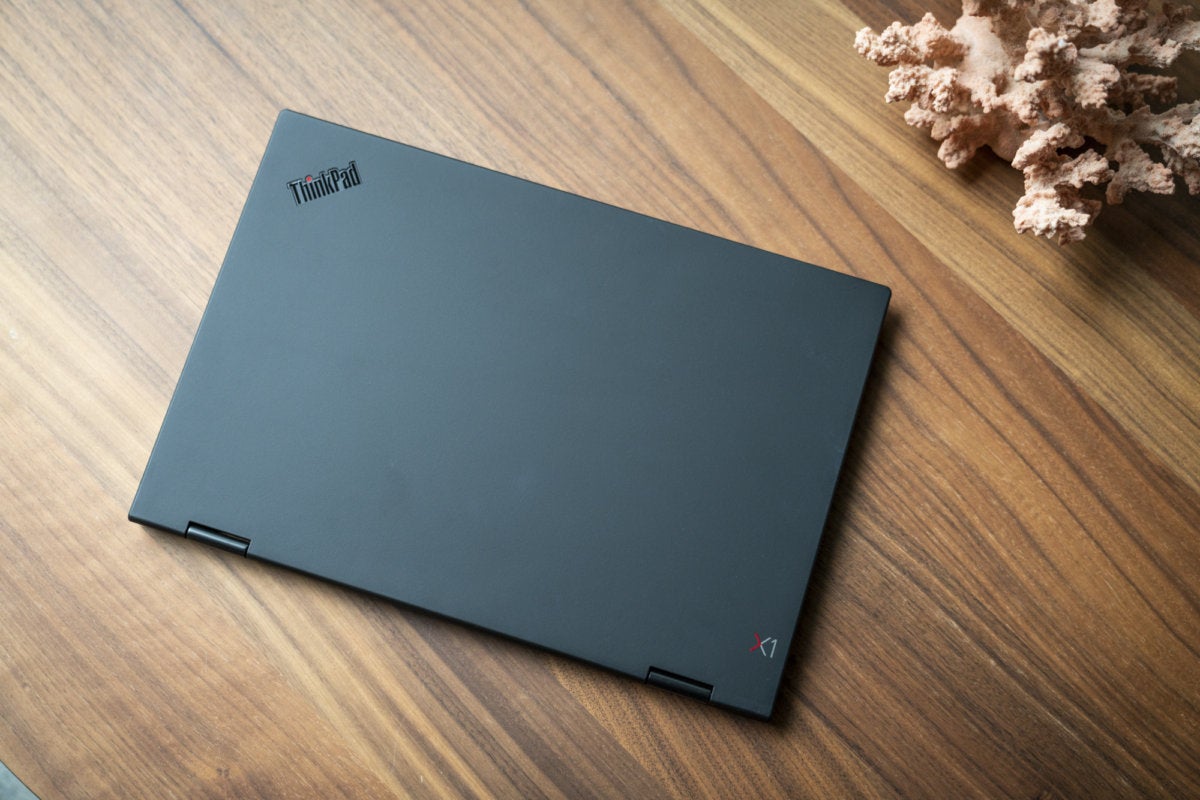 Dull though it may look, the ThinkPad X1 Yoga's slightly rubberized exterior feels reassuringly tough, and like other systems in the ThinkPad line, the X1 Yoga boasts military-grade protection against shock, vibration, dust, and even fungus. The ThinkPad's black shell is also fingerprint-proof, although it does have an annoying tendency to pick up oily hand smudges.
Being the convertible laptop that it is, the ThinkPad X1 Yoga's display can be swiveled a full 360 degrees, meaning you can tilt it all the way around for use as a (fairly heavy) tablet, tent it in a "V" shape, or sit the laptop keyboard-down with the display angled back.
Particularly impressive is the fact that whenever you close the lid or swivel its display more than 180 degrees, the ThinkPad automatically retracts its keyboard keys and locks them securely into place.
Lenovo ThinkPad X1 Yoga display
The 14-inch 1920-by-1080 touch display on the ThinkPad X1 Yoga looks about as vivid and sharp as the screens on competing laptops we've tested. Measuring about 270 nits (or calendas) with its brightness setting turned all the way up, the X1 Yoga's screen exceeds our 250-nit minimum standard for comfortable indoor viewing by a decent margin, although it's a tad dimmer than the 300-nit displays we've seen on other systems.
Viewing angles on the ThinkPad's IPS display are quite good. The screen dims slightly when viewed from from the sides, above or below, yet on-screen text remains perfectly readable even at more extreme angles.
The ThinkPad X1 Yoga's touch display responded gamely to taps and swipes from my fingers and the included "active" Bluetooth pen, which sits in a slot on the right edge of the laptop. In a particularly thoughtful design touch, the slot charges the pen in addition to securely storing it.
Lenovo ThinkPad X1 Yoga keyboard, speakers, extras
The ThinkPad X1 Yoga's snappy, slightly concave keys make for a pleasurable typing experience, complete with hotkeys for such functions as Bluetooth, airplane mode, settings (the actual Windows settings, not Lenovo's), and even the native Snipping Tool app. There's no dedicated numeric keypad, but the extra room leaves plenty of space for the main keys to spread out, making discovery a breeze. My one complaint was that I kept accidentally striking Page Up/Page Down keys, which flank the up-arrow key and sit just above the left and right arrow keys.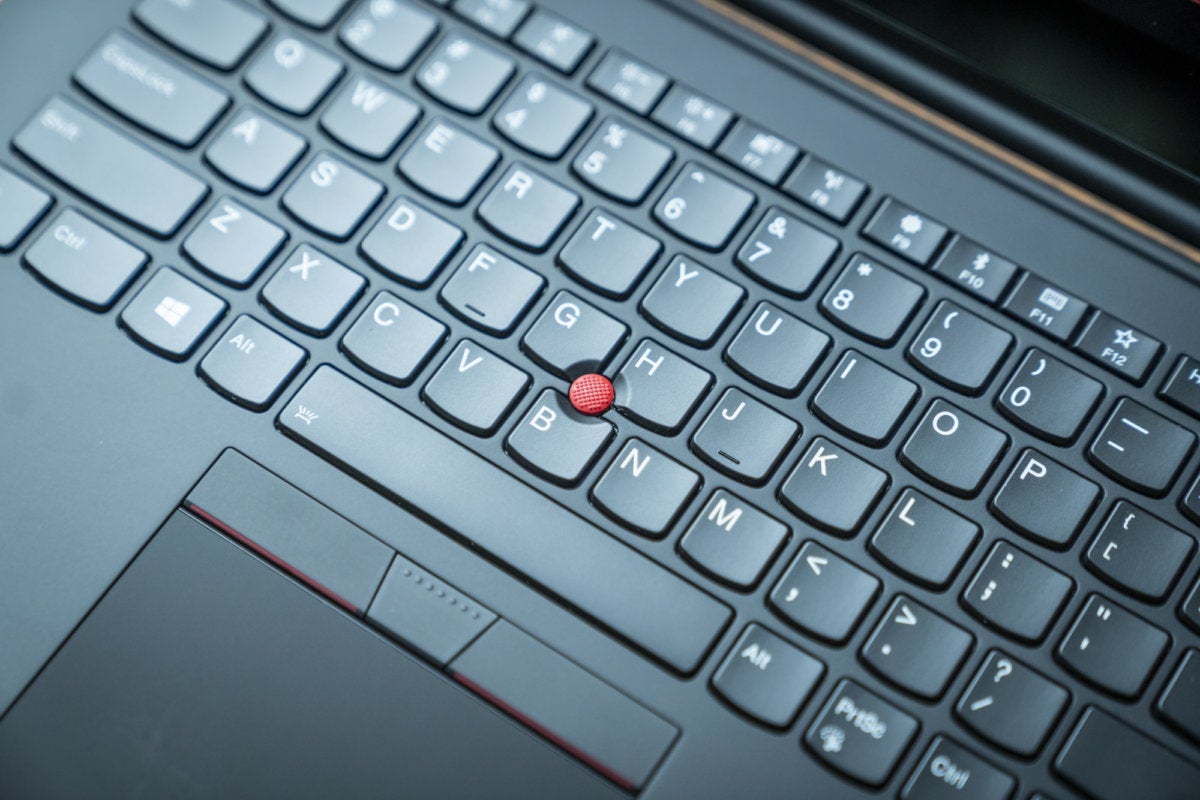 The ThinkPad's smooth, sensitive trackpad is unsurprisingly up to snuff, while the physical mouse buttons and telltale red navigational nub remain welcome (and rare, as far as modern laptops go) bonuses for those who've never quite warmed up to a clickable trackpad. On the right side of the trackpad sits a fingerprint reader for unlocking your user profile or logging into certain Windows Hello-compatible apps.
The ThinkPad X1 Yoga's built-in speakers crank out loud but bass-free sound, although built-in Dolby audio processing (not Dolby Atmos, sadly) warms up the sonics a tad. "Live and Let Die" by Paul McCartney and Wings sounded reasonably detailed in its opening moments, but collapsed into a muddle once the pounding title chords hit. Same goes for Mozart's 27th Symphony, which sounded harsh and compressed during its busy first movement.
Sitting in the top bezel above the display, the ThinkPad X1 Yoga's 720p webcam delivers reasonably sharp if occasionally blotchy video, well short of broadcast quality but perfectly fine for Skype. Setting the ThinkPad's webcam apart is its included ThinkShutter feature, which is basically just a physical shutter that you can slide over the lens with the flick of a switch. While not as fancy as its name implies, ThinkShutter makes for a simple and effective way to foil any snoopers trying to hijack your webcam. Just keep in mind that the ThinkShutter isn't included in pricier ThinkPad Yoga X1 models equipped with IR cameras.
The ThinkPad X1 Yoga marks yet another laptop that comes with an array of 360-degree "far field" microphones, designed to pick up your voice even when you're across the room. Lenovo says that the ThinkPad's far field microphones will let you chat with Cortana from as far as 13 feet away. In my tests, I was able to pepper Cortana with questions from 25 feet away, even when speaking in a quiet voice.
Lenovo ThinkPad X1 Yoga ports
The Lenovo ThinkPad X1 Yoga's selection of ports is a mixed bag. Starting with the good stuff, you get a pair of Thunderbolt 3 ports (complete with Power Delivery and DisplayPort support, with data transfers up to 40Gbps) on the left side of the Thinkpad, plus the first of two USB 3.0 ports.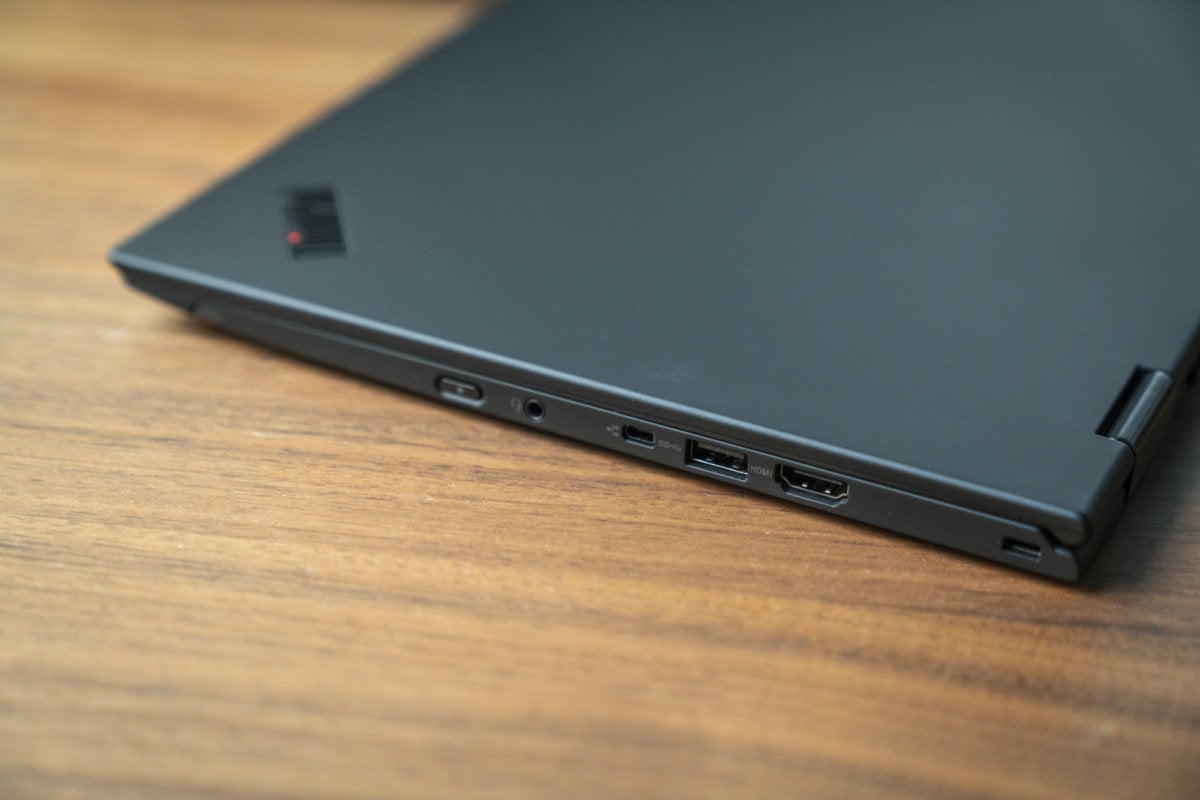 On the right side, you'll find a full-size HDMI port, an ethernet extension connector (you'll have to supply your own ethernet dongle), a combo audio jack, and a second USB 3.0 port, along with the power button.
All well and good, but there's a catch when it comes to the twin Thunderbolt 3 ports—namely, you'll have to use one of them for charging the ThinkPad, given that there's no dedicated barrel-shaped charging port.
Even more annoying is the Micro SD memory card slot, which sits in back of the laptop (next to a nano-SIM slot) behind a long, thin plastic flap that's effectively blocked whenever the ThinkPad's lid is open more than a crack. It's better than no memory card slot at all, but placement-wise, it's a royal pain.
Lenovo ThinkPad X1 Yoga performance
Pricey though it is, the quad-core Lenovo ThinkPad X1 Yoga earns its keep when it comes to performance, scoring some of the best benchmark results we've seen from a 8th-generation 2-in-1 laptop, along with exceptional battery life.
PCMark 8 Work Conventional
To test a laptop's agility when it comes to everyday computing chores, we use PCMark 8 Work Conventional, a benchmark that simulates web browsing, video conferencing, spreadsheet tinkering, and other day-in-day-out desktop duties.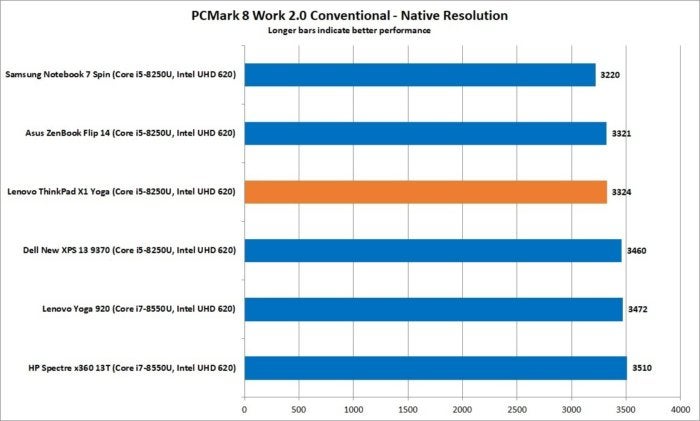 Unsurprisingly, the Lenovo ThinkPad X1 Yoga passed the test with ease, with its PCMark 8 score of 3,324 well above our minimum 2,000 standard for smooth Office performance, and right in the mix with its quad-core 8th-gen competitors. Just keep in mind that cheaper dual-core laptops often notch similar results, so unless you're looking to encode video or perform other CPU-intensive tasks, a pricey quad-core laptop like the ThinkPad X1 Yoga may be overkill.
Handbrake
Next, we installed the free Handbrake video utility onto the ThinkPad X1 Yoga and converted a 30GB MKV video file into Android tablet-compatible format, a task that reliably spikes CPU speeds and spins up cooling fans.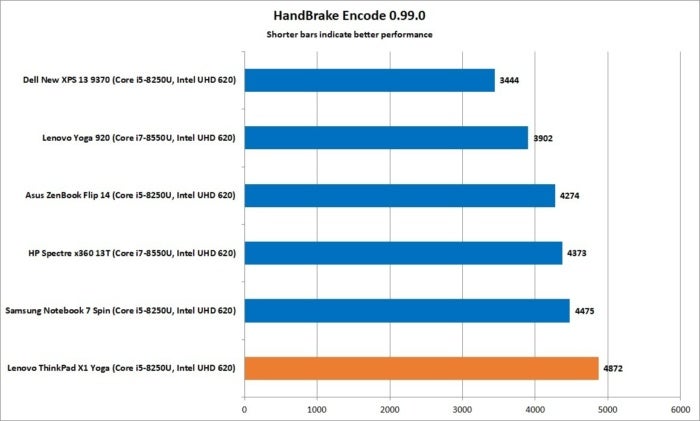 The Lenovo ThinkPad X1 Yoga handled our Handbrake test well, but brings up the rear versus the competition. Its Core i5 processor isn't as fast as the Core i7 models found in some rivals, and the X1 Yoga obviously throttles performance during sustained tasks more heavily than other laptops with a Core i5-8250U inside.
Cinebench
Another torture test for laptops, our Cinebench benchmark measures a laptop's performance as it renders a 3D image in real-time. While the Handbrake test generally takes more than an hour to perform, a Cinebench trial is usually over within a few minutes, making it a good test of how a system handles short bursts of stress.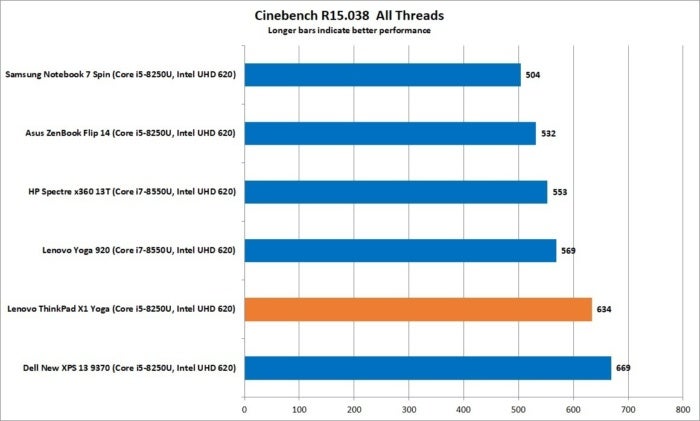 Although the Yoga X1 trailed the pack in Handbrake, it excels here. In addition to scoring one of the best Cinebench scores we've seen from an 8th-gen 2-in-1, the ThinkPad edged a pair of laptops with beefier i7-8550U chips (the Lenovo Yoga 920 and the HP Spectre x360) in the process.
3DMark 8 Sky Diver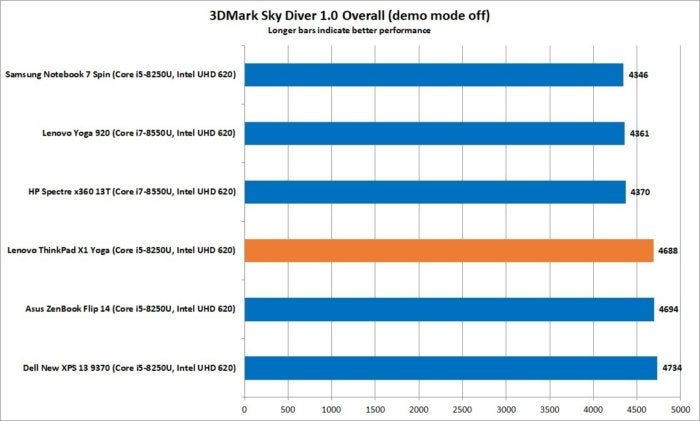 With its integrated Intel UHD 620 graphics core, the ThinkPad X1 Yoga isn't intended to be much of a gaming machine, and its so-so 3DMark Sky Diver results bear that out. For those looking to play anything beyond, say, Chess or Minecraft on their laptops, consider a system that packs in discrete graphics, like the Asus ZenBook 13 or a (typically thicker and heavier) gaming-oriented portable.
Lenovo ThinkPad X1 Yoga battery life
We test battery life on a laptop by looping a 10-minute 4K video clip using the stock Windows video player. We perform the test with screen brightness set between 250 and 260 nits (which, for the ThinkPad, turned out to be a setting of 98 percent) with the volume cranked about halfway with headphones on.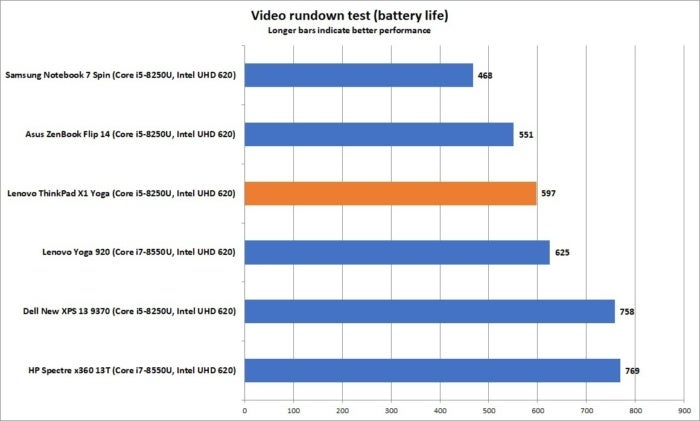 Again, the ThinkPad X1 Yoga and its 54Whr battery garnered an impressive result, clocking nearly 10 hours of battery life, a mark beaten only by 8th-gen convertibles with considerably larger batteries.
Bottom line
The Lenovo ThinkPad X1 Yoga is pricey compared to its peers, and its tough-to-access memory card slot sticks out like a sore thumb. Still, this new ThinkPad has a rugged design, speedy performance, impressive battery life and an array of high-end features, like its webcam shutter and retractable keys. If you can get over its lofty price tag—or perhaps, even better, wait for a price cut—the ThinkPad X1 makes for one of the stronger 8th-generation 2-in-1s we've seen yet.
Best Prices Today: ThinkPad X1 Yoga (3rd Gen) Black