At a Glance
Expert's Rating
Pros
Tough, waterproof, and lightweight design
Cheap monthly service fee
Easy two-way calling
Cons
Watchband may be too big for younger kids
Only a limited number of location alerts
Our Verdict
Tough, lightweight, and easy to use, the Verizon Wireless-exclusive LG GizmoPal 2 is a relatively cheap, simple, and fun way to keep track of your kids.
Best Prices Today: GizmoPal 2
Among the GPS tracking watches available, the Verizon Wireless-exclusive LG GizmoPal 2 is one of the cheaper options. But being affordable doesn't make it notably worse than its competition: We liked its simple controls, lightweight yet rugged design, two-way calling, and a relatively cheap monthly charge.
Note: This review is part of our coverage on the best GPS trackers for kids. Follow the link for details about competing products and how we tested them.
Pricing and monthly plans
As a Verizon exclusive, the $80 GizmoPal 2 requires service through Verizon to purchase one. Once you've paid for the watch itself, a $5 monthly fee (a.k.a. the "access fee" for using a device on your Verizon plan) allows you to use the voice minutes and data of an established monthly service plan.
Design
Available in either pink or blue, the half-inch thick, 1.6-ounce GizmoPal 2 feels featherweight despite its bulky 1.5 x 1.9-inch face.
I was able to strap the GizmoPal to my six-year-old daughter's diminutive wrist using the third-to-last notch, but within an hour or so she was complaining that the wristband was too tight. Strapping on the watch over the cuff of a long-sleeved shirt definitely helped, but parents should keep in mind that keeping the GizmoPal 2 on a small wrist can be a challenge.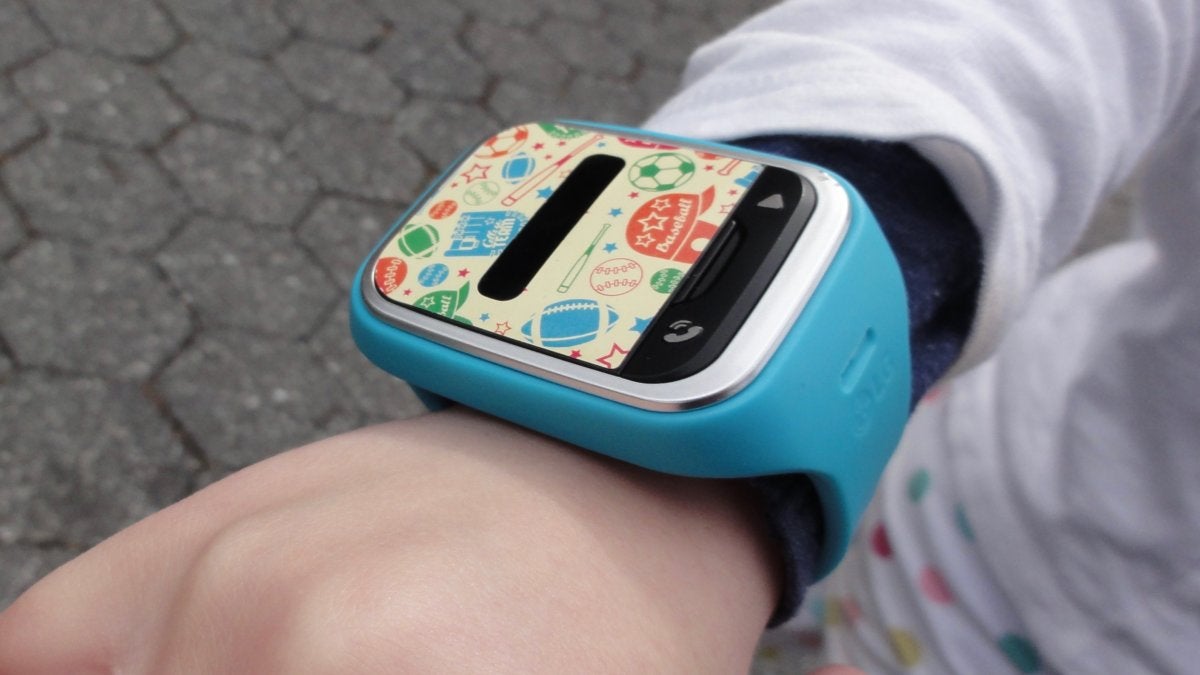 Both the body and the wristband of the GizmoPal 2 felt tough, firm, and a bit rubbery. If you wish to personalize the device, Verizon sells replacement watch bands—available in six colors—for $35 each. The GizmoPal 2 is also water resistant (IPX7-rated), meaning it can handle being splashed or even dropped into shallow water.
The face of the GizmoPal 2 is quite simple: just a big black screen (non-touch) with a trio of small icons for Battery, Call, and Play. The blue review unit I received had a protective face sticker with a nifty sports design and a cutout that kept the Battery, Call, and Play icons in view. While you can peel the sticker off, I decided to leave it on, in part so that the GizmoPal 2 would look more like a toy and less like a pricey smartwatch.
A Micro USB charging port sits on the back of the GizmoPal 2. Just flick up the protective cover to plug in the charging cable.
Setup
Getting started with the GizmoPal 2 is a straightforward process. You first install the GizmoHub app to an iPhone or Android phone, then you turn on your new GizmoPal to obtain its phone number. You plug that number into the GizmoHub app, follow the prompts, and wait a few minutes for the watch to pair with the app.
Once that's done, you can use the GizmoHub app to add up to four contacts to the GizmoPal 2 for two-way calling. (You add the first one as the primary "caregiver" during the initial setup process.) First you add the number, then type in a name, and finally pick a nickname (like "Daddy," "Mommy," or "Grandma") from a pull-down menu.
Tracking and monitoring
You can track your child's current location at any time simply by opening the GizmoHub app and tapping the Find button in the bottom corner of the map. In my tests, it took anywhere from 30 seconds to a few minutes for the app the pinpoint the GizmoPal 2's location.
You can also create up to 10 "Location Checks," which check your child's location at a predetermined time and day. For example, you can set a Location Check for 4:30 p.m. every Tuesday, or at 12:00 noon each weekday. You'll get a notification on your smartphone after each location check, whether they're successful or not.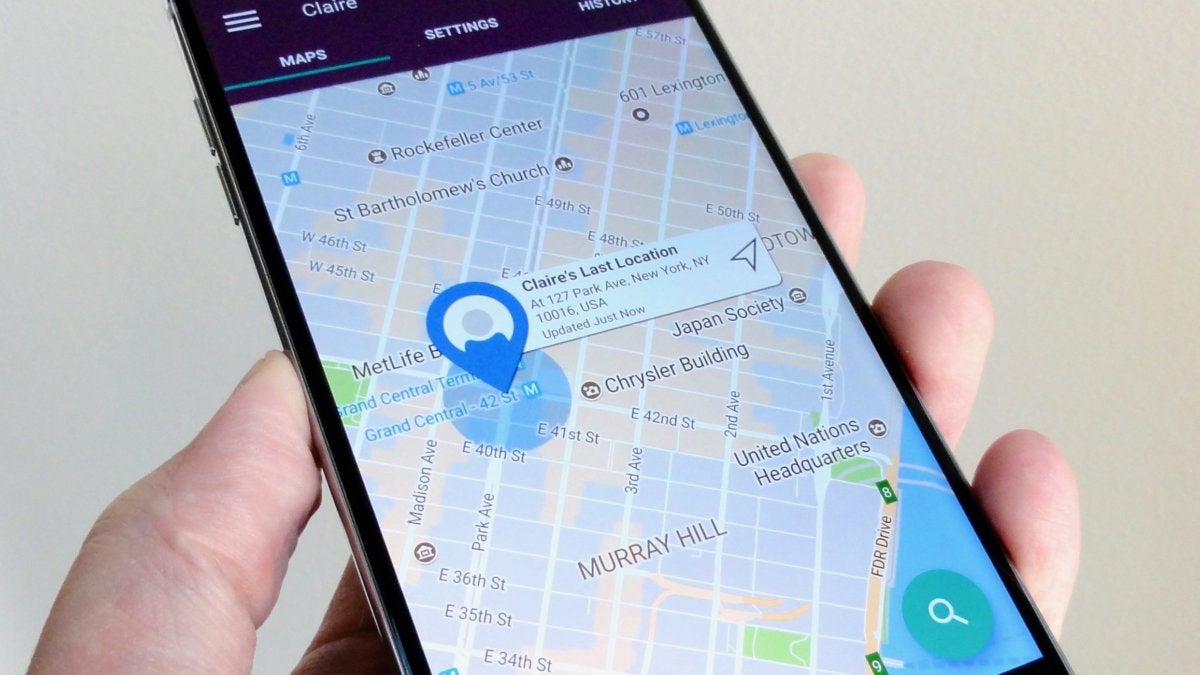 Finally, you can create up to five "Place Alerts," which let you know if your child has entered or left a certain area within a given time window. For example, you could create a Place Alert to let you know if your kid made it to school in the morning, and another Place Alert for leaving school in the afternoon.
The one weakness of Place Alerts, however, is that you can't set them to stay on indefinitely. Instead, you must set a time window for each alert, and each window can be no more than two hours long.
Personally, I'd love to be able to set an all-day Place Alert for school, just so I'd know if my daughter left school in the middle of the day for some reason. However, the likely reason that you're limited to five Place Alerts and ten Location Checks is that adding more would unduly tax the GizmoPal 2's diminutive, watched-sized battery.
Calling and communication features
You can call your child's GizmoPal 2 from within the GizmoHub app or simply by dialing the watch's Verizon Wireless phone number. When you call, the phone's ringer will sound, and an automated voice will announce the caller. (For example: "Daddy is calling.") To pick up, your child just needs to press the Call button. The only people who can call your kid's GizmoPal 2 are those whose numbers you previously programmed into the watch's contact list.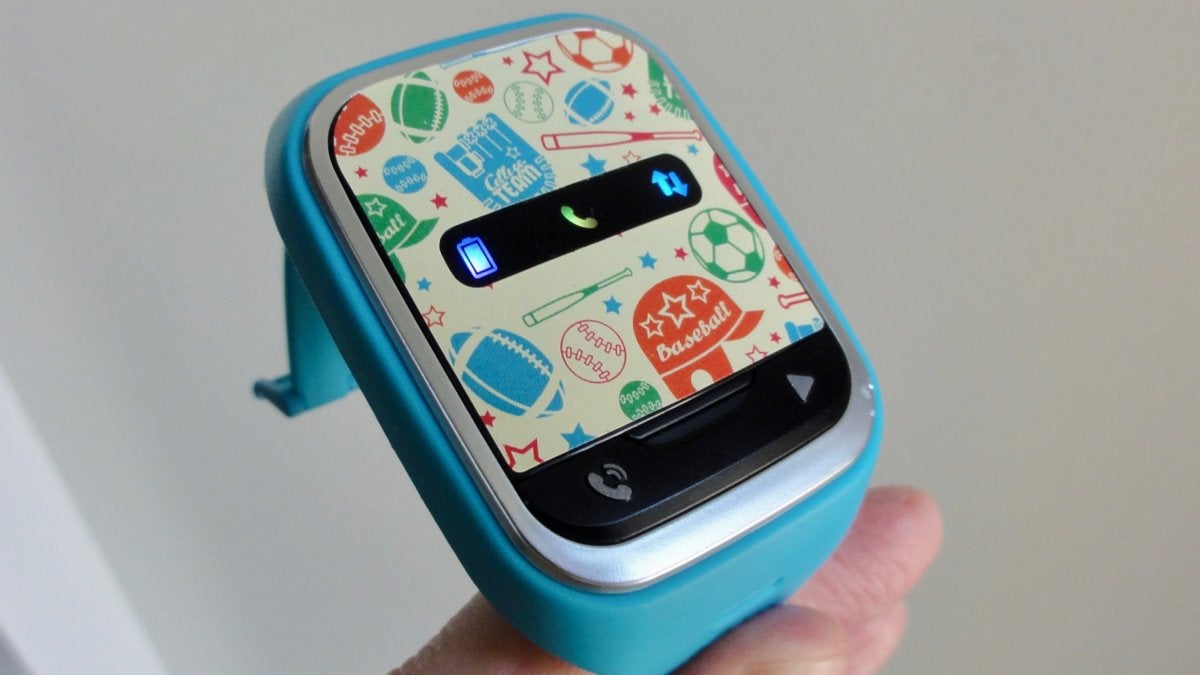 If your kid wants to place a call, her first step is to press the Call button. When she does, the phone instructs her to press the Call button to reach the first contact on her list (like "Daddy," for example) or to press the Play button to hear the next contact. Pressing Play will allow her to cycle through the remaining contacts available. My six-year-old picked up the system pretty quickly, and before I knew it, she'd left a half-dozen giggly voicemails on my Android phone and her mom's iPhone.
You can set "quiet times" for school hours and other periods using the GizmoHub app, up to 10 separate times at once. No audio will play, be it a ringtone or a sound effect. If your kid gets an incoming GizmoPal call during quiet time, a teal Call icon will blink on the phone's display. Just keep in mind that the watch lacks a vibration feature, so if your child doesn't see the flashing Call light, she'll probably miss the call.
The LG GizmoPal 2 lacks any kind of "panic" button or auto-dial 911 feature, although you could always add 911 as a contact.
Extra features
While LG has curiously omitted a digital clock from the face of the GizmoPal 2, the watch will read the time aloud if you press and hold the Call button, even during a designated quiet hour.
For entertainment, the GizmoPal offers "Fun Sounds," which basically just plays amusing audio clips whenever your kid hits the Play button. The selection ranges from underwater noises and walkie-talkie sounds ("Breaker one-nine!") to space effects and "DJ" sounds.
While five- or six-year-olds might be satisfied with Fun Sounds, older kids will probably tire of them quickly. If you're looking for a kid-friendly GPS tracking watch with more robust features, consider stepping up to the $150 LG GizmoGadget.
Battery life
The GizmoPal 2's battery is rated for 9 days of standby time and 2.5 hours of solid use. In practice, I found the GizmoPal 2 could run for a few days on a single charge, but that was with only one or two location checks per day, plus a phone call every couple of days. If you set up each and every Location Check and Place Alert the GizmoPal 2 can handle and make frequent phone calls, the watch's battery life will take a serious hit.
Conclusion
Tough, lightweight, and easy to use, the Verizon Wireless-exclusive LG GizmoPal 2 makes for a relatively cheap, simple way to keep track of your kids. That said, you'll have to settle for a meager number of location alerts, while older children might be bored by the watch's bare-bones features and activities.
Best Prices Today: GizmoPal 2