At a Glance
Expert's Rating
Pros
Tough nylon sleeve securely fastens the device onto backpacks or clothing
Constant and accurate location monitoring
Two-way "AngelCalls" let you call a special-needs child without them having to press any buttons
Cons
Pricey monthly plan
"Listen-in" feature raises privacy and legal concerns
Short battery life
Our Verdict
AngelSense GPS offers some of the most comprehensive tracking and monitoring features we've seen in a GPS tracking device, and it's the one of the few designed specifically for special-needs children and their parents.
Best Prices Today: AngelSense GPS
Designed for the guardians of special-needs children, the AngelSense GPS tracker offers constant tracking, frequent location alerts, and a way to call a child who can't or won't pick up a phone call on their own. The device has the potential to be a lifesaver, but it does come with a steep monthly bill—along with thorny privacy and legal issues raised by AngelSense's "Listen-in" feature.
Editor's note (February 28, 2020): AngelSense recently launched a new version of its GPS Tracker for Kids that's about 50 percent smaller and promises 4G LTE connectivity, a step counter, and up to 48 hours of battery life. The older version detailed in this review has been discontinued.
Note: This review is part of our coverage on the best GPS trackers for kids. Follow the link for details about competing products and how we tested them.
Design
Measuring about 4.5 x 2.5 x 0.5 inches and weighing a little over five ounces, the AngelSense GPS device is about the size and weight of a smallish touchscreen phone—and that's exactly what it is, as you'll discover if you remove the AngelSense device from its thick nylon sleeve.
The AngelSense module is designed to stay in its sleeve at all times, with the device itself (a customized LG smartphone) encased in a water-resistant silicone cover complete with red "Do Not Remove!" stickers. Though the touchscreen lights up when you press and hold the power button—which, incidentally, only reboots the device rather than powering it off—the display will go dark again within a few seconds.
The sleeve itself features a pair of fasteners on the top and bottom, but no controls at all save for a power button along the side (which, when positioned properly, sits atop the handset's power button). It also has an opening in the bottom for a micro-USB charging cable.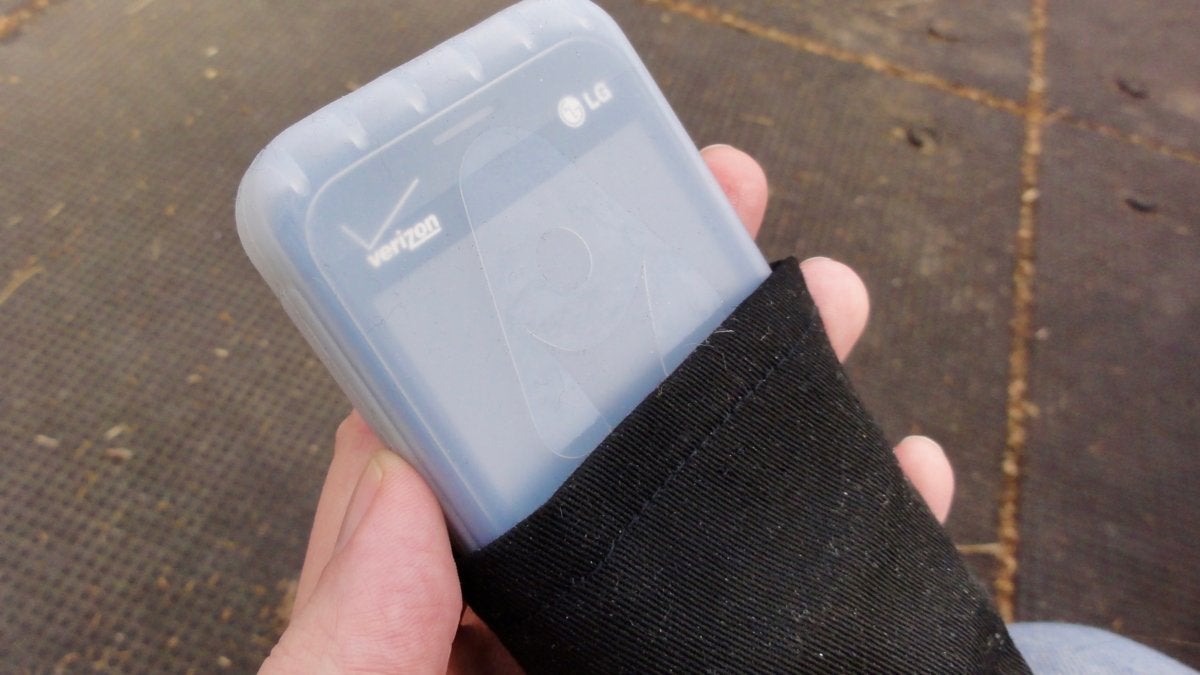 Once inside its sleeve, the AngelSense can be fastened in a child's backpack, pocket, or worn as a belt (using an optional belt-equipped sleeve). A lockable pin (similar to the anti-theft devices used by retail stores) keeps the AngelSense sleeve securely in place. I fastened the AngelSense handset to a backpack, and it felt like it wasn't going anywhere.
Service costs
The AngelSense "Guardian Kit," which includes the device itself, a travel case, a sleeve, a charger, a trio of fasteners, and a magnetic key for unlocking the fasteners, goes for $79.
The monthly service plan, which covers unlimited GPS tracking and 60 minutes of voice calls, costs a $53 a month. That's considerably more than, say, the $5 monthly fee for the LG GizmoGadget tracking watch, but the LG device does require a Verizon Wireless subscription.
You can knock the AngelSense's monthly fee down to $40 a month with a one-year contract, or $33.33 a month for a full year paid in advance (which comes out to about $400 for the entire year).
Setup
Getting the AngelSense up and running takes just a few minutes. Once you enter your username and password into the AngelSense GPS portal, a short questionnaire helps you determine how long your child might take to grow accustomed to the device, based on factors such as age, special needs (from autism and Asperger's to OCD or general anxiety), and degree of sensory sensitivity. Depending on your answers, the portal may advise that it'll take anywhere from a week to a month or more for your kid to grow used to wearing the AngelSense.
Once you're done with the questionnaire, all you need to do is make sure the device is charged up. Within a minute or so, the AngelSense's location should pop up on a map within the AngelSense app or website.
Through the Settings section of the app, you can add more caregivers who can track, call, or even listen in on your child (more on the "Listen-in" feature in a moment). You can also add a list of first responders, such as school officials or law enforcement, who can get a text message with a tracking link in case your loved one isn't where they're supposed to be.
Tracking and monitoring
Unlike other GPS tracking devices that pinpoint your child only during scheduled times or when you manually tap the Find button, AngelSense GPS updates its position frequently and automatically, particularly when your child is in transit or at a location you haven't previously labeled.
In my tests, AngelSense's GPS readings were timely and, generally speaking, accurate to within a half-block or less. While AngelSense is prone to the same cellular and GPS reception problems as other devices (particularly when indoors), the device does support Wi-Fi—handy for keeping track of your child if their school or other frequently-visited locations have spotty cellular coverage.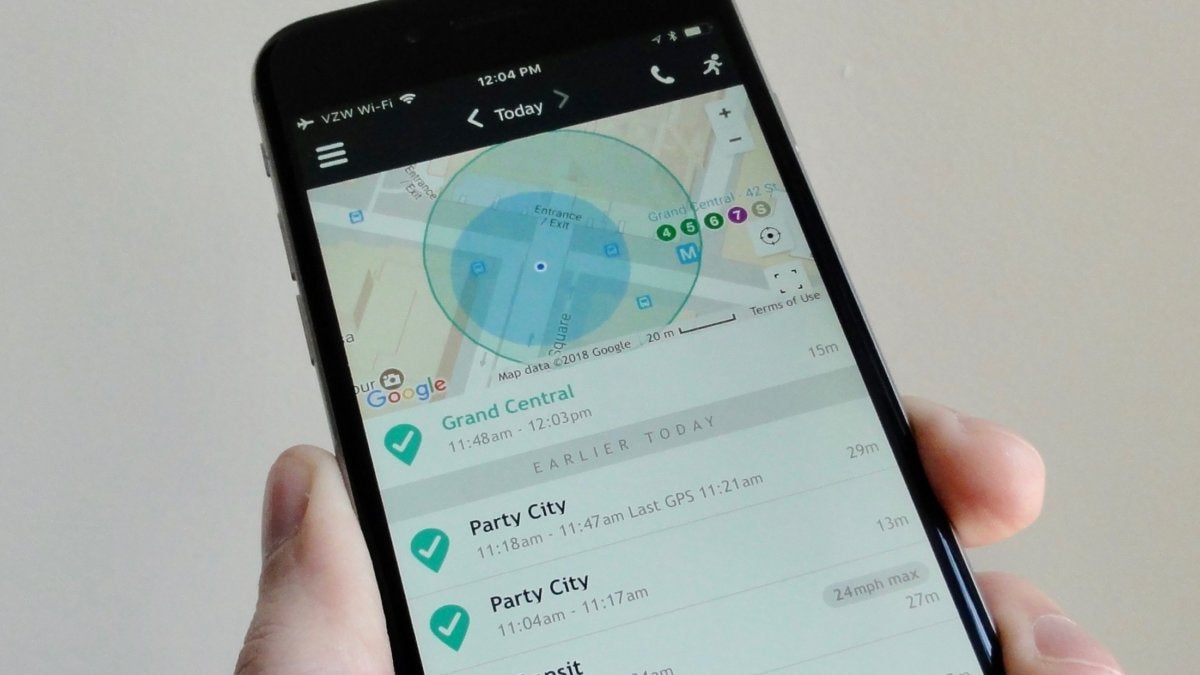 If you're worried that your kid is lost or wandering, you can enable Runner Mode, which boosts the frequency of GPS tracking (at the expense of battery life). Optionally, you can send out an alert to the first responders you've previously designated, complete with a link that'll let them track your missing child. You can also activate either a soft or loud alarm on the AngelSense device to help searchers locate your kid.
Calling and communication features
AngelSense GPS's "AngelCall" feature is designed specifically for special-needs kids who aren't able to use a traditional cell phone or calling device. It lets you call your child without requiring her to pick up a receiver or press any buttons. Just tap the Call icon on the AngelSense app, and the AngelSense GPS device will ring briefly and automatically put you on speakerphone. Any calls you make will count against the 60 calling minutes included in your monthly AngelSense plan.
This AngelCall feature is what AngelSense means in its specs by "two-way calling." Just keep in mind that your kid can't initiate a call using the AngelSense device—it is always a parent or caregiver with AngelSense access who makes the call.
"Listen-in" feature
In addition to the calling, the AngelSense also has a "Listen-in" feature that lets you discreetly hear whatever's going on near your child. The feature works more or less like AngelSense's two-way AngelCalls, except there's no ringtone or alert to warn anyone that you're listening.
Parents with special-needs kids who tend to walk out of school or otherwise wander off describe AngelSense's Listen-in feature as invaluable and even lifesaving in an emergency. You could also use Listen-in to make sure your child is safe while they're in transit or visiting an unfamiliar setting.
While AngelSense's Listen-in feature is doubtless reassuring for the parents of special-needs children, it also raises privacy and legal issues. For its part, AngelSense urges its users to disclose the Listen-in feature to caretakers and educators. Indeed, the company provides downloadable form letters that describe the capabilities and rationale behind the Listen-in feature, handy for notifying school officials or caregivers that you have the ability to eavesdrop on them. For schools that don't allow Listen-in at all, you can automatically disable the feature during school hours on the AngelSense Settings screen.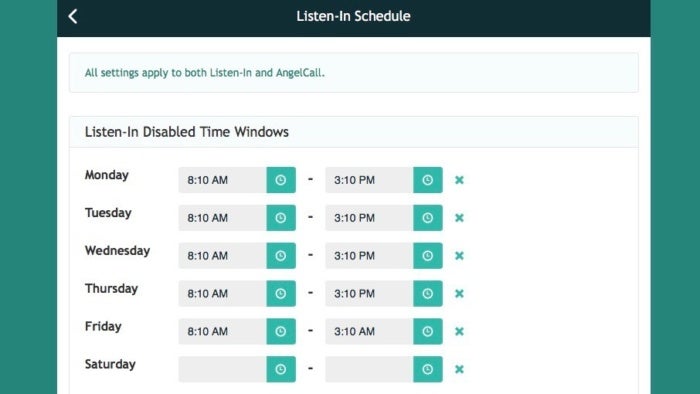 Above and beyond the rules of your school, however, are federal, state and local privacy laws. Some states (including California, New York, New Jersey, Texas, and Florida) bar the recording or "interception" of a conversation unless one or all of the participants are aware they're being monitored. While AngelSense says its Listen-in feature doesn't actually record conversations, the mere act of eavesdropping without the consent of some or all of the involved parties could be considered a crime, depending where you are.
While an entire page of AngelSense's support site is devoted to the legal issues surrounding Listen-in, the service should do a better job of warning parents about state and local privacy laws before they use the feature for the first time. After passing along my feedback, an AngelSense PR rep told me the company would make changes to its initial setup process to highlight Listen-in's legal issues.
Battery life
Because the AngelSense GPS device is constantly checking in with its location, battery life is relatively short compared to that of other GPS trackers I've tried. In my tests, the AngelSense handset only lasted about 18 hours before its battery ran out. That means you'd need to be diligent about charging the AngelSense every night, just as you would with a smartphone.
The good news is that you can set the AngelSense to email or text you when its battery level falls below 20 percent. You can also create daily alerts to remind yourself to charge the device.
Conclusion
AngelSense GPS offers some of the most comprehensive monitoring features we've seen in a GPS tracking device, and it's the one of the few designed specifically for special-needs children and their parents. That said, the monthly service charge for the power-hungry AngelSense GPS isn't cheap, and you should be aware of the privacy and legals issues surrounding the "Listen-in" feature before you start using it.
Updated on February 28, 2020 to note that this reviewed version of the AngelSense GPS tracker has been discontinued, and that it has been replaced by a new and redesigned version.
Best Prices Today: AngelSense GPS