A wearable GPS tracker could strike the right balance between giving your children increasing independence while preserving your peace of mind. You can track where your kids are, discover if they're not where they're supposed to be, keep in touch, and even get an SOS if something really bad happens.
GPS trackers come in many shapes and sizes—some are pocket-sized modules that can be fastened to bags or clothing; others are watch, pendant or necklace designs. Most of them, however, come bundled with similar bells and whistles ranging from two-way calling and text messaging to step counters and even panic buttons.
Some trackers are even designed specifically for elderly relatives in mind, though most can be used by anyone of any age. Of course, a particular model may lack a desired feature or two, and you may need to make some tweaks so that they can be carried securely, due to differences in child and adult sizing.
Read on for reviews and recommendations for the latest GPS trackers we've tested, plus tips and what to look for when shopping.
Best GPS tracker for kids
GizmoGadget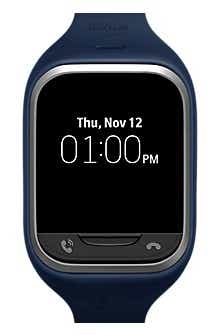 Price When Reviewed:
$150
Tough, light, easy to use, and packed with features, LG GizmoGadget makes for an enticing watch-style GPS tracker for kids and parents alike. A touchscreen device available exclusively through Verizon Wireless, this watch's waterproof design and cheap monthly plan are big pluses. So are the tracker's simple calling, messaging and location features, as well as the games and activities. The limited number of location alerts is a nagging issue, though, as is the fact that younger kids might have trouble strapping the bulky GizmoGadget to their wrists. (Read our full review.)
What to look for in a GPS tracker for kids
You'll find that many GPS tracking devices are tailored for specific age ranges and lifestyles, but in general, you'll want to consider a few key features while shopping for a GPS tracker.
Two-way calling
Many GPS trackers allow for two-way voice calls between the wearer and a loved one or guardian. When it comes to GPS trackers for children, two-way calls are generally only allowed with a given number of contacts—like Mommy, Daddy, a family friend, and maybe a grandparent or two. Calls to and from strangers are blocked. In our experience, we've found that kids as young as five or six can use two-way calling features with ease, although you'll have to rein in their urge to call you every five minutes.
Waterproof design
Any type of "wearable" gadget needs to be able to withstand a certain amount of punishment, particularly on the playground. Make sure the GPS tracker you choose for your child is both reasonably tough and waterproof, or else their fancy new GPS device won't survive the next trip to the water fountain.
Location-based alerts
If your child walks to school alone, you'll understand that small feeling of relief each time you learn that your loved one has safely arrived at their destination. That's the beauty of location-based alerts, which ping your phone whenever your kid arrives (for example) at school. Look for GPS devices that can alert you when the wearer arrives at or departs a given location.
Wi-Fi support
GPS trackers often depend on a combination of cellular signals and GPS to determine the device's location, but when you head indoors, all bets are off as far as cellular and GPS reception goes. Luckily, some GPS trackers offer Wi-Fi support, which makes up for a lack of cellular or GPS signal.
Fit and comfort
The most feature-packed GPS tracker on the market won't do much good if it's a pain to wear. Don't buy a GPS watch for a little one before making sure they can wear it comfortably on their wrist.
What you should know about GPS trackers for kids
Sure, that GPS tracker you're circling seems to have all the boxes checked in terms of features, but make sure you read the fine print before plunking down your credit card. Consider these factors before snapping up a GPS wearable.
Most GPS trackers require monthly fees
All that GPS tracking and two-way calling doesn't come for free, unfortunately. Expect to pay a monthly fee for your GPS tracker use, ranging anywhere from $5 a month on the low end (generally for GPS trackers available through a cellular carrier) all the way up to $50 a month.
Frequent GPS updates come at the expense of battery life
Not all GPS trackers offer constant, real-time location tracking. There's a good reason for that: The more frequently a device checks its location, the more power it needs to expend. Generally speaking, GPS devices with true real-time tracking will need larger batteries to make it through the day, meaning the actual device might be relatively big and heavy. Users of smaller GPS trackers (watches, pendants, etc.) will often have to settle for manual location checks or periodically scheduled checks, in order to squeeze as much juice out of the diminutive battery as possible.
Schools generally allow students to use gadgets, but not during class
Though kids can usually bring their cell phones to school, they typically aren't allowed to use them in class—and the same goes for GPS watches and tracking devices. Check the gadgets policy of your child's school before you buy, and make sure the GPS tracker you pick has a "quiet hours" feature that lets you silence the device during instruction periods.