A trio of listings on Intel's documentation site may prove that an 8-core Coffee Lake chip is in the works, which would provide a potential response to AMD's own 8-core, 2nd-gen Ryzen CPUs.
Chip watchers posting to Reddit caught wind of three posts on a Coffee Lake S documentation page, referring to something called a "Coffee Lake S 8+2" chip. Since the current Coffee Lake chips top out at six cores and twelve threads, the natural speculation is that Intel has an 8-core chip waiting in the wings.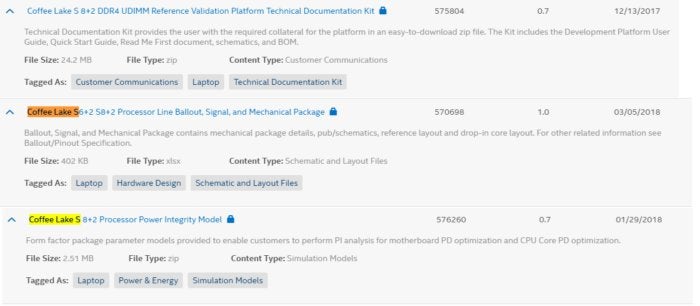 The documentation covers such technical elements such as details of the mechanical packaging of such a chip, as well as the DDR4 memory that could be used with it. Downloading the actual document requires an Intel developer login, so details of the purported 8-core chip—or what the "+2" refers to—couldn't be confirmed, though the second number likely indicates the chip's integrated graphics capabilities.
AMD's Ryzen chips have always offered more cores than Intel's own Core i7 or Core i9 chips; in this case, eight cores to Intel's six. AMD recently released details on its second-gen Ryzen processors, and surprise! The Ryzen 2 maintains its core advantage. Such an advantage would disappear if Intel released an eight-core Coffee Lake chip, of course. (The Coffee Lake-S chips refer to Intel's mainstream desktop Coffee Lake chips.)
[ Further reading: Intel 8th-gen CPU motherboards explained: Z370 vs. H370 vs. B360 vs. H310 ]
Unfortunately, the technical documents don't offer any clues as to the rumored Z390 chipset, which has surfaced as a potential addition to the Coffee Lake chipset roadmap that recently received its own additions with the Intel H370, Intel H310, Intel Q370, and Intel B360. As the name suggests, the Z390 could be a higher-performance chipset that would mesh with the eight-core Coffee Lake S parts—or it could just be another white whale for hopeful enthusiasts to hunt.
We've asked Intel for comment, and we'll update this post if we hear back.
What this means for you: Although Intel recently provided all sorts of news on its Coffee Lake plans, Intel's roadmap exists in a sort of weird chaos where all sorts of chips now fall under the broad heading of its eight-gen Core chips. As some have noted, it's doubtful that even an eight-core Coffee Lake chip would fall under the category of a "ninth-gen" Core processor, if nothing else because the referring page characterizes it as an "8th Generation Intel Core" chip. Nevertheless, a more direct head-to-head battle between AMD and Intel only benefits the consumer, and that's what we're rooting for.