Think of AMD's new Combat Crates as PC gaming supply crates dropped behind enemy lines during the zombie apocalypse. Yup, finding a graphics card to game with has gotten that bad that AMD has had to resort to bundling up Radeon GPUs with a motherboard and Ryzen CPUs to get hardware into the hands of gamers.
Mentioned in this article
AMD Combat Crate Bundle with Ryzen 5 1600, MSI Radeon RX 580 Armor, and MSI B350 Tomahawk motherboard
Price When Reviewed:
$599.00
The first bundle spotted on Amazon includes a first-gen Ryzen 5 1600 with cooler, an MSI B350 Tomahawk motherboard and most importantly—an MSI Radeon RX 580 Armor OC card. The entire bundle now costs $549. AMD says a Combat Crate with the Ryzen 7 1700 will also be released soon.
While the Combat Crate didn't make much sense when it came out at $599 earlier this week—we found the CPU available for $175, the motherboard for $85, and the GPU for $327 on Amazon, for a grand total of $587—the concept makes a lot more sense now that AMD shaved off another $50. And compared to just a month ago, the pricing looks spectacular. That's when the MSI RX 580 Armor graphics card included in this bundle spiked to $465, as you can see from this data from Camelcamelcamel.com historical data: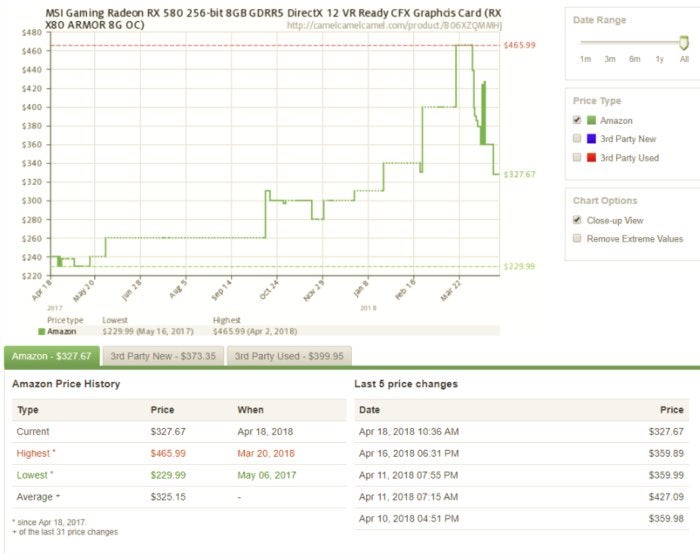 And while the MSI RX 580 Armor costs $327 on Amazon today, competing retailers have the graphics card listed around $365. That $40 difference firmly drops the AMD Combat Crate into "worth it" territory.
So yes, while cynical gamers will say it's just AMD trying to sell old CPUs that are now "obsolete" because of its new 2nd-gen Ryzen processors, that attitude could shift day by day depending on the demand for graphics cards. Prices of GPUs have slowly started to settle down overall, but they've still been fluctuating wildly overall. AMD's Combat Crates are a much more enticing proposition than the pricey "Radeon Pack" bundles that many RX Vega cards shipped in at their launch.