At a Glance
Expert's Rating
Pros
Solid performance, powered by an 8th-gen Core
Samsung's pen storage solution is the best in the business
Fingerprint reader and depth camera for added security
Lightweight, compact form factor
Cons
Average battery life
S-Pen can permanently jam if not correctly inserted
Overpriced at Samsung's MSRP
Our Verdict
This unassuming 13.3-inch laptop conceals Samsung's S-Pen, as well as a robust 8th-gen Core chip and a fairly spacious SSD. It's a solid notebook, though not at Samsung's original asking price.
Best Prices Today: Notebook 9 Pen
The Notebook 9 Pen aspires to be Samsung's version of a MacBook, with a pricey, potent mix of components powering some unique app experiences. But its bland, plasticky exterior will probably suggest a Chromebook instead, though with an iconic S-Pen stylus that's always ready to jot a quick note.
It's a difficult dichotomy for this 13.3-inch, 360-degree convertible to reconcile, made even more challenging by the Notebook 9 Pen's MSRP: $1,400. To be fair, we've recently seen it for $100 or so less on some sites. Unless you love Samsung's S-Pen, though, the Notebook 9 Pen is vulnerable to like-priced (or cheaper) competition.
Still, you may consider some of its weaknesses to be strengths. For example, Samsung manufactured the entire chassis out of a special custom magnesium alloy, with the look, weight and feel of plastic. Yet the light 2.14-pound weight (just under 2.5 pounds with the charger) is something your shoulders will appreciate when you carry this laptop in your bag. Likewise, we don't consider its numerous customizable settings and apps to be truly useful, though they offer a degree of configurability its competition lacks.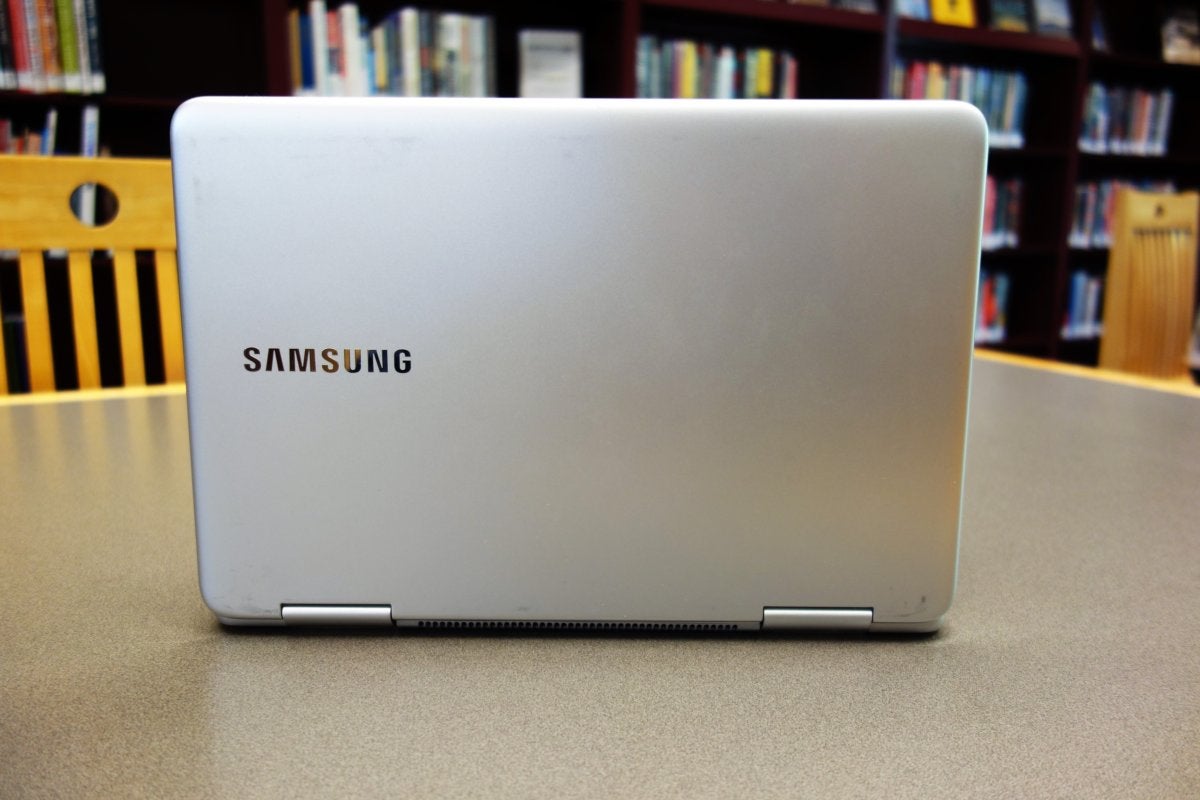 Notebook 9 Pen specs and features
When a laptop is just 0.65-inch thin, you're going to sacrifice a few things in the specs. Here's the list, which we'll look at more closely in the hands-on portion of our review:
Display: 13.3-inch FHD (1920×1080) LED touchscreen
Processor: 1.8GHz Core i7-8550U (Kaby Lake-R)
Graphics: Intel UHD 620 (integrated)
Memory: 8GB DDR4
Storage: 256GB PCIe SSD
Camera: Front-facing, 1280×720
Wireless: 802.11ac (2×2 MIMO), Bluetooth 4.1
Ports: One USB 3.1 Type A; one USB 3.1 Gen 1 (5Gbps) Type C (supporting 4K display out and charging); microSD (micro SDXC standard), HDMI, headphone jack/mic in, fingerprint reader
Battery: 39Wh
Operating system: Windows 10 Home
Dimensions: 12.22 x 8.13 x 0.65 inches
Weight: 2.14 pounds, 2.5 with AC adapter
Price: $1,399 (MSRP)
Of those specs, it's worth noting that the 256GB SSD in our test unit had only about 83GB free. That could start to feel tight.
But our biggest disappointment was the display. At 308 nits (measured), it's certainly bright enough. For the price, however, you might expect Samsung to deliver a bit more than the standard 1920×1080 (FHD) resolution that accompanies most low-cost notebooks. To be fair, higher-resolution screens bring their own compromises, as they eat at your battery life and other resources.
The other problem with the display was other displays. The vivid screen reflects Samsung's typical quality—until you hook up an external monitor: The Intel HD 620 integrated graphics washed out my second screen more than other laptops do. Samsung provides a series of supplemental settings to adjust the color mode, but tweaking them made no difference for me.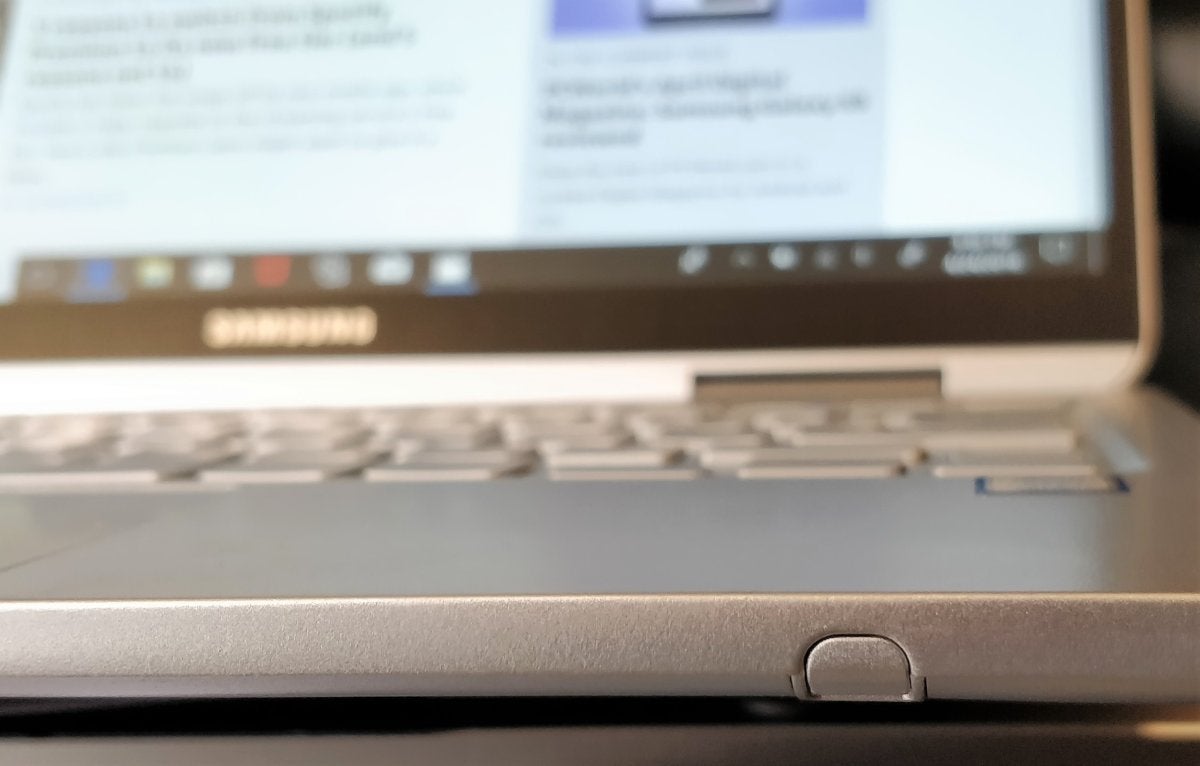 Samsung S-Pen: The gateway to its app ecosystem
One of the best things about the Samsung Notebook 9 Pen is the S-Pen—not only that it's included, but that it's stored in its own, internal slot underneath the keyboard. The storage slot is spring-loaded, so pushing the pen in pops it out for use. Why other manufacturers haven't adopted this simple, effective solution is beyond me.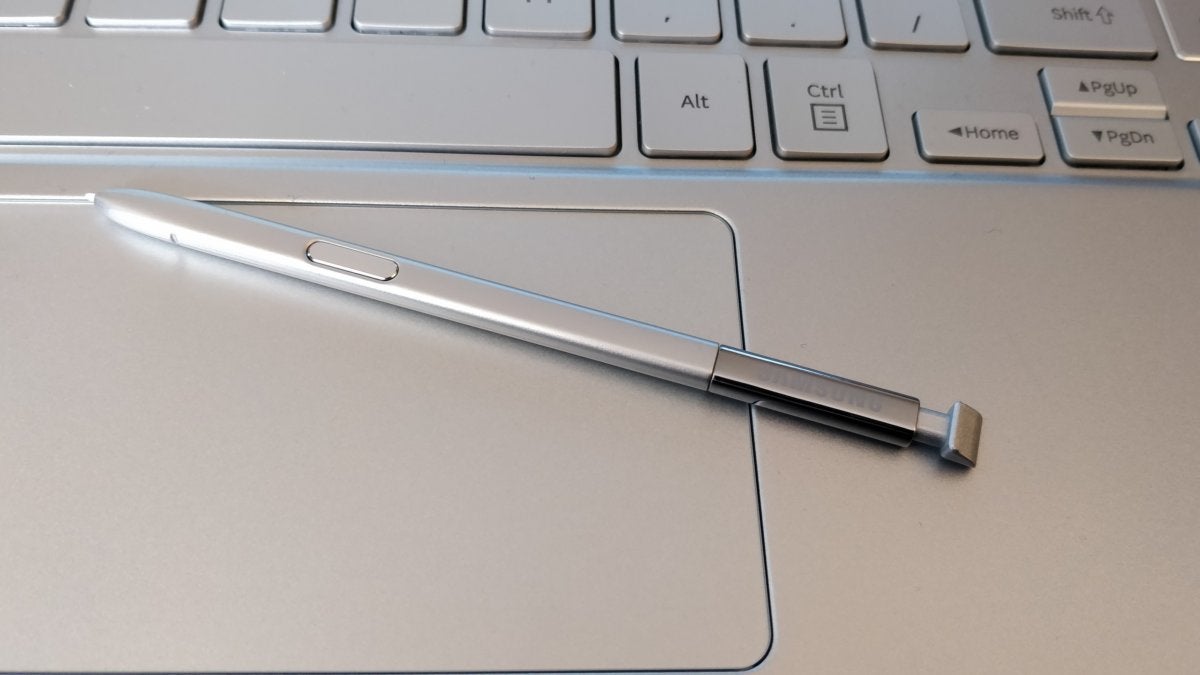 And yet…much has been made about the S-Pen's ability to get stuck within Samsung's Note 5 smartphone, enough that the company redesigned its hardware. I found it's difficult, if not impossible, to wedge the S-Pen inside the Notebook 9 Pen, tip out. But I did get it stuck fast. After a few days of angst, I threw caution to the wind and wiggled it free—phew!—without any apparent harm.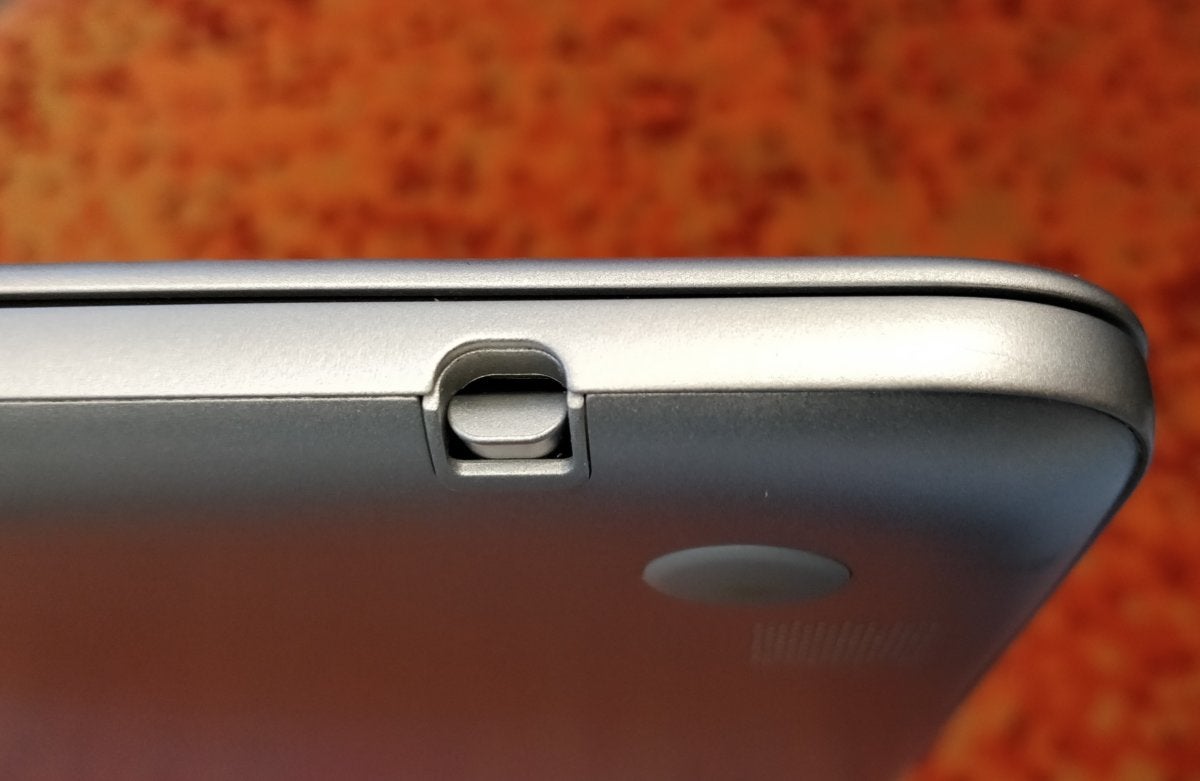 …and then wedged it in again, seemingly permanently. Imagine the uproar if you permanently incapacitated a USB stick after inserting it the wrong way. Inserting a pen should not require this amount of care.
Once the S-Pen pops free, the S-Pen's Air Command apps appear: a series of five options to write notes, write on the screen, and project a portion of the screen onto an external display. Nothing has changed since the Air Command apps debuted on the Samsung Galaxy Book: Smart Select mimics Windows 10's own Snipping Tool, and Windows has allowed you to write on the screen for some time. Smart Select lets you lasso and save a few seconds of video as a GIF, and that's a fun and useful tool for social media.
Samsung's software: Sometimes superfluous
Stray from the Air Command apps, however, and the other bundled software is less compelling. In addition to the usual Microsoft Windows crapware—hello again, Candy Crush Soda Saga—Samsung has loaded a number of its own, self-explanatory apps and utilities onto the Notebook 9 Pen: Recorder Plus, Samsung Security, User Manual, Wi-Fi Camera, Samsung Gallery, Samsung Messages, Samsung Notes, Samsung PC Cleaner, Samsung Recovery, Samsung Settings and Samsung Update. TeamPL, a screen-sharing app, is included, as is LittleArtist, a drawing app, plus a gateway to a number of WildTangent games.
What you'll quickly notice is that many of Samsung's apps are branded alternatives to existing apps. Some, like Samsung Notes, seem superfluous when Microsoft's OneNote is superior and built right into Windows 10. Others seem odd due to their explicit ties to smartphones (Wi-Fi Camera, which allows the Notebook 9 Pen to pair and use your smartphone's camera as a webcam.)
On the other hand, you'll want to dive into Samsung Settings, which lives in your taskbar by default and allows you to tinker a bit with the Notebook 9 Pen even beyond what Windows allows. One handy adjustment, for instance, is the toggle that puts the notebook in "Quiet Mode" and shuts off the otherwise persistent fan. (Take note: Though Quiet Mode sounds convenient, performance dropped by about a third when I spot-tested it.)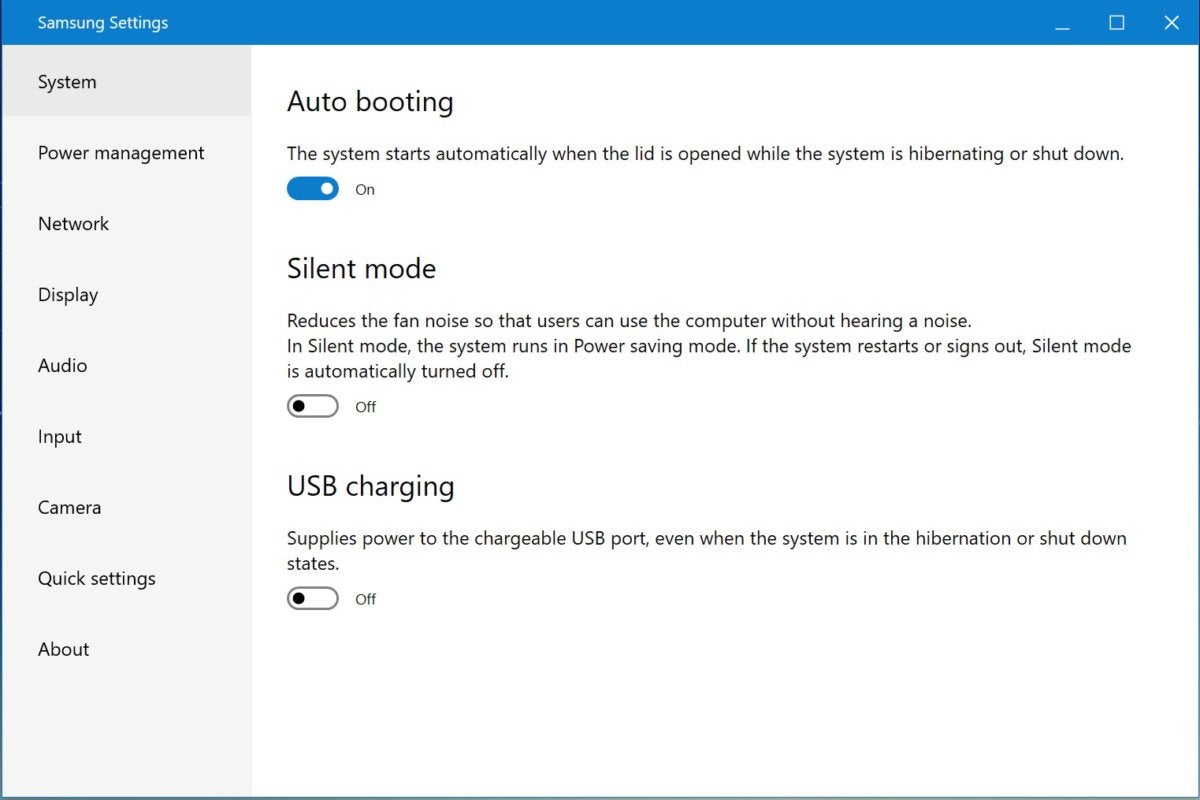 Other useful Samsung Settings include controls to configure the laptop to charge only up to 85 percent of max capacity, which is easier on the battery. In a crowded environment, you can configure the notebook to show only the top three access points, good for when you're searching for a wirelessly tethered phone.
A few settings are more puzzling. I heard no difference after adjusting the "audio effects." A "battery plus" mode that trims CPU usage even further actually turned off the Quiet Mode mentioned above, which turned on the fan again. Meanwhile, toggling on the Beauty Camera function within the Camera app did nothing for me. (Don't even think it, reader.)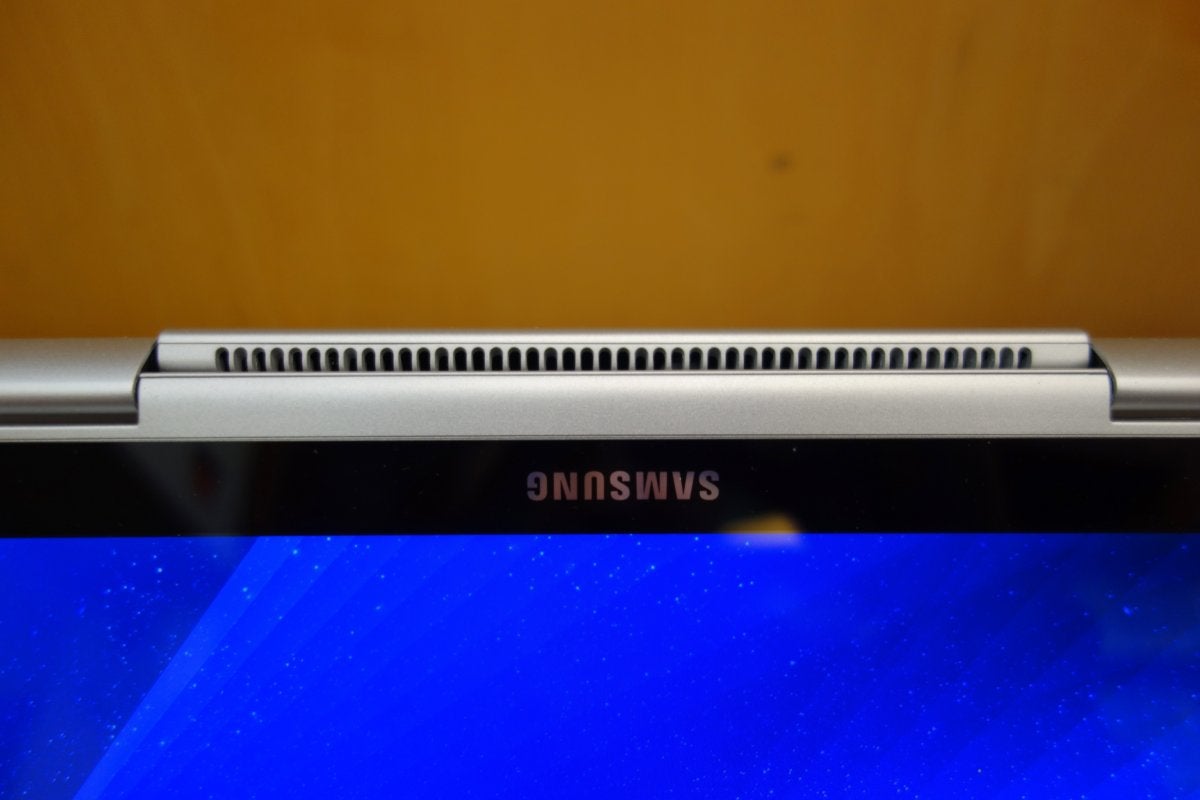 Beware the Samsung Setting that promises to ramp up the brightness for "outdoor mode:" It gets nowhere close to being usable in bright sunlight, though it manages well enough in the shade. A similar setting applies HDR effects to adjust videos, slightly lightening videos that you can play back on the notebook's non-HDR display.
Hands on: The keyboard and trackpad
Samsung's keyboard isn't especially comfortable to type upon. The keys are pleasingly springy (and spill-resistant, too) but a bit smaller and shallower than I'd prefer. A long bout of typing leaves my fingers feeling a bit like I'd gone jogging in the wrong kind of shoes. Perhaps Samsung is implicitly nudging us to use its onboard stylus instead?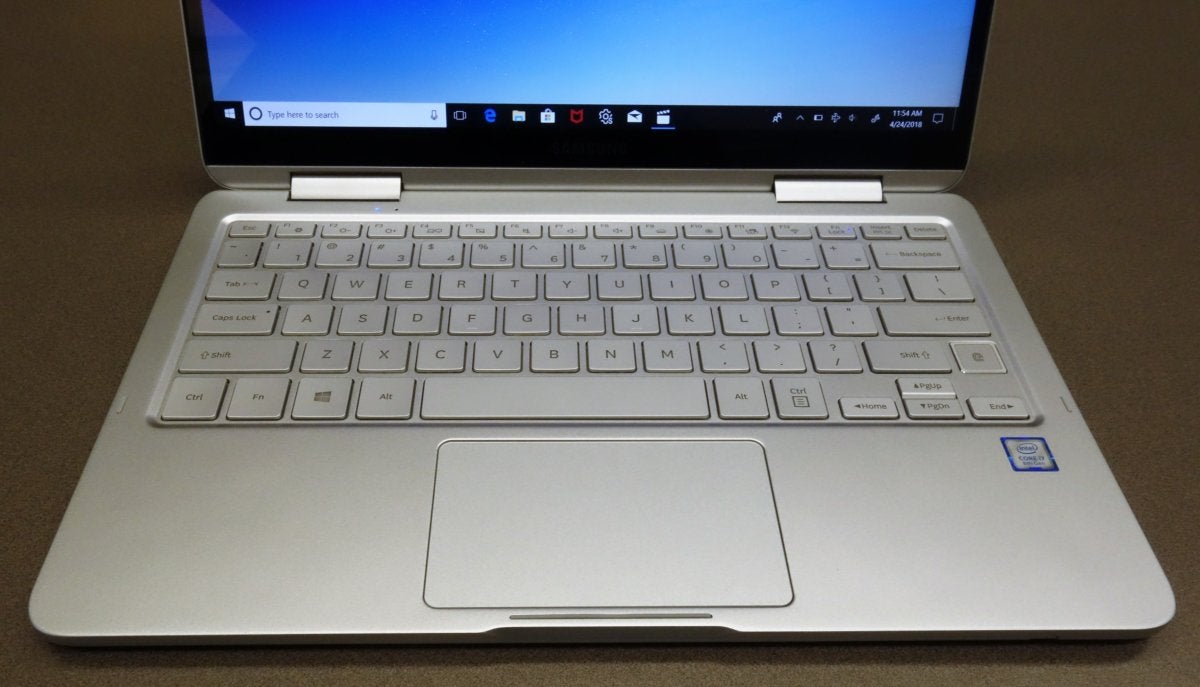 Samsung maintains ultimate control over the backlight, which turns on when the Notebook 9's ambient light sensor decides it's needed. A function key controls this as well, but Samsung's Settings software also lets you to adjust the brightness of the backlight via a slider, though in coarse 30% increments.
The size of the trackpad is about average, constrained by the relatively short depth between the front and the back of the keyboard. However, it's responsive across almost its entire surface area, and the glossy surface allows for easy navigation.
One of my favorite features within Windows 10 is Windows Hello, which quickly identifies you with either a fingerprint reader or depth camera. (Fortunately, Samsung did away with Samsung Flow, the Rube Goldbergian-scheme it used on the Galaxy Book, which required a Samsung Galaxy phone for authentication.) The Samsung Notebook 9 is the first laptop I've seen that offers both—and if one can't identify you, the other should. It may be overkill, but it's the type that's worth applause.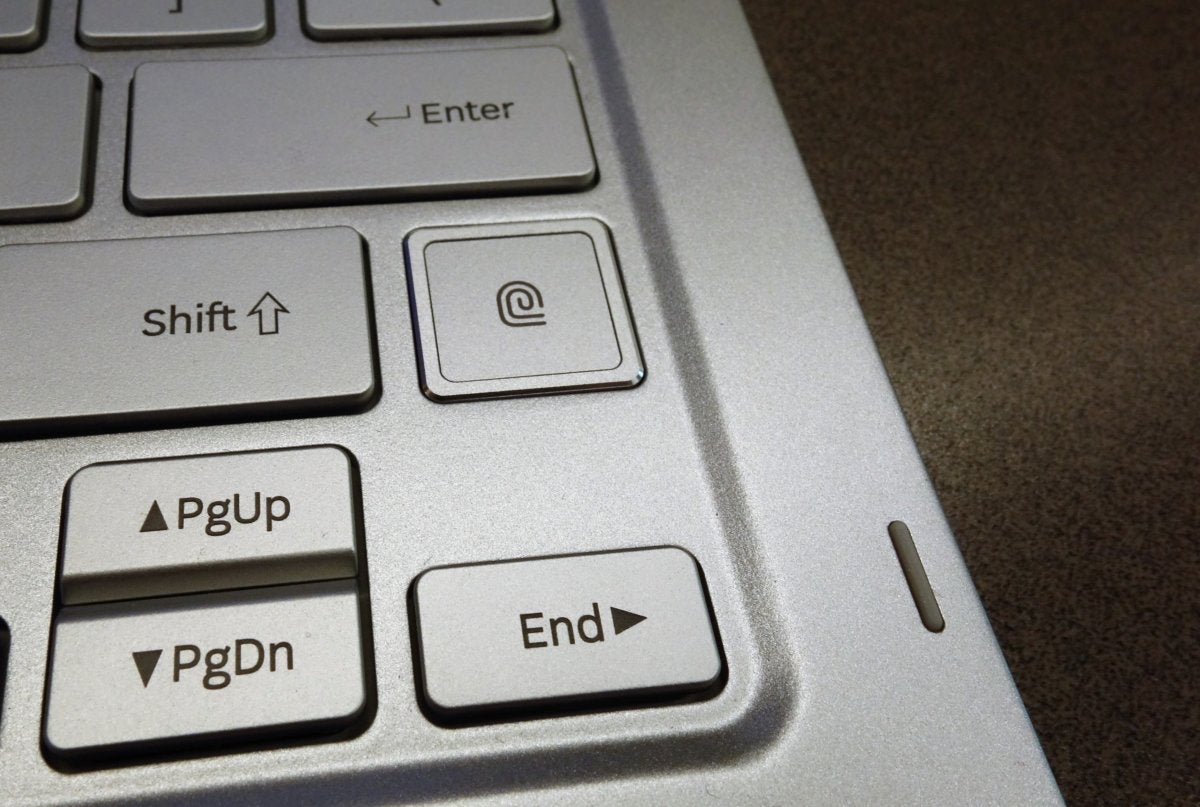 The audio output from the Notebook 9 Pen speakers sounds both faint and flat, without any of the enhancement technologies other manufacturers include. As with most laptops, headphones are recommended. (The Notebook 9 Pen Windows Sonic virtual surround sound enhancement for headphones is still included as part of Windows 10.)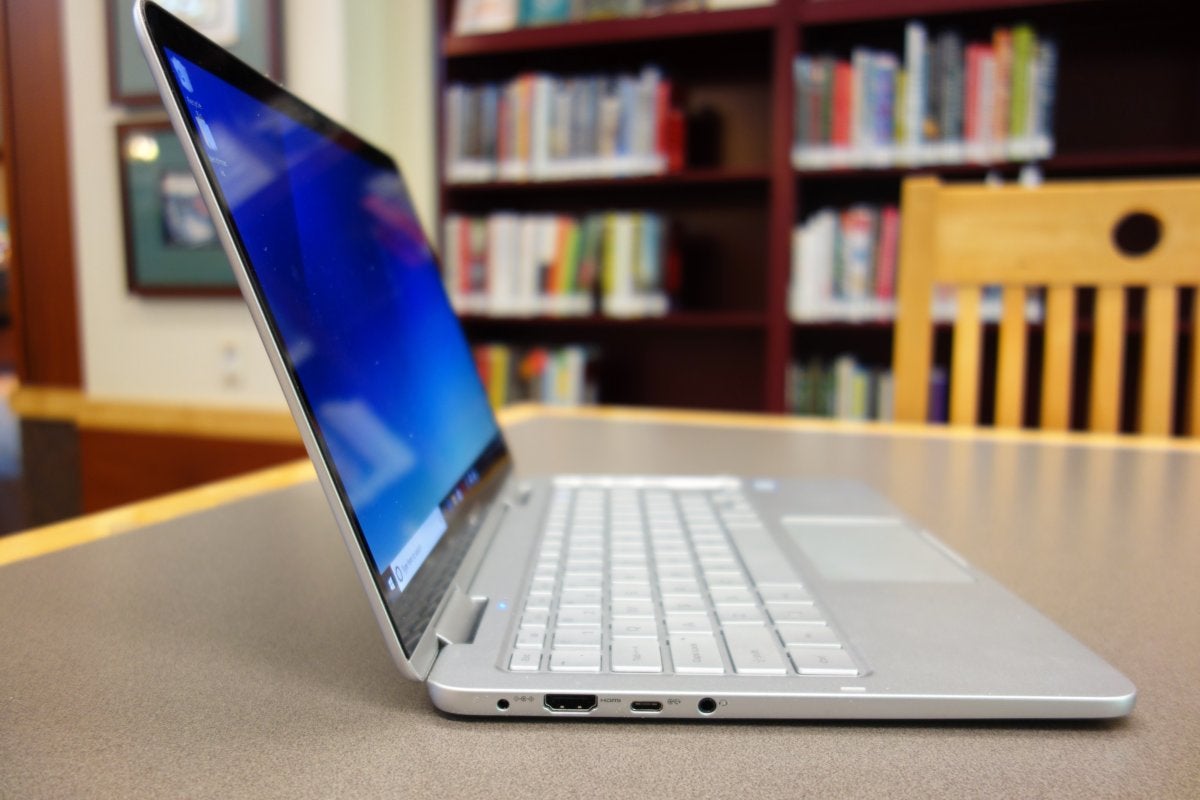 Samsung's choice of ports feels appropriate for the transition between USB-A and USB-C: There's simply one of each. Personally, I've come to like how a charging-capable USB-C port lets you power your laptop with a phone charger in a pinch, and Samsung's port includes this capability. A (user-supplied) dongle can be used to connect an external display, or you may use the HDMI port.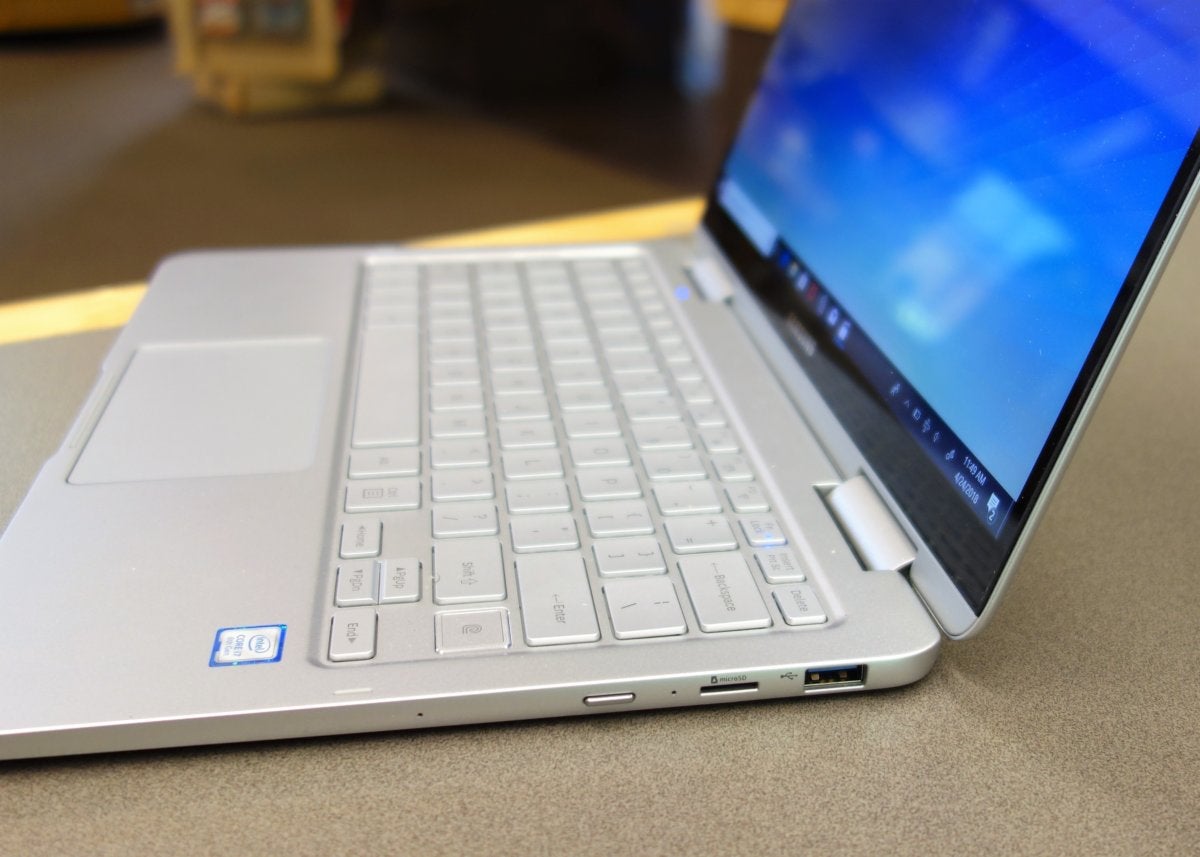 Performance: Very good, save for battery life
Underneath the Samsung's Notebook 9 Pen mild-mannered exterior is a pretty powerful mainstream laptop. Compared against a number of midrange notebooks at generally comparable prices, the Notebook 9 Pen's 8th-gen Kaby Lake-R Core chip helps elevate it to the top of our performance chart—with an exception for graphics, where its integrated Intel UHD 620 hits the wall. And while the battery life doesn't outshine the competition, the Notebook 9 Pen yielded close to 10 hours in our rundown tests, which should suffice until you can track down a charging outlet.
Although many of our reviews are conducted with just PCMark's Work test as a measure of office performance, I like to add the Home and Creative tests as well. PCMark's Work scores measure the performance on typical office tasks: word processing, spreadsheet work, and the like. Any laptop scoring over 2,000 will handle mainstream applications just fine, and it's a cake walk for a quad-core CPU like the one in the Notebook 9 Pen. Nevertheless, here's its above-average performance.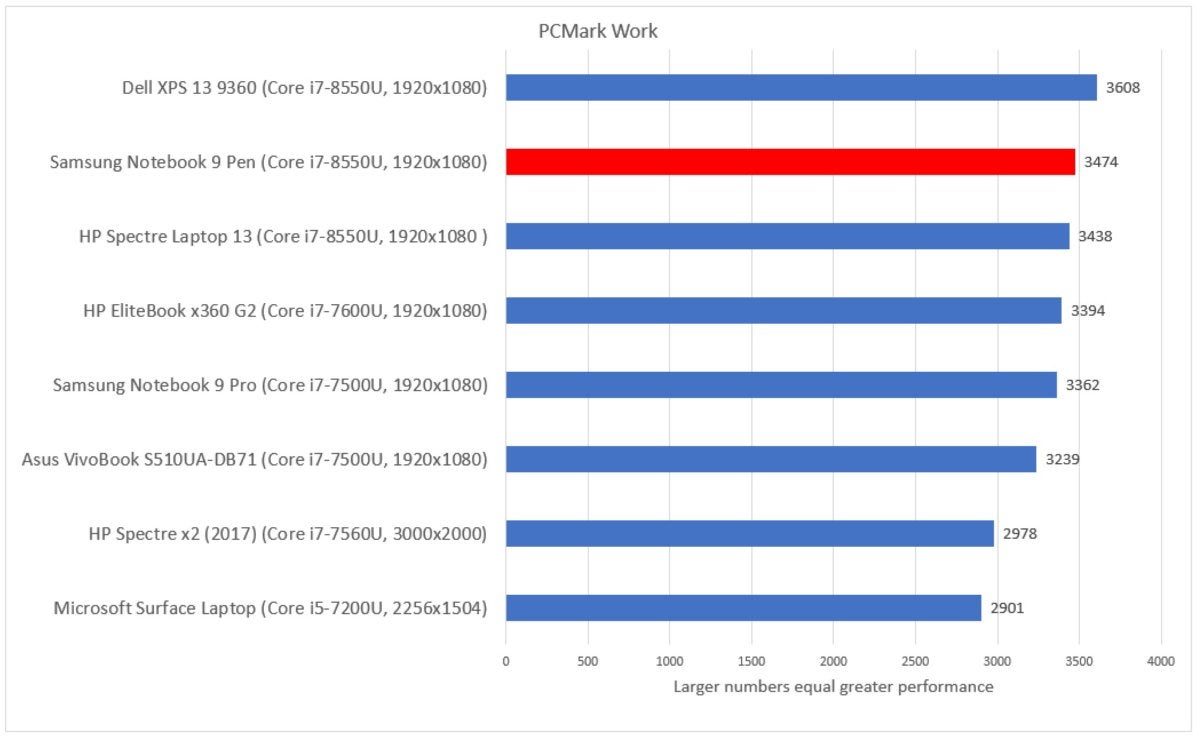 PCMark's Home tests stress the laptop a bit more, combining web browsing and light gaming. (Although we don't break it out, the gaming scores reported about 6 frames per second, so don't expect to be playing too many first-person shooters.)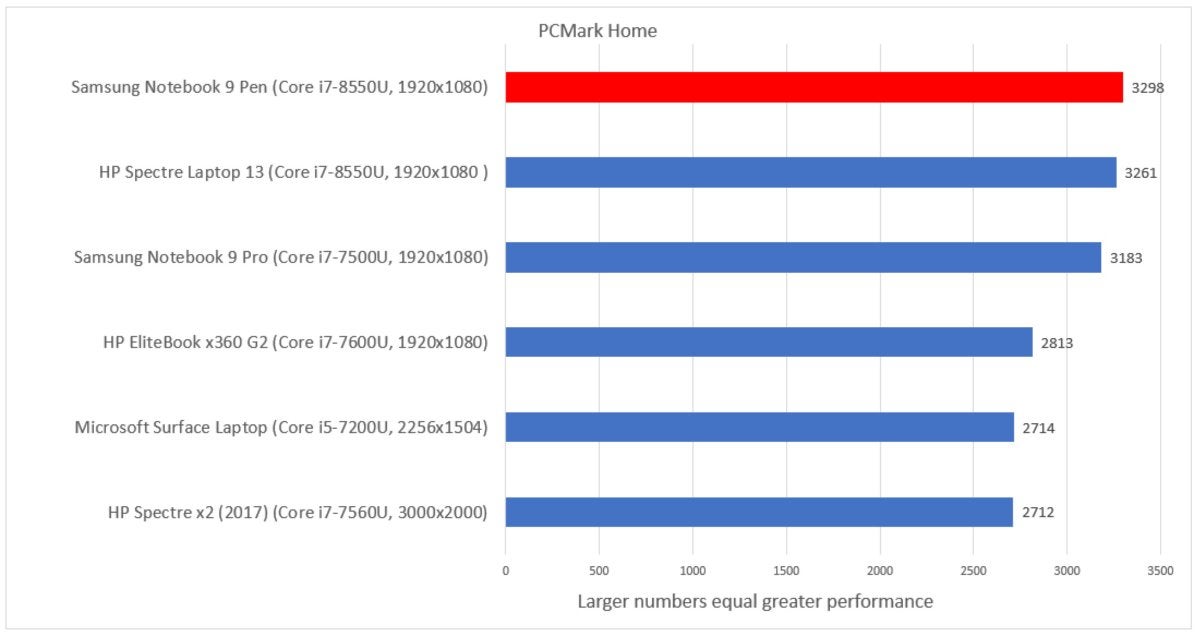 The Creative tests are aimed more at content creation, which today includes photo manipulation and video editing. Here, the Notebook 9 Pen tops them all.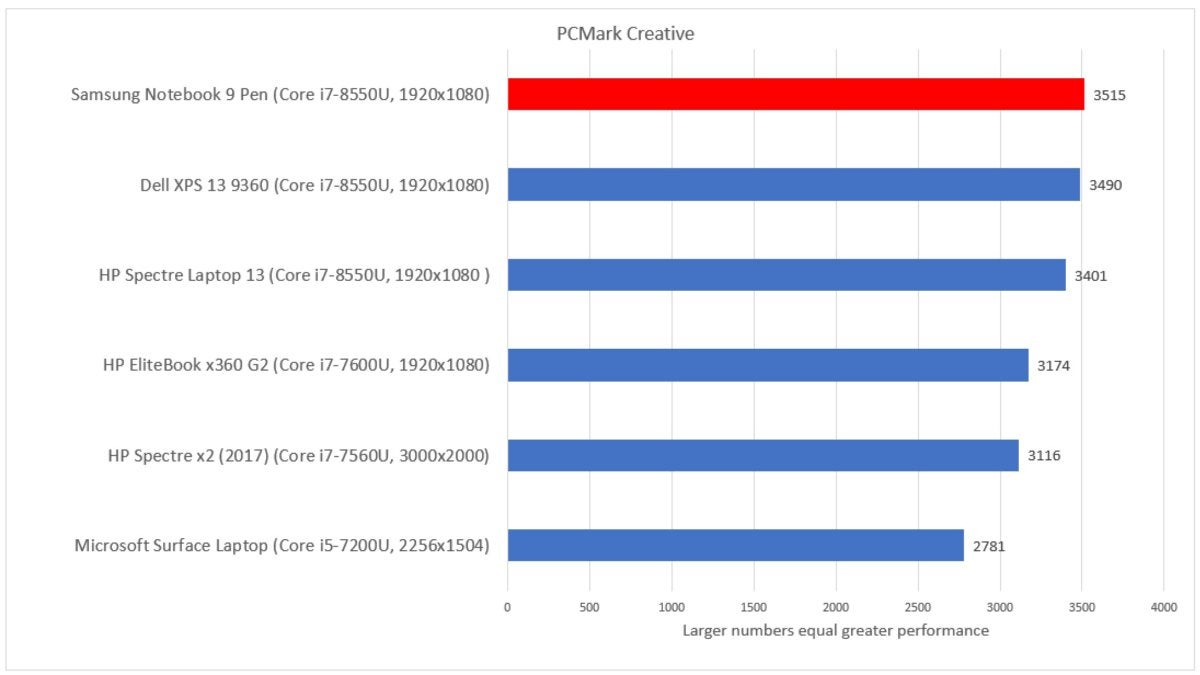 Maxon's Cinebench benchmark is based on its Cinema 4D professional animation software, boiled down to a test which renders a specific 3D scene across one or all of the processor cores. (We've tasked the benchmark to stress all four cores.) That makes it an excellent test of how well the Notebook 9 Pen will fare in multi-threaded apps. Among our comparison of notebooks, the Samsung Notebook 9 Pen performs well—helped in part by Intel's transition from two to four processor cores in its 8th-gen parts. While no one expects the Notebook 9 Pen to be used for professional animation, it's a good comparison.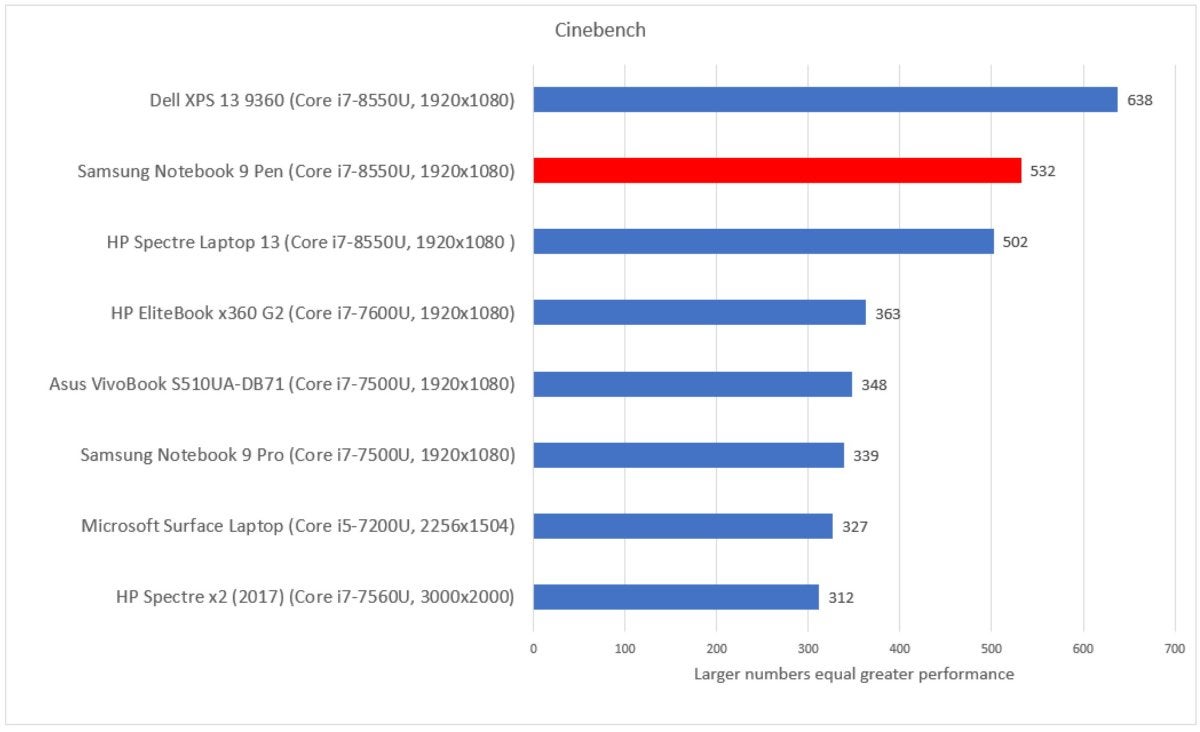 Another stress test is HandBrake, an open-source tool we use to convert a Hollywood movie into a format that can be played back on an Android tablet. While Cinebench is more of a sprint, the HandBrake evaluation is closer to a marathon, measuring performance over time. The Notebook 9 Pen posted one of the better scores.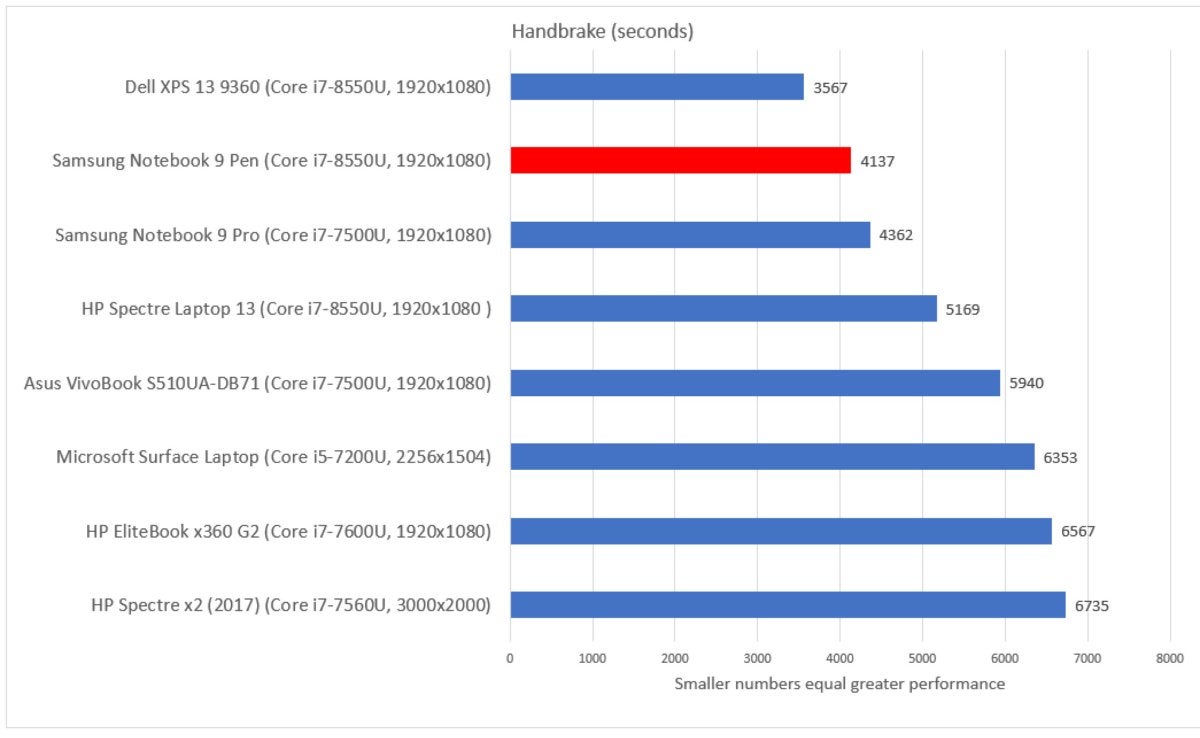 Finally, we run 3DMark's Sky Diver benchmark. Many of the gaming and other desktops have moved on to Time Spy or other advanced benchmarks, but a typical midrange laptop hasn't advanced much, especially if it sticks with Intel's pedestrian UHD 620. Virtually all of the notebooks we tested use the UHD 620 integrated controller, save for the Radeon RX 540 found in the Samsung Notebook 9 Pro.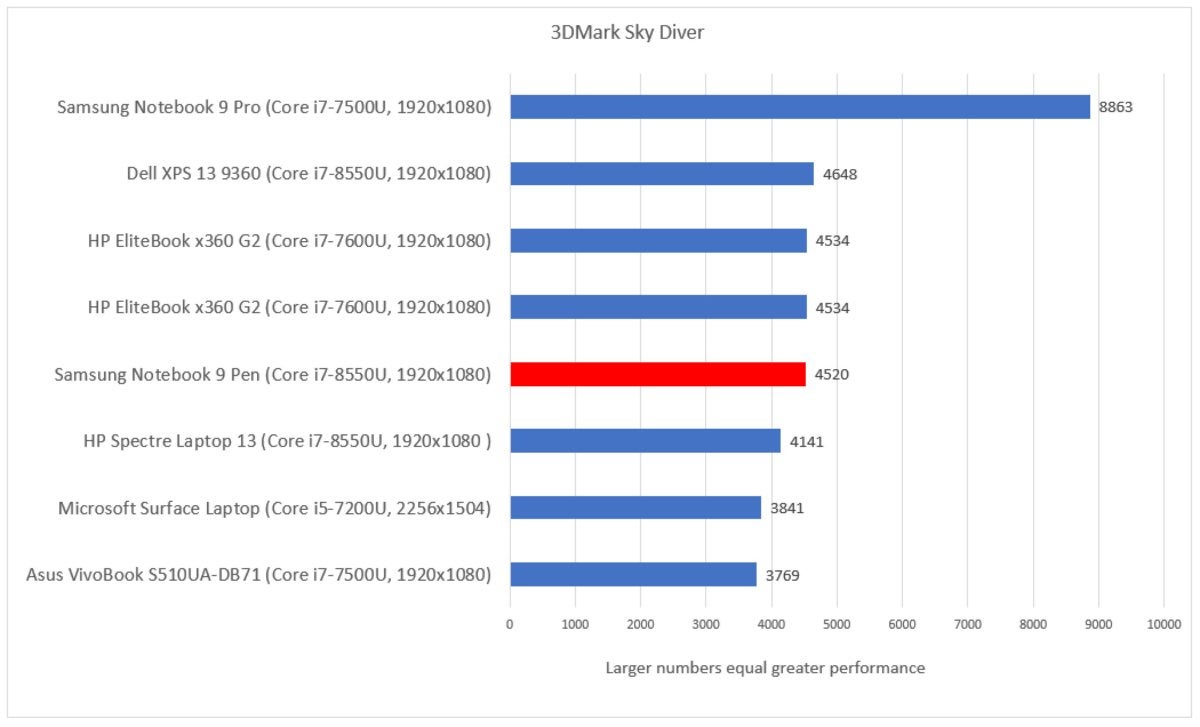 Our final metric of significance is battery life. We set the display at a fixed level of brightness, then loop a 4K video to run down the battery from a full charge. The Samsung Notebook 9 Pen offers satisfactory battery life when considered by itself, enduring about ten hours on its 39Wh battery. Comparatively, however, you'll find better choices elsewhere.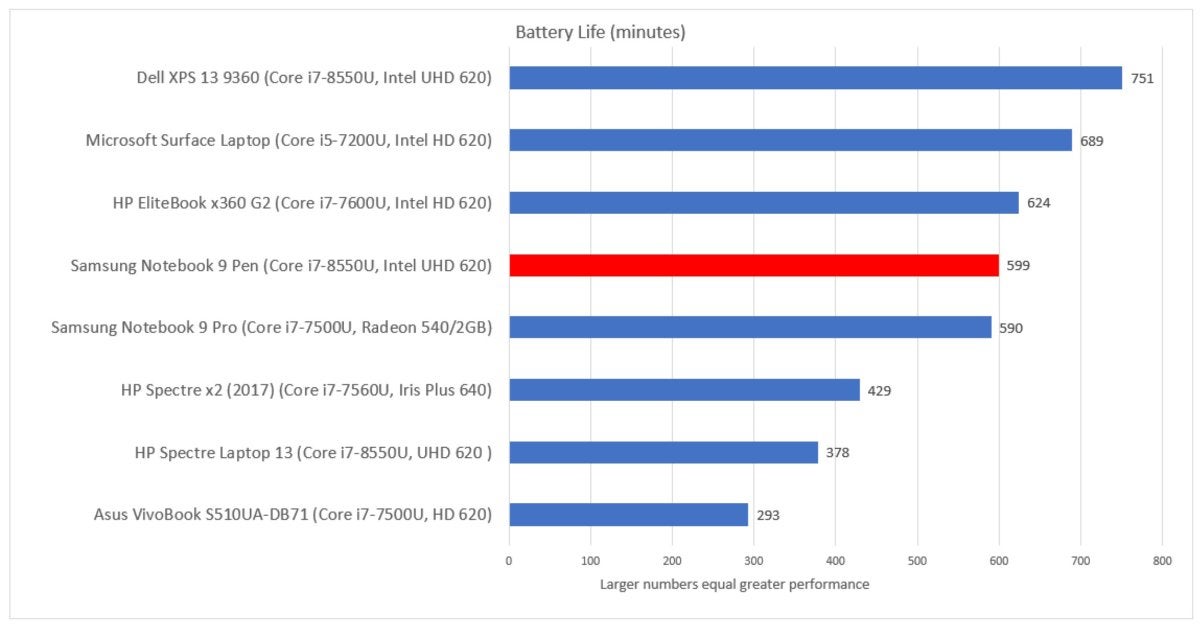 Conclusion: Keep an eye out for bargains
Samsung's Notebook 9 Pen certainly doesn't impress when you pick it up. Samsung, however, sees the Notebook 9 Pen as a note-taking device, where you'll undock the S-Pen, fold the display back, and jot notes on a giant tablet. Combine that with its Air Command apps and the numerous Samsung-authored apps already on the tablet, and what Samsung hopes to achieve is more in the direction of Apple than anything else.
In general, though, Samsung's app ambitions are more of a miss than a hit, at least on the PC. Windows apps outshine many of Samsung's similar alternatives, especially in the case of Notes. Extending Samsung's ecosystem between its phones and its PCs feels forced.
Pulling that thread, however, unravels much of what justifies the Notebook 9 Pen's higher price. It bears reiterating that there's nothing wrong with Samsung's choice of an 8th-gen Core CPU, 8GB of memory, and roomy SSD. The S Pen works well—and it's bundled, too. A mediocre keyboard and battery life, though, suggest you should check out alternatives: Dell's new XPS 13 or the HP Spectre Laptop 13 may be better bets, offering just as much or more, and for a lower cost.
While I'm not convinced that as many note-takers crave this convertible notebook as Samsung believes, the Notebook 9 isn't a bad choice. It simply doesn't seem to aspire to that much.
Best Prices TodayNotebook 9 Pen