People often turn to boutique PC builders like Maingear, Digital Storm, Falcon Northwest, and Origin PC when they want a badass, over-the-top, liquid-cooled beast of a system, but don't want to worry about cutting tubes and tightening fittings themselves. The newest entrant in the custom desktop landscape practically wrote the book on extreme cooling. EK Water Blocks, the creator of custom liquid-cooling hardware beloved by enthusiasts around the globe, announced on Friday that it's now selling full PCs dubbed EK Fluid Gaming Systems.
Mentioned in this article
AMD Ryzen 7 2700X Processor with Wraith Prism LED Cooler
Price When Reviewed:
$329.00
The timing's no coincidence. Every EK Fluid Gaming System relies on the potent AMD 2nd-gen Ryzen CPUs released yesterday—either the Ryzen 5 2600 or Ryzen 7 2700X, more specifically. No Intel chips are on offer.
In fact, while Fluid Gaming Systems pack powerful hardware, they pack universal hardware, unlike the highly configurable options available at many other boutique PC vendors. EKWB's keeping the component selection simple as it dips its toes into the full-system waters. At the moment, every machine's built in a customized InWin case, with AM4 motherboards and GeForce graphics cards coming from MSI, G.Skill's blinged-out Trident Z RGB RAM available in 16GB and 32GB capacities, and storage limited to Samsung's blazing 960 Pro on the SSD side and Seagate BarraCuda drives for mass storage. Only EVGA power supplies are available.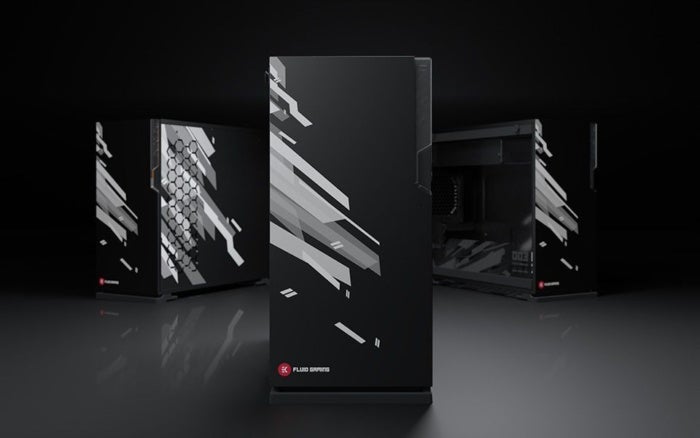 But the power supply selection is where things start to get interesting. As you'd expect from EKWB, Fluid Gaming Systems offer nifty extras catering towards enthusiasts. Every system ships with CableMod ModMesh power supply cable extensions in white, red, blue, or green.
Each PC also includes liquid cooling bolstered by EKWB's highly regarded Vardar fans, which are jazzed up with RGB LEDs. EK lets you choose the color of your cooling fittings and coolant fittings too, though you're limited to soft tubing alone, which is sort of a bummer. If you're spending a small fortune on a high-end PC from a liquid-cooling specialist, having hard tubing available as an option would be ideal.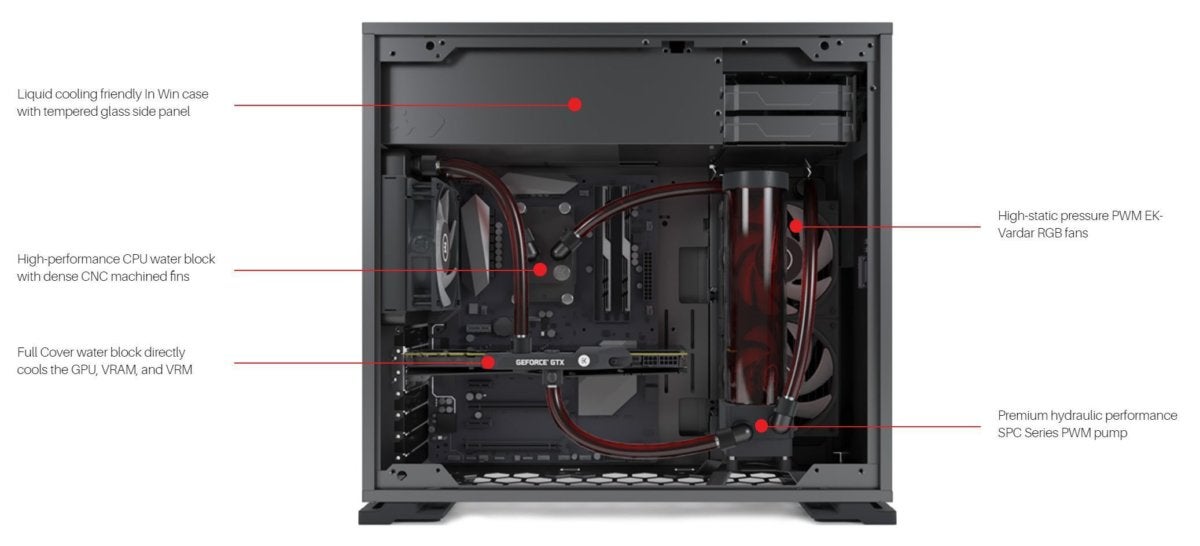 That would require much more work on EKWB's end, though, so it's understandable why hard tubing isn't available out of the gate. The company says more hardware, case, and liquid-cooling options will appear in the future.
EK Fluid Gaming Systems cost what you'd expect from a boutique PC builder. Prices start at $2099.49 and go up from there. The gaming rigs come with a two-year parts and labor warranty with lifetime support. But even though EKWB is a Slovenian company, Fluid Gaming Systems are only available in the U.S. at this time, with the first units expected to ship in May.