Microsoft continued its gradual push toward making the Xbox One more like PCs by announcing it will soon support compatible 120Hz displays for its game console platform. How soon? Try today. The new features are part of the "April Xbox Update," and it's rolling out over the "next few days".
Microsoft said in a blog post on Friday that the new additions would be coming in the next few weeks, but Microsoft apparently pulled in that timetable. (Microsoft is also expected to release a April Update to Windows 10 soon, too.) The April Xbox Update will still be rolled out first to members of the Xbox Insiders program, then to the general public, Microsoft added Tuesday.
Friday's announcement complements its March update, when Microsoft announced a number of improvements designed to enhance the Xbox One experience when playing on PC-caliber displays and TVs. Microsoft also added a number of UI improvements, including the ability to group games.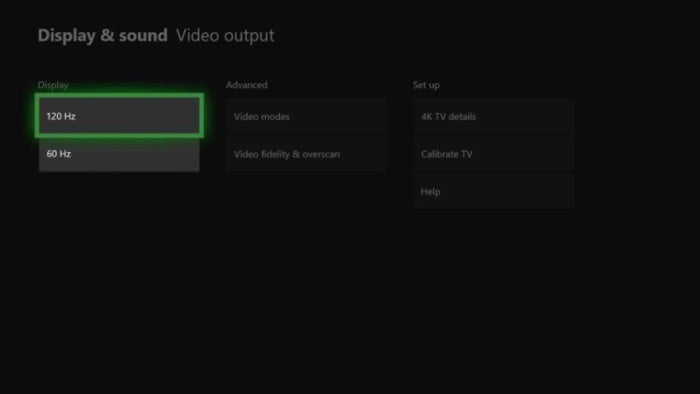 The most important was variable refresh rate support on AMD FreeSync displays, designed to eliminate the screen tearing effect that can occur when a display becomes out of sync with the GPU driving it. Freesync, which is compatible with the AMD GPUs driving the Xbox One and Radeon graphics cards on the PC, allows the monitor to sync its refresh rate with the GPU. Microsoft also announced 1440p resolution support for the Xbox One X, plus what it called Auto Low Latency mode, which will recognize when a game is being played and automatically adjust your screen accordingly.
A great 1440p FreeSync display that hits 120Hz+
Nixeus EDG 27″ IPS 1440p 144Hz FreeSync monitor
Price When Reviewed:
$419.99
Friday's announcement means that the previously announced 1440p mode, as well as the existing 1080p mode, will now support 120Hz refresh rates. (Microsoft didn't actually say what consoles would support the higher 120-Hz refresh rates, but the powerful Xbox One X would be a good bet.) Naturally, the higher refresh rates will mean smoother and better gameplay experiences, Microsoft said. That goes doubly so paired with a FreeSync display.
Microsoft is also adding some additional Xbox One interface improvements to its April Xbox Update:
The ability to group games and apps, however you'd like. They'll sync across multiple Xbox consoles.
You can now trim captured video clips directly within the Guide app.
The Xbox Family Settings page has been updated with an additional "Details" tab, where families can tell which family and content settings are set up and configured.
Microsoft has made improvements to the Xbox Accessories app to make it easier to navigate, and will make some changes to the button commands used to navigate the Home screen.
You can set dark mode and light mode depending on the time of day.
You can also adjust streaming audio independent of the game audio, so you can blast whatever music you'd like. You'll simply need to click "A" in the streamng music app to adjust the volume.
The new April Xbox Update also includes the ability for Mixer users to share their controller with a viewer, and actually let them control the game. Screenshots can also be directly shared to Twitter.
Mentioned in this article
Xbox One X
Price When Reviewed:
$499
The impact on you at home: While most people still put their Xbox within their living room, it certainly seems like there's now more reasons to tuck it behind your existing gaming monitor to take full advantage of the Xbox One X's capabilities. And with graphics card prices remaining in the stratosphere, the Xbox One X has become a more attractive gaming option over time. Now, if there was only mouse and keyboard support…
This story was updated at 1:19 PM on April 24 to reflect that the Xbox April Update is currently rolling out.