At a Glance
Expert's Rating
Pros
Easy to use
Supports 12 simultaneous devices
Decent for streaming
Cons
Interface feels outdated
Small list of available servers
Pricey for the features offered
Our Verdict
StrongVPN doesn't have the largest server list, nor does it offer a very extensive feature set. Overall it feels a bit behind the times and its focus on simplicity may ultimately be holding it back. Still, it could be a decent option for people who want something basic and hassle-free.
Price When Reviewed
$11.99
Best Prices Today: StrongVPN
Simplicity is something we appreciate greatly in a good VPN, and StrongVPN has made it the defining feature. A few years ago it overhauled its service in order to reduce choice and make it as easy as possible to get connected and browse securely. The company has recently tried to build upon its service while maintaining this simplicity by upgrading to include 12 simultaneous device connections—two or three times as many as some of its competitors. So how this shift worked out? We put StrongVPN through the ringer to see whether it lives up to its name.
Further reading: See our roundup of the best VPNs in 2023 to learn about competing products.
What are StrongVPN's features & services?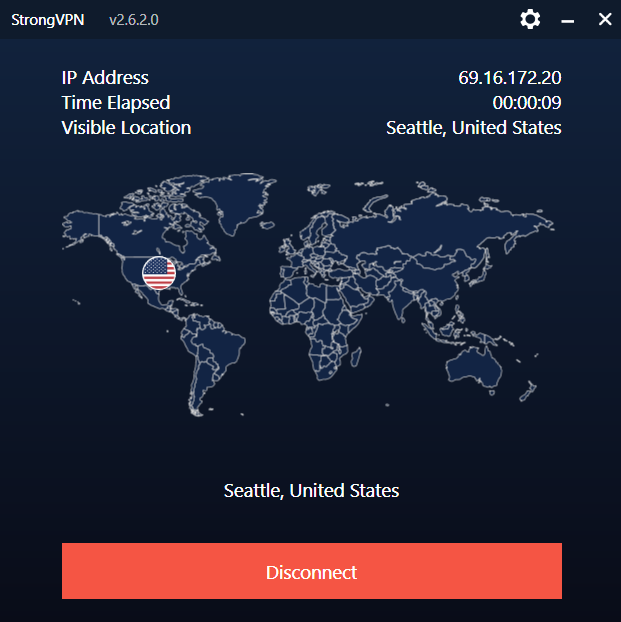 Sam Singleton
StrongVPN comes with most of your basic VPN features. It offers apps for Windows, Android, iOS, macOS, ChromeOS, and Amazon Fire TV. For the purposes of this review, I only tested the Windows version. It also allows 12 simultaneous device connections, which is roughly twice as many as some other VPN providers. It's interesting to note, however, that I'm starting to see more and more services switch to offering unlimited simultaneous device connections, a trend I hope will continue.
When you first open up StrongVPN you're greeted with a map, a button titled Best Available Location, and a button to connect. By default, StrongVPN will choose the closest server for the best possible speeds. In order to see a list of available locations you'll actually need to click on Best Available Location. I understand that this was likely a way to help simplify the connection process for beginners, but it didn't feel very intuitive. Plus, many people nowadays use a VPN to connect to another country's servers rather than just the closest geolocated server anyways.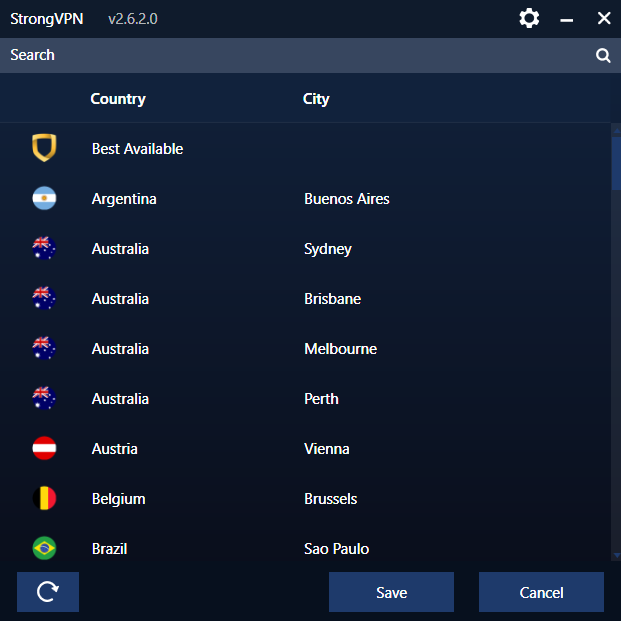 Sam Singleton
StrongVPN's locations are limited, but it has enough servers in various countries throughout the world to satisfy most users. It has just over 40 country locations and a reported 950 available servers. That is quite a modest server population compared to other services such as Surfshark VPN, which has 100 country locations, or Private Internet Access VPN, which has well over 30,000 plus servers. Note: Having more servers doesn't necessarily mean a better VPN, but it's usually indicative of a more robust service.
StrongVPN claims that it has no virtual server locations and that all of its server locations are based in the country stated. It's a nice thing to know as some VPN providers use virtual locations to provide access to a country where they may not have physical servers. This isn't super important, but it can have some minor effects on server performance—positive or negative.
our favorite VPn
ExpressVPN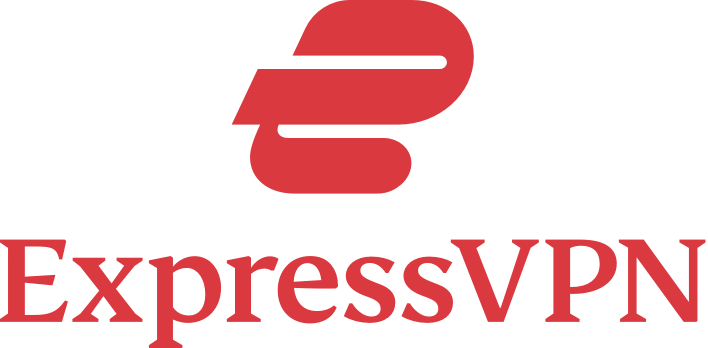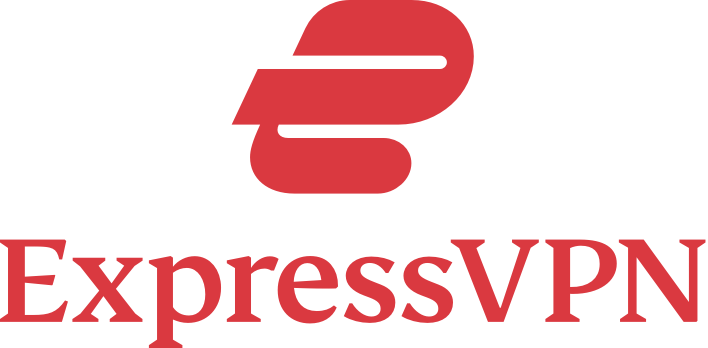 Price When Reviewed:
$6.67 per month
Beyond the map and server location list, there isn't much more to StrongVPN, to be honest. By clicking the gear in the upper right-hand corner of the app you can open the Settings menu. Even here it's simplistic and your options are limited. It all left me feeling somewhat wanting.
The Windows app provides no options for split-tunneling, which allows you to pick and choose which programs you wish to run through the VPN. Nor does it offer multi-hop connections in order to route your traffic through more than one server to further obfuscate your true location. These are both valuable tools and they're offered by many other big-name VPN providers such as NordVPN and ExpressVPN.
The Settings menu does give you a few features such as a kill switch, which will automatically disconnect your internet in the event that the VPN connection is severed. You'll also find options to change your VPN protocol here and information about your account.
How is StrongVPN's performance?
StrongVPN
While using any VPN, both your download and upload speeds are likely to decrease due to latency between servers. It's also worth noting that VPN server speeds are highly dependent upon area, time of use, and a multitude of other factors. Therefore your experience may differ from the results in my, or anyone else's testing.
That being said, during my testing I rated speeds across StrongVPN's servers in five different countries all around the world and then compared them to my baseline internet speed. StrongVPN server speeds were passable, but not great. Across all locations tested, the average download speed was 31 percent compared to the base speed and the average upload speed was a rather sluggish 13 percent compared to the base. That puts StrongVPN in the middle of the pack of all the various services we've tested. However, it fell short of the speediest services in our top five fastest VPNs.
I noticed that, oddly, speeds in Brazil and other South American countries were much lower than those in other continents. Take this with a grain of salt, though, as your results may vary. The bottom line is that StrongVPN should be fast enough for most people's needs, though it doesn't top the speed charts compared to other VPNs we've tested.
For those concerned about streaming, you need not worry. Every server I tested with StrongVPN was able to access the major streaming services such as Netflix, Amazon Prime, Hulu, and Disney Plus without issue. Furthermore, users can access P2P on all StrongVPN servers if they so desire.
How is StrongVPN's security and privacy?
StrongVPN is owned by parent company J2 Global, an American digital media and internet services conglomerate. It also owns a number of other popular VPNs including IPVanish and Encrypt.me.
It's based in the United States, which is a member of the Five Eyes, the Nine Eyes, and the 14 Eyes international surveillance and intelligence alliances. This means that U.S. authorities can obtain user information from StrongVPN with the proper warrant. Depending upon how privacy conscious you are, this is something you should take into consideration before choosing this service.
StrongVPN makes all the privacy promises you'd expect from a VPN. The company has a "strict no-logging policy" and it states that it doesn't collect or log any web traffic or any other internet use of its VPN service—no IP addresses, no bandwidth usage, and no timestamps. Its privacy policy claims that the only data that it does collect is billing information and email addresses for account creation purposes. Furthermore, it states that it doesn't sell any personal information about users to third parties.
You'll just have to take its word for all of this however, as StrongVPN has yet to complete an independent security audit. In today's day and age I expect an established VPN such as this to have undergone and passed an audit and the fact that it hasn't is disappointing.
Sam Singleton
In regards to StrongVPN's security, it has your industry standard AES-256 encryption. It also supports IKEv2, WireGuard, OpenVPN, SSTP, and L2TP protocols in its Windows app.
As for payments, it offers all the standard credit card options, as well as PayPal, Bitcoin via BitPay, and Alipay. This allows for varying levels of relative anonymity, with Bitcoin being the strongest.
Is StrongVPN worth it?
StrongVPN is certainly very easy to use, and the speeds are reliable and good enough for most users. If you are new to VPNs then StrongVPN might be a good choice. However, this focus on simplicity comes back to bite it. The lack of advanced features is unfortunate — no split-tunneling and no multi-hop capabilities are particularly egregious.
StrongVPN attempts to strike a middle ground by providing only the essentials for VPN basics without going overboard in feature choices, but ultimately comes up short. I can see why in the past it decided to forego features that were then deemed niche. But nowadays these same features are more commonplace and their continued exclusion make it seem like a bit of a relic.
Editor's note: Because online services are often iterative, gaining new features and performance improvements over time, this review is subject to change in order to accurately reflect the current state of the service. Any changes to text or our final review verdict will be noted at the top of this article.
Best Prices Today: StrongVPN