At a Glance
Expert's Rating
Pros
Powered off of USB port
Doesn't eat any desktop space
Even, relatively bright lighting
Cons
Expensive
Auto mode overrides warm-lighting mode
Our Verdict
The BenQ ScreenBar is one of those products that makes so much sense—a USB-powered, space-saving desk light, of course!—you wonder why it wasn't invented years ago.
Best Prices Today: BenQ ScreenBar e-Reading LED Task Lamp
In the category of "Damn, why didn't someone think of this sooner?" we have BenQ's simple yet impressive ScreenBar "desk lamp." It's the ultimate answer for those with little to no desk space.
Why someone didn't think of this before, we just don't know. The ScreenBar consists of an array of LEDs in an 18-inch wide aluminum tube that's about 3/4 of an inch in diameter. The tube clips into a counter-weight mount, which then sits atop your monitor. The entire tube rotates a few degrees and you can also shift the angle by moving the mount on the monitor a bit.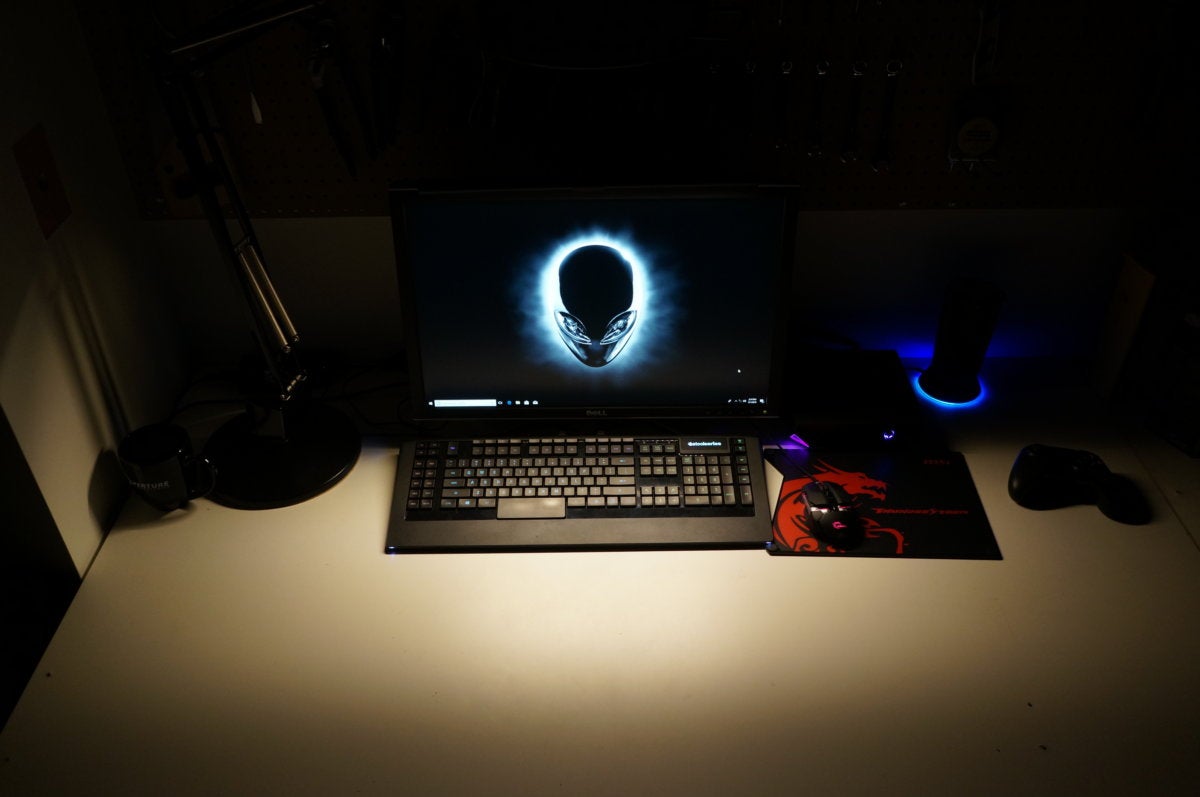 We mounted the ScreenBar on an older Dell 3008WFP monitor. It's an older 30-inch monitor that's also fairly thick so we think the ScreenBar will probably work on most monitors today. You will, however, have to push your monitor web cam to the side.
The light output is fairly directional and creates a band that can be aimed to stay off of the screen and just light up your desk and keyboard. Though directional, the light quality is very even and without any noticeable hot spots.
The ScreenBar is completely powered by USB and we measured it's consumption at just under 4.5 watts on maximum brightness. The USB power is pretty clever, too, as you won't have to sacrifice a wall outlet and the lamp powers up when the machine powers up (more on this later.)
BenQ includes a 60-inch USB-A-to-Micro-USB cable in the box. That'll work for most setups, but if you intend to snake it to your desktop on the floor, it's too short. Most of us will power it off the monitor or all-in-one's ports, we imagine.
The light features four touch controls on top: a power button, an auto-brightness feature, brightness controls, and color temperature controls. Brightness varies between a decently bright max output of 320 lumens and a low that works well at night.
We suspect that the light uses strobing or pulsing to vary the perceived brightness like most LEDs, but we couldn't detect it. The Sony camera we used to snap the photos didn't capture any strobing in a range it could detect either (the camera is particularly sensitive to low-frequency PWM that can cause eye strain.) So whatever the method BenQ uses, it appears to be very effective.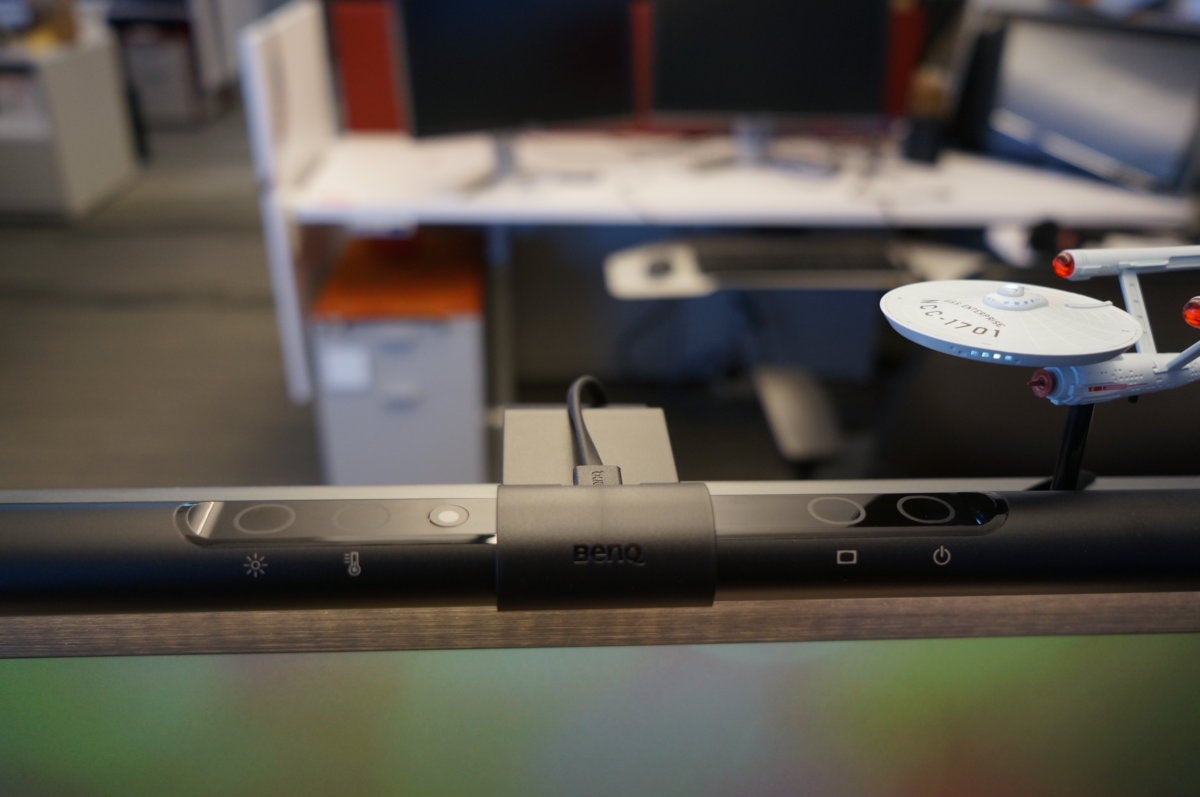 The color temperature can be varied between a very "cold," or blue, 6500K and a fairly warm 2700K. The ScreenBar does this by running very warm-tinted LEDs mounted next to standard LEDs. When set to its warmest 2700K, the bluer LEDs are pretty much switched off, so you also get less light on the the warmest setting. That's probably okay though because most will use the warm setting for later in the day. Settings between the warm and cold mix the two LEDs for the temperature you want.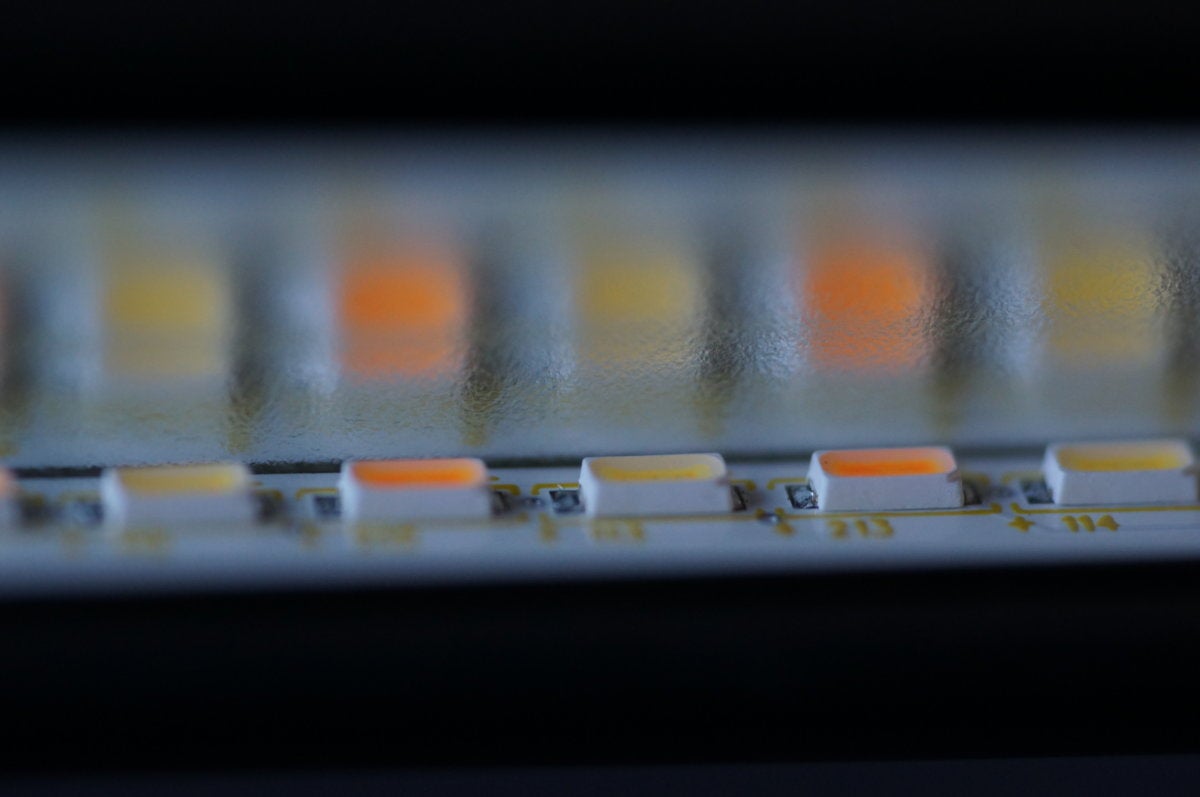 The LEDs themselves are rated at "greater than 80" on the Color Rendering Index. That's pretty standard for LEDs today. Most "High CRI" LEDs—which render light closer to the full spectrum of an incandescent lamp—push into the high 90s. That may disappoint light-temperature aficionados, especially when you consider the price of the ScreenBar, but for normal people, it's fine.
The auto-brightness button controls the output based on a photo sensor mounted directly on top of the bar. The auto is a tad bright in our opinion, but what's really disappointing is that the auto mode does not incorporate your manually selected color-temperature setting. In the grand scheme of things, it's not a deal breaker but you should know.
We should also say that while we think most people will run the ScreenBar off the PC or monitor's USB ports, that could be an issue if it's going to be the sole light in a room. Once you've put your PC to sleep, the light will switch off and plunge you into darkness. (It should be noted that the ScreenBar "memorizes" it's last stetting even when power is cut.)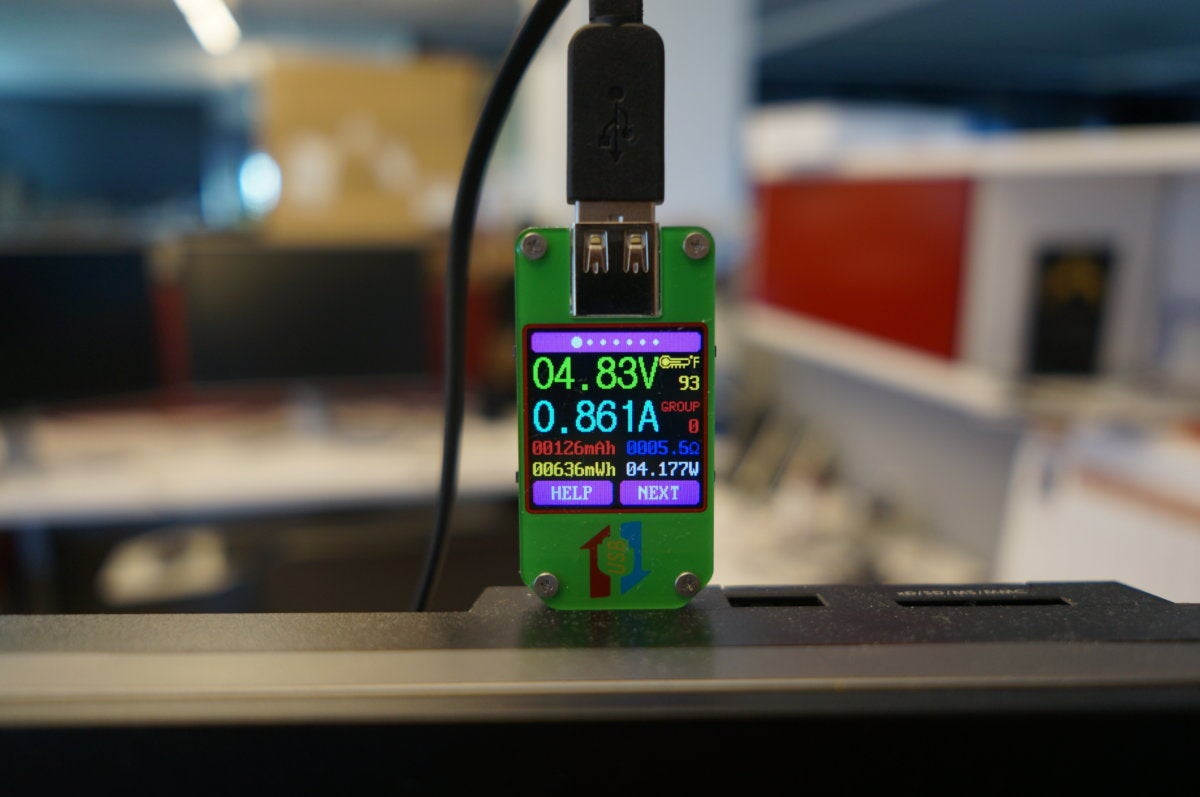 That caveat aside, the ScreenBar is a stupidly brilliant solution for those with limited desktop space. Sure, you can hack together LED strips along the bottom of your monitor or use one of those pathetic USB port wands, but such solutions pale in comparison to the ScreenBar's effectiveness.
The only thing that could make the ScreenBar better would be a mode that honors today's gaming fashion: RGB. I don't mean the full-on Las Vegas treatment, but a couple low-light "gaming modes" such as red or green would be cool. But that's just asking for icing on the cake.
Probably the only thing that's likely to take the wind out of your sails is the $99 price. If you see the ScreenBar as just a tube of LEDs, that can seem pretty steep. But if you can appreciate the genius of this very practical solution, that price seems only slightly inflated. We're smitten.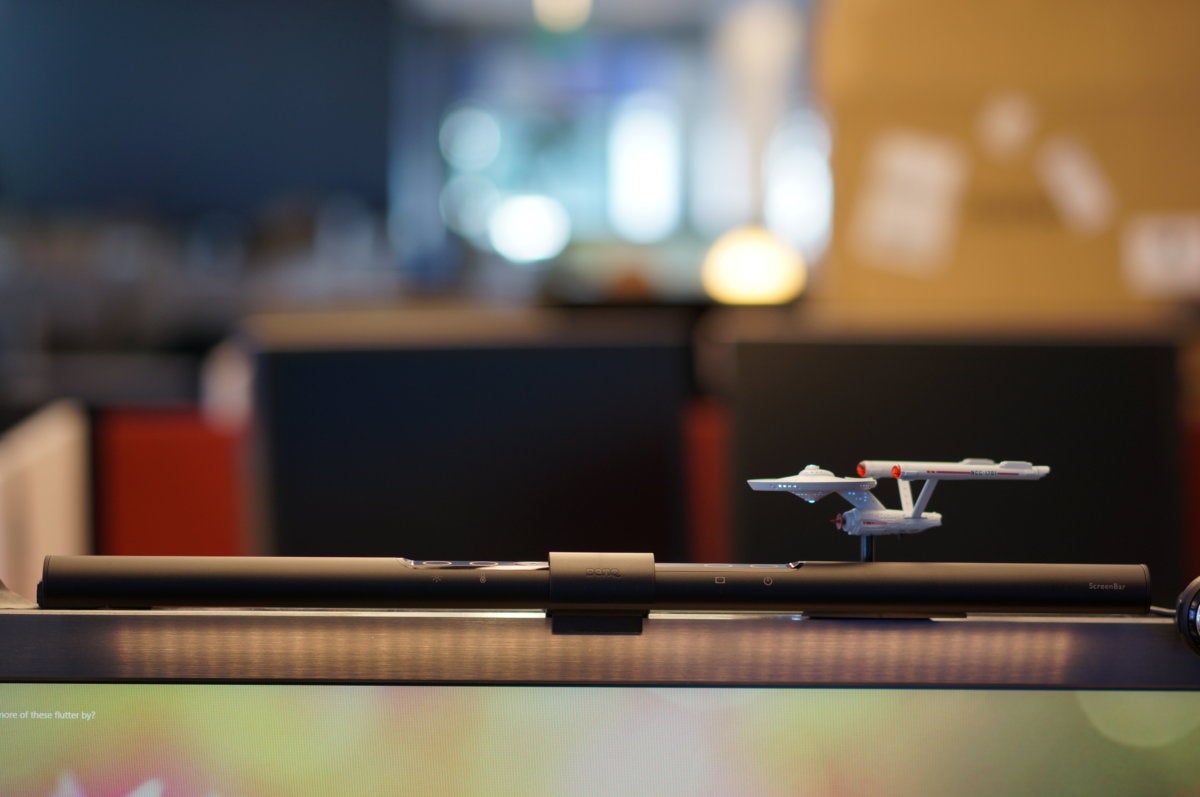 Best Prices Today: BenQ ScreenBar e-Reading LED Task Lamp