If your stereotype of a PC gamer is a slovenly, socially stunted teen huddled in front of a monitor 13 hours a day—think again. The State of Gaming survey, commissioned by PC maker Dell, says gamers are—wait for it—pretty much just regular people.
The data released on Thursday is based on the online survey responses of 5,763 PC gamers hailing from 11 countries (Australia, Brazil, Canada, China, France, Germany, India, Japan, New Zealand, United Kingdom, United States) and spanning six languages. They had to spend at least one hour per week playing games on a desktop or laptop PC to qualify for the survey.
The gist: The typical PC gamer isn't that typical. Sure, 48 percent of the respondents were in their 20s or 30s, for instance, but only 12 percent were teenagers, meaning 40 percent were middle-aged or older adults (your parents!). Think most gamers are men?—47 percent of the respondents were female. Over half of respondents (57 percent) were married or in a committed relationship, and over half (52 percent) had children or stepchildren.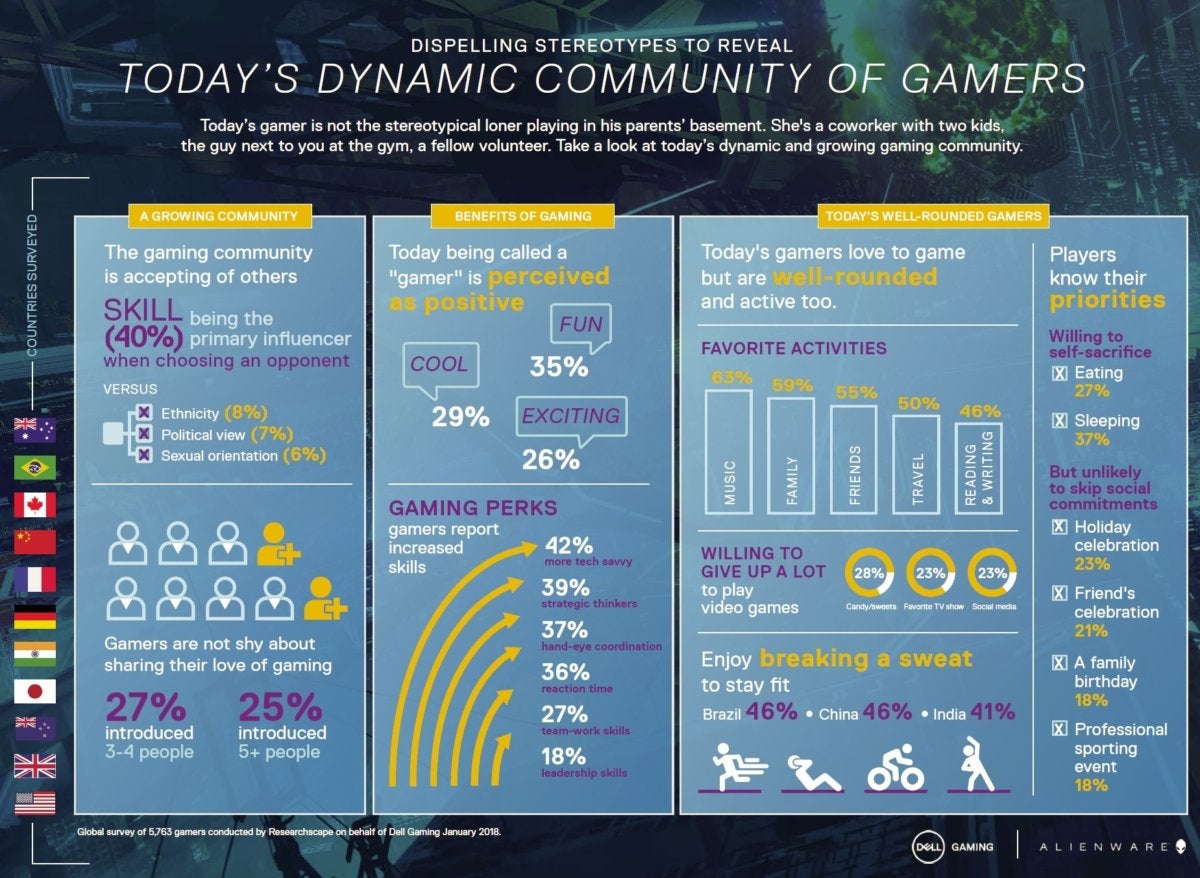 While many also imagine PC gamers as polarized jerks ready to troll everyone about everything, a full 40 percent said skills matter more than ethnicity, political views, and sexual orientation—at least when choosing an opponent.
Those responding to the survey also claimed to have well-rounded lives. Favorite activities included music (63 percent), spending time with family (59 percent) or friends (55 percent), and reading and writing (46 percent), when not mashing the WASD keys.
PC Gaming is good for you
The survey respondents also claimed that PC gaming helped them build useful life skills, such as:
Technical knowledge (42 percent)
Strategic thinking (39 percent)
Hand-eye coordination (37 percent)
Reaction time (36 percent)
Teamwork skills (27 percent)
Leadership skills: (18 percent)
The vast majority of those surveyed also had their life priorities straight…more or less. Many said they spent six to nine hours per week playing PC games, while only 25 percent played 10 to 19 hours per week, and about 21 percent spent more than 20 hours per week playing games. But only about 20 percent said they would give up on holiday celebrations, parties, or a professional sporting event to game. Up to 37 percent said they'd give up sleep, while 27 percent would skip a meal to keep playing.
Not that many rage quitters, apparently
The survey said most respondents didn't care too much about losing a game. But one in five did say that losing was worse than getting stuck in traffic or taking a cold shower. Another 23 percent said losing a game was worse than having a low battery.
As with any survey or poll, take the results with a grain of silicon, because the respondents might be about as truthful as they are on their Tinder profiles. Dell's survey is somewhat unique, however, because it focused solely on PC gamers. Other surveys, such as the Entertainment Software Association's survey of American gamers, include console and mobile users. As any PC gamer knows, these are very different things.