At a Glance
Expert's Rating
Pros
Audio is clean and well-balanced
Incredible noise isolation, even at moderate volumes
Comfortable, with intuitive built-in controls
Cons
No software means few options for enthusiasts
Microphone is passable, but nothing special
Expensive compared to the competition
Our Verdict
HyperX's debut wireless headset is missing some key features, like chat mix and microphone monitoring, but it looks good, sounds great, and feels excellent. Another contender for our $150 headset pick.
You knew it was coming eventually: A wireless HyperX headset. I'm surprised it took so long. I've seen probably half a dozen different HyperX headset models cross my desk in the last few years—the original Cloud and its USB-enabled Cloud II follow-up, the floating headband Revolver and Revolver S models, the budget-friendly Stinger, the dual-chamber Cloud Alpha—but all wired, until now.
The HyperX Cloud Flight is first to ditch the cables, and so the obvious question: Do the Cloud line's famed comfort and audio fidelity carry over to its wireless debut? We went hands-on to find out.
This review is part of our roundup of best gaming headsets. Go there for details on competing products and how we tested them.
Learning to fly
The Cloud Flight is a more traditional headset design than I'm used to out of HyperX. I always expected a wireless HyperX headset to look more like the original Cloud, with its exposed metal forks—or even the Cloud Revolver and its floating headband. Instead, the Cloud Flight looks a lot like the lowest-end HyperX headset, the budget-friendly Cloud Stinger.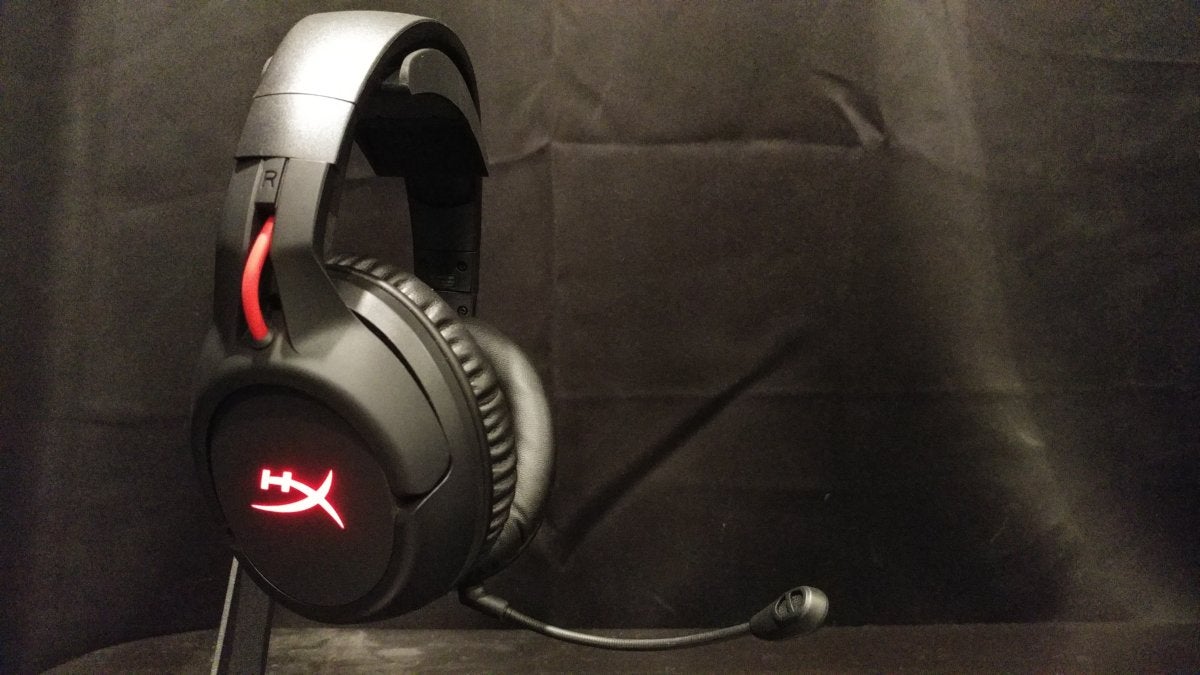 Lots of plastic, is what i'm saying. There's a sturdy piece of metal reinforcing the headband, but the more visible pieces of the Cloud Flight are all plastic. There's a soft-touch coating, so it still feels semi-luxurious, but it doesn't immediately scream "high-end" like a lot of HyperX's work, nor is the headset's profile as sleek.
That said, HyperX's trademark comfort is mostly intact. Both the ears and the headband feature a generous amount of padding, covered in a soft leatherette. Past Cloud models have been more comfortable, but not much—which is saying something, given that the Cloud Flight has to incorporate the weight of the wireless receiver and battery too. Out of the box I noticed a slight pinch around the jaw, but that went away as the headset got more use.
Best overall gaming headset
HyperX Cloud Alpha
There's some heat buildup due to the leatherette, but it's not too bad and my beard prefers leatherette to mesh anyway. (The latter always pulls when I take it off.) The Cloud Flight's earcups also swivel 90 degrees—another Cloud Stinger feature—which makes it easy to rest around your neck, especially when the microphone isn't attached.
Speaking of which: The Cloud Flight's microphone detaches. Not really a surprise—that's the case with most HyperX headsets. It's a bit odd for a wireless headset though. On the other hand, you could use the Cloud Flight in public without drawing too much attention.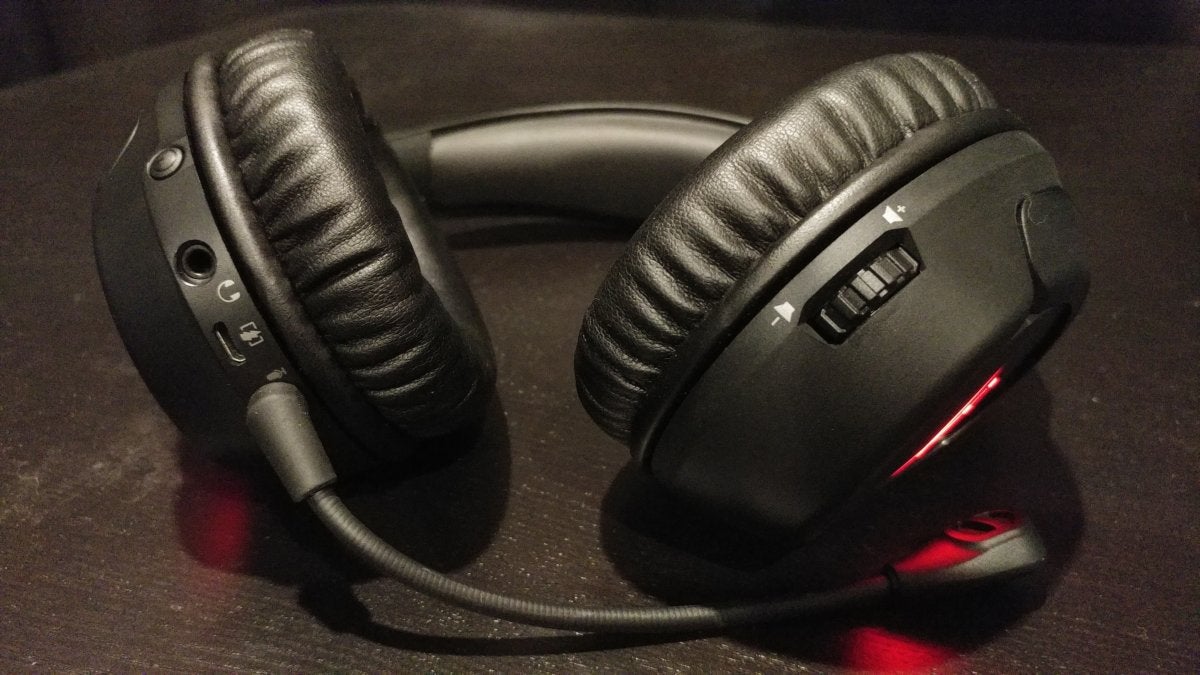 Built-in headset controls have always been one of HyperX's weak points, so I'm surprised and delighted to see the Cloud Flight nail it. There's a volume wheel on the back of the right ear, large enough to easily find and adjust. It's also the only control on that side, which makes it even easier. On the left, you've got the power button, plus 3.5mm ports for aux input and the microphone, and a MicroUSB charger.
Best of all: The entire side of the left earcup clicks in to mute or unmute the microphone. HyperX isn't the first one to implement this system, but I wish it were more common. It's so quick and painless, probably second only to flip-to-mute.
The Cloud Flight is also the first HyperX headset to feature LEDs. Pretty wild, that it took until 2018 for HyperX to reach this point. Hope you're happy with red though, since these aren't RGB LEDs. Just…red. Turning them off might be the smarter solution anyway. Double-tapping the power button will disable the LEDs, which then lets you reach up to 30 hours of battery life. I'd rather that than red LEDs, any day. I took the Cloud Flight on a weekend trip and didn't have to charge it the entire time. Perfect.
All by myself
The Cloud Flight is great for travel, too. That's not where I'd usually start a discussion about a headset's audio fidelity, but the Cloud Flight has a stunning amount of noise isolation. It's the feature I've noticed most—in airports, in hotels, in restaurants, on planes, and even in my own apartment. We've reviewed other closed-back designs, which always entail a certain amount of passive noise isolation, but the Cloud Flight is fantastic. Everything outside the headset is muffled, and anything more than two feet away might as well not exist even with my own music or games set to only moderate volumes. It's impressive.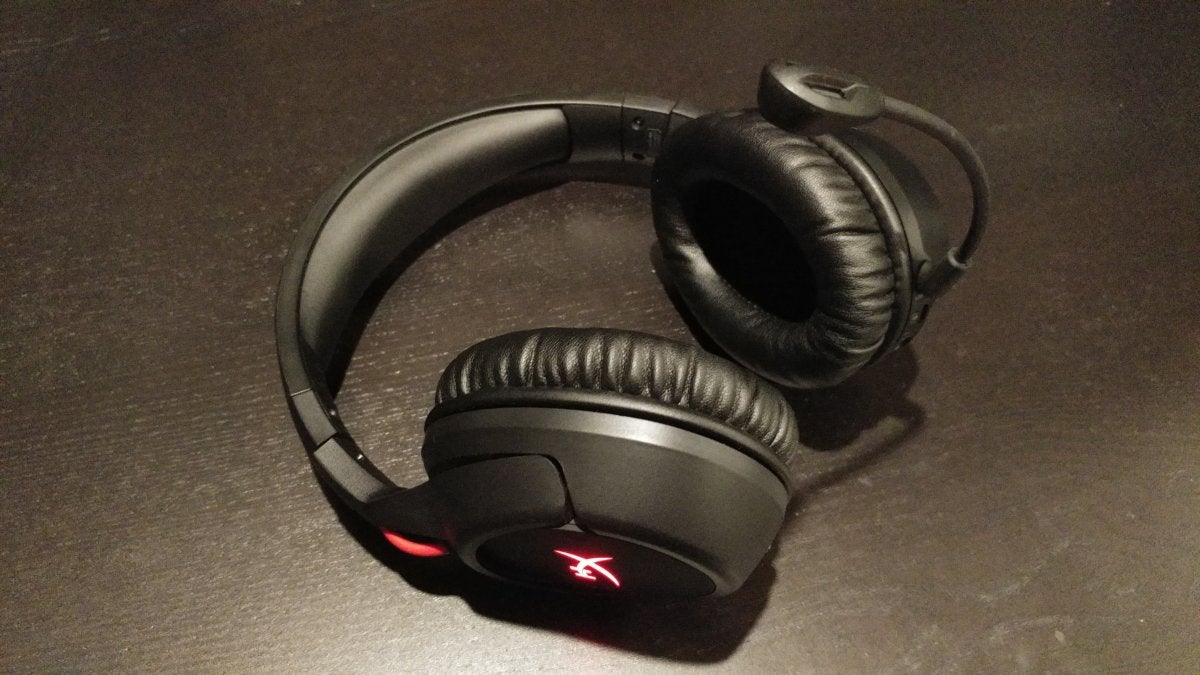 Audio fidelity doesn't quite match HyperX's high-water mark, the Cloud Alpha, but it's still pretty great. The sound stage is a bit narrower than I'm used to from HyperX, but there's a lot of left-right play regardless. Better than most of the competition for sure—I'd rank the Cloud Flight above SteelSeries's Arctis 7 and Corsair's Void Pro for instance.
Out of the box you get a very balanced sound, with what sounds like a slight bass bump and maybe a bump in the upper-mids. The result is a good balance between music and games/film, clean and precise for the former, but still relatively intense and impactful for the latter.
You'd better love the default settings though, because HyperX continues to stick to its no-software roots. That means no easy way to adjust EQ settings, no way to disable the LED lighting for good, no way to monitor battery life, no official way to tweak the microphone. This problem isn't specific to the Cloud Flight—it's across all the company's headsets, and has even been touted by HyperX as a feature in the past.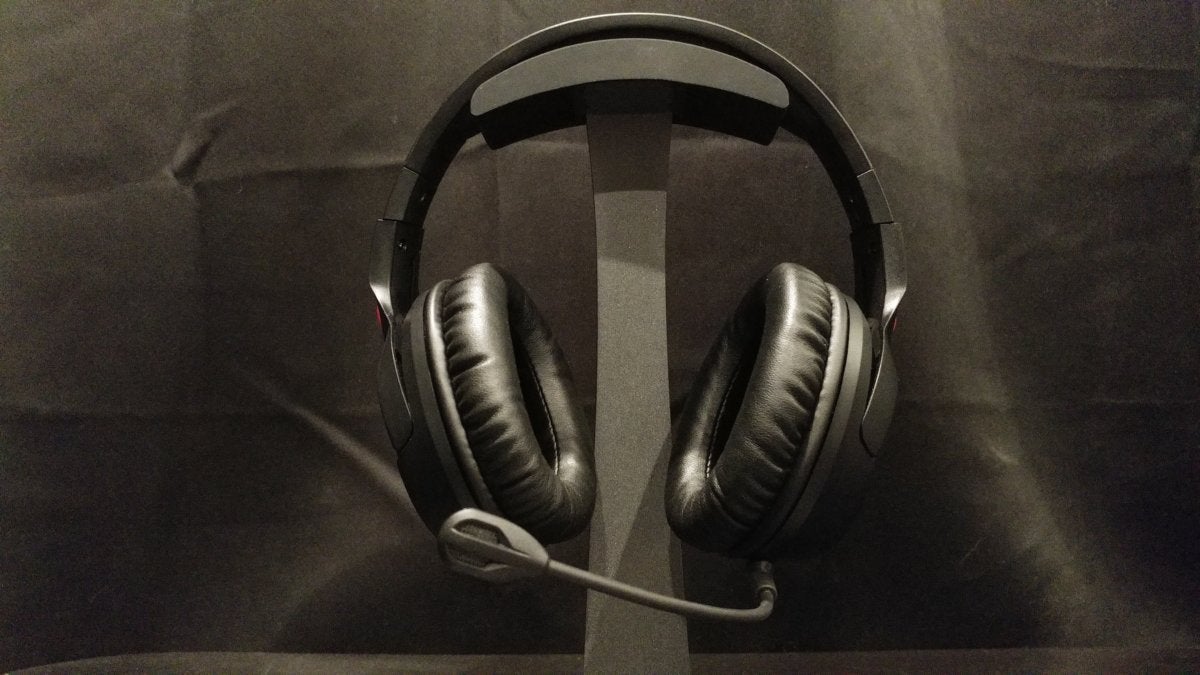 But the abstention seems more conspicuous when HyperX leaves the budget-hardware realm. At $160 list price, the Cloud Flight is far from the entry-level prices of the original Cloud. While I'd love for HyperX to ensure its headsets still work without software, it's a shame those who want to tinker don't have an easy way to do so. Especially when HyperX makes a point of saying, "Turn off the LEDs if you want more than double the battery life," it's strange there's no way to do so permanently.
Another notable absence: No chat-mix. Given that feature's cropped up in most $150 headsets lately, the Cloud Flight's lack is a shame.
The microphone is where software could've helped most, though. It's fine, as is the case with most HyperX headsets. People can hear you. But it'd be great to adjust the noise threshold or add more microphone monitoring/sidechat (there is none). The latter is doubly important given the significant noise isolation I mentioned above—a couple times I realized I was essentially yelling into the Cloud Flight's microphone, unaware how loud I was being because there's so little feedback.
Bottom line
As a first try, though? The Cloud Flight mostly lives up to HyperX's standards. I'd definitely tweak a few aspects for the next model. Mic monitoring, for one. Chat mix. A broader sound.
But the Cloud Flight is more than good enough to be a wireless contender. Excellent
Best midrange wireless gaming headset
Logitech G533
battery life, a durable design, and great noise isolation bolster a solid-sounding headset into a top-tier pick. The one sticking point for me? At $160, the Cloud Flight is priced higher than most of the mainstream competition nowadays. Other headsets, like the Logitech G533, manage to do more for less—sometimes much less, depending on the day's discounts. Given HyperX made a name off undercutting the competition, it's a shame the Cloud Flight couldn't find a similar niche.
Still, a strong showing, and I can't wait to see what the follow-up attempt brings.
Best Prices TodayHyperX Cloud Flight