This week, Microsoft outlined a laundry list of new features it's delivering, or will deliver, to its various Outlook apps, including bill-pay reminders, better calendaring across time zones, and a way to see who has RSVP'd for a meeting.
Not all of Microsoft's new features are here—or if they are, they haven't promulgated across Microsoft's various Outlook apps: Office 365, Outlook for the Web, and the Outlook mobile apps.
Of the numerous features Microsoft outlined in a blog post, here are the five we think could be potentially the most important:
1. Bill-pay reminders
Microsoft already sniffs out your email for "commitments"—such as "I'll get back to you before 4 PM Thursday"—and will send you a reminder to follow up. The same technology is at work here. If Outlook sees a bill-payment reminder, it will automatically add an event to your calendar to pay the bill on the day that it's due, and send an email to you two days before that as a reminder.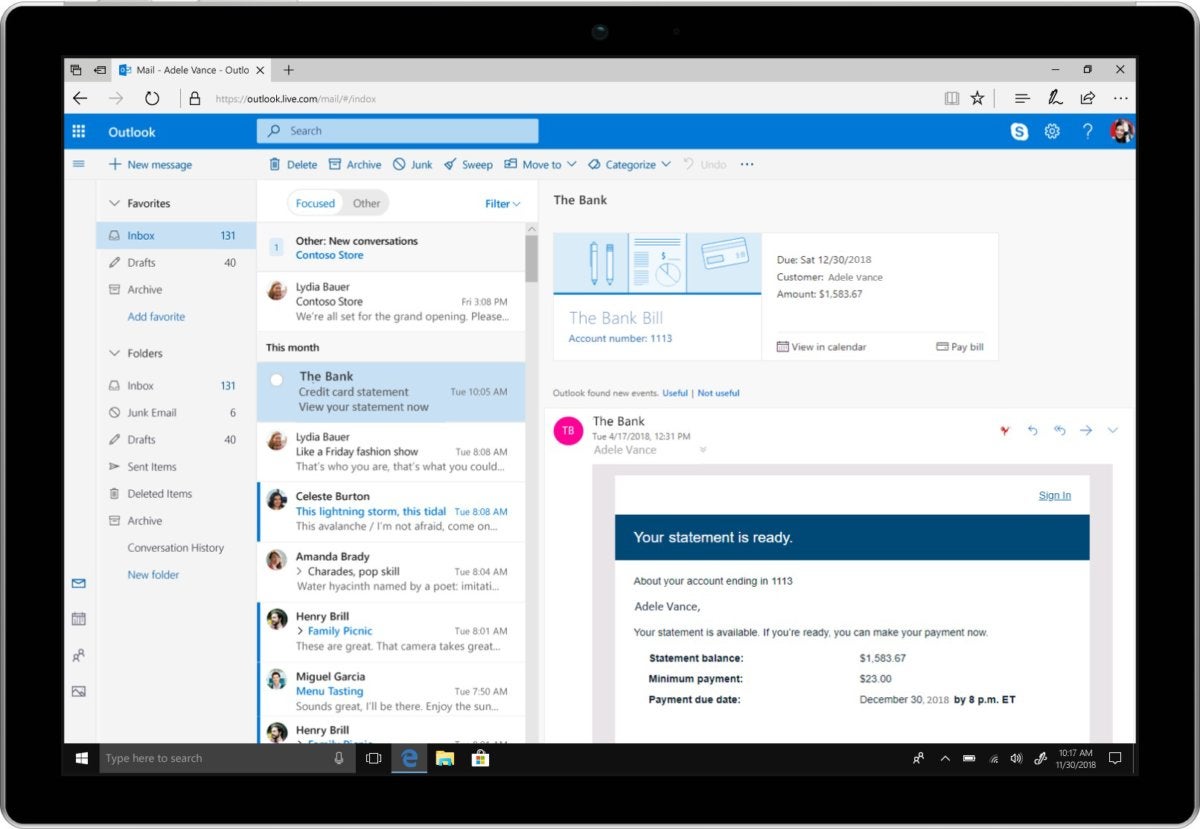 As with Outlook's ability to track and create events from flight info, hotel reservations, car rentals, and more, bill pay is only available on Outlook.com at the moment.
2. Who has RSVP'd?
Nobody wants to attend a meeting that the cool kids have passed up. In all seriousness, however, there's no point in attending a meeting if the person you need to hear from won't be there. With Outlook for Windows and Outlook.com, you can now click the "Tracking" option under "Meeting Occurrence" and track who has committed to the meeting and who hasn't. And you can also keep people from "crashing" the meeting, by preventing the invitation from being forwarded.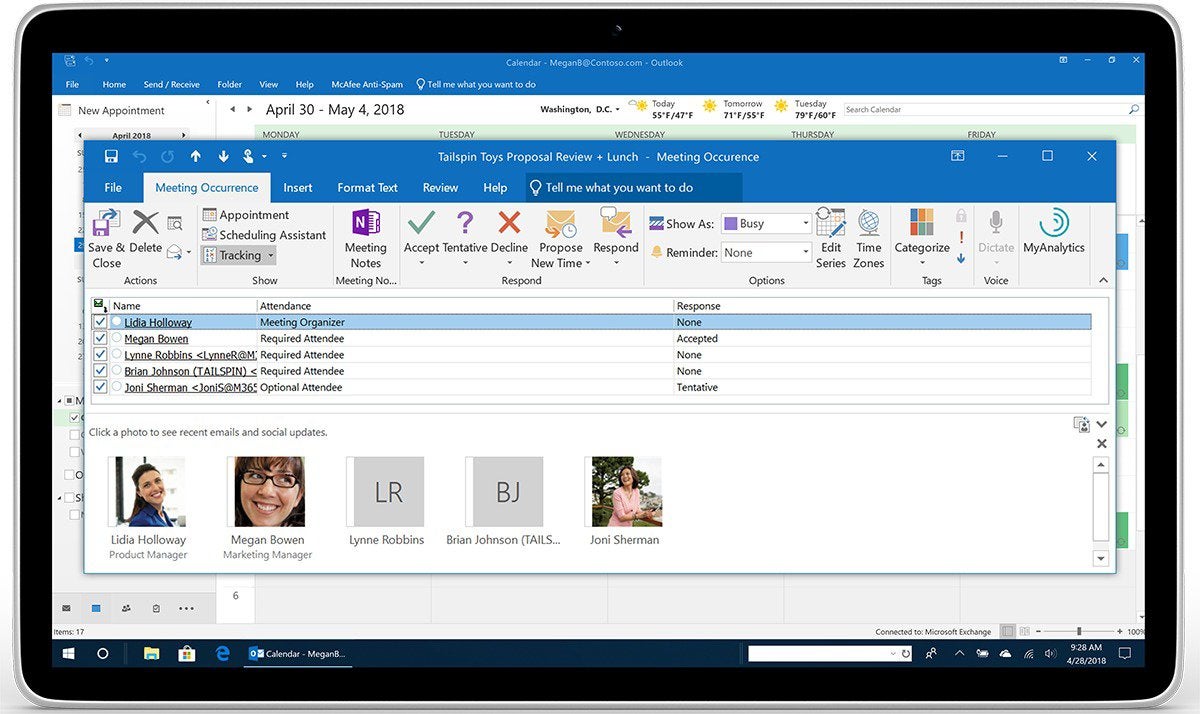 3. Managing time zones
Anyone who has traveled internationally knows that making sure your meetings are set for local time can be fraught with peril. Outlook now allows you to show multiple time zones within Outlook—three within Windows, and one within Outlook for Mac. (This feature is also supported within Outlook for the Web, too.) In Windows, you can add time zones via File > Options > Calendar Time Zones. Microsoft says that you can even set the departure of a flight in one time zone and the arrival in the other—we'll have to see how it handles flying across the date line.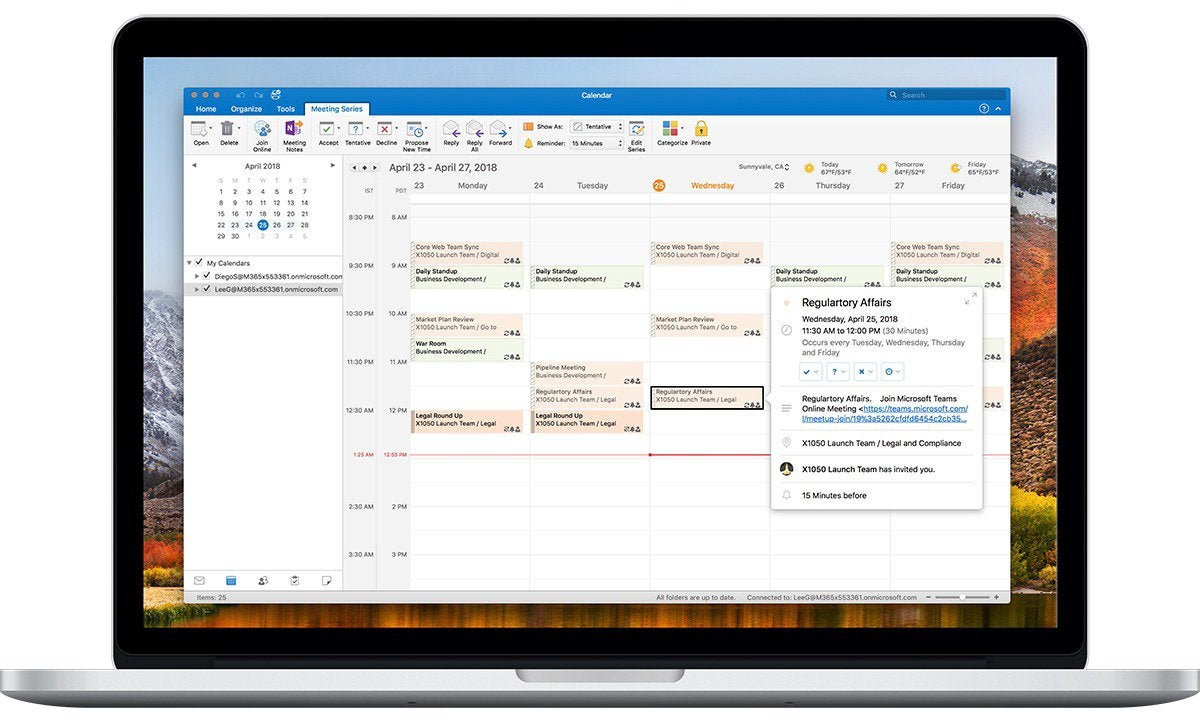 4. BCC warnings
Occasionally, you may be "bcc'd" on an email. "Blind copying" means that you're a fly on the wall, watching the email exchange from afar. But if you want to chime in, you might not want everyone to know you're there. Outlook for Windows will remind you that you might want to reply to the sender only.
5. Quick reply
Later this month, Outlook Mobile for Android will offer a chat-like reply function, that will keep the original reply in the main screen, and add a text-like "reply" button at the bottom. This feature is already live on Outlook for iOS.
What this means to you: Keep an eye out for these new features. Microsoft's Outlook for the Web and Windows usually signals the addition of new features with a popup screen.