The Android notch has officially arrived. Hot on the heels on the V30S ThinQ, which is due to hit U.S. shelves this month, LG has announced the LG G7 ThinQ, which brings the latest processor, a camera infused with AI and machine learning, and more screen to work with. That is, if you can handle a camera cutout.
The G7 has a 6.1-inch QHD "super bright" display that can hit 1,000 nits at maximum brightness while using 35 percent less power than the G6. LG has gone back to using an LCD for the G7 after switching to OLED for the V30. Like the iPhone X, the G7's aspect ratio is 19.5:9, which is taller than the G6's 18:9 display. That's due to the phone having a notch at the top instead of a straight bezel. But fear not: LG is providing an option to black it out in Settings if you'd rather have the old look back.
Beyond the notch, the G7 ThinQ has all the trappings of a premium mid-2018 handset:
Dimensions: 153.2 x 71.9. x 7.9mm
Processor: Snapdragon 845
RAM: 4GB
Storage: 64GB
Rear camera: Dual 16MP f/1.6 + f/1.9 107-degree wide-angle
Front Camera: 8MP
Battery: 3,000mAh
Superior sight and sound
Design-wise, the G7 looks more like a successor to the V30 than the G6, right down to its curved corners and vertically mounted camera. There's also two new buttons on the sides: power (so it's no longer part of the fingerprint sensor) and Google Assistant. Like the Pixel 2's Active Edge, you don't have to have the screen on to bring up Google Assistant using the button.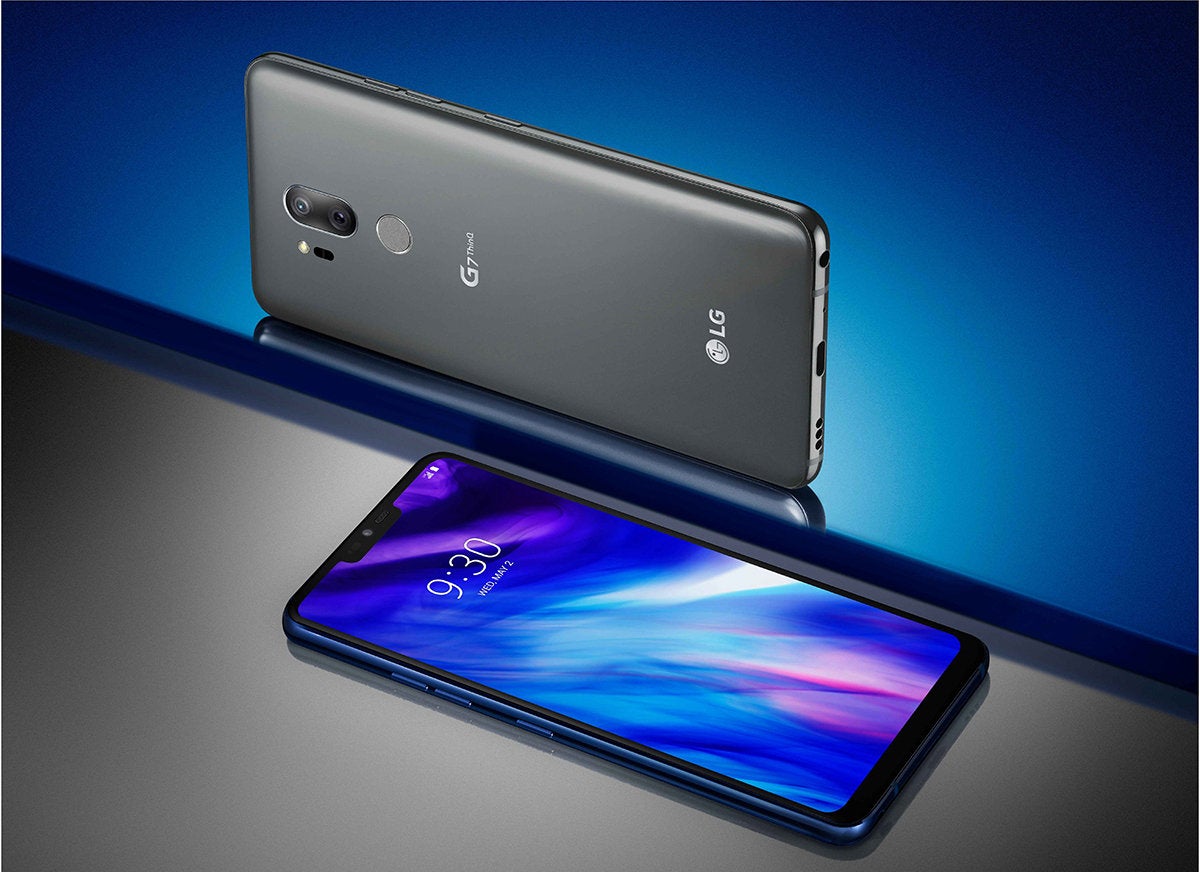 It's not just the new button that's smart. Like the V30S, the G7's ThinQ moniker refers to its AI Cam, which scans the scene you're shooting to get best combination of settings. Pre-sets for things like people, flowers, pets, and food will help capture bolder photos, with the G7's camera using a series of filters designed to enhance the scene. And with machine learning and upgrades that aren't tied to Android system releases, LG says your G7's camera will get smarter the more you use it.
Also new to the camera is a super bright mode that detects when a scene is too dark for the normal aperture and automatically increases the brightness digitally to capture more detail. And despite sticking with a wide-angle lens for its secondary camera, LG has finally added a portrait mode as well, with background blurring that can be adjusted both before and after the shot.
Audiophiles will be happy to learn that the G7 not only has a headphone jack, but a super-charged 32-bit Quad DAC with MQA support. Additionally, it has a new speaker system LG is calling Boombox that uses the space inside the phone as a resonance chamber to bring deeper bass and louder overall sound. And if you attach a pair of headphones or a wired speaker, you can also enjoy DTS-X 3D virtual surround sound.
The LG G7 comes in platinum gray, aurora black, Moroccan blue, and raspberry rose. Pricing and availability has not been announced.