We don't talk about the Nintendo Switch ($300 on Amazon) much because, well, this is PCWorld, but its pick-up-and-go portability and deep library of exclusive games make it a delightful companion console for PC gamers (if you can stomach 30 frames per second). And it just became an ever better complement thanks to newfound Nintendo Switch Pro controller support in Steam.
Switch Pro controllers ($70 on Amazon) could be used on Windows PCs via Bluetooth for a while now, but coaxing them to work with third-party software was complex burden. Native Steam support streamlines the experience.
How to use a Nintendo Switch Pro controller in Steam
The feature's only available in the beta version of the client for now as it prepares for full release. You can join the beta by opening Steam's settings, then clicking the Change button in the "beta participation" portion of the Account tab. Steam will prompt you to restart. After downloading some data, the client opens back up and you're ready to go.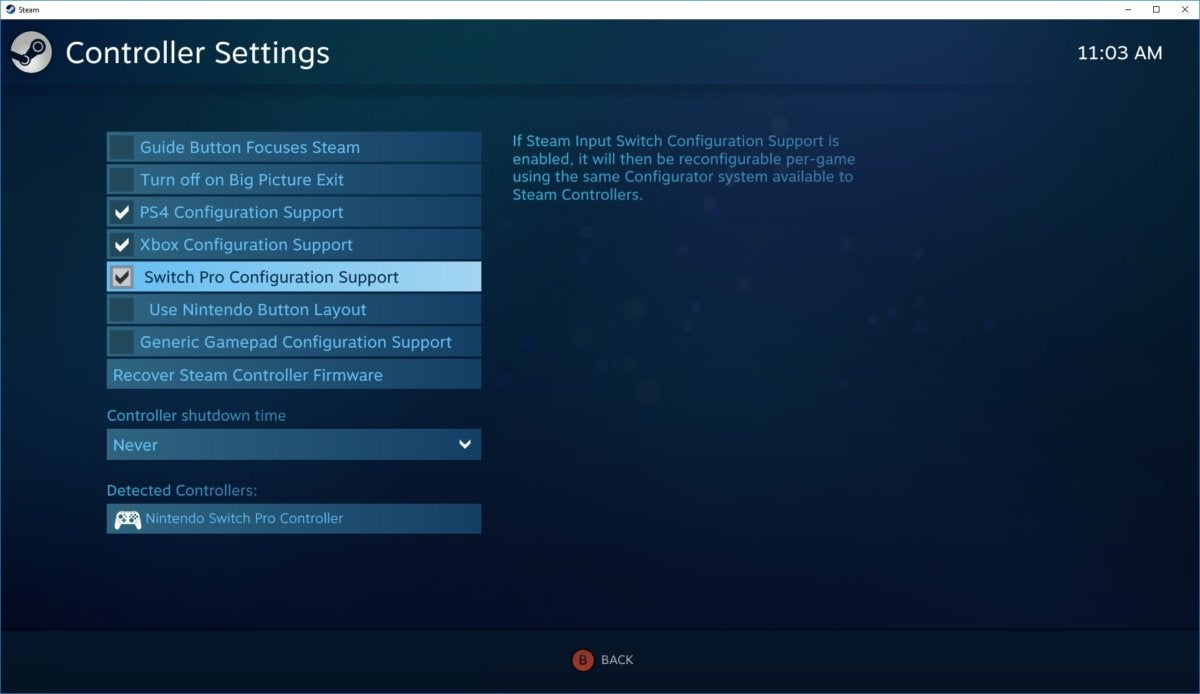 To set up your Nintendo Switch Pro controller in Steam, open the settings again, select the Controller tab and click General controller settings. A Steam Big Picture Mode window opens, and you'll see a "Switch Pro configuration support" option. Checking it allows you to create, browse, and share controller configurations on a per-game basis.
Mentioned in this article
Nintendo Switch – Neon Blue and Red Joy-Con
Price When Reviewed:
$299.99
Underneath that, you'll see an option to use Nintendo's button layout. Nintendo reverses the X/Y and A/B buttons compared to other major controllers. The Steam Input Configurator software is powerful and versatile, letting you create and use all sorts of button configurations; the Nintendo button layout option automatically reverses the inputs to match your hardware if you select a configuration other than the Nintendo Switch Pro template.
Plug in your controller and register it to your Steam account if you'd like. You typically don't need to run the calibration function for controllers you're using with Steam, but Valve recommends it in this case to ensure the Switch Pro's gyrometer is running correctly. Do so by clicking on the controller in the "Detected controllers" section, then clicking Calibrate and following the on-screen directions.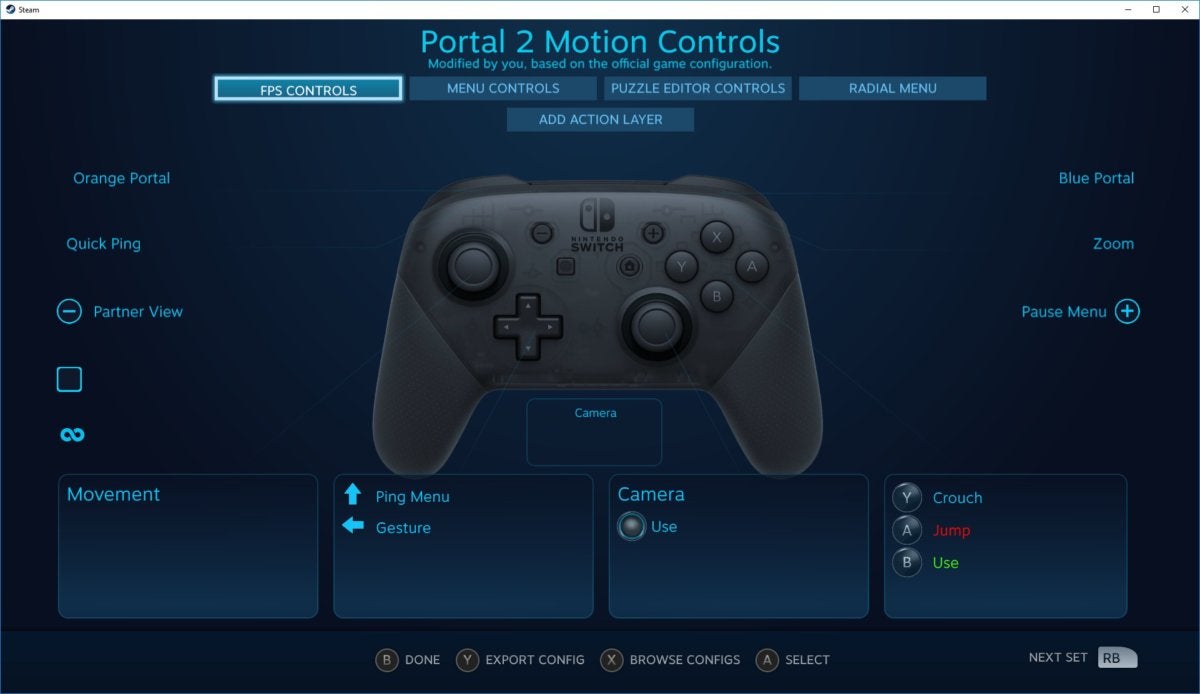 From there, you're ready to rock. If you don't want to use the stock control scheme in a given game, you can create custom configurations (or use templates created by others) by booting into Steam Big Picture mode by clicking on the controller icon in the upper-right corner of Steam's title bar, browsing to the game in your library, and selecting Manage game > Controller configuration. Alternatively, you can press the Home button on your controller while in-game to summon the Steam overlay, where you can change your controller configuration on the fly.
Mentioned in this article
Wired Controller Plus – Zelda: Breath of the Wild
Price When Reviewed:
$29.99
In some quick tests this morning, Nintendo Switch Pro controller support just works in Steam after the initial setup. Connecting a third-party Zelda: Breath of the Wild Wired Controller Plus ($30 on Amazon) wasn't quite as seamless; it only registers as a generic gamepad in Steam. Generic gamepads require you to map every button during initial setup, and being designated as one means the Zelda controller doesn't respond to the "Use Nintendo Button Layout" option. It works, and this controller costs less than half as much as the official Switch Pro controller, but stick to Nintendo's own hardware for the best experience in Steam.