Windows watchers worried what would become of Microsoft after a sweeping reorganization that emphasized "experiences," rather than Windows. As Microsoft kicks off its Build developer conference in Seattle on Monday, we now have a better idea: Microsoft is investing in Windows experiences on mobile devices, with a new app called Your Phone; a migration of Windows 10's Timeline productivity feature to phones; and an update to its launcher app for enterprises.
While Microsoft is also expected to discuss some of the features of its next Windows 10 update (code-named "Redstone 5") at Build, the company indicated that it will be emphasizing cross-platform apps instead. Microsoft will discuss some of these in a Tuesday presentation by Joe Belfiore, who leads Windows "experiences" as the corporate vice president in the Operating Systems Group at Microsoft.
The idea, Belfiore said in a briefing in advance of the show, was that Microsoft needs to know what users are working on, across any device. "Whether you look at a Word doc on Android, iOS, or Windows, is irrelevant," Belfiore said.
Belfiore was talking about Timeline, the feature that tracks your work in the Office apps or Edge, recording your activity in what Microsoft calls the Microsoft Graph. But Belfiore could have been talking about any hardware platform. Microsoft sounds like it wants to elevate Microsoft mobile applications to the level of importance of a PC—making the actual hardware, and operating system, irrelevant.
Why this matters: After the demise of Windows phones, the reorganization that seemingly downplayed Windows was chewed over by analysts and fans alike. A developer conference that continues to de-emphasize Windows won't be well-received by fans. Still, Microsoft seems to be beefing up its mobile apps for iOS and Android, projecting "Windows" onto platforms Microsoft doesn't intrinsically own. Two years ago, we suggested that Microsoft's "Plan C" for mobile phones was to seed Microsoft apps and services everywhere it could, and let a garden grow. That future is coming to pass.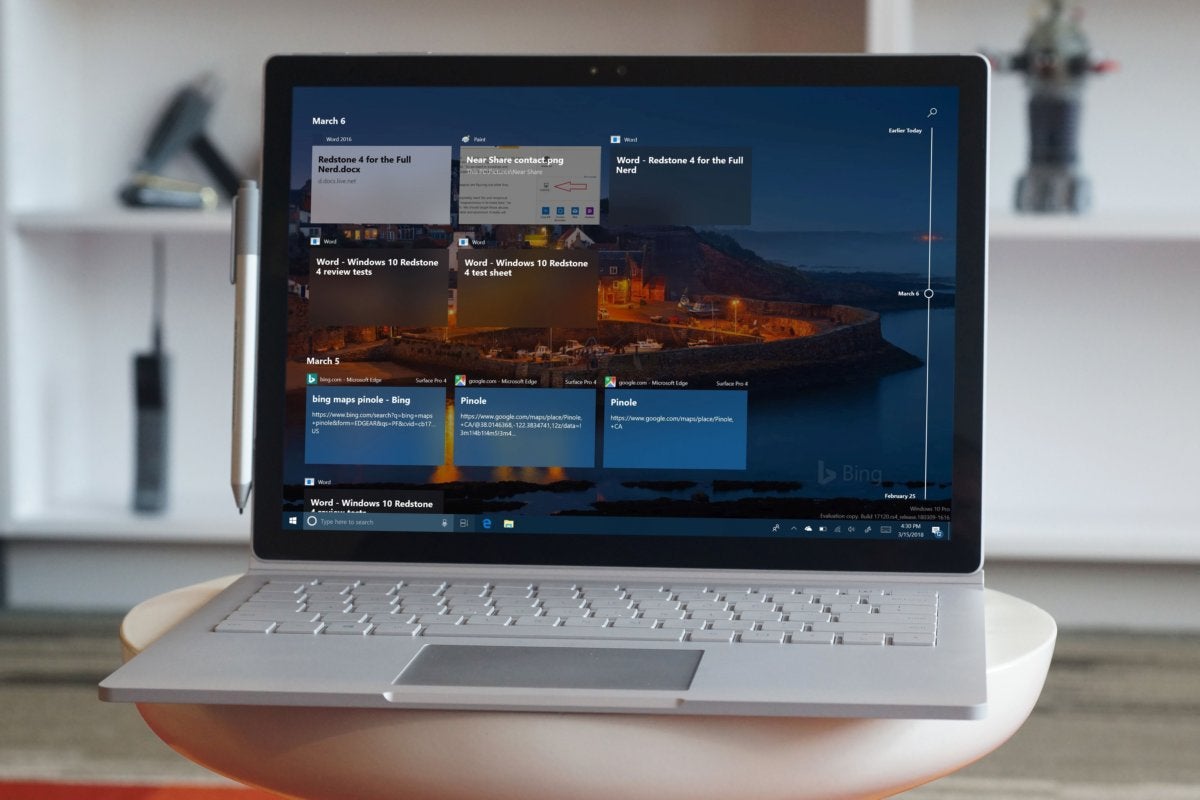 Your Phone ties your PC to your smartphone
Microsoft isn't positioning the new experiences as part of Windows, but as a core component of Microsoft 365, a business solution that includes Windows, Office 365 and a mobile device management solution. It's a subscription service for enterprises and educators that Microsoft launched last year, tying together the nearly 700 million Windows 10 devices and the 135 million commercial users that use Office 365. Expect Microsoft to characterize these as what it calls "the intelligent edge," complementing the "intelligent cloud" of Azure and other enterprise services. Microsoft wants to unite everything: cloud, device, business, consumer.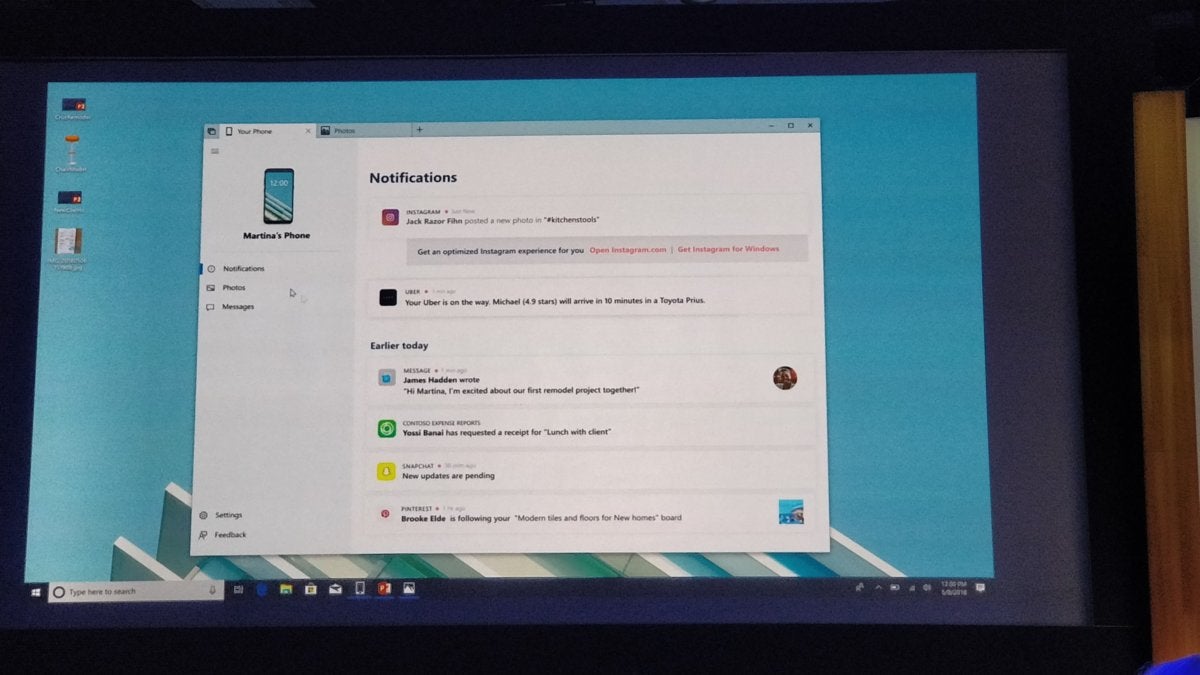 The new Your Phone app sounds like one of the first manifestations of that vision. Recall that Microsoft tried, and failed, to make phones into PCs with Continuum, which projected the phone's Windows 10 Mobile OS and apps onto a monitor. With recent versions of Windows 10, Microsoft has gone the other way: You can now reply to texts sent your phone from your PC.
With Your Phone, a UWP app, users will have "a window into a user's phone right from their PC," allowing them to text from their phone, share photos, and view notifications, representatives said, letting them work without distraction from their phone. Sharing photos would be a new capability for the Windows platform (though photos snapped with a phone, and automatically uploaded to OneDrive, are already viewable with the Windows 10 Photos app moments later).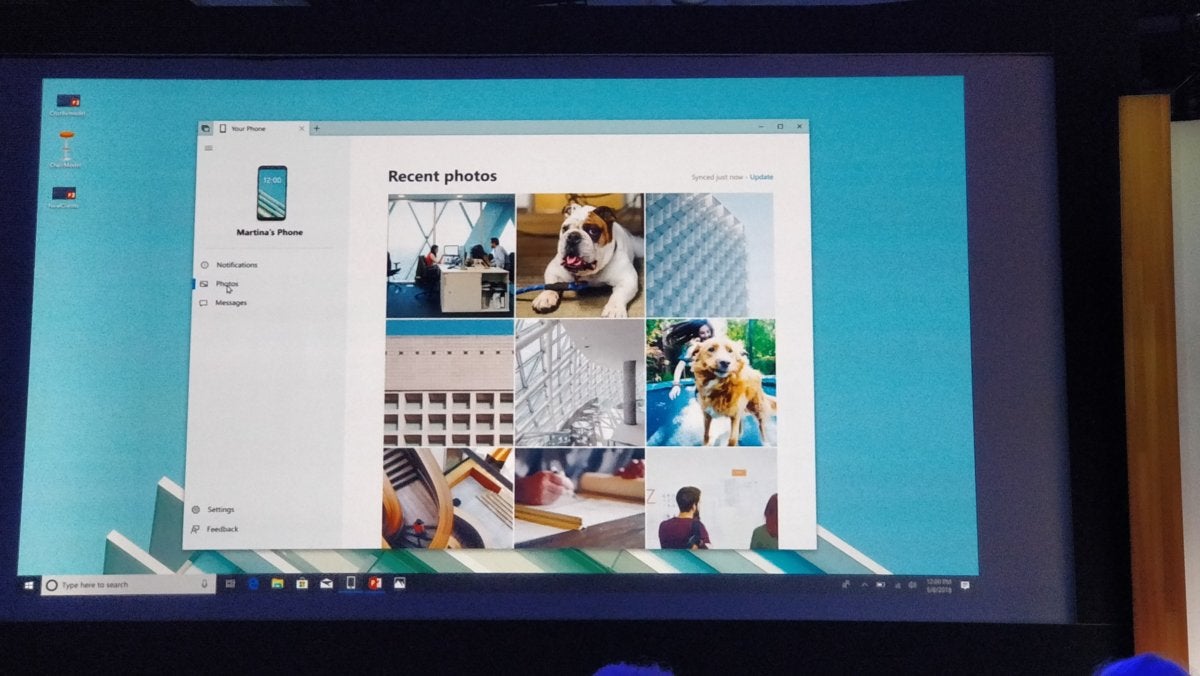 YourPhone was live in the Microsoft Store on Friday, though the version published then didn't seem to do too much besides connect the phone and the PC, in much the same way Windows already does. The app encouraged users to download Microsoft Launcher after sending a link to the app by text.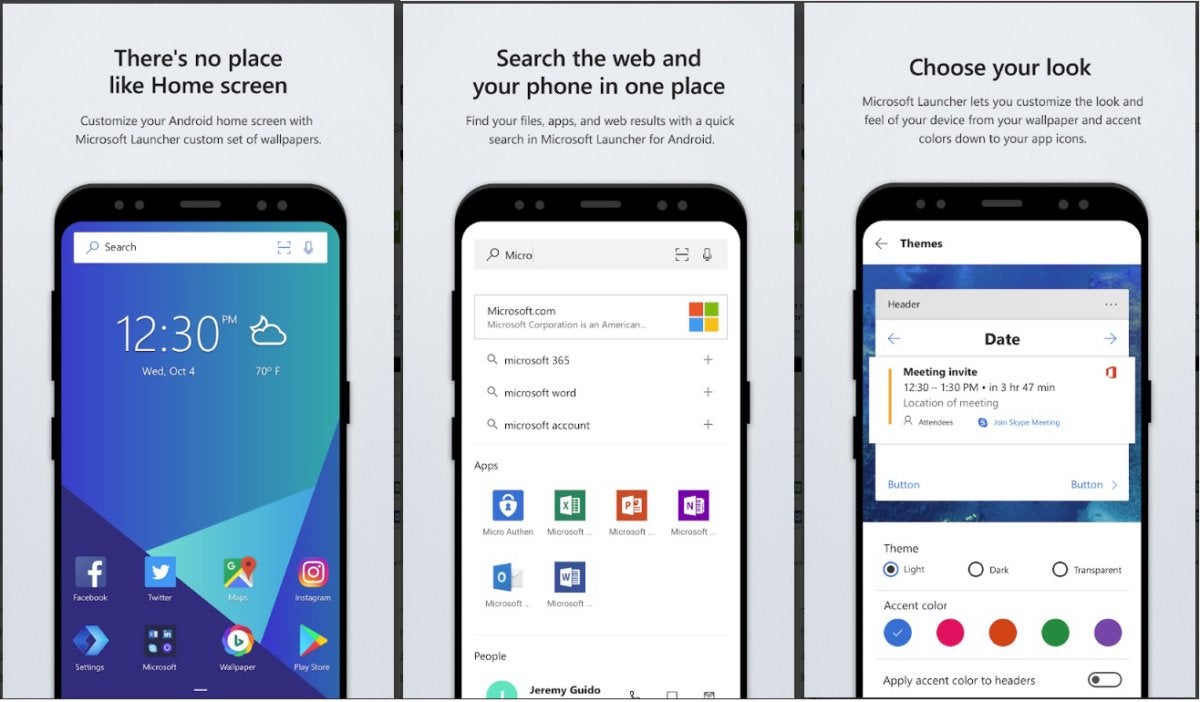 Microsoft's other two pieces of client news are also adaptations of existing capabilities. The Microsoft Launcher app for Android (formerly the Arrow Launcher) already provides a Microsoft desktop of sorts, complete with quick access to Cortana and Edge, as well as a personalized feed of news, calendar appointments, and other relevant details. Now, Microsoft Launcher will include enterprise features whose details the company plans to disclose at Build.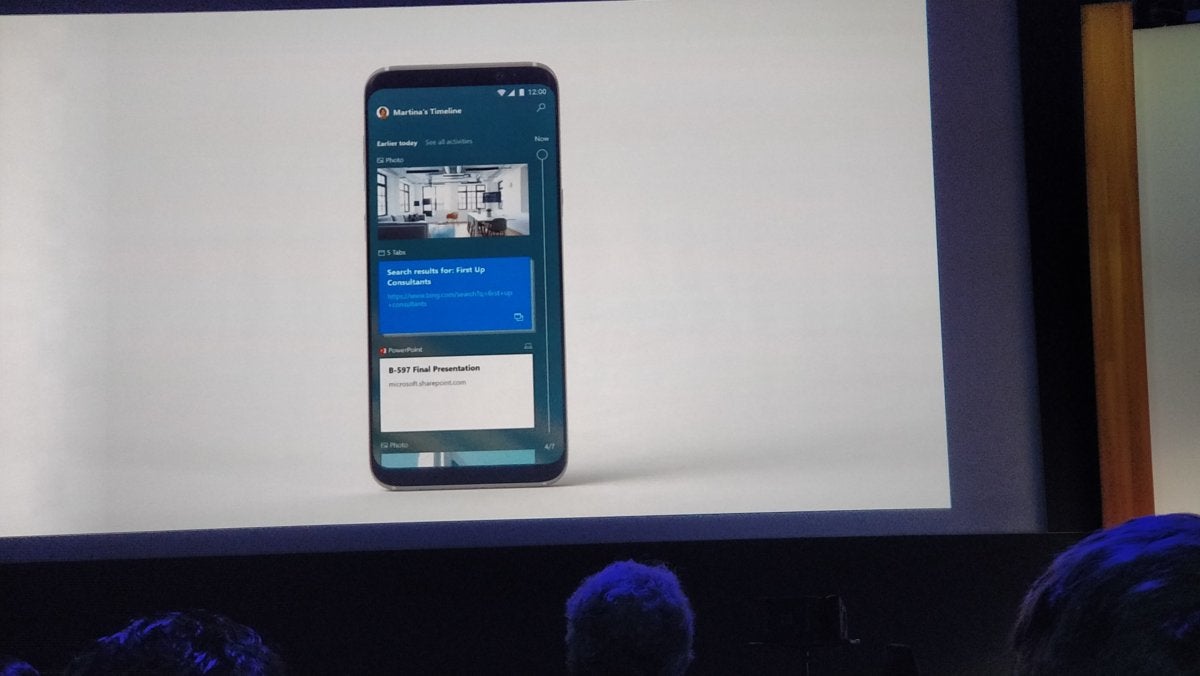 Microsoft Launcher's enterprise version will also include Timeline, Microsoft executives said, giving Launcher another aspect of Windows on a mobile device. According to Google, over 10 million users have installed Microsoft Launcher. When you consider that 8.3 million Windows phones were sold in the first quarter of 2015, and just 2.4 million a year later (according to Gartner), the company may see Microsoft Launcher as a Trojan Horse of sorts, sneaking Windows into the Android ecosystem.
Where's Windows? Only Insiders know
It would be rather bizarre if Microsoft didn't mention Windows at Build, but members of the Insider program can already see what Microsoft is working on.
Given the unexpected delays in the rollout of the April 2018 Update, Microsoft has already released ten new builds of the "Skip Ahead" track of Windows, also known as Redstone 5 or (probably) what will be called Windows 10 version 1809. Most of the work has been done around Sets, the tabbed interface that Microsoft debuted in the April 2018 Update, then pulled back for further development. Sets now supports Microsoft Office apps, as well as more basic apps like Mail. Other improvements include a handy feature for monitoring the battery life of Bluetooth devices within Windows itself, and support for the High Efficiency Image File Format, a potential replacement for the JPEG image format.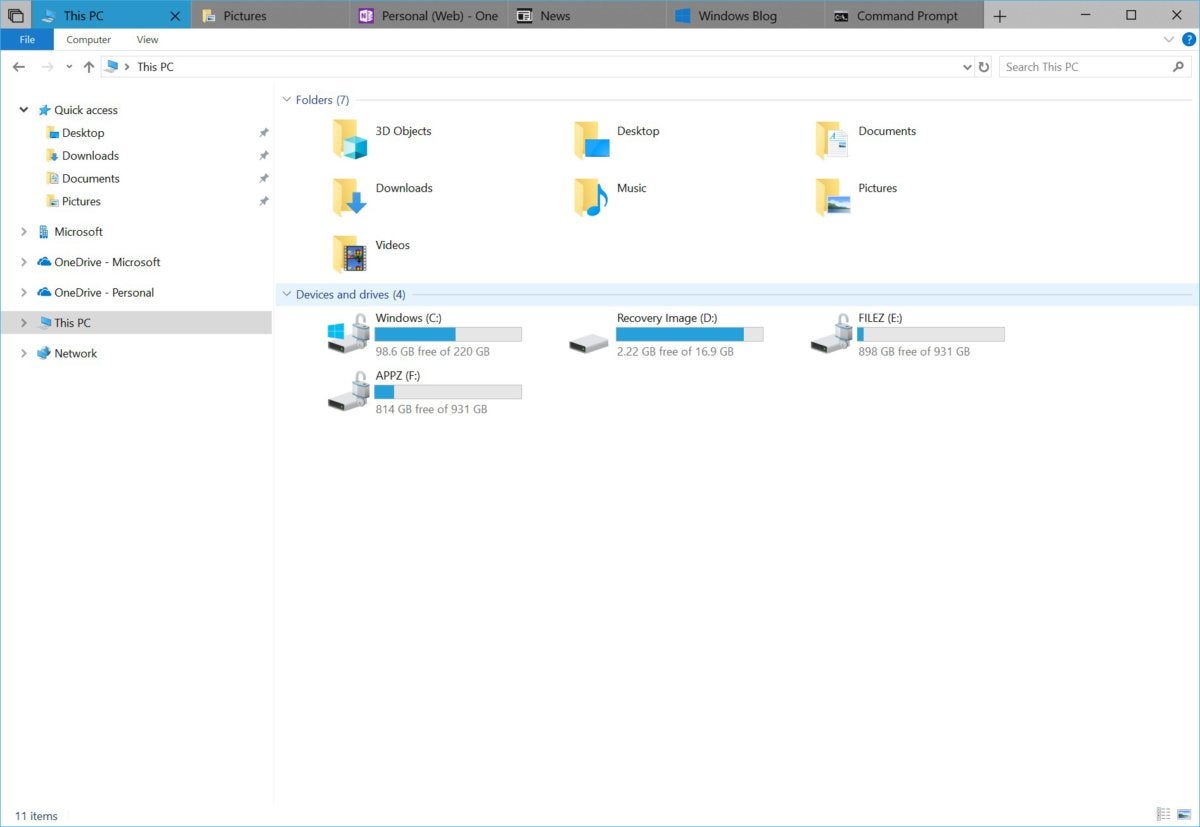 During his Build presentation, Belfiore also announced new features: Sets will be applied to Timeline, so in addition to the Web pages and apps you were working on, Timeline will show Sets, too. Belfiore made a pitch for more apps to contribute to the Microsoft Graph, so that those apps would show up within Timeline.
And, unsurprisingly, Cortana will make an appearance within Timeline, too, suggesting what she thinks you might want to work on.
There's one interesting feature that will change the behavior of Sets, but also Windows, too: ALT+TAB. While the current Alt+TAB keyboard command switches between apps, it sounds like you'll at least have the option to do something new: use Alt+TAB to switch between tabs within Sets.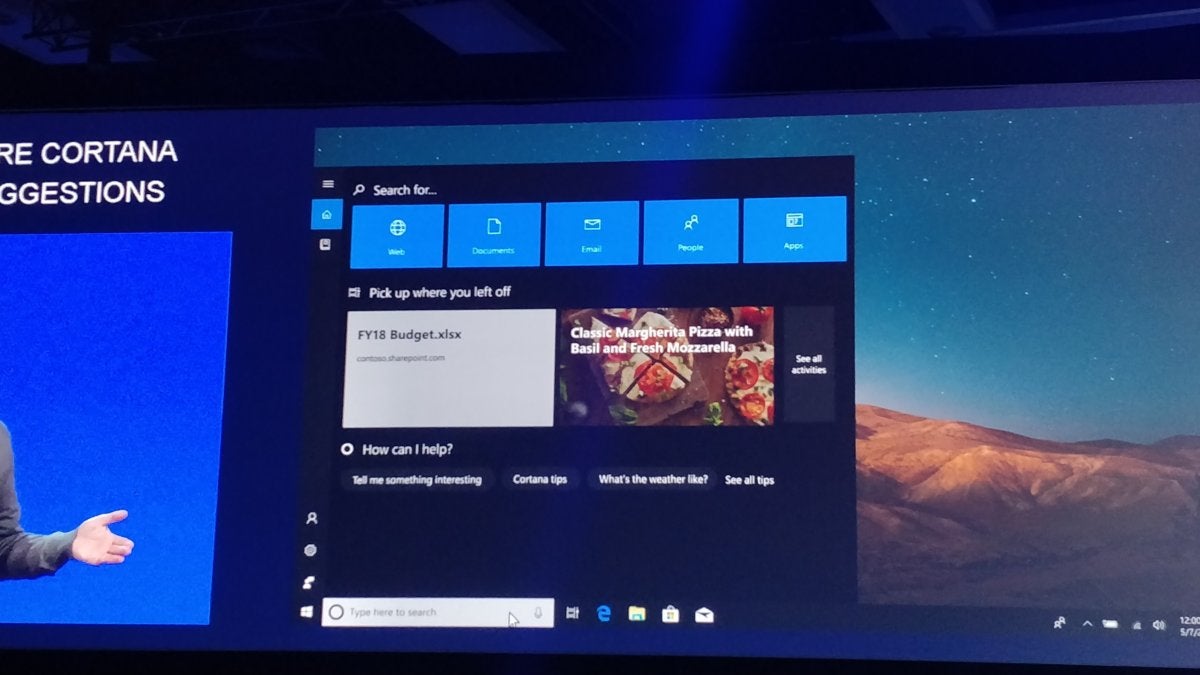 Microsoft has some updates planned for other Windows and Office apps, too. Teams, the collaborative Slack competitor that Microsoft began rolling out in 2017, will gain new APIs and deeper SharePoint integration. Both Outlook and Teams will also see new Adaptive Cards arrive, the name Microsoft uses for the snippets of text and graphics that can allow developers to create rich interactive content—allowing, for example, someone to approve an expense report without leaving Teams. Expect more on PowerBI visualizations in Excel, as well as updates on Windows Machine Learning (Windows ML) to smarten up Windows and your other devices.
All of the intelligence Microsoft is adding to apps is part of the Microsoft Graph, part of the comprehensive matrix of information Microsoft began talking about three years ago. Microsoft calls the Graph a way for developers "to connect the dots between people, conversations, schedules, and content within the Microsoft cloud," and add insights. When Microsoft executives talk about artificial intelligence (AI) to make apps smarter, the Graph is what company executives want developers to tap into.
And if that's not enough, there's cold cash. In a bid to entice more Windows apps from third-party developers, Microsoft plans to aggressively raise the revenue cut that developers can earn—up to 95 percent in certain cases, executives said in advance of Build. (Devs will get 85 percent of revenue if Microsoft sends a user to the Store and buys an app, and 95 percent if they find it with the developers' help.) Windows users may be disappointed by the lack of emphasis on Windows and the relatively low profile Windows has at Build, but developers will undoubtedly be thrilled by the prospect of making more money.
This story was updated at 9:24 AM on May 8 after updates from Joe Belfiore's keynote address at Build.