Fitbit's newest smartwatches just got a whole lot smarter. Rolling out to the Versa and Ionic beginning Monday is a new quick reply function for Android phones (sorry iOS users), and while limited, it dramatically increases the capability of both devices. Here's how to get it all set up on your watch.
To get started, you'll need to update your Versa and Ionic to Fitbit OS version 32.32.10.11, which is rolling out to devices beginning Monday. To check to see if the update is available for your device yet, open the Fitbit app on your Android phone and click on the Versa or Ionic icon in the top right corner. If the update is available, you'll see an alert banner at the top of the screen. Your watch doesn't need to be on the charger to start the installation, but it does need to be charged to at least 51 percent, and within Bluetooth range of your phone.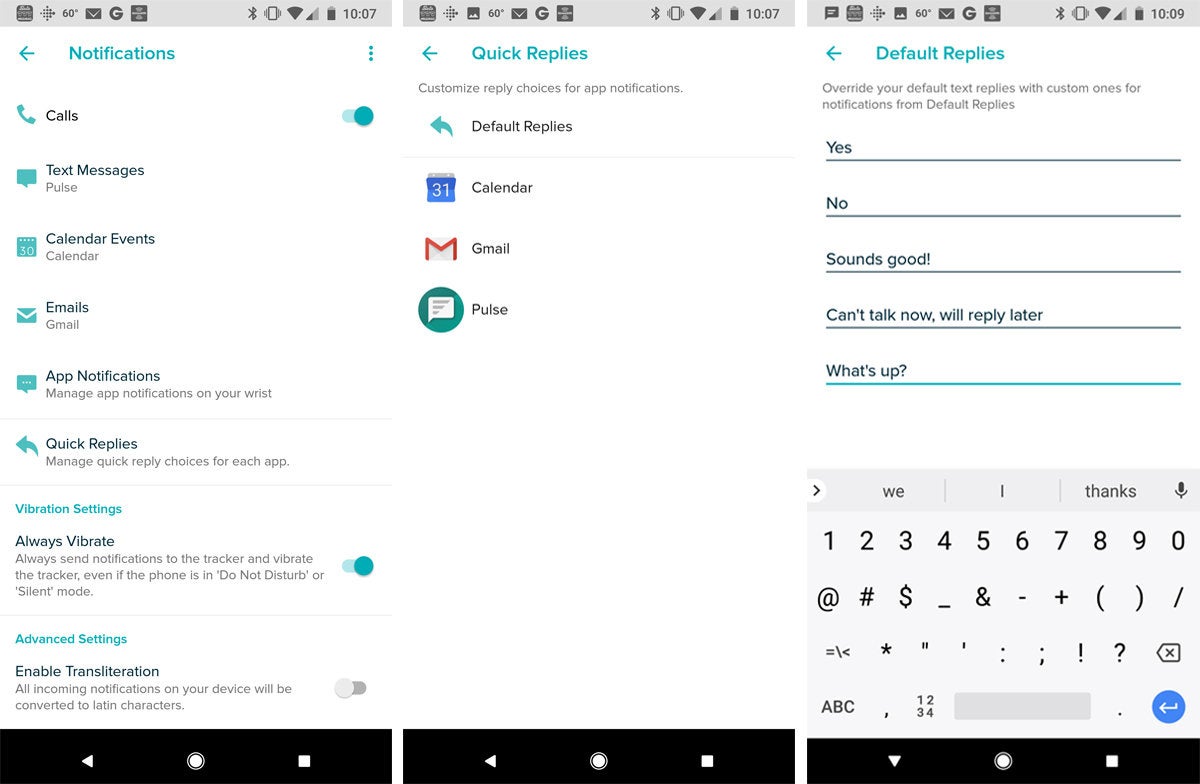 Once the watch has been updated (which will probably take 10 to 15 minutes), head over to the General settings inside the Fitbit app. From there, open the Notifications tab and then tap Quick Replies. Inside you'll see four options: Default Replies, and the three apps you've chosen as defaults for emails, calendar events, and text messages.
Tap on Default Replies, and you'll get a list of five responses:
Yes
No
Sounds good!
Can't talk now, will reply later
What's up?
Additionally, you can tap the emoji tab to choose from a set of specialized Fitbit emoji to choose from (as a nice Fitbit touch, all of the face emoji have blue athletic headbands):
Smiling face
Sad face
Crying face (sad)
Crying face (laughter)
Winking face
Thinking face
Lovestruck face
Rolling eyes face
Red heart
Runner
If those responses aren't to your liking, you can customize them with five personal replies up to 60 characters apiece. Additionally, you can add extra emoji as one of the five quick reply slots, which will show up alongside the standard emoji set. All of the emoji I tried were recognized by the watch (including tornado and derelict house) though some faces were replaced by more standard emoji. (For example the mind-blown emoji was replaced with the weary one. It did, however, have a blue headband.)
After you've crafted your replies, using your responses on your Versa or Ionic is as simple as tapping the new Reply button that appears when you receive a supported notification. From there you'll be able to simply tap one of your replies to send it on its way. Just remember, your phone needs to be within Bluetooth range to send messages.
Currently, standard text messaging apps such as Android Messages and Pulse are supported, as well as other messaging apps including WhatsApp, Facebook Messenger, WeChat, Twitter, and Line. In my testing of an early release of the software, texts worked across several app (including Android Messages and Pulse), but email messages through Gmail or Newton did not.
In addition to quick replies, Fitbit is also pushing out female health tracking for all users in the Fitbit app on iOS and Windows, and the Today screen for those with Versa and Ionic watches. It will be available to Android users later this month.