Over five years after the Microsoft Store launched in Windows 8, it's finally adding a feature that Steam has offered since the Windows 7 era: the ability to gift digital games.
Microsoft enabled digital game gifting for select Xbox One titles last fall. Today, the company announced that PC games and DLC in the Microsoft Store can now be gifted, as well as every Xbox One game. "Many PC games are available for gifting today, May 10, and all games should be available for gifting by Friday, May 11," Microsoft's John Smith said in an Xbox Wire post.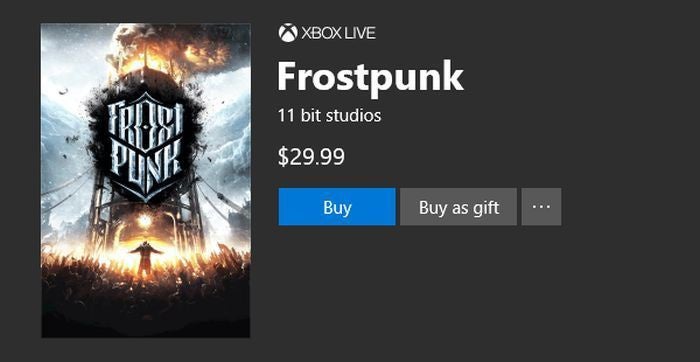 To gift a game through the Windows 10 version of the Microsoft Store, simply browse to it and select the new Buy as gift option next to the purchase/play button. You'll need to enter the email address of the recipient, who will receive a message explaining how to redeem the code. Xbox One users can send games using their friend's gamertag alone. Those recipients will receive a system message with a button that redeems the gift.
There might be a few kinks to work out of this system. I'd hoped to test the feature on my PC to see if computer users who have connected the Windows 10 Xbox app to an Xbox Live account can also gift games using gamertags. Unfortunately, clicking the Buy as gift option doesn't do anything on my system. It's utterly unresponsive. Since upgrading to the Windows 10 April 2018 Update I haven't been able to redeem game codes using the Microsoft Store app, either, because, you know, this is the Microsoft Store. Fortunately, if you run into bugs like I did, you can also gift games via the Microsoft Store website, which behaves as expected. Online, you'll need to send a game via email address.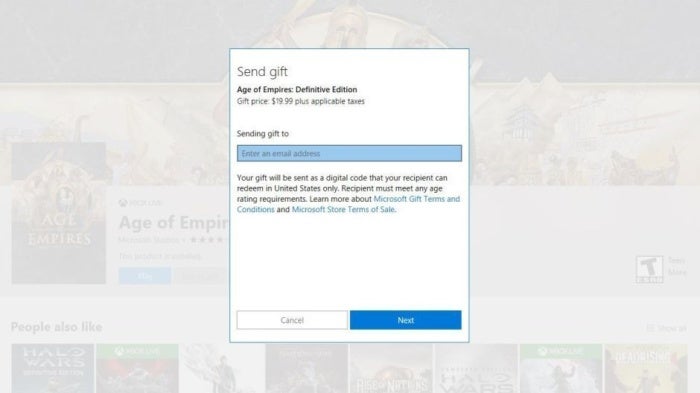 Not every digital item can be gifted. Preorders, free games, and consumable purchases can't be shared, and you can only redeem a game code in the region it was purchased. If you want to gift games that are on sale, Microsoft limits you to two titles (and a maximum of 10 gifts of those two titles) across a two-week period. Xbox 360 and original Xbox games can't be gifted at all.
Why this matters: It's heartening to see Microsoft add the ability to gift PC games, but it's befuddling that it's taken so long to get here. Steam started letting users trade games and in-game items all the way back in 2011, and Origin added the ability in 2016. (Sadly, Uplay still lacks it.)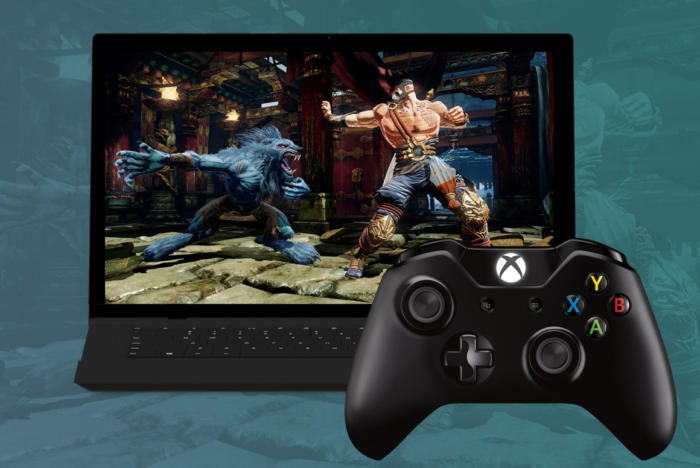 Microsoft's laggard pace isn't surprising, though. Five-plus long years after the Store debuted in Windows 8, the interface remains a bare-bones mess compared to more popular PC platforms. Many high-profile PC launches have suffered from download issues. You still can't back up and move your games to other computers, which sucks when I've had Microsoft Store game downloads crap out and completely restart on me over 50GB into an installation. Trying to hook up with pals to play Sea of Thieves over the past weeks revealed that the Xbox app on PC is a buggy, laggy mess—a frustrating experience when you're trying to get a group together, and a damned shame when the Friend interface on Xbox One works just fine.
[ Further reading: How Microsoft's former PC gaming glory could help fix today's Windows gaming woes ]
Microsoft wants Xbox Live and the Windows 10 Store to become go-to destinations for PC gamers, and the cross-platform capabilities of stellar Xbox Play Anywhere titles like Sea of Thieves, Forza, and Gears of War is a juicy carrot indeed. But when I want to play an Xbox exclusive game on the PC, I don't just use the Microsoft Store and Xbox apps—I suffer through the experience. Adding game gifting is a step in the right direction, but Microsoft has a lot of work left to do before its PC gaming experience is actually good.