Most of PC history has been a race to miniaturize everything, but I'll admit I'm fonder of stupidly oversized machines. I run a full tower at home for absolutely no reason. Sure, it's roomy and the airflow is great, but really I just like how damn big it is. And now I find myself eyeing Corsair's newly announced super tower (or as I prefer, fuller-tower) with interest.
It's the Corsair Obsidian 1000D ($500 on Newegg), and it's massive. Like, 65 pounds massive—and that's before you put any additional hardware inside. Corsair lists the dimensions at 12.1 inches wide, 27.3 inches deep, and 27.4 inches tall. I can't do the math in my head, but I think that works out to slightly larger overall than even the enormous Phanteks Enthoo Elite we saw at CES last year.
And you'll need the space, because like the Enthoo Elite, the Obsidian 1000D is a dual-system case—or at least, that's the selling point. You can fit both an extended-ATX and a mini-ITX motherboard inside, along with two power supplies and the rest of your doubled-up hardware. There's room for up to five 3.5" hard drives and six 2.5" SSDs, eighteen fans, and four enormous 480mm liquid cooling radiators. It's excess done to excess.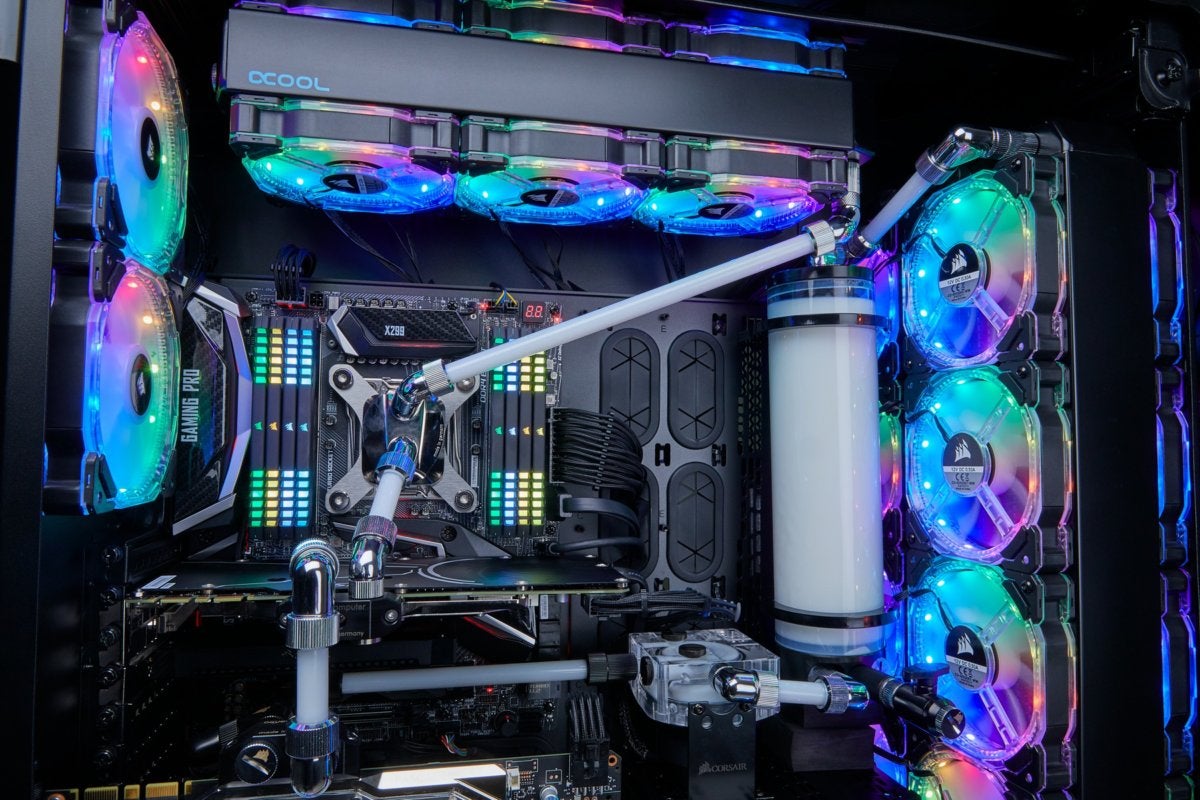 A great CPU for game streaming
AMD Ryzen 7 2700X Processor with Wraith Prism LED Cooler
So why would you need an Obsidian 1000D? Well, the most obvious answer nowadays—and the one Corsair went with—is streaming. Many high-end streamers double up on their machines, using one to play the game and the other to broadcast. You get better performance that way, both the game itself and your outgoing stream. Combining both those PCs into one case could be enticing.
[ Further reading: How to stream PC games to Twitch ]
There are other reasons. Maybe you need to run Windows and Linux environments simultaneously without dual-booting. Maybe you want to separate your work and personal PCs, or store all your media on a separate machine, or—well, I'm reaching here. Okay, there aren't that many reasons to need an Obsidian 1000D.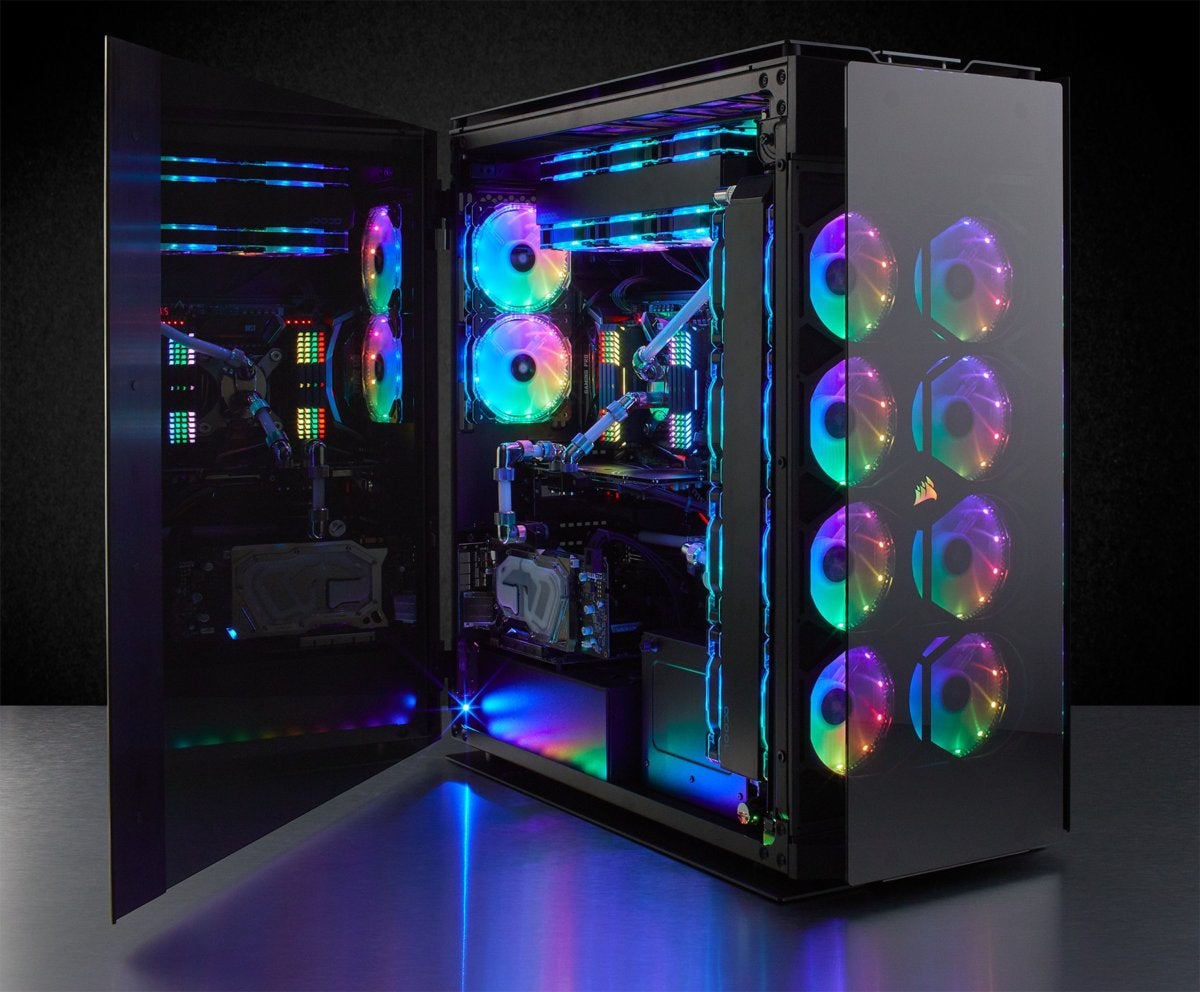 If you're looking to build a performance monster though, this is one hell of a way to do it. The cooling options alone are enticing—as I said, eighteen fans and four massive radiators. Forget two systems, just build yourself a top-tier liquid cooled PC in here.
It looks sleek too. Corsair's the first one I've seen to double up two columns of fans on the front, at least in this form factor, and the result reminds me of an eight-cylinder engine or a speaker rack more than a PC.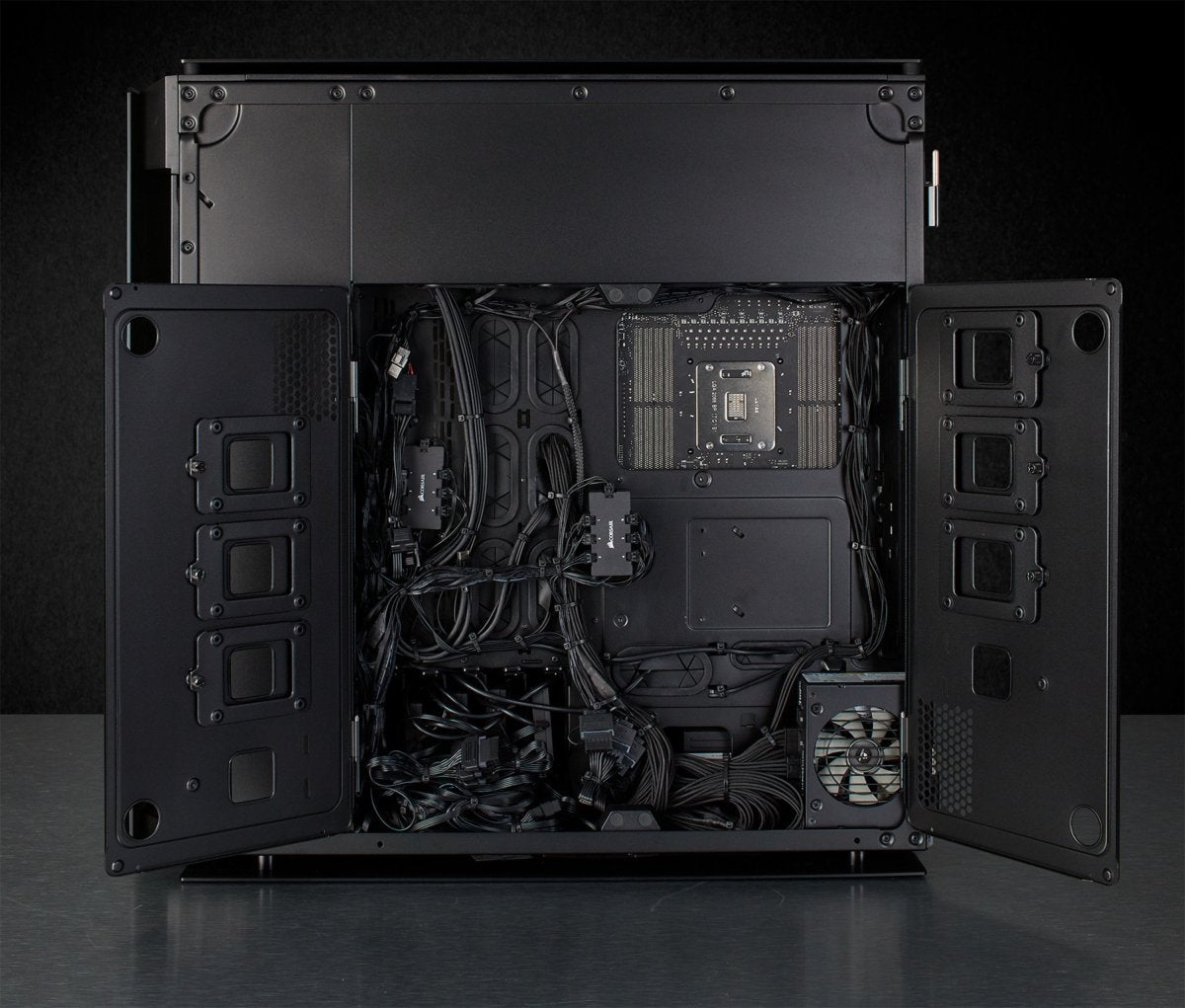 And internally there's just as much to drool over. Trays slide out of the case to make mounting radiators and fans easier. There's a fan controller, multiple full-length dust shields, and a PSU cover, plus a GPU mount for those who'd rather set up vertically.
Best of all: Cable routing is done behind what Corsair calls a "French Door" style compartment. You wire everything together, then shove it away where nobody can see it through your clean tempered-glass siding. Not the most refined solution, but it's probably the only way you could make a dual-system case look organized.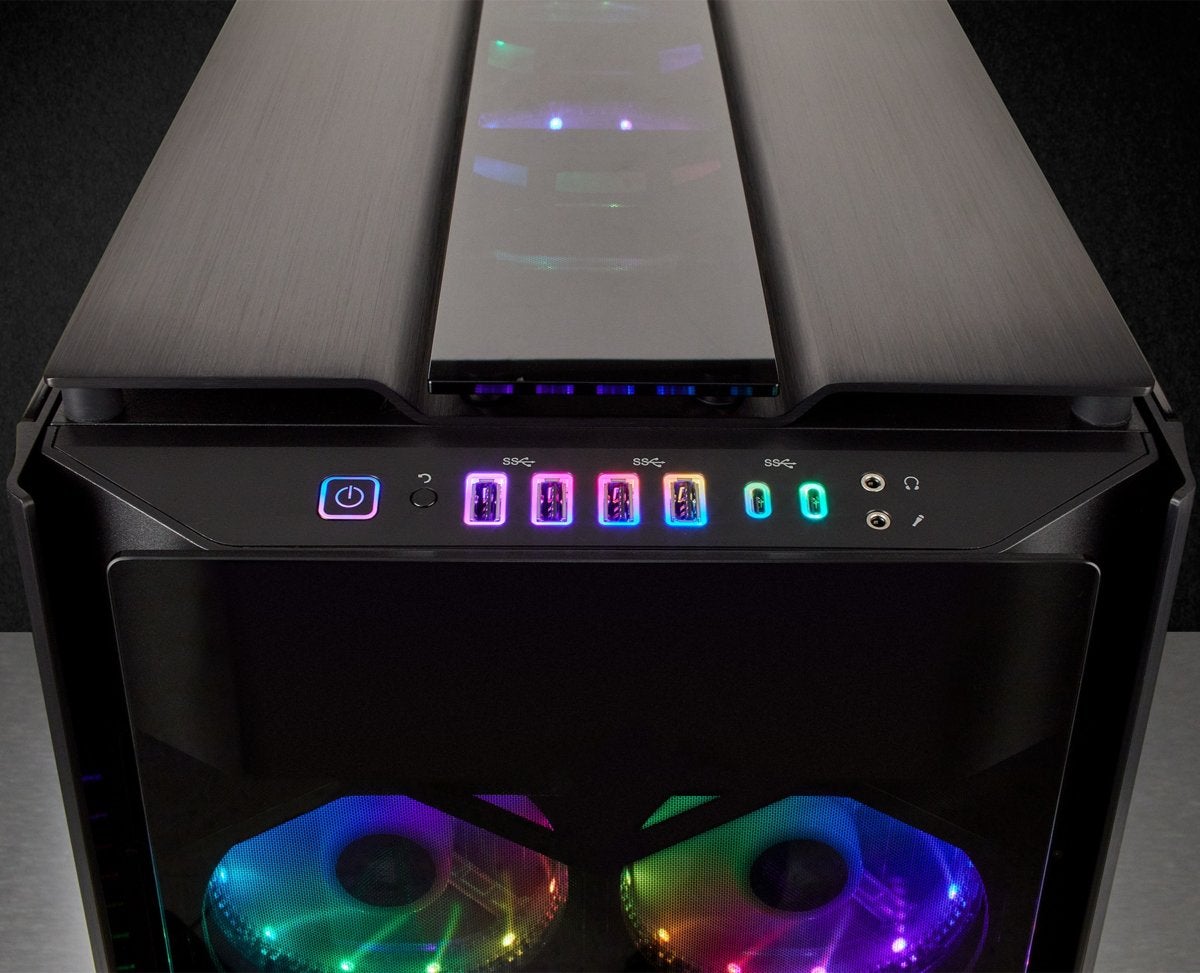 This being Corsair, RGB lighting is also a priority. It's seemingly everywhere, including the power button and the USB ports—two of which are USB-C, I should add. Every promo picture of the Obsidian 1000D looks like there should be a pot of gold nearby, and I'm waiting to hear whether Corsair recommends wearing sunscreen while sitting next to it.
[ Further reading: How to buy the perfect PC case ]
It's the type of PC you'd expect to see in a bad cyberpunk film, and I guess I'm in one of those because I kind of want it. Corsair's biggest coup is, I think, the price. The aforementioned Phanteks Enthoo Elite lists for a whopping $900, which is way outside what I'm willing to pay even for a badass novelty case. The Obsidian 1000D is only $500 though. That's still two or three times what most people should pay for even a high-end PC case, but half the price of the Enthoo Elite? Corsair's case almost feels like it's in reach.