Microsoft plans to ship a next-generation Surface Hub 2 in 2019, boasting a smaller, lighter, more modular design that will encourage workers to share the screen, as well as their notes and files.
Announced Tuesday, Microsoft said the new 50.5-inch Surface Hub 2 will boast a "4K plus" display in the traditional 3:2 ratio of Surface devices. It will weigh between 25 and 35 kilograms (55 and 77 pounds), making it smaller and lighter than the previous Surface Hub. Ryan Day, a spokesman for the company, described the adjustment in the design as "shipping a TV, not a piano."
Just as the original Surface Hub's 82-inch, 4K display blew users away, two hardware elements on the Surface Hub 2 should do the same. One is a rolling easel-like stand for a single unit, and the other is the ability to mount four Surface Hub 2s next to one another, creating a massive wall of pixels.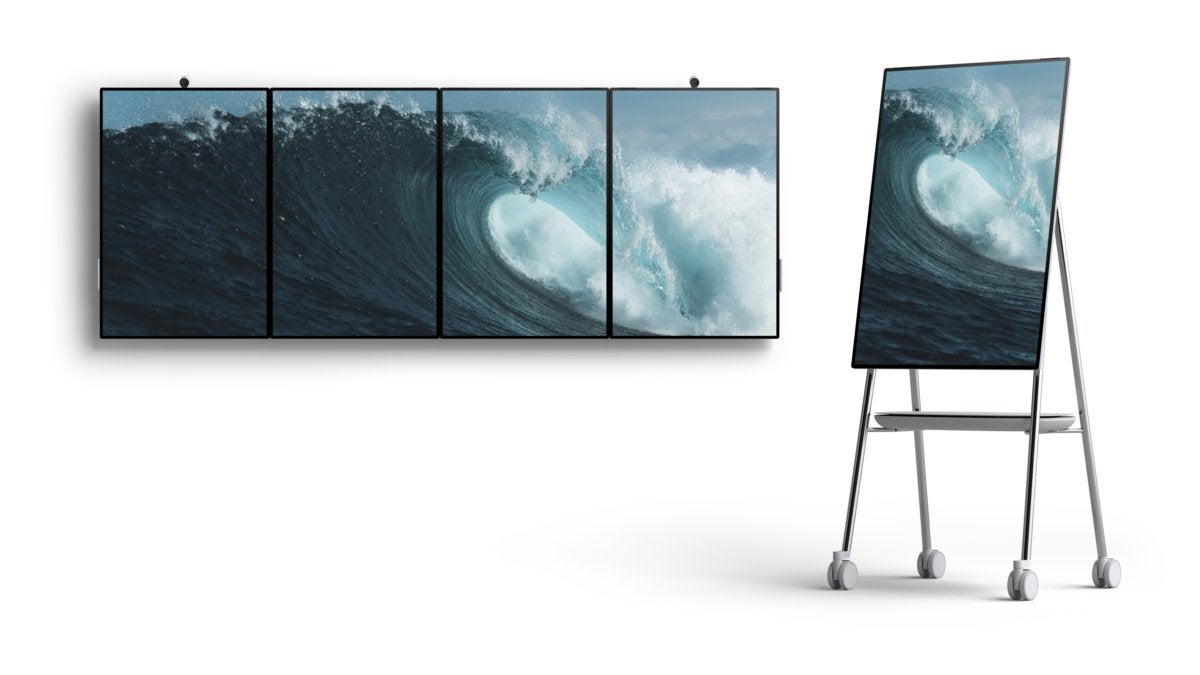 What this means to you: Like the original Surface Hub, don't expect to pick up the Surface Hub 2 from your local electronics store. Remember how the Hub works: you organize a meeting, walk into the room, and present to your colleagues locally and remotely via dead-simple Skype video calls, whiteboarding, and other tools. It's a solid, interesting concept, though as a wired device it can't be as mobile as Millennials are. Nevertheless, the first Hub was impressive, and the Hub 2 looks sharp as well.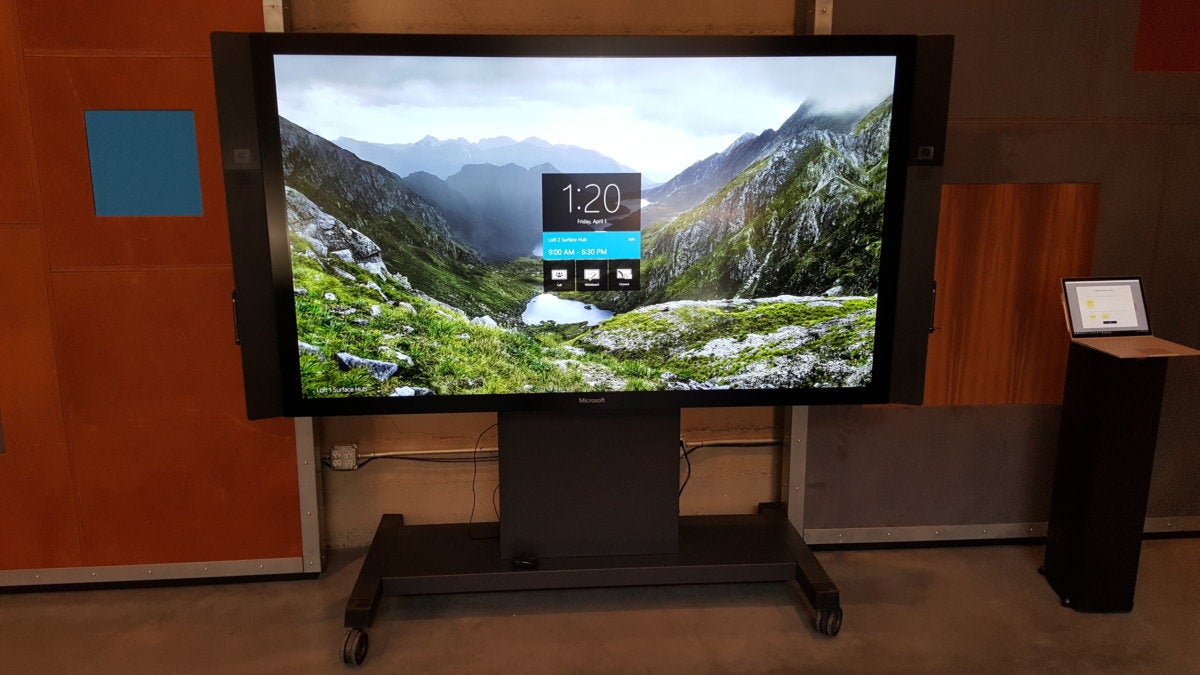 A Surface for the conference room
Microsoft debuted the first-generation Surface Hub in January, 2015, at the remarkable event that also introduced the world to the HoloLens. More than a year later, the company shipped the monstrous 82-inch display for $22,000, clearly pricing it for enterprise budgets. (A 55-inch version was about $9,000.)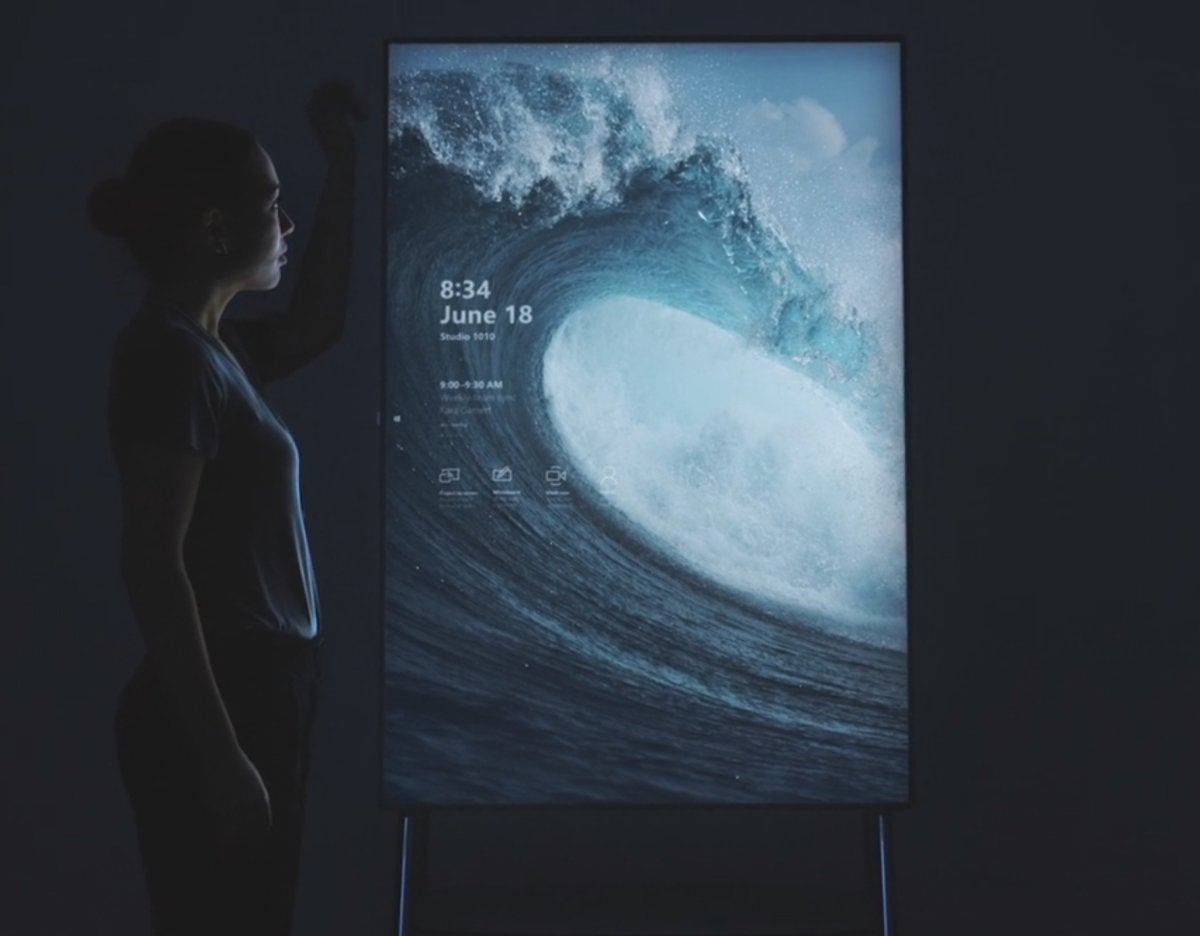 Microsoft's original Surface Hub was somewhat rudimentary, with Skype and whiteboarding as the go-to apps. But as Microsoft's concept of the workplace has evolved, the Surface Hub 2 will be a key component of what Microsoft now calls the "intelligent edge," a catch-all term for the PCs, phones, and other devices that will interface with the "intelligent cloud" of Microsoft's apps and services, Day said. With the Surface Hub 2, Microsoft's trying to enable what it calls "immersive collaboration," allowing as many people access to the device as possible.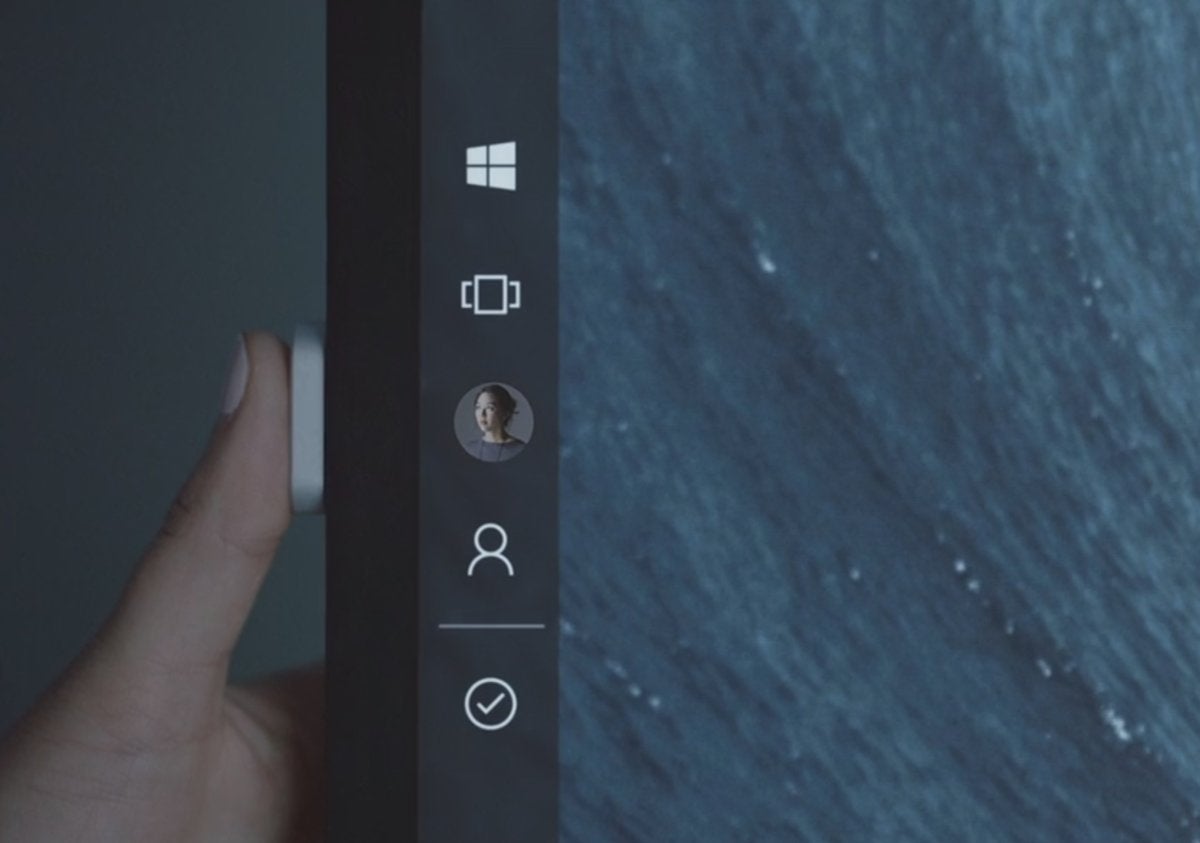 "The environment around us is shifting – towards open offices, huddle rooms and team work spaces – and in three years half the global workforce will be mobile," Panos Panay, Microsoft's newly-appointed chief product officer, wrote in a blog post. "It's an exciting time to be in the devices business, because the creation of new form factors and software experiences will not only lead us to work in new ways, but also in new spaces designed for collaboration."
The Surface Hub 2 won't be battery-powered, though Microsoft's not saying exactly what technology will power it. It will have Wi-Fi. When mounted on a wall, up to four Surface Hub 2s can be daisy-chained, allowing them to function separately, or project a cohesive picture that straddles more than one Surface Hub 2. Day called this "tiling."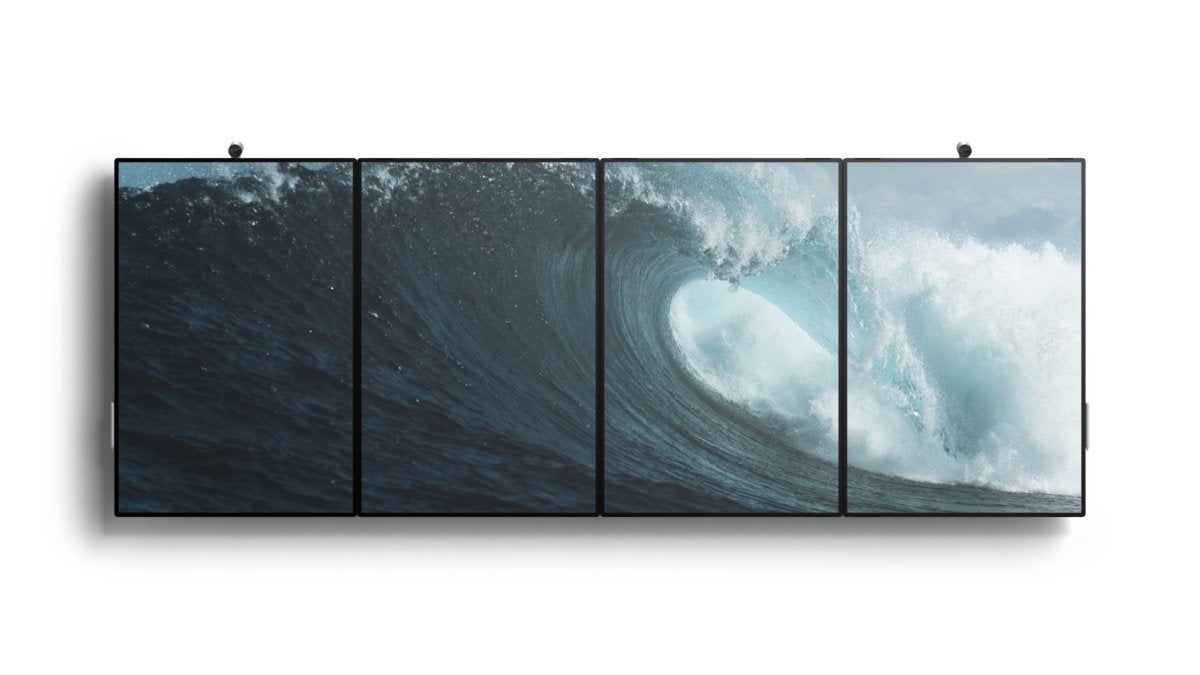 Though the Hub 2 will run Microsoft's Whiteboard and Skype apps, as the first Surface Hub did, Teams will be the centerpiece of the new Surface Hub 2. Microsoft has seemingly made Teams its backchannel app for conducting meetings, serving as a means to connect employees and the various repositories of information, such as Trello or Azure, that the business can access. "I think that Teams will primarily be the way you'll want to work within it, to get the full functionality," Day said.
Like the first Hub, remote users will be able to connect to the Surface Hub 2 via other Surface devices and PCs. But the new Hub, like the old, was made for in-person interaction. That includes a new, thick Surface Hub 2 Pen—one of the new features Microsoft is confirming, though not really explaining.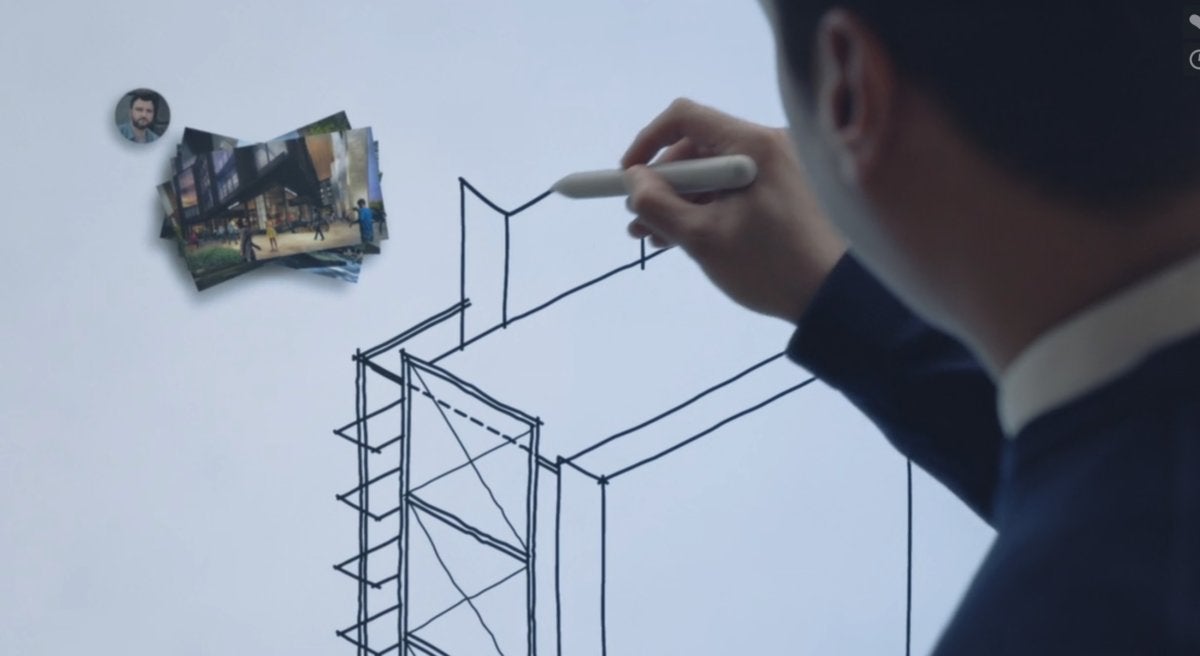 "With Hub, people love the beautiful hardware but they loved the interaction and the value they got from getting out of their chairs," Day said.
Each Hub 2 will include a 4K camera for Skype, but users will log in using a fingerprint reader. The cameras will be modular, and will plug in via USB-C. They can rotate as the Hub 2 rotates from landscape to portrait mode and vice versa. Because two users can log in at once, the Surface Hub 2 will allow two users to collaborate on a project.
In this scenario, Day explained, one employee could present a PowerPoint deck or research paper to another employee, citing the original presentation and possibly some original research. The other could contribute data that she had collected, Day said. Though Microsoft already allows two or more users to jointly edit a document in Word or other Office apps, this takes collaboration to another level, Day explained.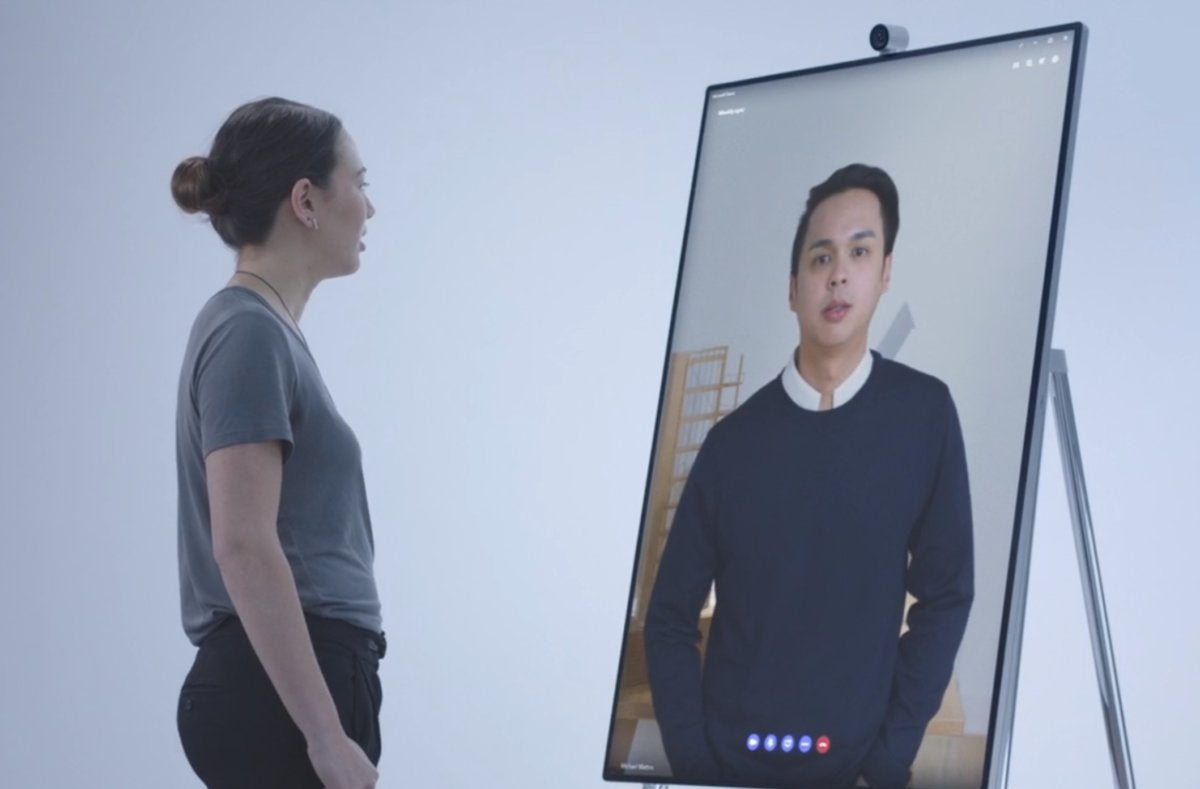 In its video, Microsoft deliberately chose to show the Hub 2 with a Skype window open that displayed the remote caller at the same height and eye level as the user. That's a capability that the original Hub offered, too, but Microsoft sees this as one of the understated but important psychological elements to encourage collaboration between remote users. Far-field mics clearly pick up their conversations.
Microsoft isn't saying exactly what version of Windows the Surface Hub 2 will run—in part, of course, because by 2019 it's possible that the company may have released one or two unannounced feature updates. Currently, the Surface Hub is powered by the Windows 10 Creators Update—two versions behind the current April 2018 Update that powers PCs. Day said the Surface Hub 2 will run a "variant" of the traditional Windows 10 OS, as it does today, including a one-touch shortcut to Teams.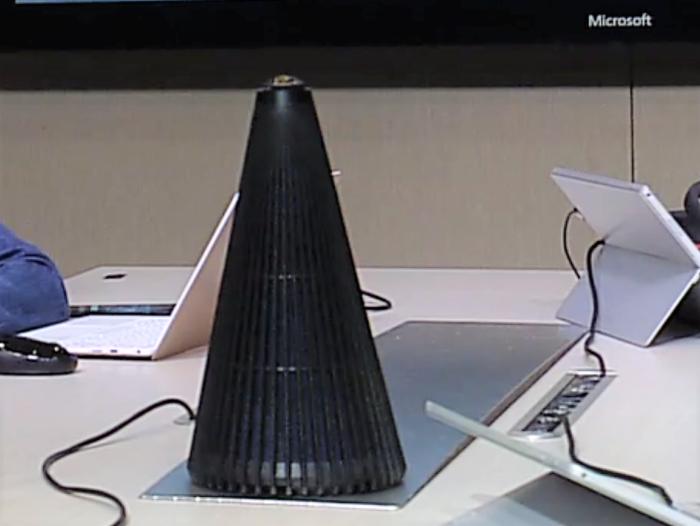 Unfortunately, Microsoft doesn't plan to share further details of the Surface Hub 2 until later this year, including the price. Day allowed that it would be "competitive with what's in market today." Remember the $9,000 MSRP for the 55-inch version of the first-generation hub.
Some unanswered questions linger. Though Microsoft is announcing the Surface Hub 2 in time for businesses to start planning for purchases a year or two out, some—not all—of these capabilities will come to the original Surface Hub. It's also not clear what sort of smarts Microsoft will be able to add to the Hub 2, when it's a feature update or two behind—remember, the original didn't even ship with Cortana enabled. And of course, we have no idea of the components inside.
Interestingly, Microsoft didn't show off the Surface Hub 2 inside its "conference room of the future" demonstration at Build, its recent developer conference. Instead, it chose to use a prototype desktop device that used Microsoft's cognitive services, and could both see and hear. Regarding that device, Day said he had nothing further to share.
"I don't want to confirm or deny what's going to be available in terms of that," Day said of the device, which he called a "concept." "We'll have more to talk about [that device] this fall."