The time after a new processor generation launches can be a great time to find gaming laptops for cheap. Case in point: Mere weeks after Intel's 8th-gen mobile gaming CPUs were announced, EVGA's SC15 with a 7th-gen chip is selling for just $1,000 on the company's website—a massive deal compared to the luxurious notebook's usual $1,900 retail price.
That would be a compelling price based on the internal hardware alone. The EVGA SC15 packs a top-of-the-line Core i7-7700HQ paired with Nvidia's GeForce GTX 1060, a stellar combination sure to provide a top-notch 1080p gaming experience on the 15.6-inch display. The power couple's joined by 16GB of RAM, a 256GB NVMe SSD boot drive, and a 1TB hard drive. Cheap laptops with loadouts like this normally sell for hundreds more.
The EVGA SC15 is anything but cheap though. Like much of EVGA's hardware, this laptop was built for enthusiasts. That IPS display tears along at a screaming 120Hz, augmented by Nvidia G-Sync technology that eliminates tearing and stuttering for a buttery-smooth gaming experience. The sleek (well, for a gaming laptop) 0.9-inch aluminum chassis sports exceptional build quality and a subtle, yet stunning design. And it's a gaming laptop, so of course the keyboard features four customizable RGB backlight zones.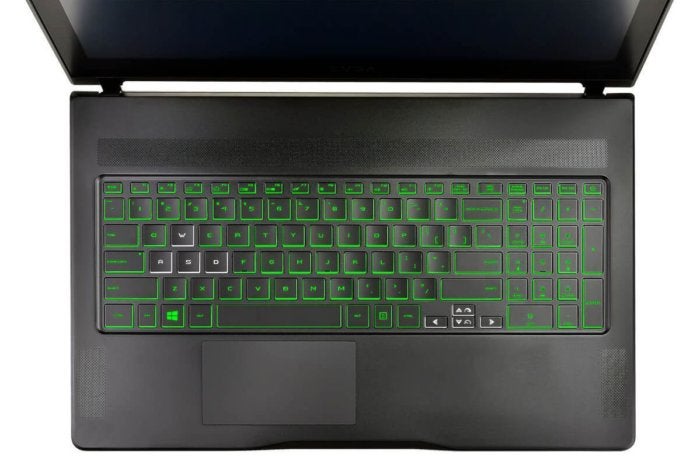 You virtually never find premium features and such fearsome firepower going so cheap—NotebookCheck gave the EVGA SC15 a glowing review at its full retail price and said "it's close to being everything we're looking for in a premium gaming laptop under $2000 USD." While PCWorld hasn't formally reviewed the laptop, I've played with it during trade shows like CES and came away highly impressed.
And now it's nearly half off.
We can't be sure if the discount's tied to the release of a new wave of laptops, but it doesn't matter. If you've even toyed with the idea of buying a portable gaming machine, the EVGA SC15 for $1,000 is one of the most compelling deals we've ever seen on a play-ready laptop.