At a Glance
Expert's Rating
Pros
Solid, sturdy construction
Roomy keyboard with dedicated numeric keypad
Great battery life
Discrete GeForce MX150 graphics
Cons
Relatively thick and heavy
Middling 8th-generation performance
Thoroughly outperformed by its Kaby Lake-G sibling
Our Verdict
The 2-in-1 HP Spectre x360 15 gets a welcome 8th-generation performance bump, a 4K display, a roomy keyboard and impressive battery life, all in a sturdy if somewhat hefty and pricey package. That said, we can't help but cast an envious eye toward the Kaby Lake-G version of the Spectre, which beats this Kaby Lake-R model in just about every department, all for just $120 more.
Aimed squarely at "prosumer" graphics users who need creative horsepower on the road, the HP Spectre x360 15 gets a welcome 8th-generation performance bump, a 4K display, a roomy keyboard and impressive battery life, all in a sturdy, if somewhat hefty and pricey package. That said, we can't help but cast an envious eye toward the Kaby Lake-G version of the Spectre, which beats this Kaby Lake-R model in just about every department, all for just $120 more.
Price & specifications
We tested the higher-end of the two Kaby Lake-R versions of the HP Spectre x360 15, which boasts an 8th-generation, quad-core Intel Core i7-8550U processor (Kaby Lake-R), a 15.6-inch 4K UHD touchscreen, a 512GB solid-state drive, 16GB of DDR4 RAM, and a discrete Nvidia MX150 graphics core. It's available for $1,600 from HP, but we found it on Amazon for $1,495 at presstime. You can pare down the price tag by a few hundred bucks by opting for the lower-end model with 8GB of RAM and a 256GB SSD.
The Kaby Lake-G version
HP Spectre x360 15 (2018) with Kaby Lake-G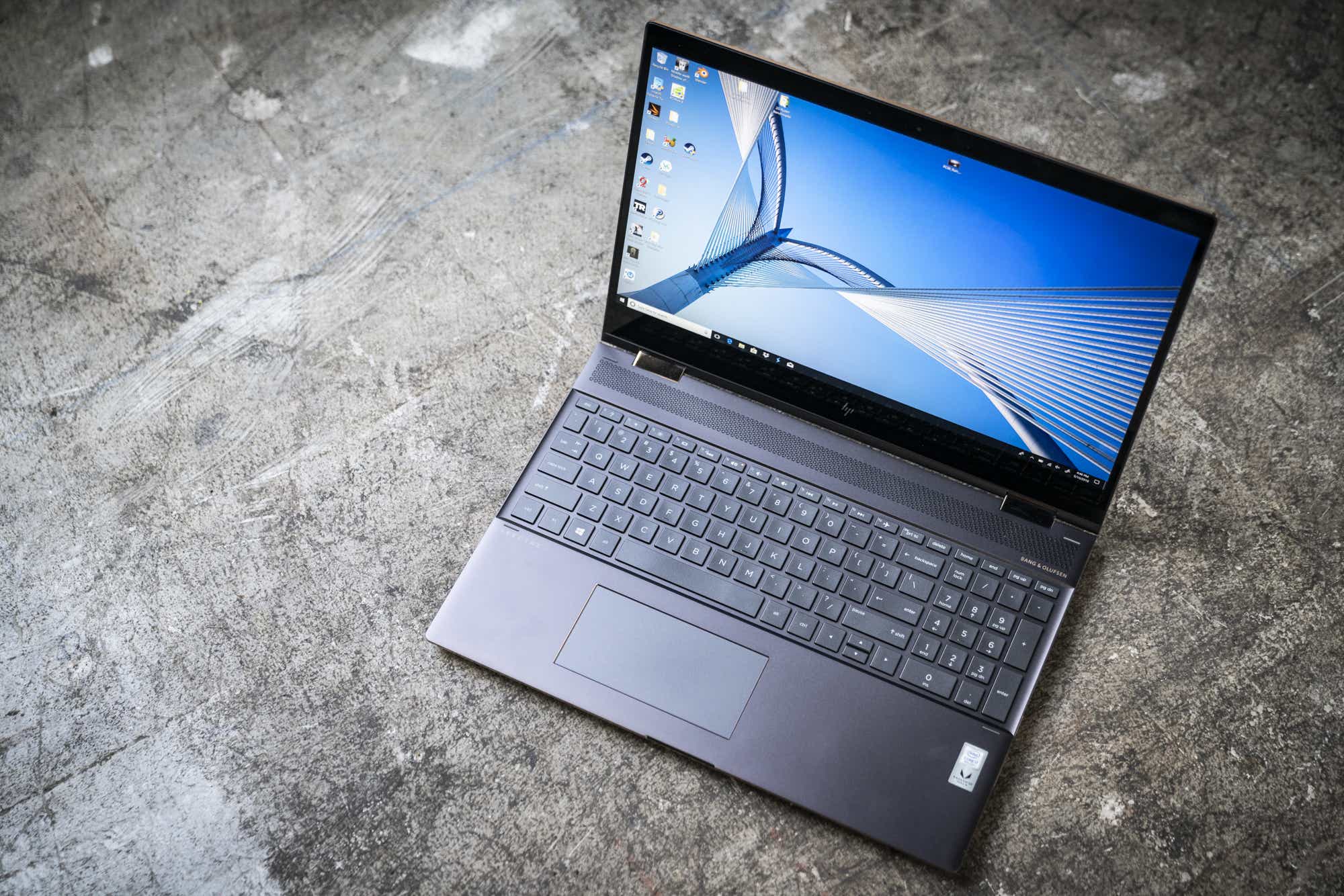 Price When Reviewed:
$1720
On the other end of the spectrum is a $1,720 version (reviewed here) that marks one of the first laptops with Intel's Kaby Lake-G processor, complete with eye-popping Radeon RX M graphics. As we'll soon see, the Kaby Lake-G flavor of the Spectre x360 15 boasts enviable performance gains across the board over its Kaby Lake-R sibling, at the cost of some battery life, a couple extra ounces, and about $120.
Design
At about 0.77 inches thick and tipping the scales at a hefty 4.5 pounds, this new HP Spectre x360 15 is slightly thicker and heavier than its predecessor, although it's about 2.5 ounces lighter than its Kaby Lake-G counterpart. Toss in the AC adapter, and you'll be carting around a five-pound, six-ounce package.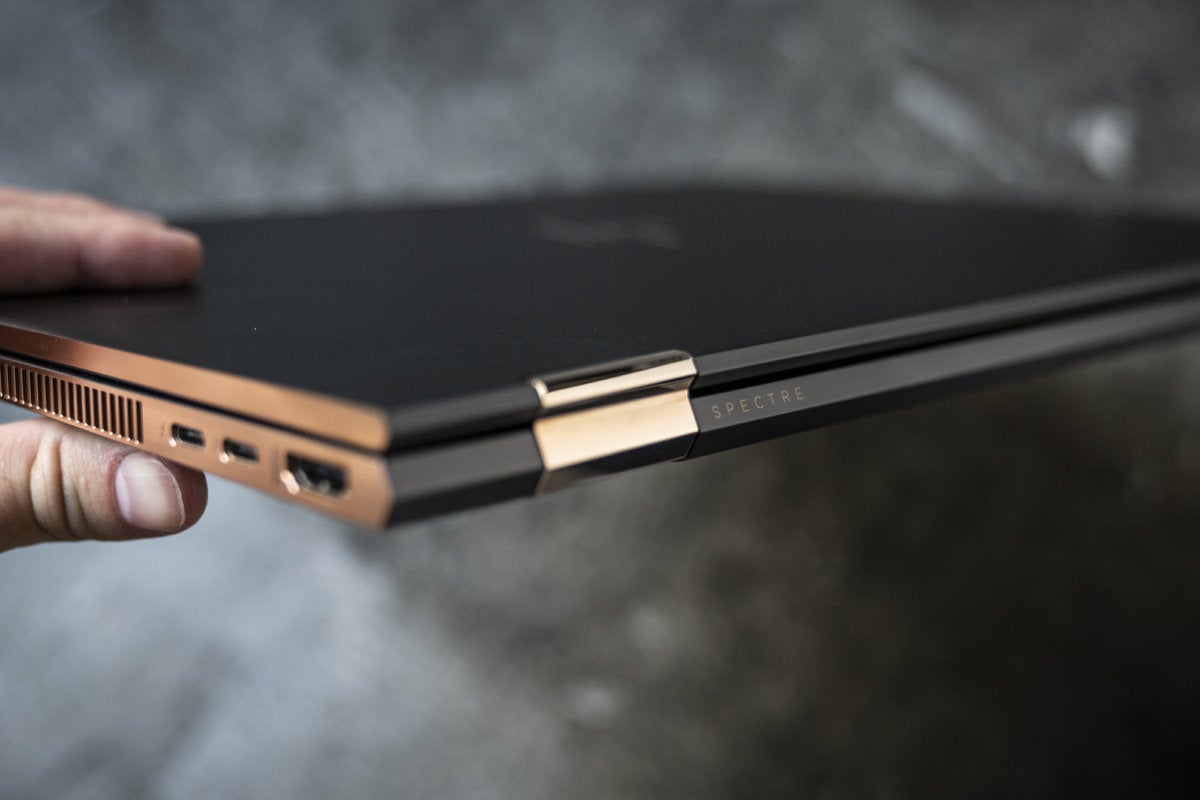 Hefty though it is, the HP Spectre x360 15's sleek aluminum chassis feels sturdy and well built, complete with chiseled edges in back and solid, copper-tinged hinges. This being a convertible-style laptop, the Spectre's 15-inch, Corning Glass-protected display swivels a full 360 degrees, allowing you to tilt the screen back and sit it keyboard-down in kiosk mode, tent it in a 'V' shape, or flip the display all the way back for tablet use.
Display
The HP Spectre x360 15's big, relatively bright 4K display marks one of the laptop's high points. Measuring 319 nits (or calendas), the Spectre's screen looks sharp and vivid, well above our minimum standard for comfortable indoor reading. Then again, the display pales a bit compared to the 500 nit-plus screens we've seen on other 4K laptops.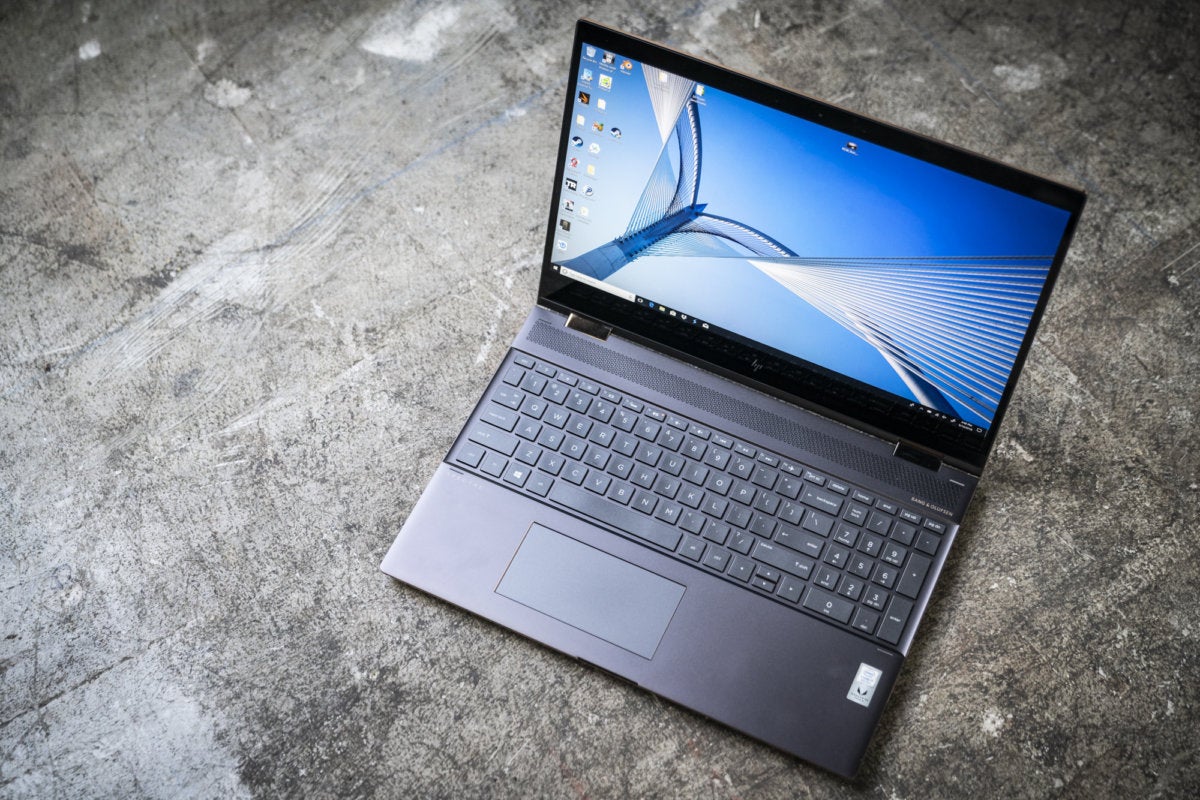 Viewing angles on the Spectre x360 15's IPS display panel were excellent, with the screen barely dimming even when viewed from extreme angles. The display itself is protected by Corning Gorilla Glass 4, making it tough to scratch but also prone to glare.
I had no trouble tapping and swiping the Spectre's touch-enabled display, and the same goes for scribbling doodles with the included AAAA-battery-powered HP Digital Pen. For an extra $89, you can trade up for an HP Tilt Pen, which lets you draw from an angle for greater sketching and shading precision.
Keyboard and trackpad
The HP Spectre x360 15's keyboard feels agreeably snappy and clicky, with impressive travel on the flat, chiclet-style keys and plenty of room, making for easy discovery. That's no small feat, given that this latest version of the Spectre x360 15 squeezes in a 10-key numeric keypad. Luckily, the Spectre 15's keyboard manages to feel roomy despite the additional keys.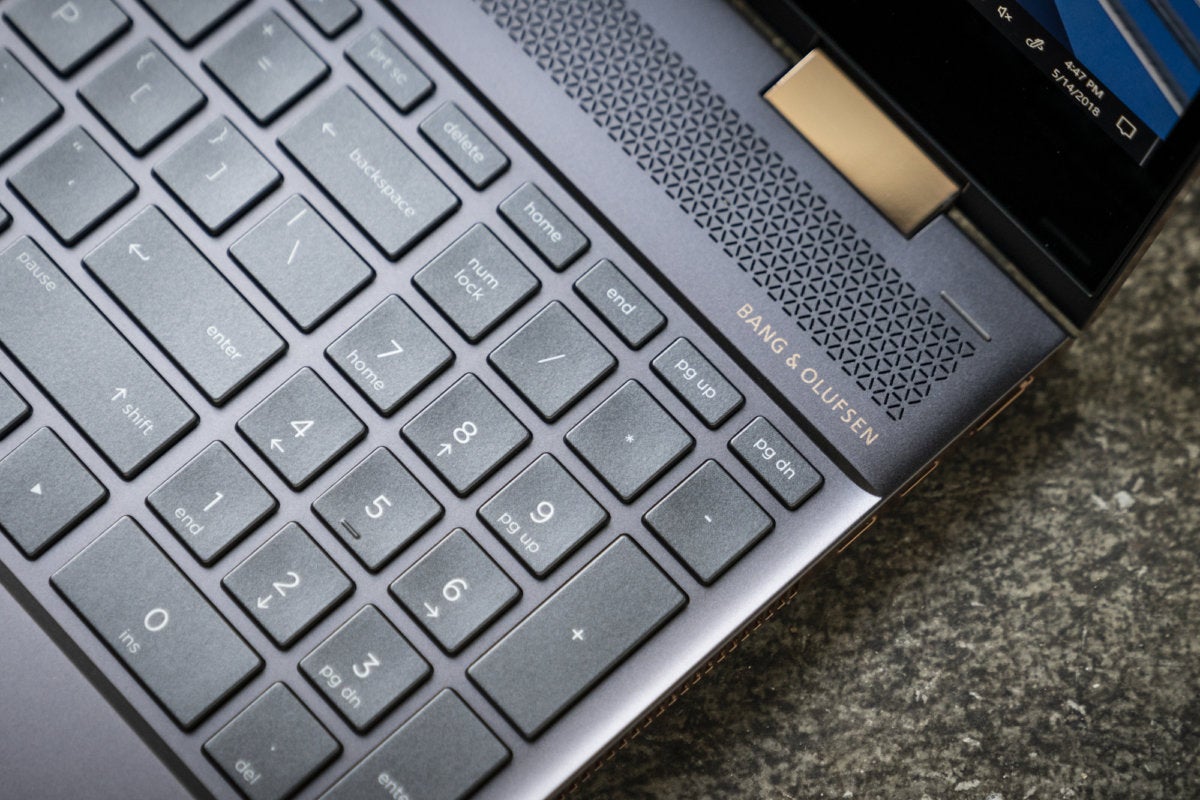 The keyboard boasts hotkeys for such typical functions as screen brightness, volume and media playback controls, airplane mode, and help—not bad, although a settings hotkey would have been nice, too. I was also a tad disappointed by the keyboard backlighting toggle, which lacks varying degrees of brightness.
Because of the dedicated numeric keypad on the right side of the keyboard, HP shifted the Spectre's smallish trackpad to the left, leaving it centered beneath the main keys. We've seen this kind of offset trackpad placement before on laptops with dedicated numeric keypads, and it feels perfectly natural here.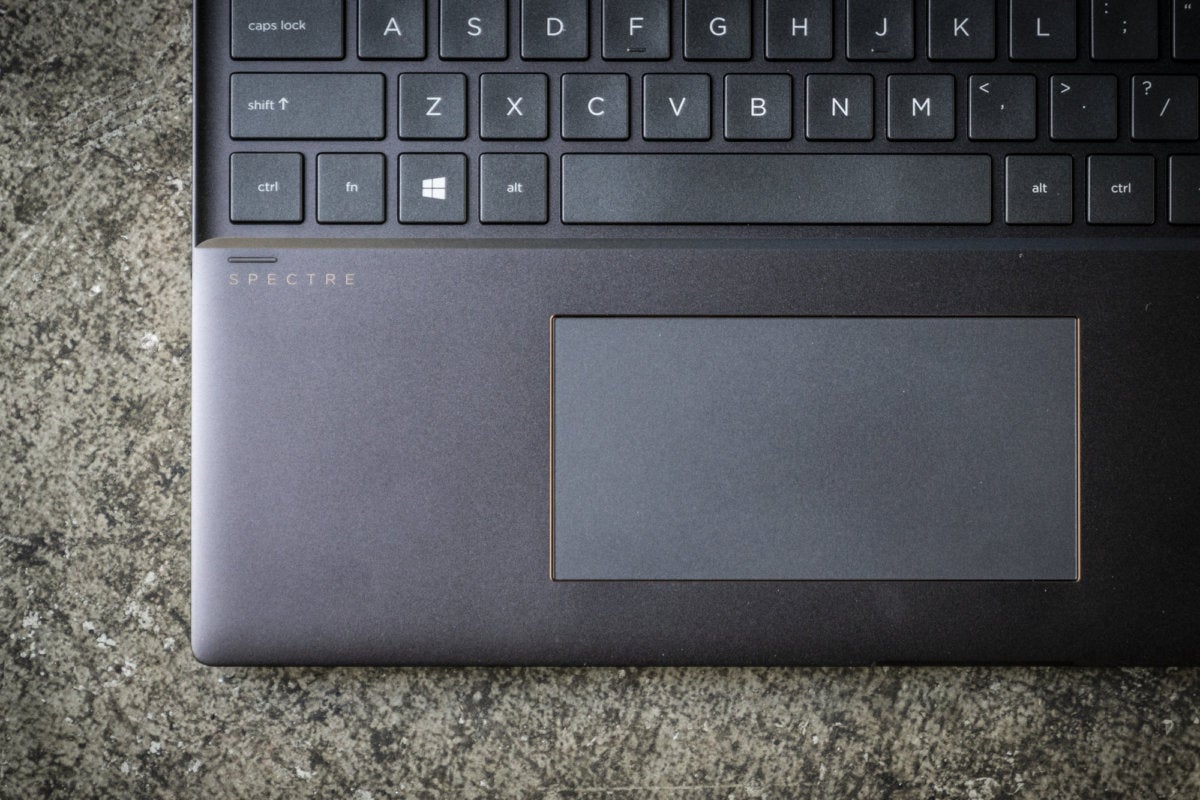 Speakers, webcam & security
The HP Spectre 15 x360 comes with top-firing speakers courtesy of Bang & Olufsen, which look great on paper but sound shrill in practice. Enabling the "Bang & Olufsen Experience" setting cranks up the volume to impressively loud levels, but fails to add any warmth or bass. So-so sounding laptop speakers aren't anything new, of course, but I was expecting more given the Bang & Olufsen branding.
The Spectre's 1080p HD webcam is embedded in the top bezel of the screen. It produces serviceable, if somewhat noisy images, fine for Skype but not for much else. Much better is the accompanying IR camera, which I used throughout my testing for unlocking my Windows profile via Windows Hello.
Besides the IR camera, the Spectre also comes with a fingerprint reader that sits on the right edge of the laptop, handy for unlocking the laptop when it's tented or sitting keyboard-down.
Ports
The HP Spectre x360 serves up a mixed bag of ports, starting on the left with a single USB 3.1 Type A port, a barrel-shaped port for a standard AC charger, a combo audio jack and an SD card reader. The Spectre's power button sits between the charging port and a three-inch air vent.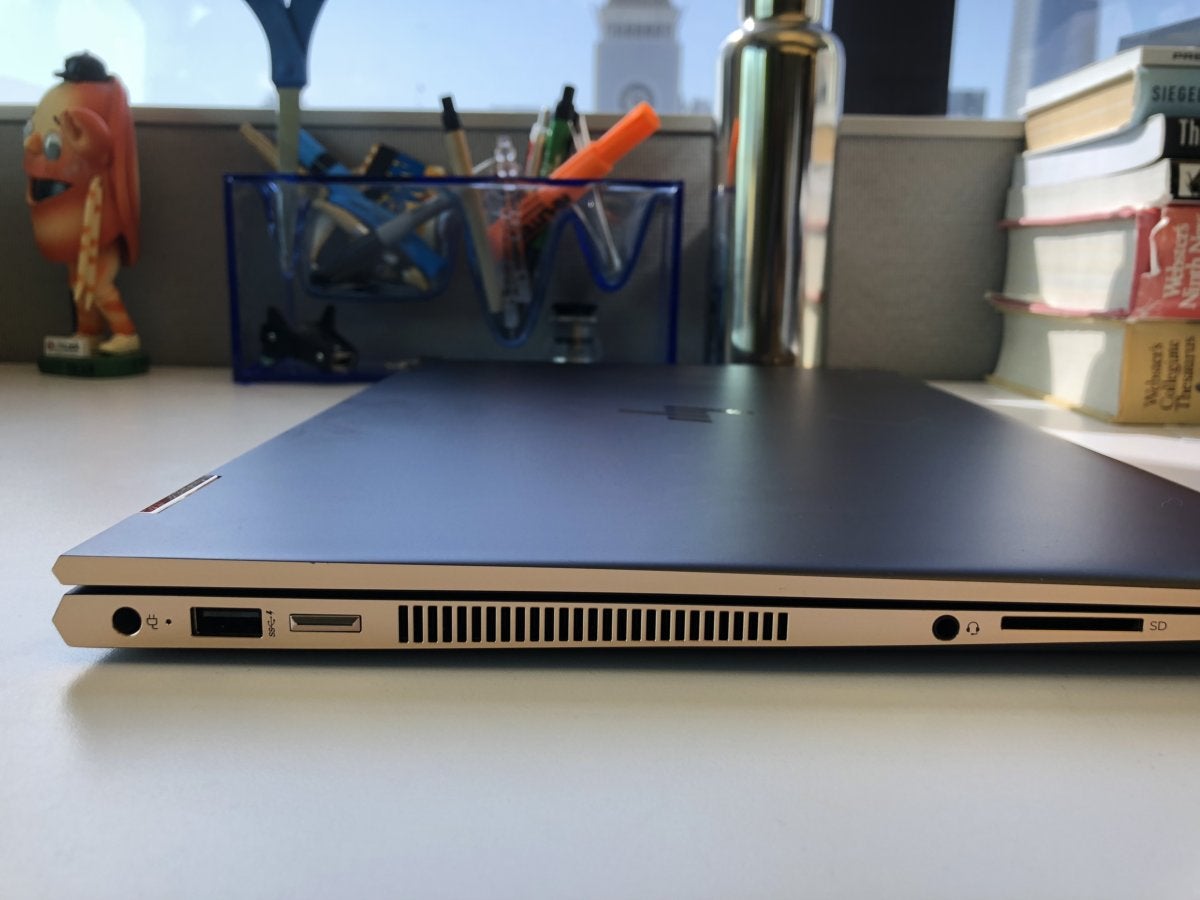 On the right side, you get a single Thunderbolt 3 port (which you can use to charge the Spectre, if you wish), a standard USB 3.1 Type C port, and a full HDMI port. Also on the right side: a volume rocker and the aforementioned fingerprint reader.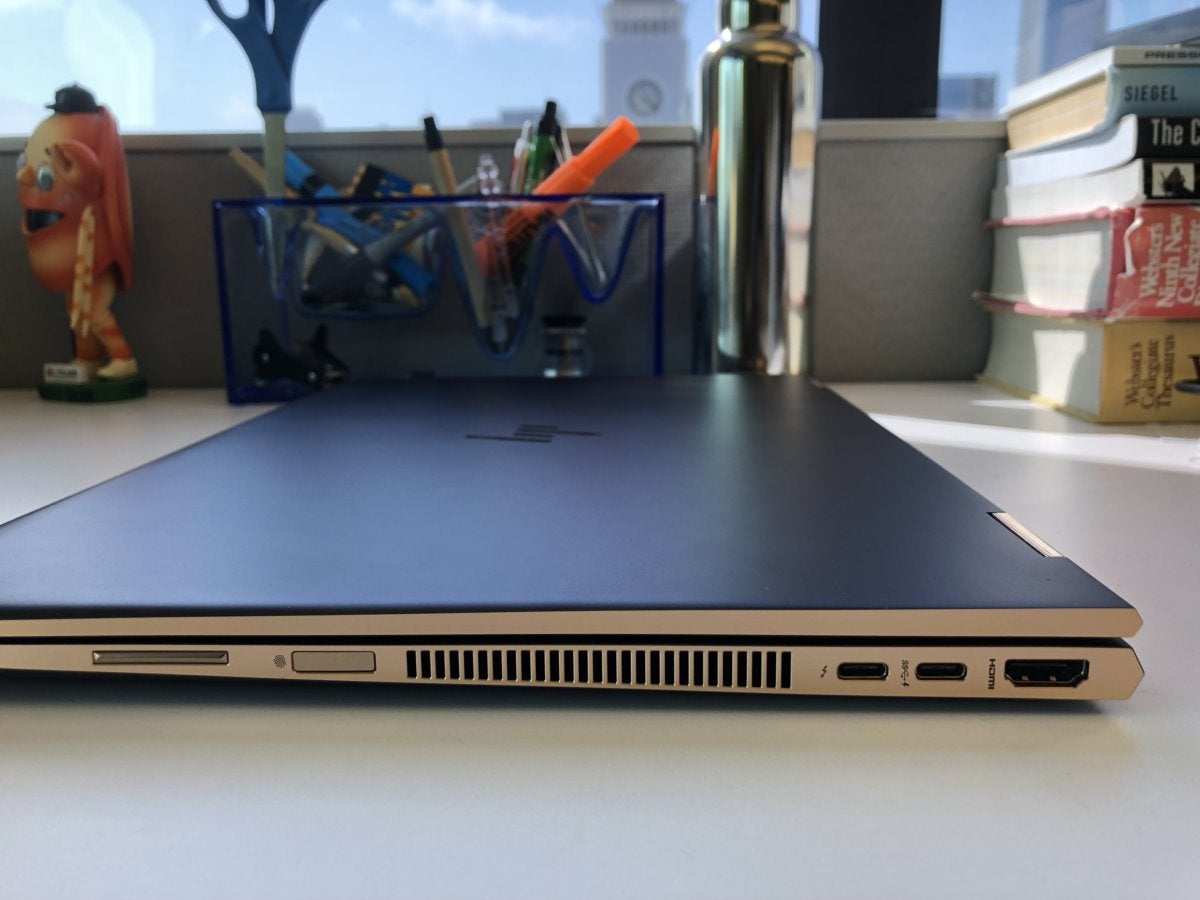 While we're fans of Thunderbolt 3 and we're pleased that HP didn't skimp on the SD card reader, a second Thunderbolt 3 port would have been nice—and indeed, you'll get one if you opt for the pricier Kaby Lake-G version of the Spectre 15. We also wouldn't have minded a second USB 3.1 Type A port on the other side of the laptop.
Next: See what the benchmarks about the Kaby Lake-R version vs. Kaby Lake-G.
Performance
While this 8th-generation Kaby Lake-R version of the HP Spectre x360 15 unsurprisingly outdoes the performance of its predecessor, its benchmark results look a tad lackluster compared to its 8th-gen competitors, and (for the most part) it's trounced by the Kaby Lake-G version. That said, the Kaby Lake-R Spectre x360 15 does have its moments, particularly when it comes to battery life.
PCMark 8 Work Conventional
The PCMark 8 benchmark tests how a laptop handles day-to-day computing chores, everything from web browsing and online shopping to video conferencing and tinkering with spreadsheets. In our experience, the latest crop of quad-core Kaby Lake-R laptops have breezed through PCMark 8 without breaking a sweat.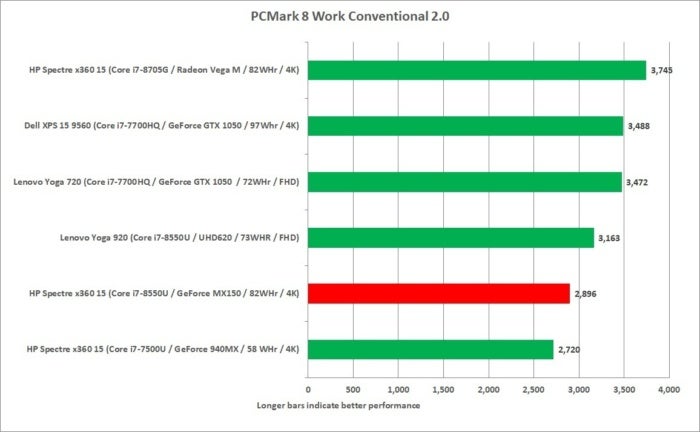 As expected, the quad-core HP Spectre x360 15 easily surpassed our low-water mark of 2,000, but we were a bit disappointed that it couldn't crack a PCMark 8 score of 3,000 or better, particularly given the Spectre's Core i7-8550U CPU.
To be fair, you don't need a blazingly fast processor to run Office smoothly; indeed, even dual-core laptops can snag high PCMark 8 scores. It's also important to take benchmark scores in context, as we'll see in a moment with the Spectre's not-so-shabby single-thread Cinebench result. Still, it appears the Kaby Lake-R flavor of the Spectre 15 prefers to stroll rather than sprint when it's not doing anything too intense.
HandBrake
Speaking of intense, let's move on to our HandBrake benchmark, which measures a laptop's performance as it encodes a large video file. Because this test can take up to 90 minutes or more, Handbrake gives us a good idea how a laptop handles the pressure—and the heat—of a crushing CPU load over a relatively long period of time.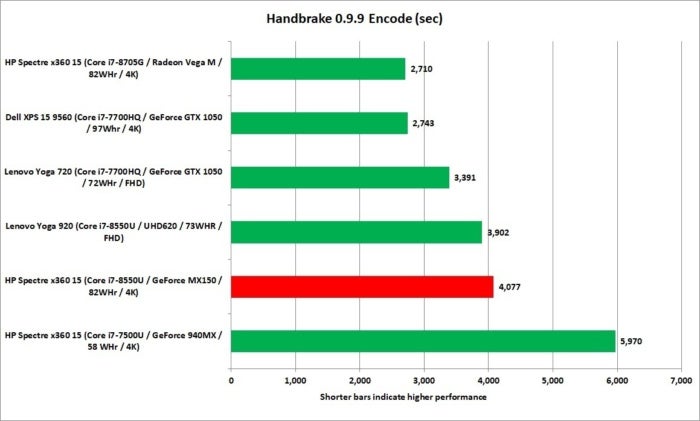 The HP Spectre x360 15's result, while decent, brings up the rear in a pack of fellow quad-core 8th-generation systems, and falls well behind the speedier Kaby Lake-G model of the Spectre x360 15. That said, this year's quad-core Spectre x360 15 certainly blows away the HandBrake score of its dual-core predecessor.
It's worth noting that while other competing laptops immediately gun their engines and spin up their cooling fans at the start of the HandBrake test, the Spectre x360 15 keeps its cool, with its clock speed hovering at a relatively mellow 2.25GHz and its fans quiet until about five minutes into the test.
Cinebench
Next up is a another CPU-intensive test, this time involving rendering a 3D image within the span of about five minutes or so. While HandBrake tells us how a laptop deals with lengthy CPU loads, Cinebench is more about short bursts of stress.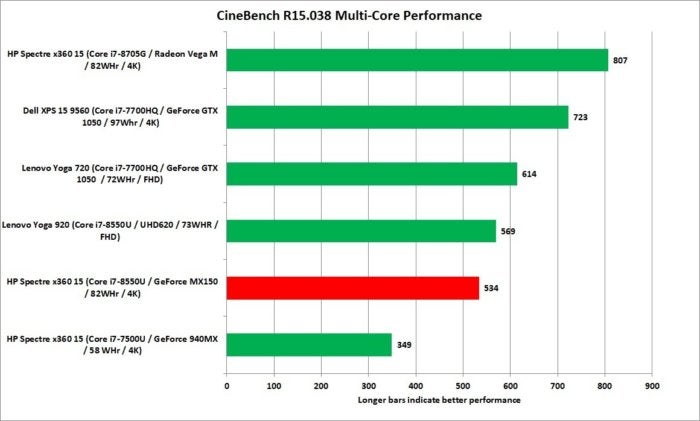 Once again, the Kaby Lake Refresh version of the HP Spectre x360 15 comes in a little shy of expectations, notching a multi-thread score of 534 when we'd prefer to see something more in the 600 range. While this new quad-core Spectre x360 15 easily outpaces its dual-core 7th-generation predecessor, it struggles to keep up with its 8th-gen competition, while its Kaby Lake-G sibling (again) beats it handily.
On a somewhat brighter note, the Spectre x360 15's single-thread Cinebench score of 167 is pretty solid, less than 10 points shy of its Kaby Lake-G brethren and somewhat higher than other recent 8th-generation laptops we've tested. That bodes well for the Spectre's performance when using everyday single-threaded applications, and it stands somewhat in contrast to the Spectre's so-so PCMark 8 score.
3DMark 8 Sky Diver
The HP Spectre x360 15 and its discrete Nvidia GeForce MX150 graphics core finally gets to shine in our 3DMark Sky Diver benchmark, sailing past competing laptops that depend solely on integrated graphics. Unsurprisingly, the Kaby Lake-G version of the Spectre 15 sprinted past the Kaby Lake-R model thanks to its more powerful Radeon RX M graphics core.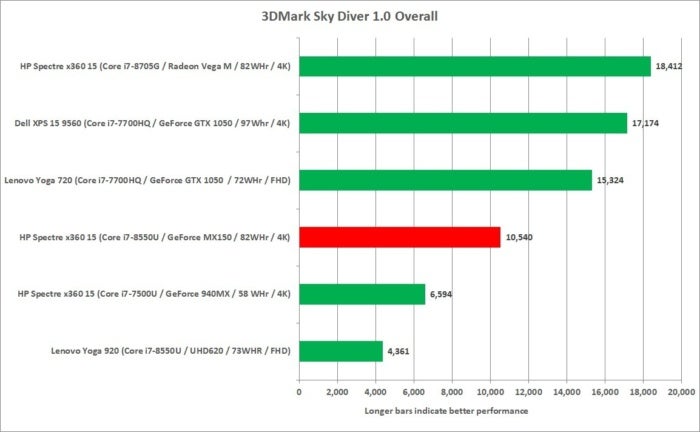 While the Kaby Lake-R Spectre x360 15's Sky Diver score looks impressive compared to those of many of its 8th-generation counterparts (like the otherwise peppy Lenovo Yoga 920), keep in mind that you're not going to wring stellar gaming performance out of the laptop's GeForce MX150 graphics core. When I played the graphically modest Fortnite at medium settings, for example, frame rates regularly sank below 60 frames per second.
Then again, no one's claiming that the Kaby Lake-R-powered Spectre x360 15 is a gaming machine. Its users are more likely to fire up Adobe Photoshop and Premiere rather than Battlefield 1 or Grand Theft Auto V.
Battery life
The one area in which the Kaby Lake-R HP Spectre x360 15 manages to edge out its beefier Kaby Lake-G sibling is battery life. In our battery drain test (in which we loop a 4K video, with screen brightness set to about 250 nits and the volume dialed halfway up), the KBL-R Spectre 15 managed nearly 11 hours of battery life, versus a little more than 9.5 hours of battery for the KBL-G version.
Indeed, the HP Spectre x360 15's battery life bests all the systems in our comparison—perhaps not too surprising, given the Spectre's roomy (and heavy) 82-watt-hour battery.
Conclusion
Laptop shoppers eyeing the 8th-generation HP Spectre x360 15 must face a tough choice: a Kaby Lake-R 4K convertible laptop with pretty good performance and excellent battery life, or a slightly heavier and pricier Kaby Lake-G version with blistering performance and marginally worse battery life. If you're on a tight budget and you don't need bone-rattling speed, the Kaby Lake-R Spectre 15 makes for a solid 4K convertible. But if you've got an extra $120 to burn and you don't mind making modest sacrifices in weight and battery life, the beefier Kaby Lake-G model looks like the better value.