At a Glance
Expert's Rating
Pros
Outstanding compatibility with Microsoft Office formats
Office-like interface
Numerous productivity improvements to three main programs
Cons
No real-time collaboration support
No integrated cloud storage
Our Verdict
LibreOffice 6 remains the best free, open source alternative to Microsoft Office.
Best Prices Today: LibreOffice 6
The free and open source suite LibreOffice is loved by many for its excellent compatibility with Microsoft Office formats including the newer DOCX, PPT, and PPTX files. LibreOffice 6, its first major update in a couple years, continues that tradition but redesigns the UI and adds productivity improvements to its "big three" programs—Writer, Calc, and Impress.
This review is part of our roundup of best Microsoft Office alternatives. Go there for details on competing products and buying advice.
Hands on
LibreOffice 6 sports a static menu, but its still-experimental ribbon-style interface, called Notebook bar, has been upgraded to include two options. The first, Grouped Bar Full, displays three tiers of buttons in Writer, Calc, and Impress. The other, Tabbed Compact, is a streamlined variant of the Tabbed Notebookbar. Other features, including the special characters dialog and the Help system, have also been modernized to be more attractive and intuitive.
Updates have been made to the individual programs as well, to improve productivity. A Forms menu has been added to Writer to make it easier to access this often overlooked feature—the ability to design and create PDF forms. The Find toolbar now includes a drop-down list of search types to speed up navigation. An ePUB export filter has been added, so you can save your documents as ebooks. And if you often use Mail Merge to create bulk letter, envelopes, and labels, you can now use tables within Writer as data sources.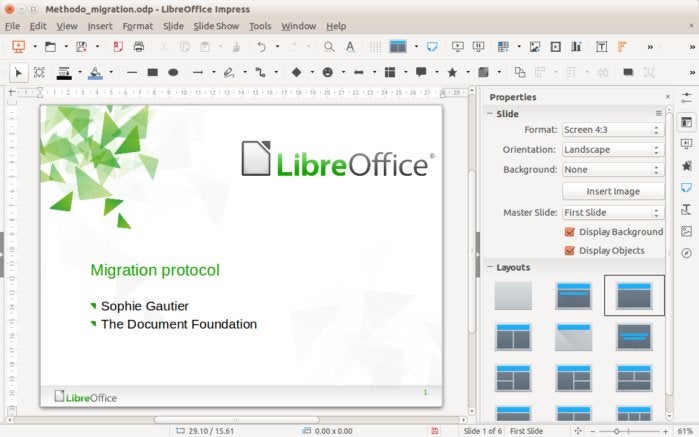 Number crunchers will be pleased to find a host of new features in Calc, too. New commands have been added for selecting unprotected spreadsheet cells, and you can now export a cell range or a group of shapes in JPG or PNG format. ODF 1.2-compliant functions SEARCHB, FINDB, and REPLACEB for finding and replacing text using byte positions have also been added.
Impress receives the fewest, but no less powerful, upgrades, including a new 16:9 default aspect ratio to display better on modern screens and 10 new presentation templates.
If you often work with sensitive data, you'll be interested in LibreOffice 6's experimental OpenPGP document signing. This new feature lets you use OpenPGP keys to sign ODF documents. To enable it, however, you'll need to install the appropriate GPG software to generate the keys.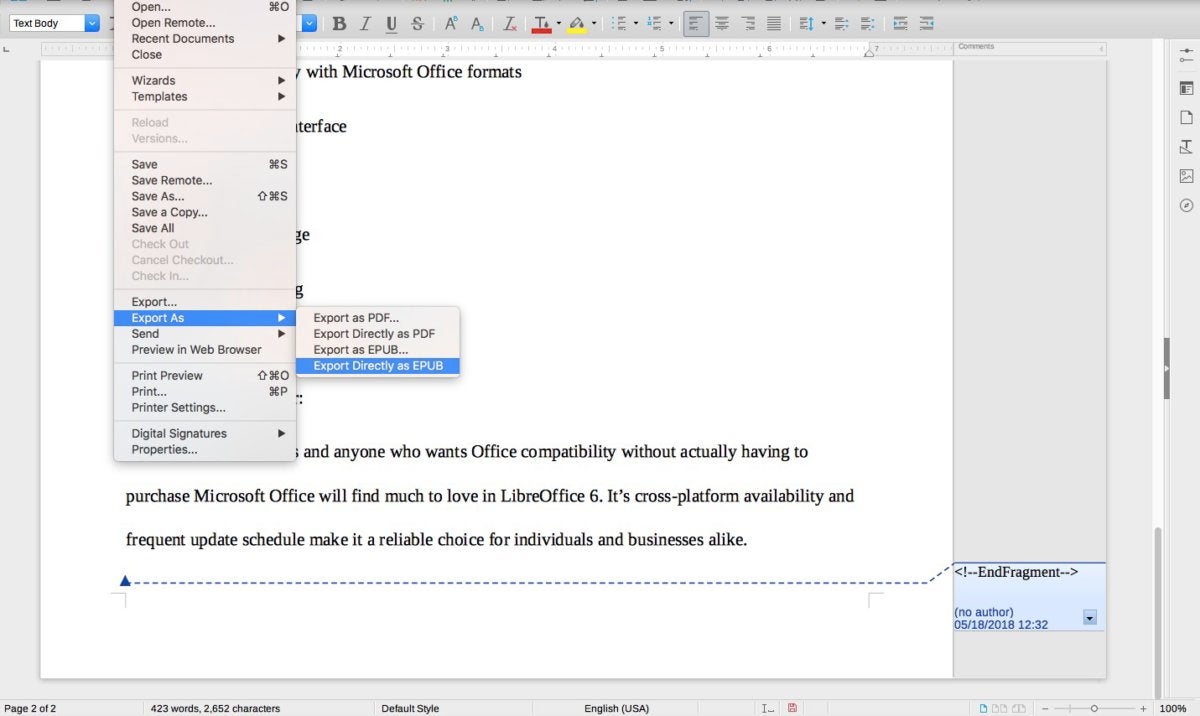 Standout features
• Fantastic compatibility with Microsoft Office formats
• Familiar Office-like interface
Missing features
• Integrated cloud storage
• Real-time co-authoring
LibreOffice 6 is best for:
Open source enthusiasts and anyone who wants Office compatibility without actually having to purchase Microsoft Office will find much to love in LibreOffice 6. Its cross-platform availability and frequent update schedule make it a reliable choice for individuals and businesses alike.
Best Prices Today: LibreOffice 6