Carriers can make or break a phone release. As we've seen with Huawei's debacle earlier this year, selling a new handset in the U.S. pretty much requires retail support of at least one major carrier, namely Verizon or AT&T, and generally both. And getting it isn't always an easy task.
Take a look at the phones that aren't being sold at AT&T stores (other than the Huawei Mate 10 Pro and P20):
Google Pixel 2
Essential Phone
LG G7
HTC U11
OnePlus 6
Aside from the Pixel 2, you won't find any of them at a Verizon store either. And a couple of of them can't even be used on Verizon's CDMA network. Yet, both of the biggest carriers in the U.S. sent out press releases triumphantly announcing that they would be carrying the Red Hydrogen One phone when it launches later this summer. That begs the question: Why?
Revolutionary on paper
In case you don't know, the Red Hydrogen One phone is a wild concept from Red, the maker of crazy high-end 8K cameras that cost tens of thousands of dollars. Last summer, it announced that it would be making its first phone, a 5.7-inch Android phone that focused on content consumption rather than creation.
Among the features being promised are:
A holographic display: Red says you'll be able to switch between 2D, 3D, and 4-View content without the use of glasses.
Spatial sound: Built into the Hydrogen One is a "proprietary H3O algorithm that converts stereo sound into expansive multi-dimension audio." Red says "the difference this makes would be enough to justify the entire system."
Modular add-ons: The Hydrogen One is also "the foundation of a future multi-dimensional media system," meaning you'll be able to add modules to expand the capability of the phone, not unlike Moto's higher-end phones. Red says attachments will include "higher-quality motion and still images as well as Hydrogen format holographic images."
Compatibility: The Hydrogen phone will "integrate into the professional Red camera program, working together with Scarlet, Epic, and Weapon as a user interface and monitor."
Streaming service: Alongside the phone, Red will also launch a One channel to help people discover 4-View holographic content, as well as movies, documentaries, games, shopping, and other apps.
Cool right? Now here's the preorder price: $1,195 for the aluminum model and $1,595 for the titanium one, which doesn't include tax or shipping. Unless Red plan on pissing off whoever plunked down four figures to preorder a sight-unseen handset from a boutique phone maker with no track record, Verizon and AT&T will be charging at least that for the models they're selling.
Now, lots of people may be handing AT&T and Verizon a thousand-plus dollars for a new iPhone X, but incase you haven't noticed, Apple has a pretty good track record with selling phones. With the iPhone X, you'll get the latest tech in a package guaranteed to receive OS and security updates for years. None of that is assured with Hydrogen One. And most people have no idea who Red is.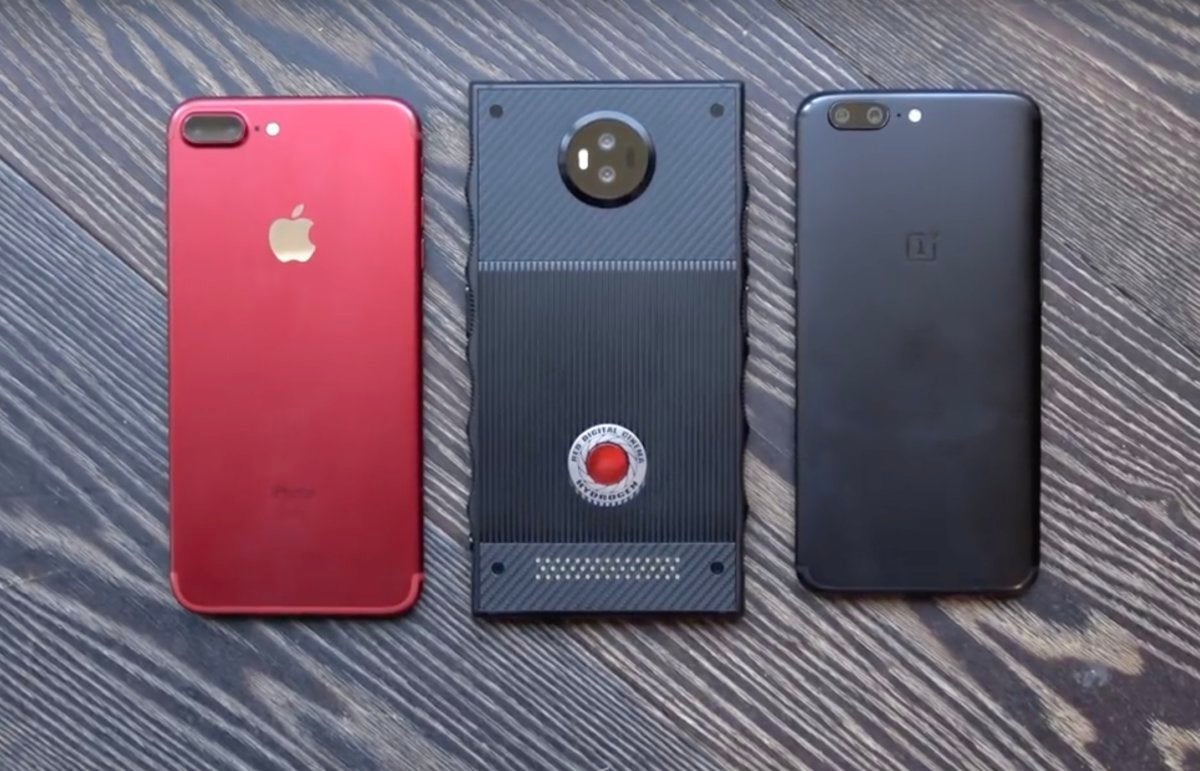 We don't even know what specs are in the thing. In a Red forum post back in January, founder Jim Jannard espoused the wonders of the Red phone and teases its Snapdragon 835 processor, 4,500mAh battery, and industrial design. While the giant battery is intriguing, it seems unlikely that it'll last any longer than a 3,300mAh phone, given the demands of the screen. The Snapdragon 835 processor is already outdated. We don't even know what version of Android it will be running.
Which brings us to the design. The Red Hydrogen Phone has a carbon fiber aesthetic on the back with a giant camera bump and "scalloped" sides that add grip. In his exclusive hands-on, Marques Brownlee compared it to the 5.5-inch iPhone 8 Plus and the 6-inch OnePlus 5T—neither of which are small phones—and it dwarfed both of them.
So, why is AT&T and Verizon falling over themselves for the right to carry the Red Hydrogen One? By Red's own admission, it takes a while for carriers to certify the phones they sell, and Jannard even went so far as to blame that process for the phone's delay. The answer, I think, lies in the respective press releases. AT&T called the phone "revolutionary." Verizon VP Brian Higgins said the phone has "cutting-edge technology that simply can't be described."
So phone geeks and tech lovers will need to see it. Once the Red phone launches, I suspect you'll see giant banners and demos at the carrier stores designed to get people to come inside and see the "mobile game changer" for themselves. In a sea of rectangular slabs with notches and OLED screens, the Red Hydrogen One is something unique, and it will generate a healthy amount of buzz and foot traffic at at time when carrier stores are facing pressure from the unlocked revolution. So AT&T and Verizon are hoping the Red phone will give people a reason to visit their stores.
But something tells me they'll be walking out of the store with something a whole lot cheaper.