Valve's vaunted Steam sales whip PC gamers into a buying frenzy, but the "Spring Cleaning" event that kicked off today has the opposite goal: coaxing people into playing games that they already own, but rarely play.
The Spring Cleaning event runs through May 28 and uses Steam's meta-game-esque badge system to encourage backlog clearing. Playing games that you haven't touched in a while—or at all—completes daily tasks or one-time projects that unlock a special Spring Cleaning badge, which can then be leveled up by dipping further into your library.
Interestingly, Steam scans your backlog and user profile to create custom objectives for each user. Selecting today's "Spin Cycle" daily task, for instance, picks four random games from your library to play. The "Trusted Friend" project, on the other hand, scans your backlog to suggest games you own that your friends have recommended on the platform. Other one-time projects have you playing a game you've spent more than two hours in, but not in a while, and the first title you ever added to your account.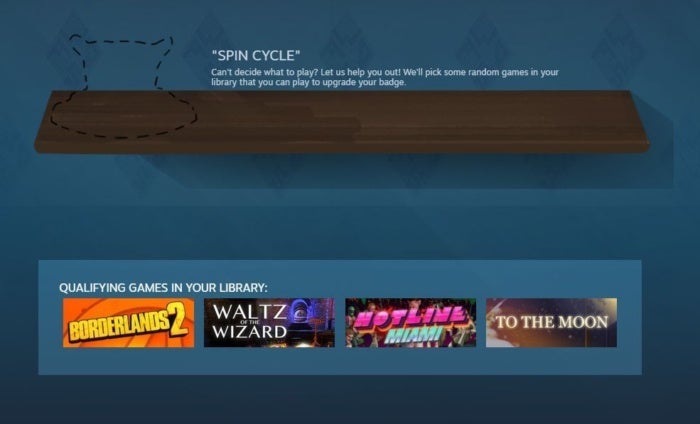 All of the recommendations and tasks pull from games you already own—none push you to buy something new. It's a refreshing change from the usual "BUY MORE CHEAP" clarion call of Steam sales and mid-week discounts.
That said, there are opportunities to try games during Steam's Spring Cleaning event. Nine somewhat older games (spring cleaning!) are available to play for free for the entire duration of the event, and honestly, they're all pretty good if you haven't had a chance to give them a spin yet.
Don't Starve Together
Dead by Daylight
Cities: Skylines
Tyranny
Borderlands 2
Castle Crashers
Shadows of Mordor
Left 4 Dead 2
Dirt 4
Tyranny, Castle Crashers, and Shadows of Mordor are traditional single-player games that you might be able to clear completely if you put solid hours in through the 28th. Borderlands 2 is, as well, though it (like Left 4 Dead 2) plays much, much better with friends. And Don't Starve Together and Cities: Skylines are downright stellar survival and builder games, respectively.
The one potential fly in the ointment with Steam's Spring Cleaning event? Depending on your library's makeup, downloading a deluge of games could put a hurting on your bandwidth cap. Pick some juicy choices from your projects and start installing them now, folks—or better yet, if you managed to get into Nvidia's GeForce Now for PCs beta, download them over that service's lightning-fast connection instead.