The Acer Predator Helios 500 is a gaming laptop designed for extreme gamers. Not infinitely wealthy ones, such as the lucky 300 who bought a limited-edition $8,000 Predator 21 X, but reasonably well-financed ones who could instead "settle" for a model that offers an overclockable GPU and a few overclockable CPU options as well.
That's just the beginning. We saw the Predator Helios 500 on Wednesday, when it was announced at Acer's next@acer event in New York. Up close, you can see this beast checks off a lot of boxes.
Features and specs for serious gaming
The Predator Helios 500 will ship in June with a starting price of $1,999. We already liked the Acer Predator Helios 300, the lower-cost cousin to the Predator Helios 500, which offers impressive bang for buck with a starting price of $1,100. It could only get better as you move up to the Helios 500, so let's dive straight into the specs and see.
Mentioned in this article
Predator Helios 300
CPU: Your choice of a four-core Core i5-8300H, a six-core Core i7-8750H; or a Core i9-8950HK or Core i9+ 8950HK. Focusing on the latter two Core i9 chips, both of these are six-core CPUs, overclockable from a base rate of 2.9GHz to 4.8GHz. Even better, the Core i9+ adds Optane Memory to boost the speed of data drives.
Memory: Up to 16GB of DDR4, upgradeable to 64GB via four soDIMM modules
Display: Your choice of 17.3-inch IPS-technology displays. One is simply high-resolution Ultra HD (3840×2160). The other is Full HD (1920×1080) with support for 144Hz refresh and Nvidia G-sync. The latter option will make a huge difference in your gaming experience, but it will kill your battery life—and it'll add a fair amount to the total price of your configuration.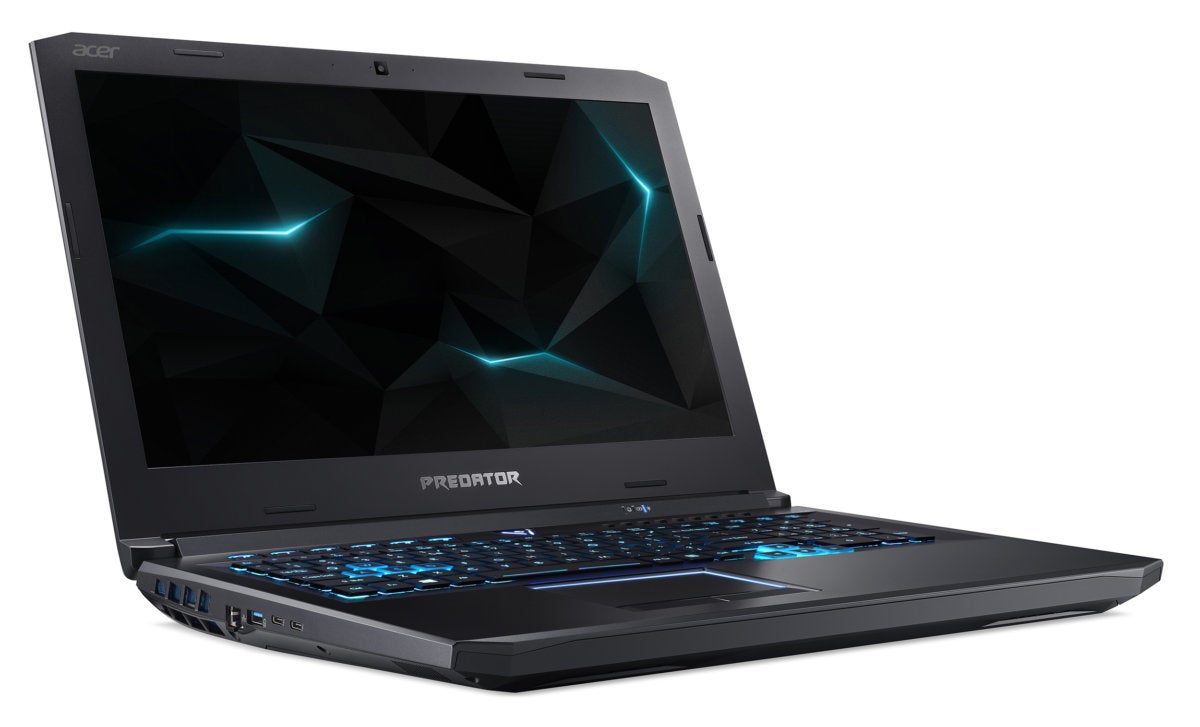 Graphics: Nvidia GeForce GTX 1070, overclockable, with 8GB of GDDR5 VRAM. I can hear it now: "What, no GTX 1080?" It's fair to point out that a laptop rig with a GTX 1080 would need to be a bigger, heavier machine than the Predator Helios 500 (which is already pretty husky—see Dimensions and Weight, below).
Storage: Up to a 2TB HDD, or SSD options including up to 512GB SATA (6 Gbps), up to 512GB NMVe PCIe Gen 3 (8 Gbps) up to 4 lanes, or up to 1TB 2D NVMe in RAID 0.
Connectivity: Three USB 3.0 Type-A, two Thunderbolt 3, HDMI 2.0, DisplayPort. The latter two connectors are on the laptop's rear panel, along with the barrel charger port.
Wi-Fi: Killer Wireless-AC with 2×2 MU-MIMO support
Dimensions: 16.85 x 11.73 x 1.52 inches
Weight: 8.8 pounds
Let's talk more about the thermals before we move on. Unfortunately we couldn't open it up to show you, but the Predator Helios 500 has two of Acer's fancy AeroBlade 3D metal fans and five heat pipes. Intake vents take up almost half of the bottom panel, while huge exhaust ports line the back corners and much of the rear panel.
You can control the fans using Acer's PredatorSense software. The app also manages overclocking, temperature, hotkeys, and lighting.
Speaking of hotkeys and lighting, the anti-ghosting membrane keyboard is RGB backlit with four lighting zones supporting up to 16.8 million colors. It has five programmable keys. The trackpad, also backlit, has full right and left mouse buttons. They may seem old-school, but I prefer them to sometimes-finicky clickpads.
A gaming laptop with guts
When you see as many gaming laptops as we do, you come to appreciate what it takes to shoehorn so much power into such little spaces. The Predator Helios 500 clearly has a lot going on in its guts, with pricing, thermals, and bulk to match. Of course the base model isn't going to be quite as exciting as the full-bore overclockable version, but if we get in any of these configurations for review there'll be plenty to talk about.