At a Glance
Expert's Rating
Pros
Very easy-to-use app
Can view specific server ping times and loads
Cons
Windows app doesn't support persistent login
No pseudonymous payment options
Our Verdict
Pornhub's VPNhub service does a fair job and the price is right, but there are better services if you're looking for anonymity. The Windows app is very easy to use, and it offers a nice ability to view the status of specific servers.
Best Prices Today: VPNhub
VPNhub in brief:
+ P2P allowed: Yes + Business location: Canada and the United States + Number of servers: 826 + Number of country locations: 18 + Cost: $60 per year + VPN protocol: OpenVPN + Data encryption: AES-256/AES-128 + Data authentication: Unknown + Handshake encryption: Unknown
If ever there was a company meant to produce a virtual private network (VPN) service as a natural outgrowth of its business its Pornhub. That's why it surprised no one, but possibly intrigued everyone, when the famous site introduced VPNhub in late May.
VPNhub is focused on mobile first with apps for Android and iOS that are the gateway to the free and premium services. Everyone can use VPNhub's ad-supported service on mobile, but you'll need a premium subscription to use the service on Mac and Windows.
For that reason, we can say at the outset that VPNhub is not an ideal choice if you're striving for anonymity. The very fact that you have to pay with a credit card via your primary Google or Apple account makes your identity knowable.
Note: This review is part of our best VPNs roundup. Go there for details about competing products and how we tested them.
Features and services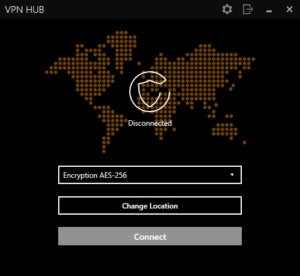 When I first installed VPNhub, Windows 10's SmartScreen filter flagged it as suspicious. That could simply be a result of the app being so new, or it might be that it isn't digitally signed. Whatever the reason, that's not a great start to installing a VPN backed by a porn company.
After installation one thing that struck me about VPNhub is how derivative it is.
The desktop program is strikingly similar to Strong VPN. I am not sure how that happened, but if I had to guess, VPNhub has some kind of agreement with Strong VPN parent StackPath. Not only does the interface borrow heavily from Strong VPN, but VPNhub also relies on IPVanish (another StackPath company) for most, if not all, of its server locations.
It's not terribly surprising for a site as large as Pornhub to hire out for a tangential service like VPNhub. Daily operations of the VPNhub site and the various apps also appear to be managed by App Atomic, a mobile development studio.
When you first start up VPNhub the interface is incredibly simple. There's a stylized map at the top with a connected/disconnected symbol. Below that is a drop-down menu where you can choose your level of encryption as either AES-128 or AES-256.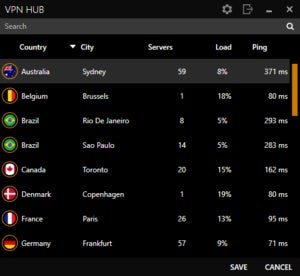 Below that is a Change Location button, which takes you to a list of VPNhub's various locations that include 18 countries and 10 different U.S. locations.
For the most part, you just select the country or location you want, click Save at the bottom-right of the window. Then when you return to the primary interface select Connect and the VPN goes to work. If this is the first time you're using VPNhub on Windows it will quickly install a TAP driver before connecting.
VPNhub's server list is detailed with some very helpful information. Each location lists the country, city, number of servers in that location, the current average load capacity of all those servers, and the average ping.
Anyone who wants to drill down further can click the number of servers to see every single server available in that location—again, you will get the name of each server, the load, and the ping for each one. That is very nice and something power users will enjoy.
Similar to Strong VPN, there's a settings cog icon at the top of the window. The settings view has five different tabs including General, Connection, Logs, Licenses, and About.
Under the General tab you can set VPNhub to start when Windows starts, connect automatically to a server, and control what happens when you hit the "X" button in the right-hand corner.
The Connection tab lets you choose between OpenVPN UDP or TCP, which port to use, as well as options to automatically reconnect, DNS and IPv6 leak protection, and an internet kill switch.
The other tabs don't have any features, but the Logs tab may come in handy for troubleshooting.
VPNhub costs $10.99 per month or $60 per year. The VPNhub app is available on Android, iOS, Mac, and Windows. As mentioned earlier, all payments must happen via the VPNhub app on your Android or iOS device.
VPNhub supports simultaneous use on up to three devices at once.
Performance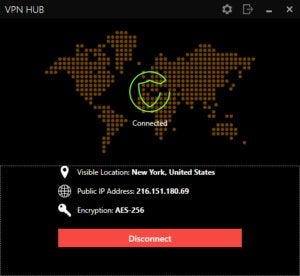 VPNhub's performance was fairly mediocre and not all that different from what I experienced with IPVanish. Overall VPNhub retained 24.4 percent of the base speed using five different locations around the world.
The worst-performing location was Japan, but the United Kingdom connection was particularly good. All of the other locations were close to, or above, 20 megabytes per second, making them serviceable for most online uses—especially streaming video.
Privacy, anonymity, and trust
We've already determined that VPNhub isn't doing you any favors in the realm of anonymity since you have to pay for the service with your primary Apple or Google account. After that, VPNhub asks you to input an email address and create a password in order to log in on the desktop.
VPNhub's official business address is a little tricky to suss out. There's no information available on App Atomic's site, and Pornhub is based in Montreal but does not list its address. However, Pornhub is owned by MindGeek, which is officially headquartered in Luxembourg but also has a Montreal office at 7777 boulevard Decarie, Montreal, Quebec H4P 2H2. So we'll go with that. Pornhub's vice president of operations is Corey Price.
The privacy policy on the App Atomic website says VPNhub does not track the browsing activities of users when they are logged into the VPN service. That's great, but it also says that it shares aggregate or non-personally identifiable information with "third parties for advertising, marketing, or research purposes." That aggregation likely affects VPNhub's free users who are relying on an ad-supported service, but it is an issue to be aware of.
Conclusion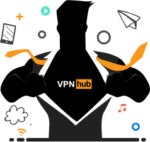 VPNhub works as advertised. It has a good level of encryption, relies on the OpenVPN protocol, and the desktop program is very easy to use. But the privacy policy is not great, the app has some usability issues to work out, and accountability is suspect.
This is not the service you want to use if you're trying to stay as private as possible. You can't be anonymous to any serious degree, and there simply isn't enough accountability at this point to put a high degree of trust into the product.
If all you want is an encrypted connection and everything else be damned then it'll work. If you need more personal privacy from a VPN then this is not the service for you.
Editor's Note: Because online services are often iterative, gaining new features and performance improvements over time, this review is subject to change in order to accurately reflect the current state of the service. Any changes to text or our final review verdict will be noted at the top of this article.
Best Prices Today: VPNhub