At a Glance
Expert's Rating
Pros
Lightweight, durable, and attractive
More than powerful enough for everyday tasks
Battery life slightly better than last time
Cons
Price-to-performance ratio isn't as good as the competition, or even the previous Blade Stealth
USB-C charging cable feels like it could snap in half
Battery life still mediocre compared to other ultrabooks
Our Verdict
Razer's latest Blade Stealth refresh is still one of the sleekest ultrabooks we've ever used, though its high price and middle-of-the-pack performance are starting to hold it back.
When I reviewed Razer's debut Blade Stealth ultrabook two years ago, I thought it would usher in a wave of imitators. Small, sleek, with an all-metal chassis that rivaled Apple's finest MacBooks, it was one of the best laptops I'd ever used.
And now? Well, not much has changed. I've been using the Blade Stealth's most recent revision for a bit now, and while there are certainly some excellent alternatives, Razer's machine (available via Amazon) remains near the top of the pack. There's still room for improvement—particularly the battery life—but it's an impressive machine.
Note: This review is part of our ongoing roundup of the best laptops. Go there for details about competing products and how we tested them.
Looks can be deceiving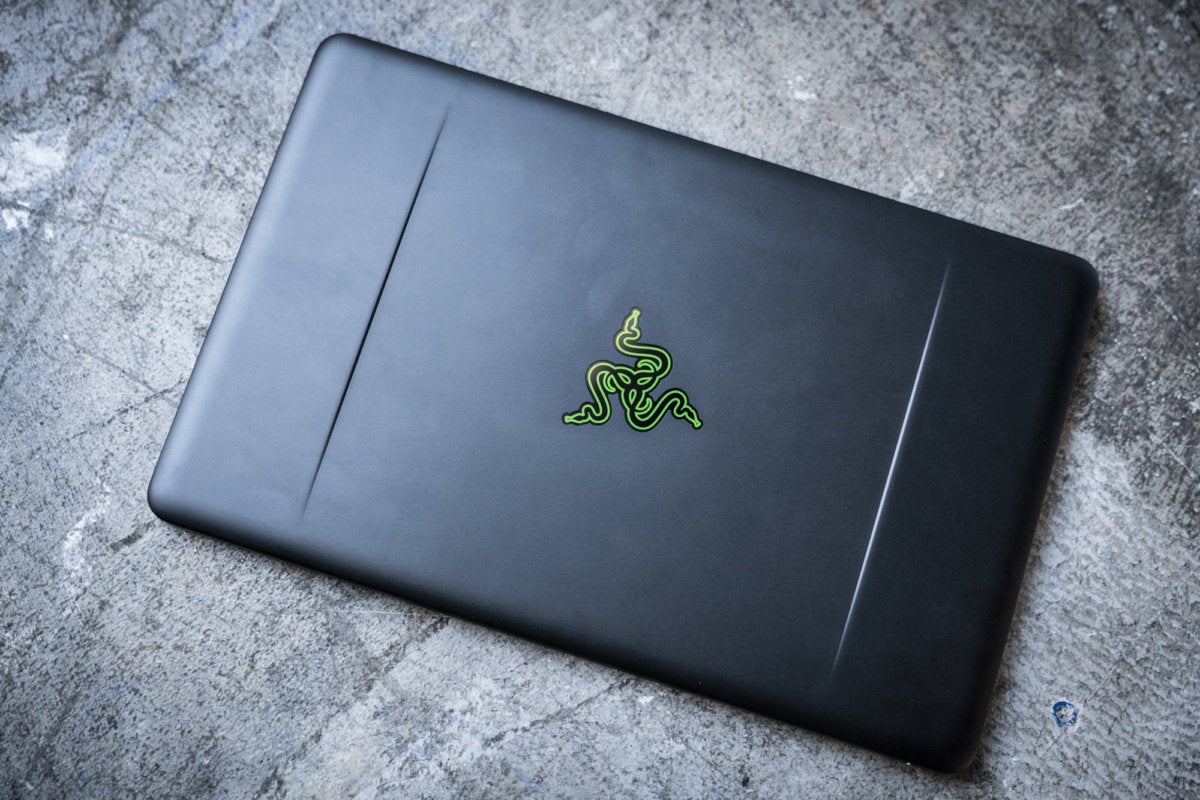 It's tempting to write off the latest Blade Stealth as an incremental update. Internally, that's certainly the case—we'll talk performance later. But even a surface-level glance gives the appearance that not much has changed. It's still the same Blade aesthetic Razer's used for the last five or six years now—black aluminum chassis, rounded corners, glowing green logo on the back—just shrunk down a bit.
This latest Blade Stealth is technically larger than its predecessor, though—or at least, the screen is. The actual laptop dimensions are the same as before, stretching 12.6 x 8.1 inches, and barely a half-inch thick. But the old 12.5-inch screen has been replaced by one that's 13.3 inches.
Mentioned in this article
XPS 13 (2017, 8th-gen Core CPU)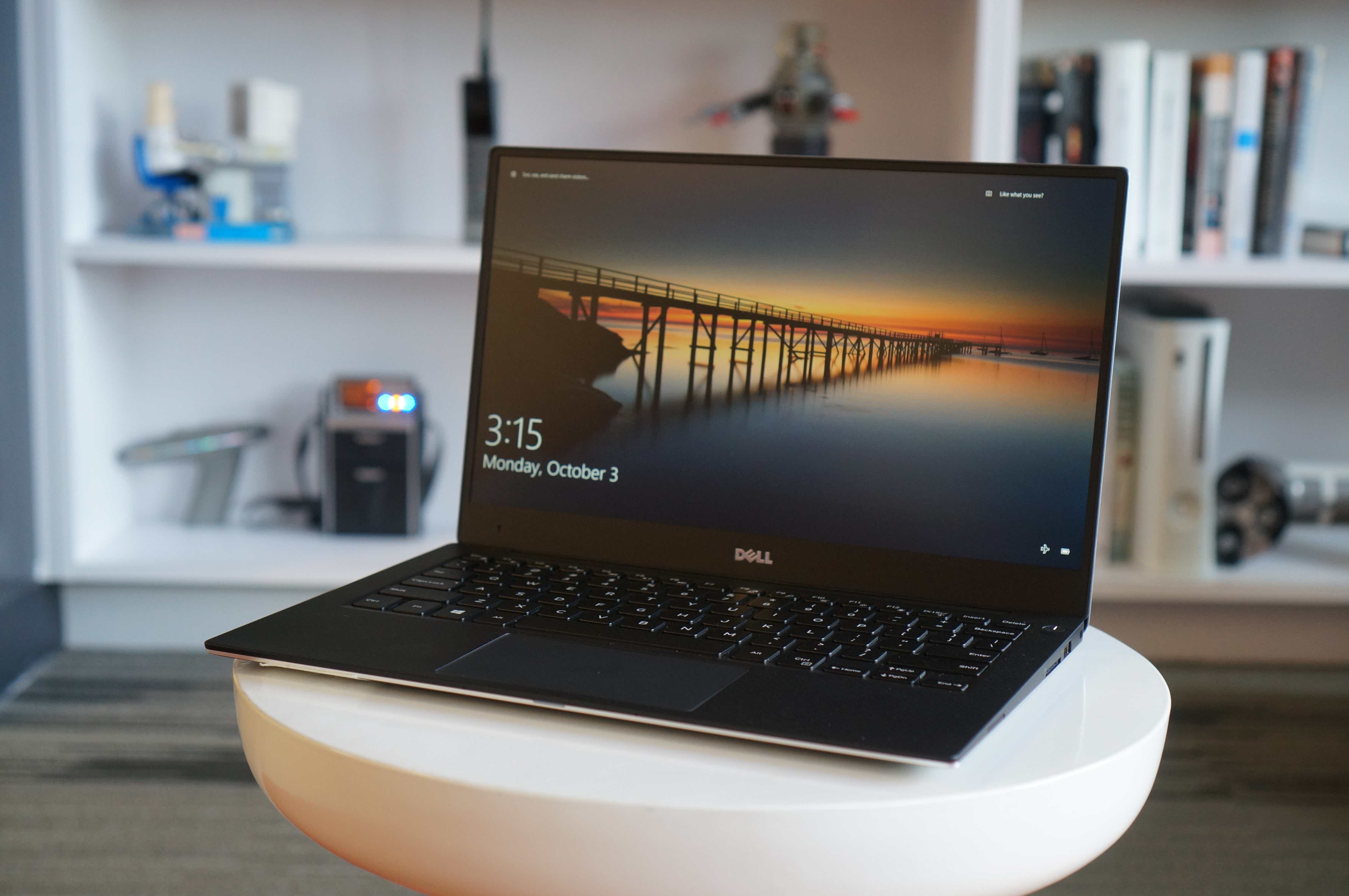 Price When Reviewed:
$1199.99
It's barely a difference, but I complained that the previous Blade Stealth had unsightly bezels around all four sides of the screen—a trait that was particularly noticeable placed next to Dell's sleek, almost bezel-free XPS 13 line. Those bezels are mercifully smaller on the new Blade Stealth, making an already beautiful machine look even better. And yet, they are just large enough to fit the webcam in the traditional top-center space also, which is a rarity on an ultrabook.
The only downside? There's no 4K option. The old 3840×2160 IGZO touchscreen has been replaced by one that's 3200×1800. Note: I say "downside" with a fair amount of sarcasm. Color reproduction is top-tier, and with screens this small it's doubtful you're going to notice the missing pixels. Still, a trade-off has been made.
I suspect it relates to battery life. That was the other big complaint with the original Blade Stealth, which only lasted 5 hours, 37 minutes in our rundown test.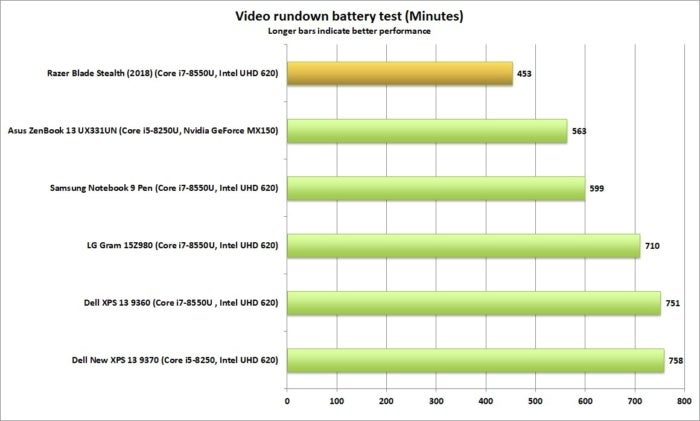 The situation's improved slightly here, with our tests measuring around 6.5 hours. It's still not going to take home any awards, but it's the most obvious explanation for the lack of a 4K screen option.
As for the rest? Okay, yes, the rest of the Blade Stealth is pretty much the same as its predecessor—for better and worse.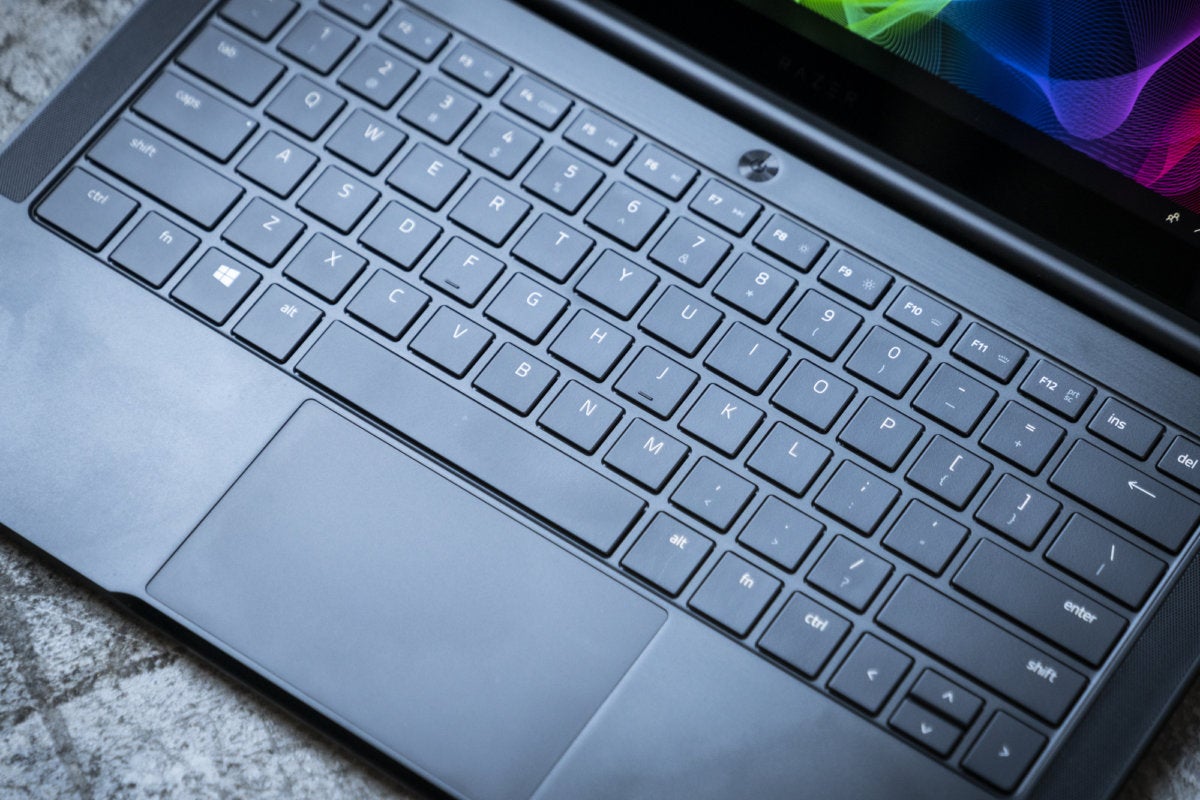 Suffice it to say, I love most aspects of the Blade Stealth's design. The keyboard is attractive and brightly lit. The machine's lightweight and durable and eminently portable. The trackpad sensitivity has been bumped up considerably out of the box—one of my smaller (and more easily fixed) complaints last time.
There are issues I mentioned with the previous generation that are still hanging around, and for that I'm baffled. For instance, the F1 to F12 keys are only half-lit. If you hold down the Function key to adjust brightness or volume or whatever, those secondary (and arguably more important) roles aren't illuminated. Have fun trying to remember which key the Mute function is mapped to when a video starts blaring out in public.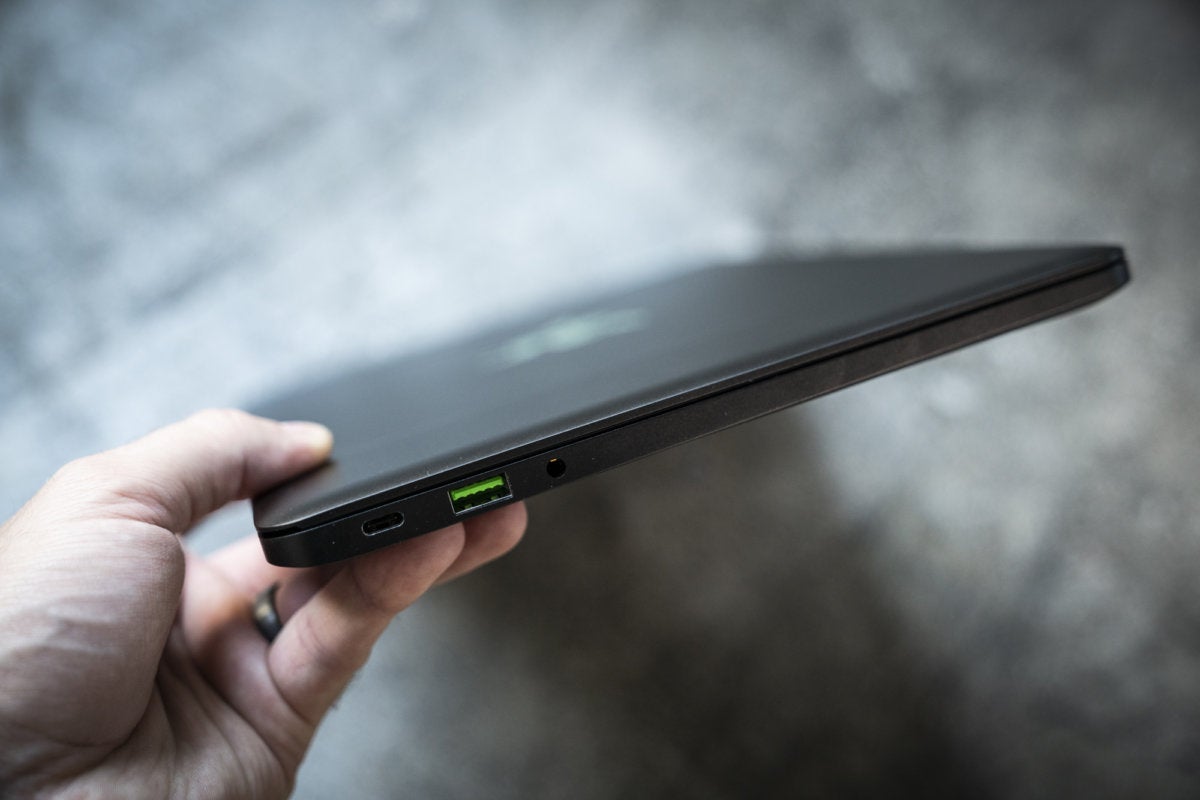 USB-C charging remains a dastardly compromise between speed and "Oh hell, this cable is going to break at the slightest breeze." Thunderbolt 3 means the Blade Stealth charges incredibly quickly, but the damn port sticks straight out from the side. There's not even a 90-degree angle built-in to help wrap the cable around the back or alleviate stress on the connection. Both the port and the plug are reasonably reinforced, but a sharp push in any direction could probably break one or the other. The lack of a breakaway means I've had a few close calls where the Blade Stealth almost got yanked off my lap.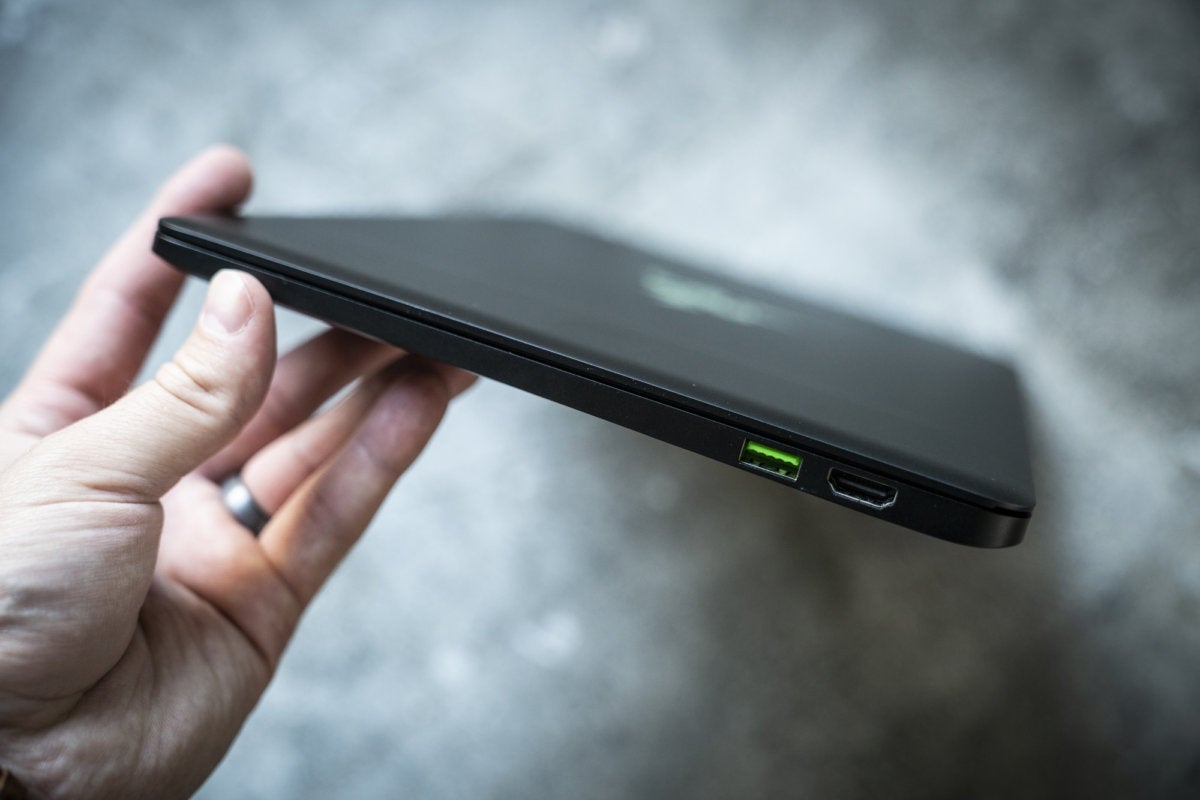 Come on. There has to be a better solution. Razer's not the only company with this issue. Given how much care and attention's been paid to the rest of the Blade Stealth, I'd expect some sort of change in its charging cable in two years.
Razer Blade Stealth performance: Incremental
Internally? Definitely an incremental upgrade. Here, logic pervades.
Razer's gone ahead and updated the Blade Stealth's old hardware to the latest and greatest. In the case of our review unit, that means a quad-core Intel i7-8550U processor clocked at 1.8GHz (with 4GHz Turbo), Intel's internal UHD Graphics 620, 16GB of 2,133MHz DDR3 RAM, and a tiny ol' 256GB m.2 SSD.
It's an across-the-board upgrade from the previous model, which featured a Core i7-6500U, HD 520 graphics, and 8GB of RAM—but an upgrade in the annualized, "Oh, there's newer hardware now" sense.
The only real difference here is that quad-core processor, where the previous model had a dual-core. (Razer's site still lists a cheaper Blade Stealth with the dual-core i7-7500U, but it's currently out of stock.)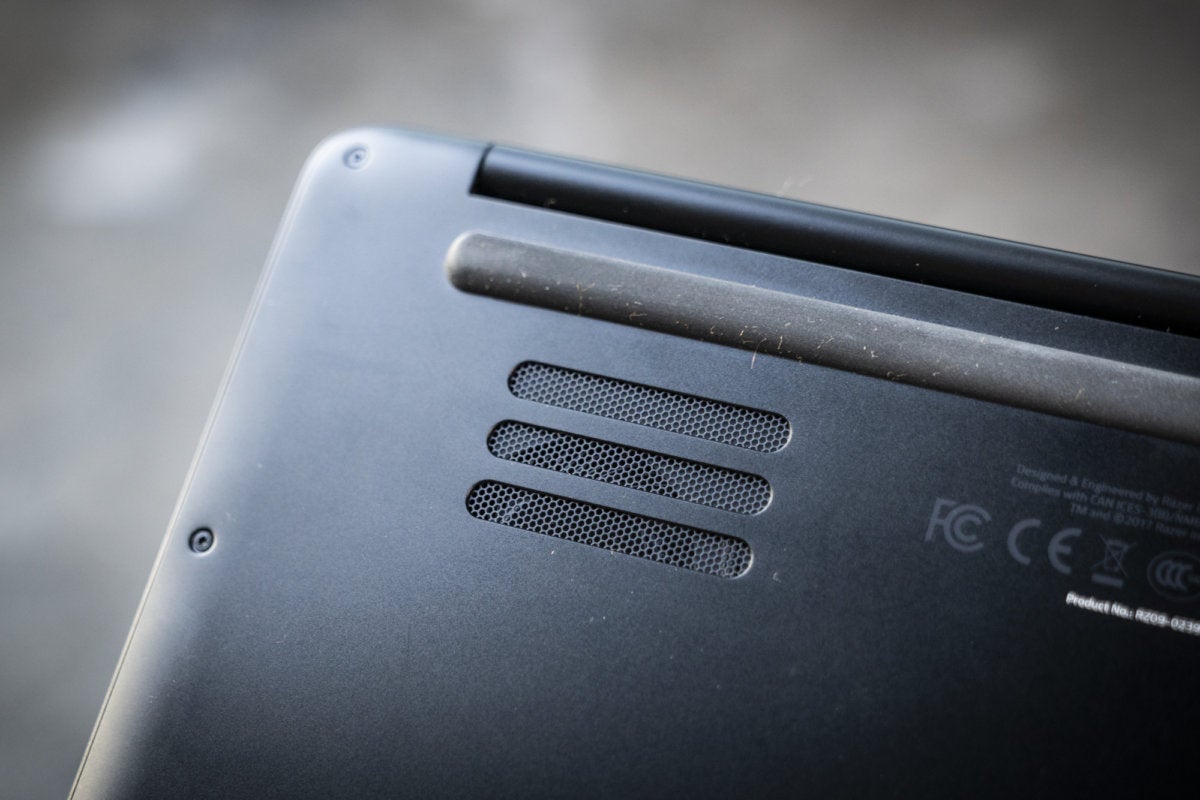 The new hardware makes a difference, albeit a marginal one, when we compare the Razer Blade Stealth to other 13-inch laptops we've reviewed recently with Core 17-8550U CPUs or the lower-powered Core i5-8250U. We also threw in the Asus ZenBook 13, which has a discrete Nvidia GeForce MX150 GPU.
In PCMark 8's Work Conventional test, designed to simulate general browser and day-to-day usage, the 2016 Blade Stealth scored a 2,426, while the new-and-improved model scored a 3,055. "It's better," in other words, although both are amply good scores for normal use.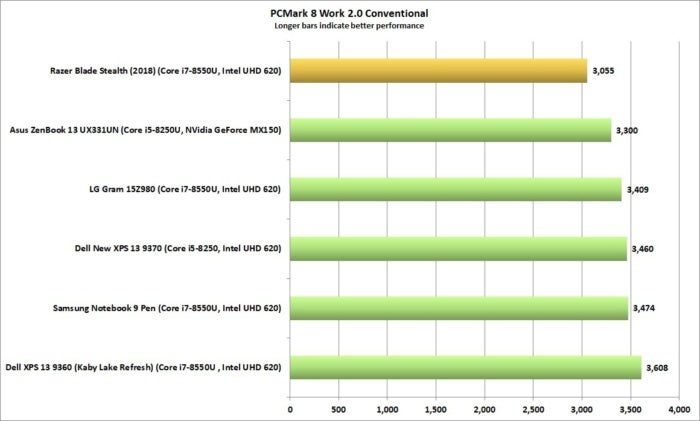 However, even the new Razer Blade Stealth's better score pales in comparison to those of most other laptops running the same Core i7-8550U processor, probably due to thermal throttling.
That hypothesis proves out in the HandBrake test, wherein we compress a 30GB MKV file down to Handbrake's "Android Tablet" preset. As a test that takes most computers upwards of 45 minutes, it's perfect for seeing how a laptop handles heat. Weak cooling means more throttling, which in turn means a longer encode. Less heat also means better long-term performance.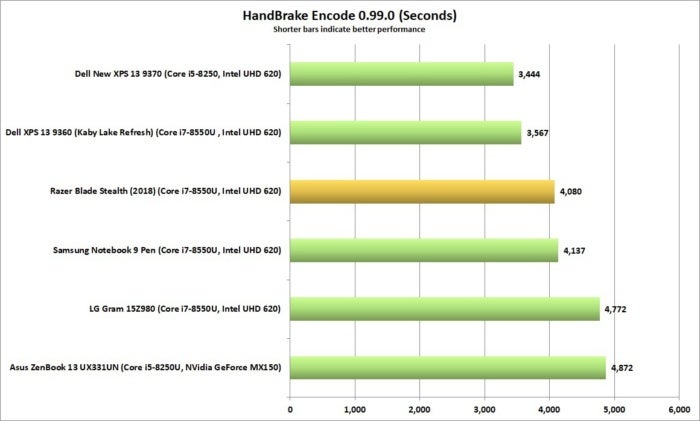 Here we see the Blade Stealth took about 8.5 minutes longer than the Dell XPS 13 9360, with that same Core i7-8550U processor. It's worth noting the Blade Stealth is middle-of-the-pack here, not dead last. Also worth noting that the 2018 XPS 13, which features an i5-8250, actually outpaces both.
We could run through a bunch more tests—I certainly did. But the pattern is pretty similar every time. The Blade Stealth puts out average scores for an ultrabook in its price tier, mostly held back by subpar heat dispersion and maybe some aggressive throttling on Razer's part. The Blade Stealth's fans are whiny, and I think in the interest of keeping them off as much as possible Razer heavily limits the i7-8550U's performance. It's a nice quality of life change, but a bit frustrating knowing there's more power you simply can't tap into.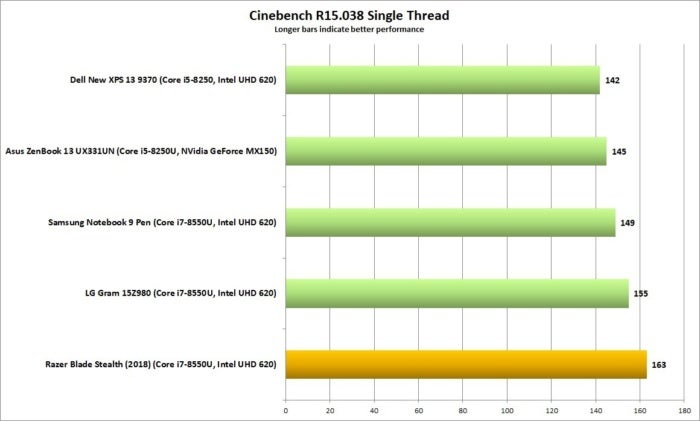 For instance, in the single-threaded Cinebench R15 test the Razer actually tops the charts. It's a quick test, optimal for the bursts of speed you get from that Core i7-8550U part.
But in the multi-core test, you once again see the Blade Stealth fall to the middle of the pack—with the 2018 XPS 13 and its Core i5-8250U part pulling way out ahead.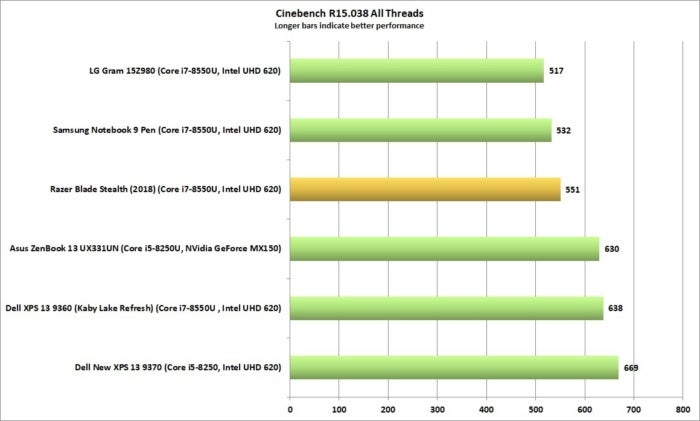 It seems to contradict all logic, a Core i5 consistently giving better performance, but that's the reality of these tightly designed systems. The heat's got to go somewhere, or it's just not going to run.
It's all a bit of a charade, though. I started with the PCMark 8 test because I wanted to reiterate: This laptop does more than enough for most people. All ultrabooks do. You're probably buying a Blade Stealth to check your email, write a few documents, churn out a spreadsheet, and maybe do some light gaming on the road. It does all of those fine, and indeed in 3DMark's Sky Diver test puts out a perfectly respectable 4,249—right in there with everyone else except the Asus ZenBook 13 with its discrete GPU.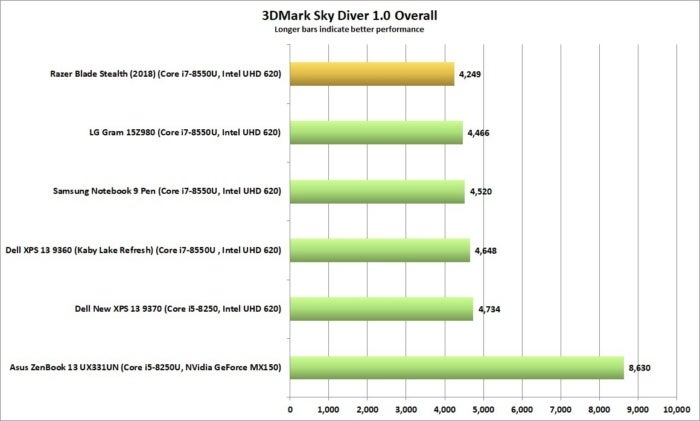 The Razer Blade Stealth's pricing problem
As far as reviews go, we have to rank these laptops, say one's better than the other. The XPS 13 is a consistently better machine. Will you notice, though? Probably not.
The one problem: Price. And it's a serious problem for Razer this time around, I think. With the previous Blade Stealth, the $999 entry-level option had a cheaper screen, but it was also…well, cheaper. Razer had a definite advantage on price, even compared to some of the lower-budget options from Dell and HP.
Not this time, though. As I said, those dual-core Blade Stealth models are sold out, but even if they were in stock a list price of $1,050 doesn't compare too favorably to other ultrabooks nowadays. And our model? At $1,500, it's pricier than the competition. The aforementioned 2018 XPS 13 comes in at $1,200 with consistently better performance and battery life, and some HP and Lenovo models come in even cheaper.
I love Razer's aesthetic, and hey, the Blade Stealth still comes with USB-A ports—that's one advantage over the XPS 13. But $300 more? A stretch.
Bottom line
It's a great machine, though. Peerless, when it comes to the actual design itself. It's a real pleasure to use the Blade Stealth, be it on a plane or just at home lounging on the couch. Durable enough to feel rugged and portable, but lightweight enough to make it worth carrying, I really love it.
A shame Razer couldn't eke a little more speed out of the machine. Plus there's that bundle of flaws I'd love to see fixed next time out—a keyboard with illuminated function keys, and a USB-C charger that doesn't teeter on the brink of destruction. Yeah, that would be perfect.