How big do you want your computer to be? It's one of the first decisions to make when you're picking out the perfect PC case—but with Riotoro's wild new Project Morpheus, you don't need to ask the question at all. Dubbed the "world's first convertible PC case" by the company, Morpheus can shift between the compact micro-ATX form factor all the way to a full-sized tower PC if you want to cram it full of graphics cards and liquid cooling.
Riotoro's press release doesn't detail the conversion mechanism. Given that Project Morpheus is described as "concept 1" and "the first of many Riotoro design explorations," there's a solid the chance the hardware could be tweaked if it evolves beyond a Computex teaser to a proper release. The idea certainly intrigues, however.
But shape-shifting isn't its only trick. Riotoro says Project Morpheus was "engineered with a streamlined airflow" and as proof, well, just look at it. The vast majority of the concept case consists of perforated mesh, from front to back and bottom to top. In an era where many of the best PC cases lean toward form over function, laden with stark metal panels and unbroken tempered glass, it's refreshing to see such an unabashed focus on cooling performance—though with all those holes, don't expect a rig built inside Project Morpheus to run especially quiet.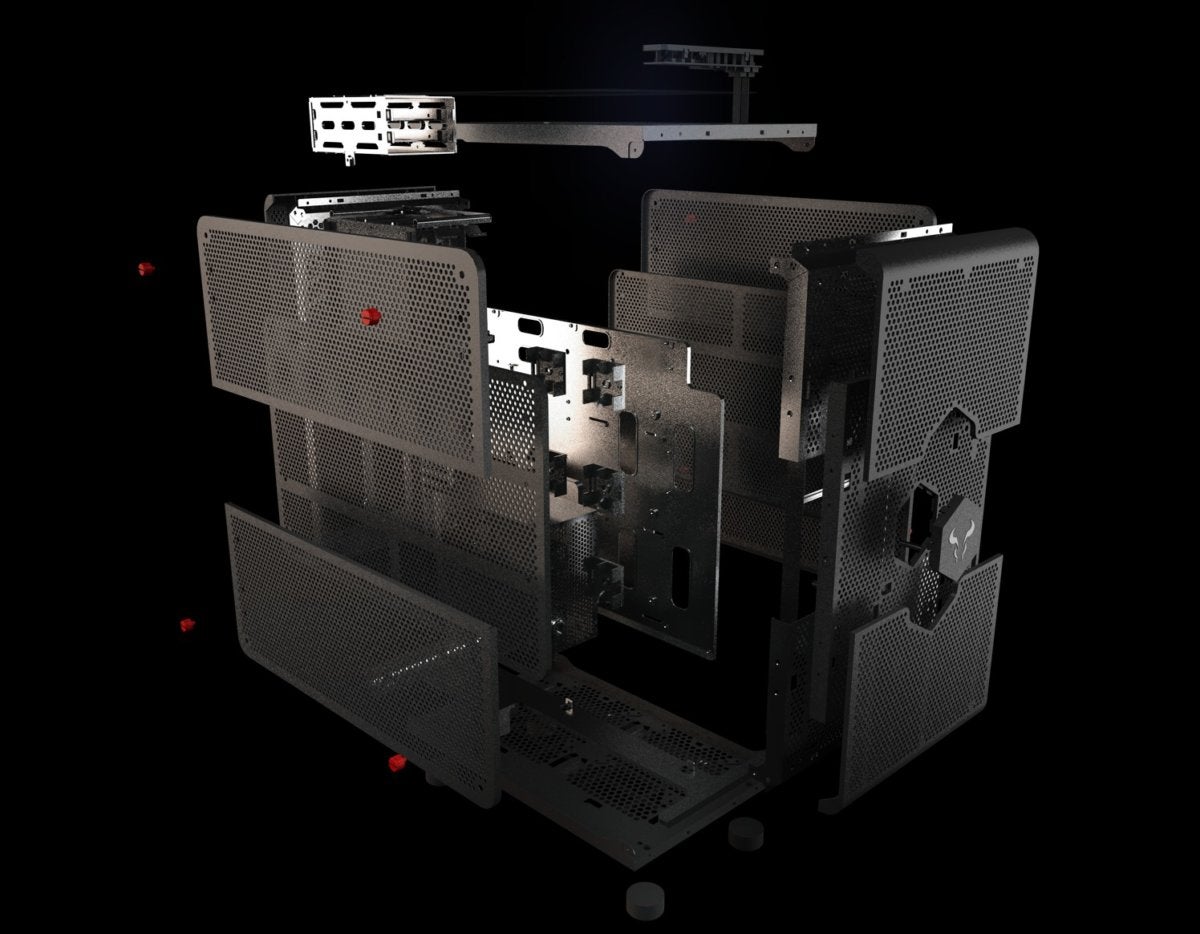 The case augments those cooling capabilities with room for up to seven 120mm fans, or two 240mm liquid-cooling radiators. Riotoro says Project Morpheus should build easily too; you don't need any tools to work on the chassis, which also includes a cooling bracket and "strategically placed cable routing channels."
Project Morpheus is currently in concept status, so Riotoro didn't provide pricing or release date information. Here are the specifications released thus far:
Form factors: Mid-tower and mini-tower
Motherboard support: ATX, microATX, mini-ITX
Paneling: High-density perforated mesh on all sides
Dual compartments with streamlined airflow to CPU and GPU
Tool-less assembly with optimized cable routes and mount points
Drive bays: Two 3.5-inch, two 2.5-inch
Cooling:

Front: Two 120mm fans or 240mm radiator
Top: Two 120mm fans or 240mm radiator
Rear: 120mm fan

USB-C and USB 3.0 ports
Dimensions (HxWxD): 440 x 276 x 465 mm / 17.3 x 10.8 x 18.3 inches
Riotoro CR380 mid-tower case
Riotoro didn't only bring fancy concepts to Computex, though. The company also announced the CR380, a wallet-friendly $40 mid-tower case that comes with a 120mm front fan and USB 3.0 ports up top. Its meshified front should provide plenty of airflow, and there are mounting points for more 120mm and 240mm radiators if want you to invest in additional cooling performance.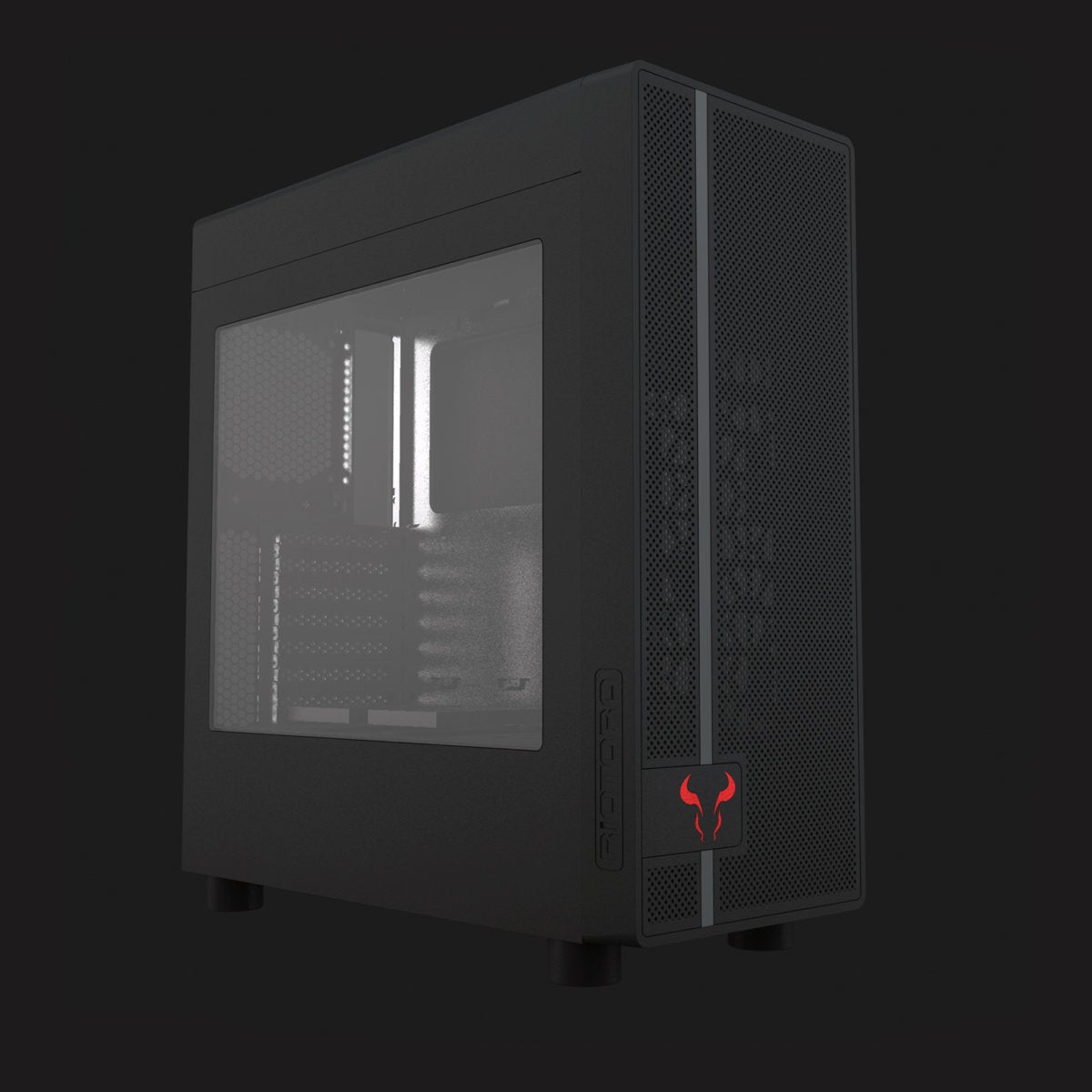 Here are the specs:
Mid-tower
Motherboard Support: ATX, microATX, and mini-ITX
Supports GPUs lengths of 300mm and PSU length up to 280mm
Integrated cooling with a 120mm intake fan
Cooling fan/radiator mounts

Front: Two 120mm fans (1 included), one 140mm, one 240mm/140mm
Top: Two 120mm or one 240mm
Rear: 120mm fan

Side window
Dimensions (HxWxD): 472 x 207 x 454 mm / 18.6 x 8.1 x 17.9 inches
Two-year warranty
We haven't gone hands-on with it, but it the Riotoro CR380 looks like a solid, no-frills case for PC builders on a budget. While we're waiting for its third-quarter release, be sure to check out PCWorld's guide on how to pick the perfect PC case for you.