At a Glance
Expert's Rating
Pros
Strong collaboration features
Accurate conversion for common file types
Dedicated mobile app
Our Verdict
PhantomPDF Business is a strong alternative to Adobe Acrobat for a fraction of the price.
Best Prices Today: Foxit PhantomPDF Business 9
Foxit's PhantomPDF Business 8 took the bronze in our 2017 roundup of best PDF editors, behind Adobe Acrobat DC and Nitro Pro. Version 9, which is an incremental update rather than a major overhaul, doesn't make us rethink that ranking but it does reinforce PhantomPDF as a strong alternative to Acrobat.
Like Adobe Acrobat DC and Nitro Pro, the two PDF editors to which it compares most favorably, PhantomPDF employs an Office-style ribbon to keep tools tidy. A dozen task-based tabs make it easy to navigate the editor's wealth of functions, while a sidebar in the document pane puts common functions like reordering pages and viewing comments a mouse-click away.
PhantomPDF provides all the necessary tools for creating and modifying business documents, including text and object editing, drag-and-drop page organization, form creation, and multiple annotation methods. It also offers several levels of protection for sensitive documents including passwords, certificates, permission controls, Active Directory Rights Management Services, and redaction. It also supports electronic signatures (including DocuSign), digital signatures, and digital certificates.
This review is part of our best PDF editors roundup. Go there to learn about our testing and how all the competitors performed.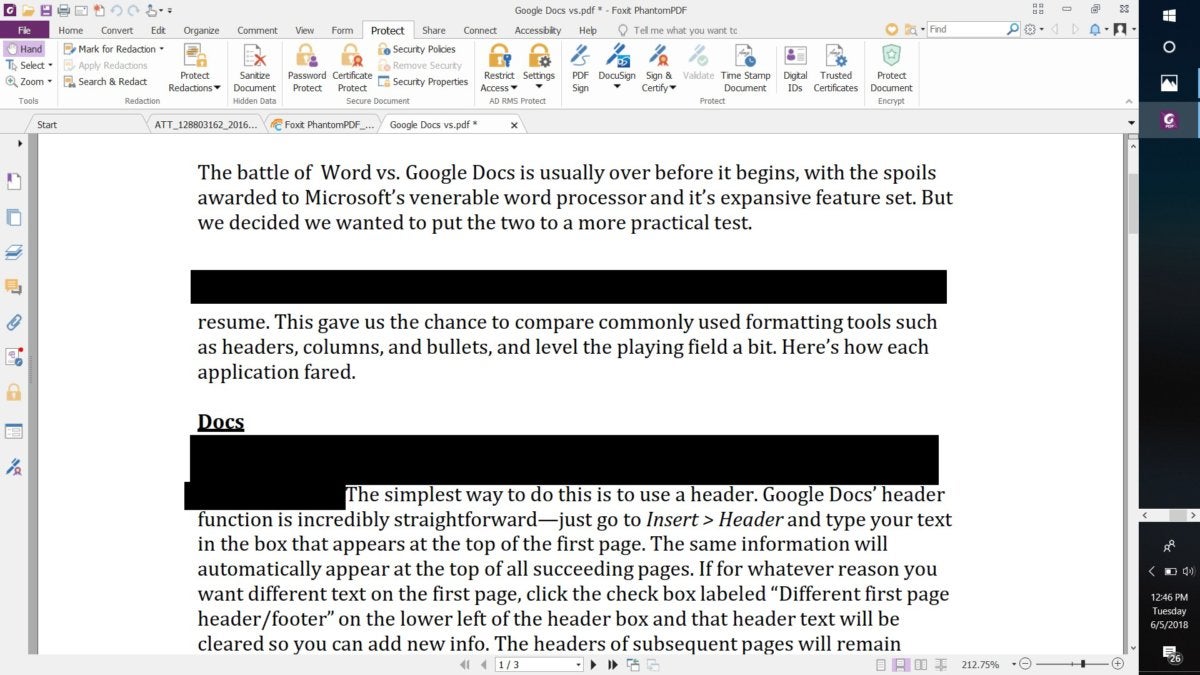 PhantomPDF can convert PDFs to the big three Office formats (Word, Excel, and PowerPoint), HTML, plain text, rich text, and several image formats. It converted everything from a single-page flyer to a 20-page business document without a hitch, leaving all formatting intact.
While most of these features are included with the standard version of PhantomPDF, PhantomPDF Business makes the most use of ConnectedPDF, Foxit's format for sharing and collaborating on documents via the cloud. It enables collaboration features like multi-user document review, group commenting, and the ability to distribute documents to both internal and external participants. It also allows you to glean workflow insights through document-usage tracking that lets you see who accessed the file, what pages they looked at, and what actions they performed. A version tree lets you easily see the complete history of a document.
Version 9 adds a host of largely behind-the-scenes improvements, though a few noticeably benefit the user experience. You can now select a particular area in a PDF and export it to Word, Excel, PowerPoint, HTML, and Rich Text formats. There's also a much-welcome find-and-replace feature for easily changing text in a PDF document. Foxit has also added OneNote integration so you can send PDFs to your account from within Phantom PDF, as well as "protected view" options to open files from potentially unsafe locations yet protect your PC from threats.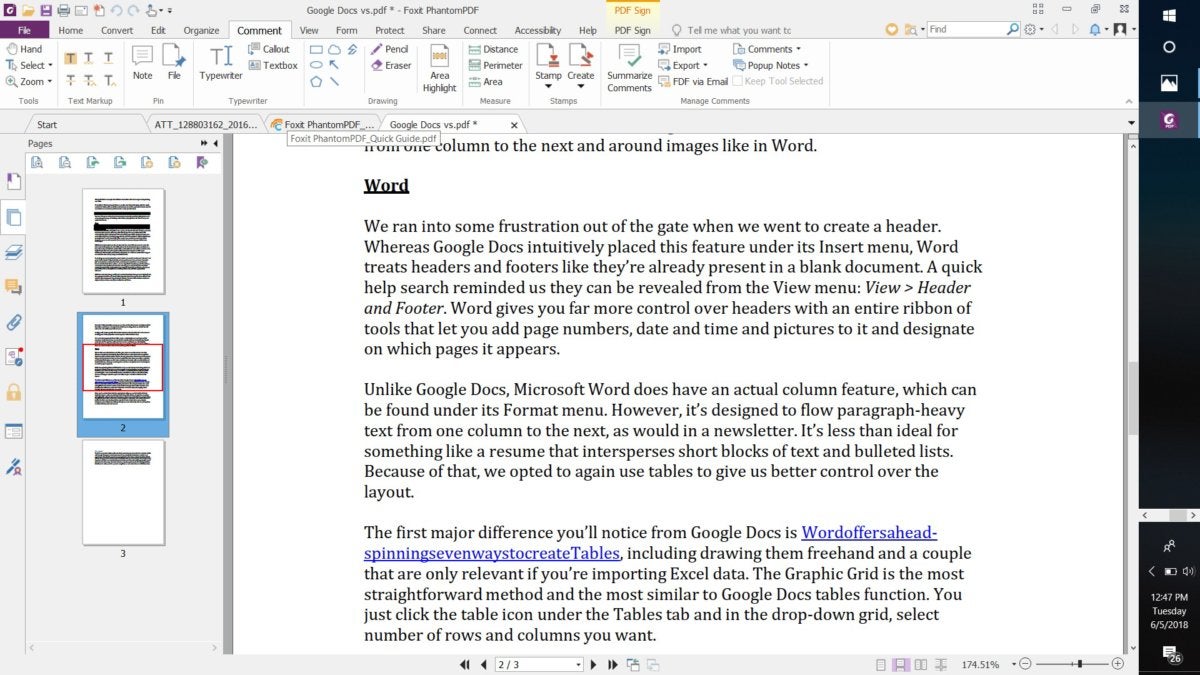 PhantomPDF Business 9 is available for Windows for a one-time fee of $159. You can get a volume licensing discount when you buy five licenses or more. You can also unlock advanced features in Foxit's free MobilePDF app or Android, iOS, and Windows devices, by upgrading to MobilePDF Business through an in-app purchase.
Bottom line
PhantomPDF Business 9 gets high marks for making the often arduous task of document management a breeze. In both capabilities and price, it's almost neck-in-neck with Nitro Pro. It doesn't work with as many file formats as the latter, but it does work with the most important ones. If you're looking for a reliable, easy-to-use PDF editor, you can't go wrong.
Best Prices Today: Foxit PhantomPDF Business 9