At a Glance
Expert's Rating
Pros
Very fast
Design tweaks improve on HMA Pro 3
Cons
Privacy policy is less than ideal
More expensive than competing VPNs
Our Verdict
HMA Pro 4 is a good service with an easy-to-use desktop app and excellent speeds. It also has a massive amount of servers and country locations. The privacy is generally good for basic security uses, but the company does keep your originating IP address and the VPN IP you used for weeks at a time, making it less than ideal for pseudo-anonymity.
Best Prices Today: HMA Pro 4
Hide My Ass in brief:
P2P allowed: Yes
Business location: United Kingdom and Czech Republic
Number of servers: 890+
Number of country locations: 190+*
Cost: $72 per year
VPN protocol: OpenVPN
Data encryption: AES-256
Data authentication: AES-256-GCM or SHA1
Handshake encryption: 2048-bit TLS and SHA256
Hide My Ass Pro version 4 is upon us bringing some new features and improved speeds. It can now periodically change your IP address, there's an improved Location Mode, faster servers on the back end, and a way to tell HMA to back off when you're on certain networks.
While some of the features have changed, the general look of HMA Pro is similar to version 3, which we reviewed last year. It still uses a smartphone-style interface, and it still has the same three tabs on the primary interface: Instant Mode, Location Mode, and Freedom Mode.
Note: This review is part of our best VPNs roundup. Go there for details about competing products and how we tested them.
Features and services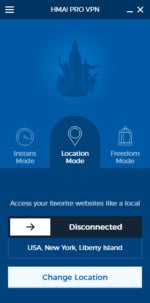 The menu in version 4—accessible via the "hamburger" icon in the upper left—is more polished and has some new options. There's now an actual Preferences option where you can make some minor tweaks such as starting HMA with Windows and the ability to turn on the VPN when the app starts. There's also an option to show your most recent location connections in Location Mode > Quick Access, but you can turn it off.
If you go to Preferences > Network Security there are a few nice options. By default, HMA Pro asks before connecting to the VPN when it detects an unsecured network. You can, however, choose to connect automatically or do nothing at all.
This tab also houses HMA Pro's new IP shuffle feature that changes your IP address periodically to make it harder to track you.
Finally, HMA Pro has an app-specific kill switch for when your internet connection drops. This is an essential option if you are going to use IP Shuffle since that feature will mean you drop out of the VPN briefly while your IP address changes.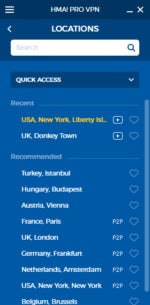 As for the actual connections, the Instant Mode and Freedom Mode tabs haven't changed. Location Mode, however, has changed a lot. In version 3, this tab had three tabs itself. Once you clicked Choose a Location you'd see options to choose a server by country, city, or your favorites. The idea here was to help you navigate to the location you wanted with relative ease. To add a favorite location you'd click the heart icon to the far right.
In version 4, this screen has a search bar at the top, followed by a drop-down menu with four options: Quick Access, All, Streaming, Peer to Peer, and Favorites. The Streaming, All, and P2P options are self-explanatory. Quick Access lists some of the top HMA locations, and Favorites isn't all that different from HMA Pro 3. To the far right are little hearts next to each server. Click that and the location is in your favorites.
Overall, the new approach in version 4 is much better. It still packs a lot into a single-panel mobile-styled app, but it's a much better way to navigate. On top of that, it's nice to see new additions that let people get to streaming or P2P servers if that's what they're looking for.
In my tests, HMA worked very well with Netflix. In fact, it was surprisingly fast. Oftentimes, Netflix will take a second or two before it accepts your VPN-based ruse, but not with HMA. It's an excellent choice for Netflix streaming. Right now that is only possible for Netflix UK and Netflix U.S. As always, however, HMA's Netflix compatibility could change at any time.
HMA Pro 4 allows for five simultaneous connections on one account. Payment is accepted via credit cards and PayPal.
Performance
HMA is very fast. In our tests, HMA Pro 4 averaged a little more than 40 percent of the base speed across five locations around the world. That's really good, and it had some amazing speeds in all five individual testing locations. It's not quite as fast as our current speed champ, HotSpot Shield, but it's more than capable for most uses.
Privacy, anonymity, and trust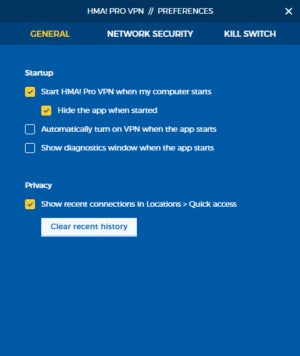 When you register for an HMA account the company collects your name, username, email address, an encrypted version of your password, and IP address. This isn't unusual. Some, but by no means all, VPN services collect your IP address when you sign up. HMA says it collects the IP address to prevent "any spam, fraud, or abuse of our Site and our services."
Collecting an email address is also common, but some VPN services such as Mullvad (our pick for Best Overall VPN) don't require it, and obviously some version of your password must be stored so you can log in to your account.
As long as you use HMA's services this information is kept on record, and possibly for up to a year after that. In fact, HMA may keep this information longer if it needs to for legal reasons.
During a VPN session, HMA stores a time stamp and originating IP address, the amount of data transmitted, and the IP address of the VPN server you used. That means HMA can provide information to law enforcement that could identify you.
HMA also collects "aggregated statistical (non-personal) data about the usage of the VPN mobile apps and software." This data is stored for up to 30 days, but may be held longer if you've been accused of breaching HMA's end user agreement or acceptable use policy—then the data may be held for up to three months.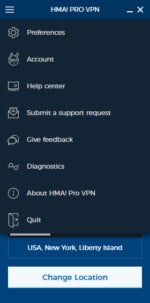 While HMA doesn't store your website visits via the VPN, keep in mind that it does store browsing information if you use the HMA free proxy service.
HMA's privacy policy isn't all that different from others we've seen. It's not ideal, but it's not terrible either since your website visits aren't tracked over the VPN. That said, there is no reliable way you can be anonymous using this service given the potential for IP address matching.
If you need a VPN to hide your identity, then HMA is not for you. For streaming Netflix overseas, logging in to your bank securely, and other common uses, it's fine.
Hide My Ass is run by Privax Ltd, which is a subsidiary of security company Avast. Privax's office is at 110 High Holborn, London, WC1V 6JS, UK. The company founder is Jack Cator, but the current executives aren't listed. The CEO of Avast is Vince Steckler.
Conclusion
HMA is a great service if all you need is a way to secure your browsing. It has excellent speeds and a simplified yet easy-to-use desktop app—though I still feel that a larger, more PC-like interface would be better.
HMA's privacy policy isn't for everyone, and there are past issues with data sharing so don't use HMA if you are looking for the highest possible level of anonymity. But if all you need is to connect to your bank or stream Netflix from afar you can't go wrong with HMA Pro 4.
* Hide My Ass uses virtual servers meaning some of its country locations are not physically located where they appear to be.
Editor's note: Because online services are often iterative, gaining new features and performance improvements over time, this review is subject to change in order to accurately reflect the current state of the service. Any changes to text or our final review verdict will be noted at the top of this article.
Best Prices Today: HMA Pro 4