At a Glance
Expert's Rating
Pros
Incredible desktop-class performance
Overclockable CPU and GPU
Gorgeous industrial design
Decent battery life for a desktop replacement
Cons
Large and heavy
Annoying hinge/vent design
Can't get one without Tobii eye-tracking
Our Verdict
The Alienware 17 R5 is a slickly designed gaming laptop that leverages Intel's first Core i9 mobile chip and an overclocked GeForce GTX 1080 to deliver desktop-class power. It's heavy and expensive though.
Best Prices Today: Alienware 17 R5
Dell already had a winning formula for its flagship desktop replacement.
The Alienware 17 R4 sat atop our guide to the best gaming laptops ever since we reviewed it just shy of a year ago. Sure, it was big and heavy like all the most powerful gaming laptops are, but the notebook delivered such blisteringly fast performance that the trade-off proved worthwhile for enthusiasts. The classic Alienware design delivered nice touches (like side RGB accent lights) you don't often see elsewhere. It kicked ass, full stop.
The newest iteration largely sticks with proven success, with one key difference: an upgrade to Intel's 8th-gen mobile processors, which pack more CPU cores than previous generations did. The Alienware 17 R5 we're reviewing today packs Intel's debut high-performance Core i9 laptop chip. Friends, the Core i9-8950HK inside turns this already beastly gaming laptop into an utter monster. Let's go.
Note: This review is part of our roundup of the best gaming laptops. Go there for details about competing products and how we tested them.
Alienware 17 R5 specs, features, and price
The Alienware 17 R5 is available in a variety of configurations, from a $1,560 model with a 6-core Core i7-8750H, an overclocked GeForce GTX 1060, and a 60Hz 1080p display, all the way up to the price-is-no-object-I-want-performance $3,810 version we're testing today. Optional features could push that total even higher. Here's what's inside our review unit. Spoiler alert: It's loaded.
CPU: Core i9-8950HK (overclockable)
GPU: Overclocked Nvidia GeForce GTX 1080
RAM: 32GB DDR4/2666 (dual-channel)
Storage: 512GB NVMe SSD, 1TB 7,200rpm hard drive
Wireless: Killer 802.11ac Wi-Fi, Bluetooth 4.1
Display: 17-inch, 120Hz, 2560×1440 G-Sync display (TN + WVA)
Ports: Thunderbolt 3, USB 3.0 Type-C, two USB 3.0 Type-A, HDMI 2.0, mini-DisplayPort 1.2, headphone/mic, Noble Lock slot, ethernet, Alienware Graphics Amplifier port
Weight: 9 pounds, 12 ounces, or 12 pounds, 15.2 ounces with power brick
Dimensions: 16.7 x 13.1 x 1.18 inches
Webcam: Alienware FHD with Tobii IR eye-tracking
Price: $3,810
As you can see from the spec list, the high-end Alienware 17 R5 spares no expense on the internals. The Core i9-8950HK packs the same six cores and twelve threads as the 8th-gen Core i7 chips, but at higher clocks that range from 2.8GHz all the way up to 4.8GHz. Even more impressive, it manages to stay steady at 4GHz even when Cinebench is stressing every available CPU core and thread. This thing cranks—and as an HK-series chip, you can crank it even further by overclocking it.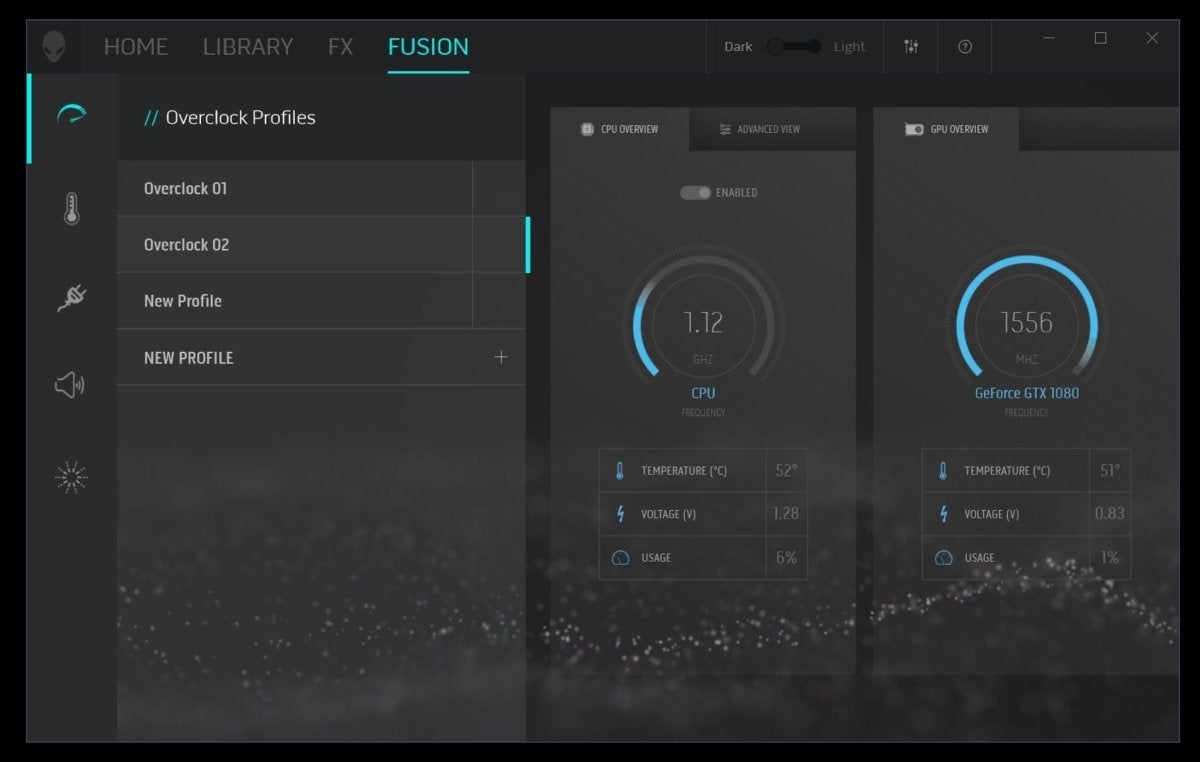 The powerful Nvidia GeForce GTX 1080 graphics comes overclocked and kicking butt out of the box, but you can use the revamped Alienware Command Center app to tweak the tuning of your CPU and GPU. The Command Center includes a pair of one-click overclock options as well as the ability to create your own profile. You can also adjust performance settings based on desired thermal parameters. Alienware's app doubles as the Command Center for the laptop's RGB lighting features, and it swipes a page from Nvidia's GeForce Experience by acting as a central hub for all your installed games.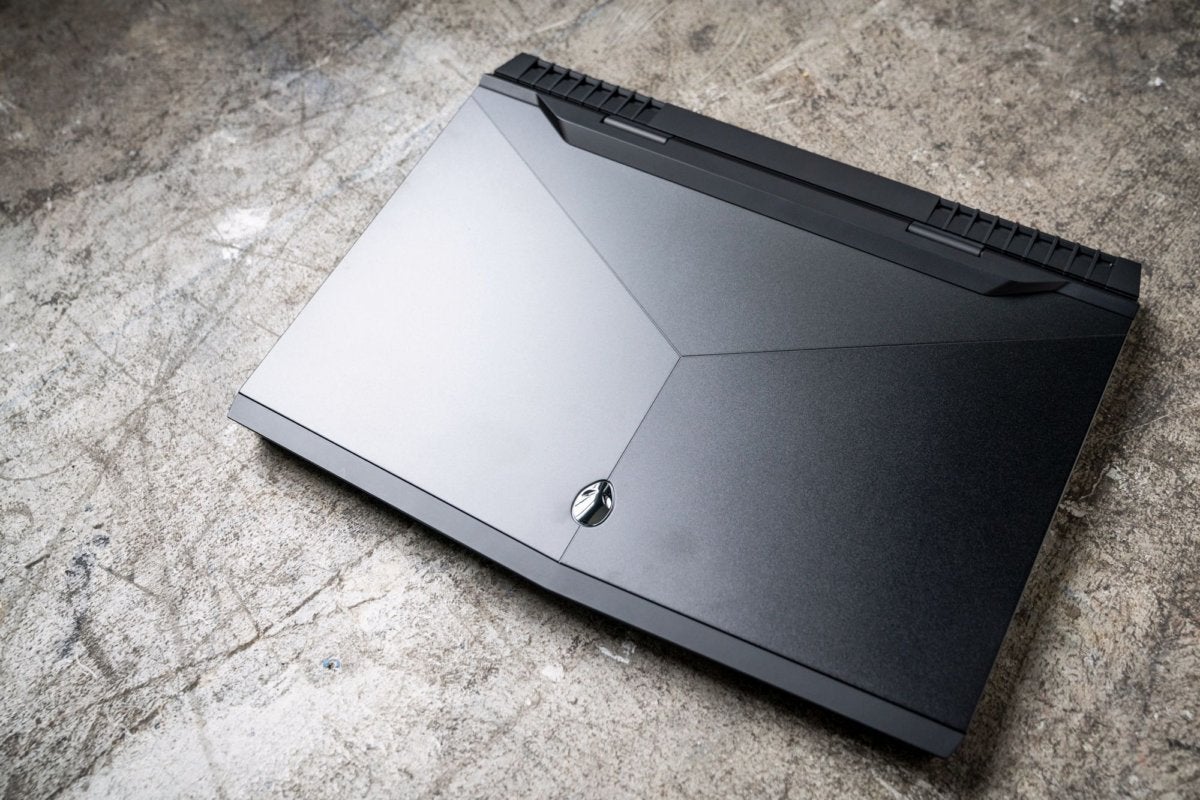 This 10-pound laptop is big, but attractive, largely mirroring the design of last year's Alienware 17. The black color scheme of our review model straddles the line between flashy and professional: The stark, clean design is augmented with tasteful, customizable lighting.
Slim RGB LED strips accent both side edges and the lid, as well as the touchpad itself—a unique addition that I found myself appreciating greatly while using the laptop in bed at night. Backlit keyboards are great, and it turns out backlit touchpads are too! The keyboard backlighting is still zone-lit rather than per-key, which is a slight bummer, but the keyboard itself feels great, with plenty of travel and responsiveness. The touchpad is just as good, as it thankfully includes a pair of physical buttons at the bottom.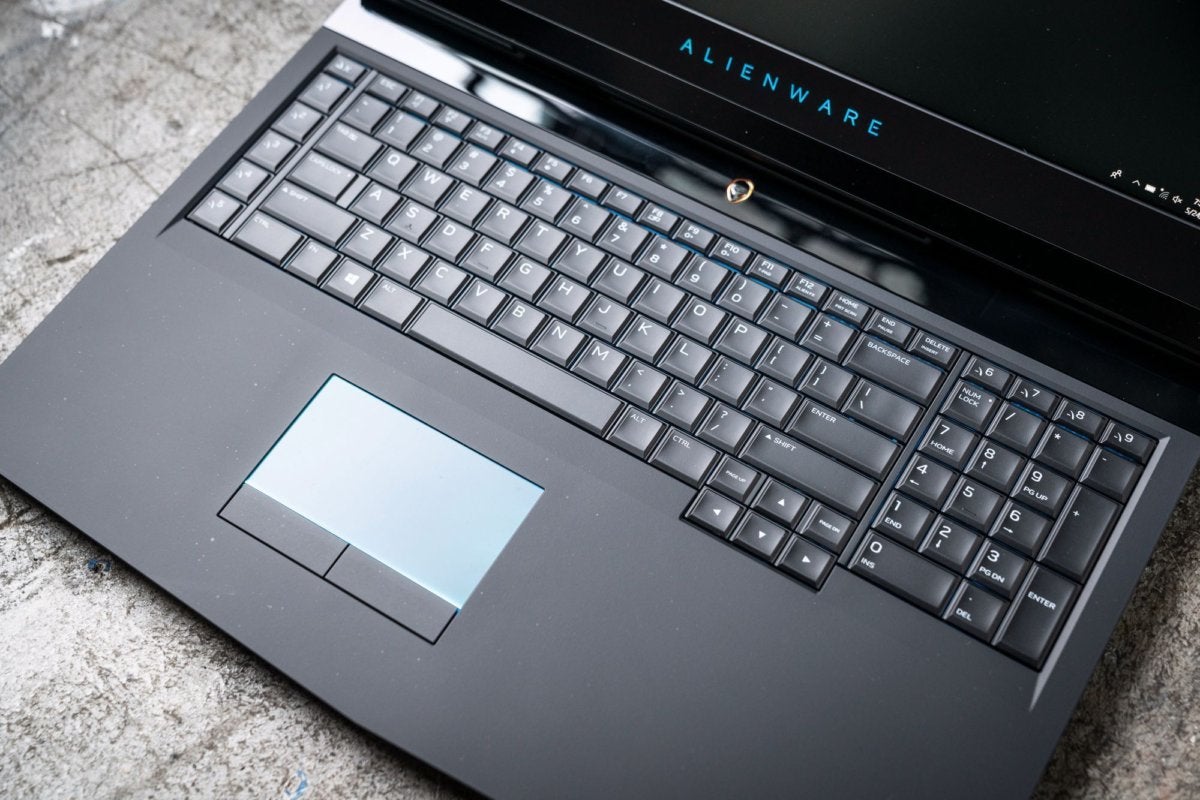 Audiovisuals prove just as impressive. The Alienware 17 R5 delivers big, booming sound for a gaming laptop, and unlike its predecessor, the audio isn't utterly drowned out by roaring fans. The fans aren't quiet while you're gaming—not at all—but they a reasonably pleasant noise that's not too high-pitched or whiny. Bring a gaming headset.
On the visual front you'd be hard-pressed to identify this as a TN panel. The 2560×1440 screen pumps out vibrant imagery with fairly generous viewing angles, though it starts to darken once you reach more extreme slants. The screen hits an impressively eye-searing 390 nits at full brightness. Playing on a 120Hz G-Sync panel—which synchronizes the refresh rates of your GPU and display to eliminate tearing and stuttering—feels just as glorious as you'd expect.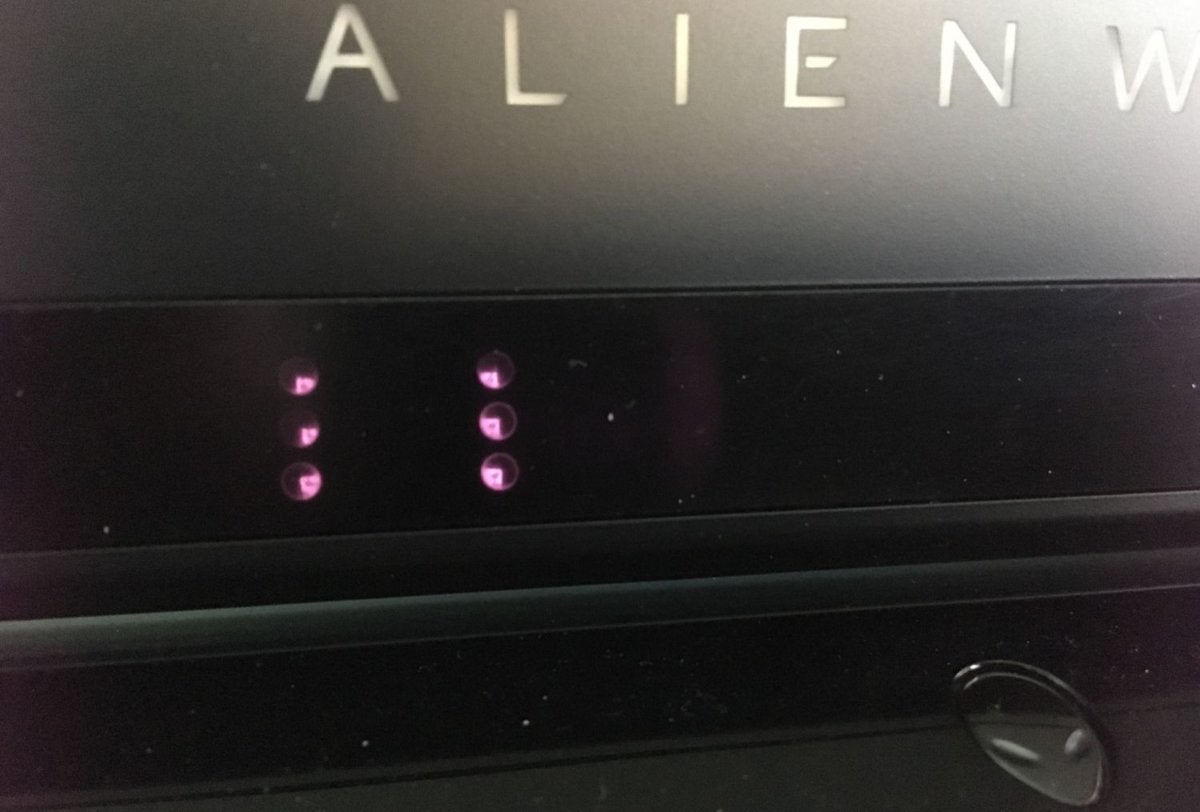 It's the only panel option available for the black chassis, unfortunately. If you switch to a silver chassis you can opt to upgrade to a 60Hz 4K IPS panel, with or without G-Sync, for another $150. Regardless of chassis type, there's no ability to save some cash by ditching the integrated Tobii IR eye-tracking sensor.
Tobii is nifty but far from essential, letting you sign into Windows 10 via face recognition or use your eyes to control the cursor in a limited selection of games. Beyond the cost of implementing it, the Tobii hardware manifests itself as a series of continuous, rapidly flickering red lights below the panel whenever you boot up a game. It's incredibly distracting and annoying.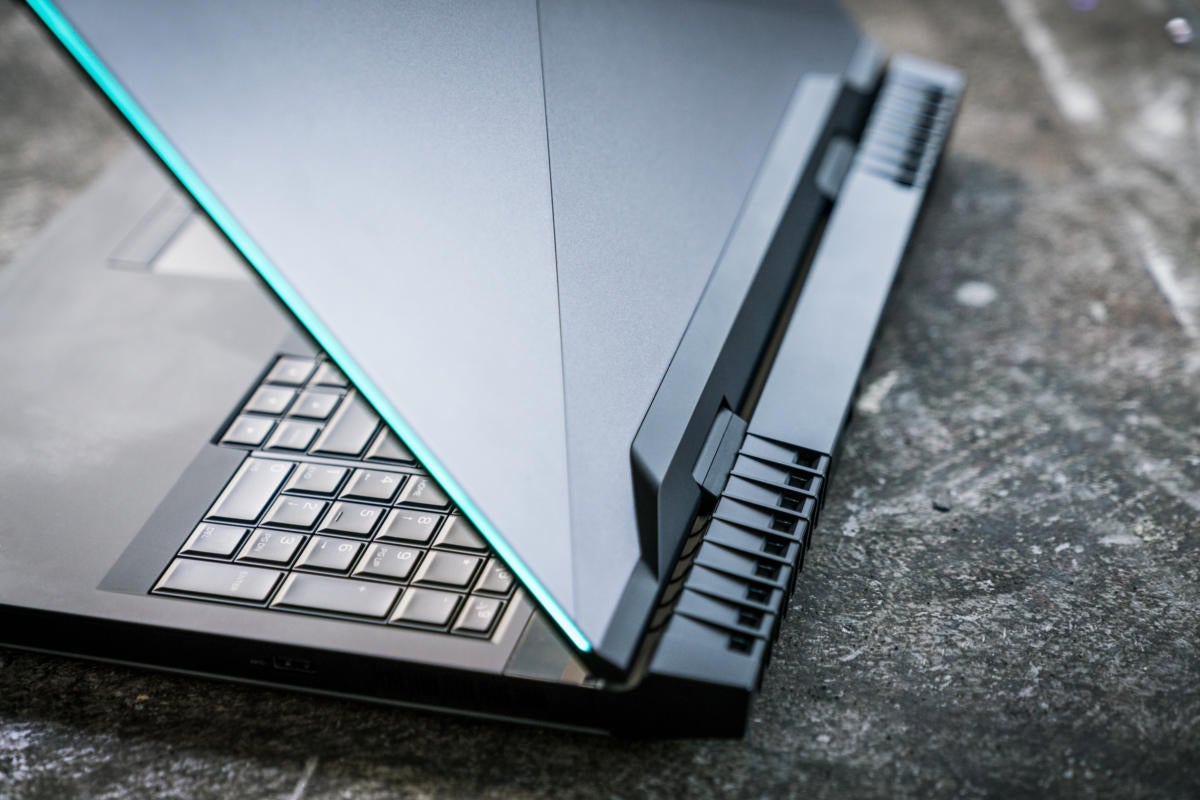 We're still not a fan of the rear of the Alienware 17, either. It ditches traditional notebook design and instead places the lid's hinge about 1.25 inches in from the rear edge, creating a huge lip on the back. That lets Alienware add massive vents that no doubt help to keep the colossal hardware inside cool, but it's butt-ugly and gets awfully hot during long gameplay sessions.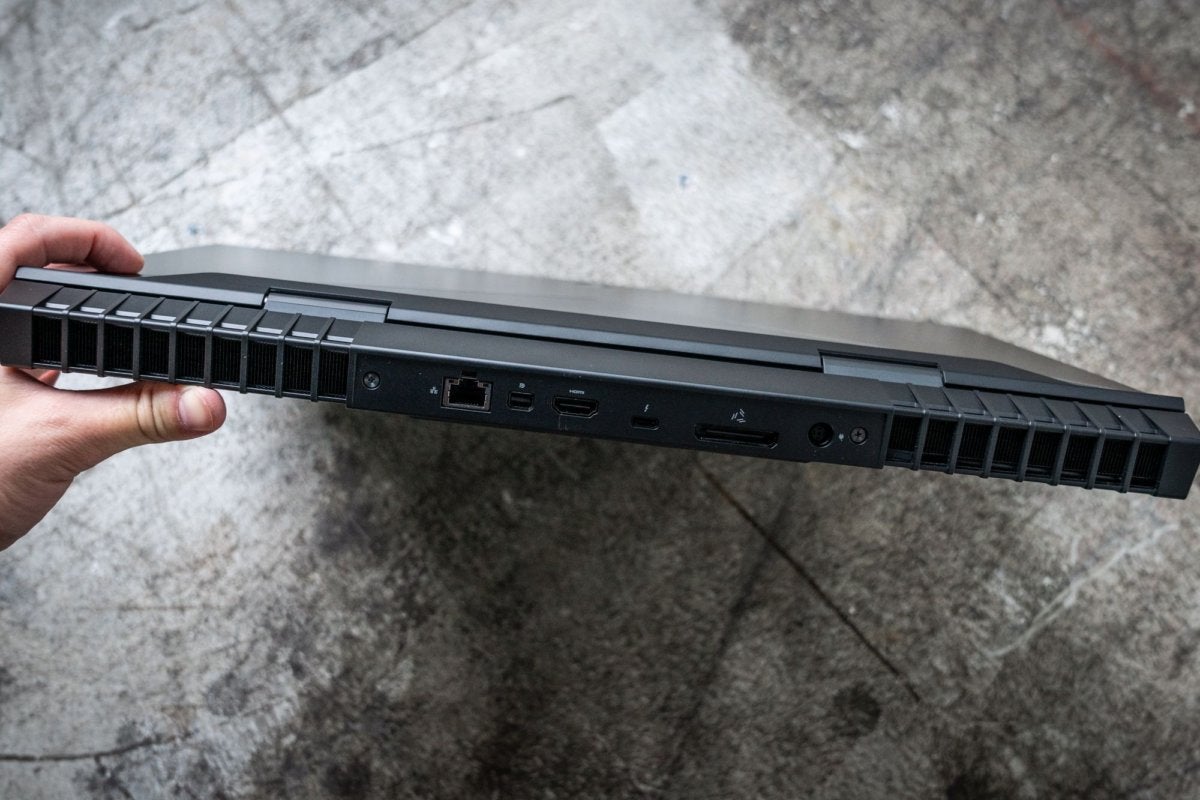 The power cord, display connections, ethernet, and proprietary Alienware Graphics Amplifier ports are all on the rear of the machine, too. We dislike the ergonomics of rear-edge ports even in standard laptop designs. In the Alienware 17, it all but guarantees your fumbling fingers will brush those hot vents if you need to plug something in while you're working or playing.
Alienware 17 R5 benchmark performance
The Alienware 17 R5 packs ferocious firepower, so let's see how it stacks up versus some other heavy hitters. Let's start with the Alienware 17 R4, which packs an Intel Core i7-7820HK, the previous generation's overclockable quad-core flagship. We'll also compare it against Origin PC's EON17-X, a beast that uses an overclocked 6-core, 12-thread Core i7-8700K desktop processor but still manages to come in slightly cheaper and slightly less heavy than the Alienware—though much thicker. All of these pack Nvidia's full-fat GeForce GTX 1080.
Mentioned in this article
MSI GS65 Stealth Thin 8RE
We'll also include Acer's Predator Triton 7000, a more portable premium laptop with a quad-core Core i7-7700HQ and a power-efficient GTX 1080 Max-Q, as well as the MSI GS65 Stealth Thin 8RE. These two laptops cost significantly less than the Alienware, at $2,780 and $1,799 respectively. MSI's slim four-pound laptop only has a GTX 1060 inside, but it also has the 6-core Core i7-8750H processor that many gaming laptops opt for over the beefier Core i9 chip found in the Alienware 17.
Speaking of which, this is the first Core i9 laptop to hit our test bench, so let's kick things off with processor power. Maxon's Cinebench R15 measures raw CPU performance, and will happily use as many threads as you can throw at it. Higher scores are better.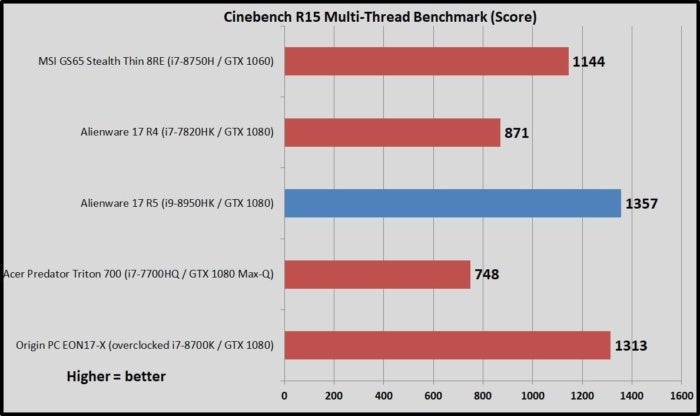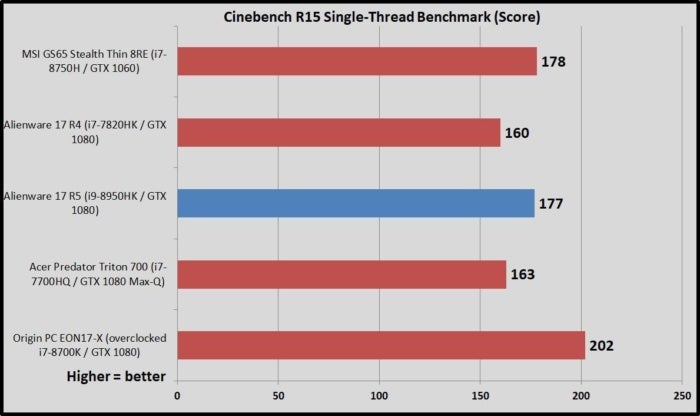 The newer laptops with Intel's 8th-gen Core i7 and Core i9 CPUs absolutely smoke the older models running the Core i7-7700HQ, which makes sense: This generation added two cores and four threads to high-end chips. Single-threaded performance sees a notable but more modest increase compared to previous generation CPUs. Notably, the Core i9 inside the Alienware 17 trades blows with the desktop Core i7-8700K inside of the Origin EON17-X—a very impressive feat.
But Cinebench's benchmark runs in a short duration. The file we encode in our CPU-intensive HandBrake test (which uses an older version of the software) takes around 45 minutes on a quad-core processor. The extended duration reveals how a laptop's temperature throttling affects performance over time, something that can vary wildly depending on a given laptop's design and tuning. We measure results in how many seconds it takes to perform the encoding, so lower scores are better.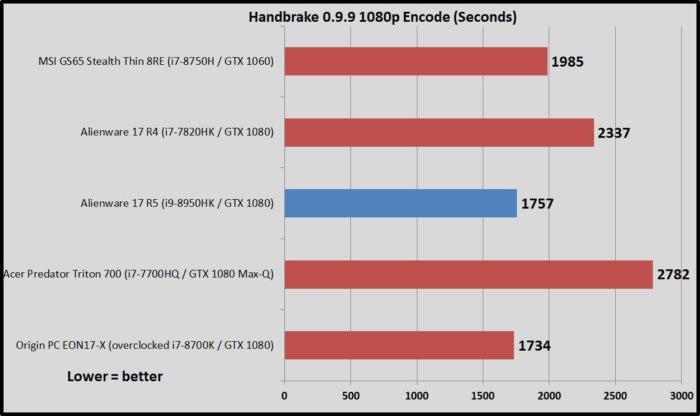 No surprise here, either: The 8th-gen Core i7 and Core i9 chips demolish the last-gen competition thanks to their more abundant CPU cores. The Core i9-8950HK inside the new Alienware 17 manages to finish the job nearly 4 minutes faster than the 8th-gen Core i7 inside the MSI GS65 Stealth, and almost 10 minutes faster than the 7th-gen overclockable cream-of-the-crop processor in the previous Alienware 17 R4. Holy moley. It's a few seconds slower than the desktop chip in the Origin laptop, though.
Gaming laptops need strong graphics capabilities, of course. We test their visual chops using the Graphics sub-score in 3DMark's Fire Strike Extreme benchmark, a synthetic benchmark that focuses on pure GPU performance.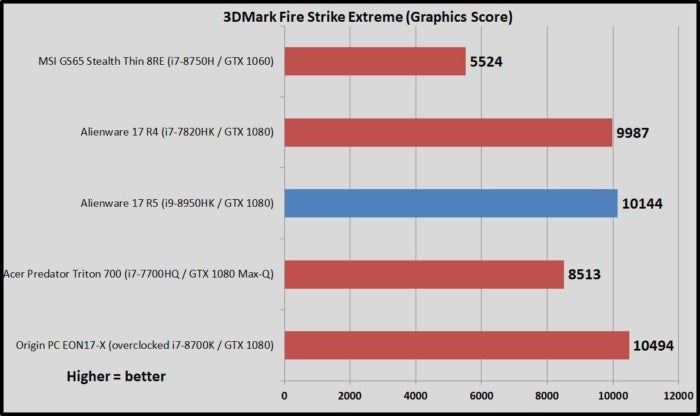 Dell managed to crank the GTX 1080 even further in the Alienware 17 R5 compared to the older R4, with the newer model turning in an ultra-rare 10,000-plus score. As far as single-GPU laptops go, the only other notebook to break that lofty barrier is the thicker Origin EON17-X, which manages to push significantly further on account of the extra room.
But enough synthetic benchmarks. Let's get to the games! We compare laptop gaming performance at 1080p resolution to standardize results across the board, using the in-game benchmarks included with each title. Our current suite mostly consists of older games so that we can compare new and old laptops easily. (Note that we don't have Tomb Raider results for the older Alienware 17 R4.)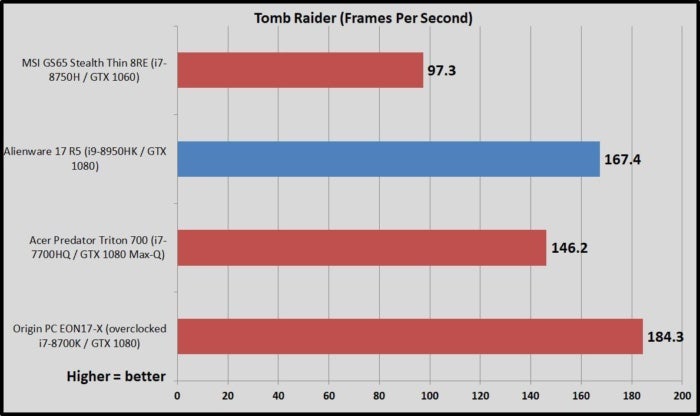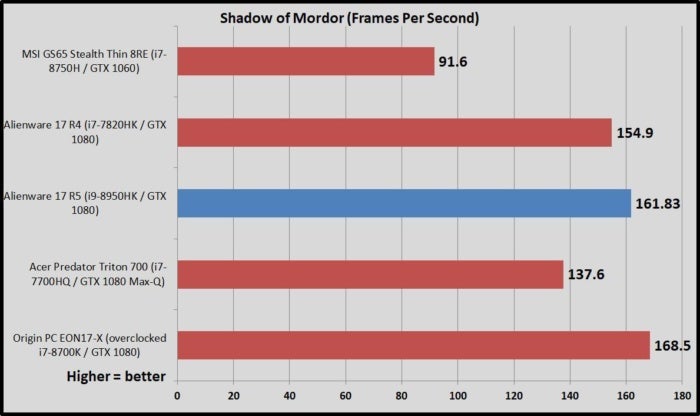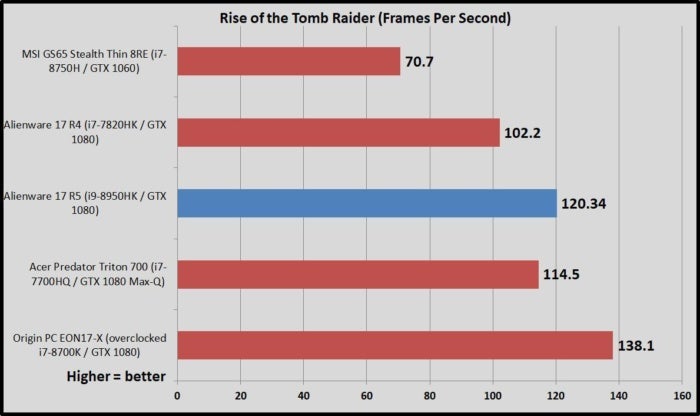 The Alienware 17 pushes these established games beyond even what its ultra-fast 120Hz screen can pump out, albeit at 1080p resolution. The overclocked GTX 1080 really spreads its wings here. Most modern games are bottlenecked by your GPU rather than your CPU, so a Core i7 laptop with a GTX 1080 will perform in the same general ballpark as a Core i9 laptop with a GTX 1080 in the majority of cases.
That said, out-of-the-box overclocking and thermal design choices can affect gaming frame rates to a decent degree, as while the older R4 also has a GTX 1080, the new Alienware 17 R5 turns in a solid performance lead over its predecessor. The much thicker, desktop CPU-powered Origin EON17-X once again tops our charts.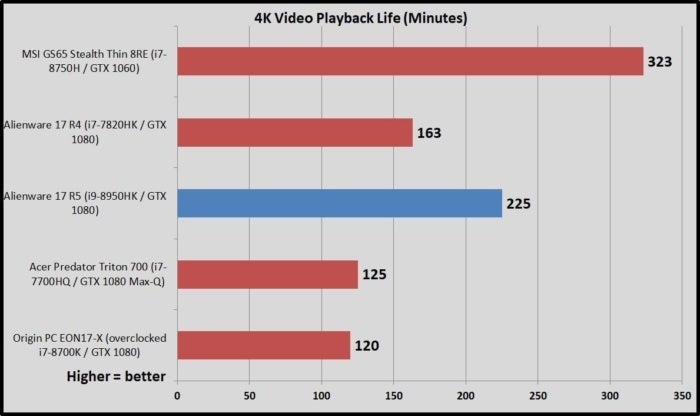 Part of the reason that the Alienware 17 R5 is so big is because Dell crammed an absolutely massive 99Whr battery inside. That gives it a huge leg up in longevity compared to other ultra-powerful desktop replacements in PCWorld's battery run-down test, which consists of looping a 4K video in the Windows 10 Movies and TV player, with brightness at 250 to 260 nits and audio at 50 percent, until the machine gives up the ghost.
The Alienware 17 R5's 3-hour, 45 minute endurance would be horrible in a mainstream laptop, to be fair. But despite all its extra cores and fancy overclocking, it still lasts more than 90 minutes longer than competing high-end laptops. Impressive. The included 330-watt power brick charges it pretty quickly, too.
Should you buy the Alienware 17 R5?
The old Alienware 17 kicked ass. The new Alienware 17 R5 blows us away.
The $3,810 version we tested pumps out more performance than we've ever seen in a gaming laptop with all-mobile parts. It offers over 55 percent more multi-thread performance than its already-potent direct predecessor. CPU benchmarks this fast were practically unthinkable mere months ago. Alienware uses the extra headroom to push the GTX 1080 harder than before, too. And remember: The Alienware Command Center lets you overclock the CPU and GPU for even more potential performance.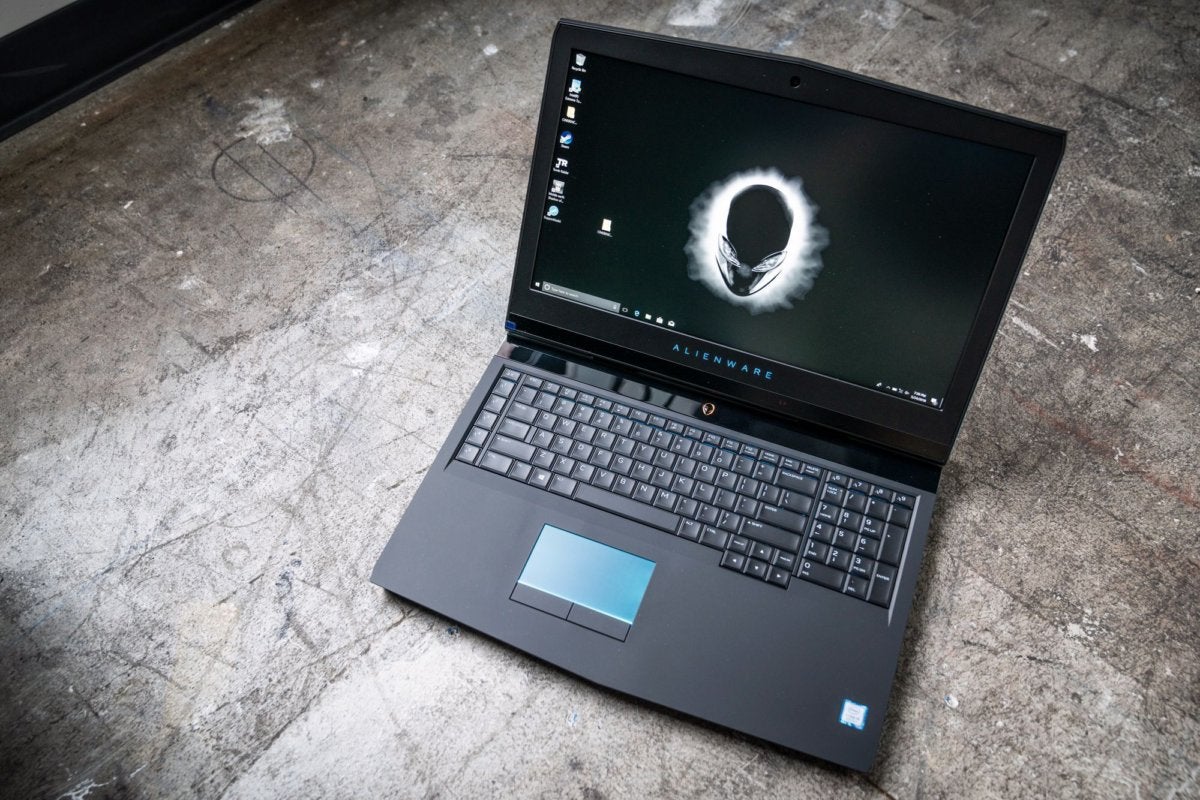 It's not for everyone, though. Make sure you can use the Core i9's extra power before you pay its sizeable premium. All those cores and threads aren't fully utilized in most games, so if you plan to use your laptop mostly for play, you'd be better off saving your cash and going with a more affordable option, such as Intel's new Core i7-8750H.
The best all-around gaming headset
HyperX Cloud Alpha
The Core i7 chip still surpasses previous-gen performance by a long shot, and you'll save $1,000 or more depending on the alternative you choose. Another version of the Alienware 17 R5 with a Core i7, a GTX 1070, and 16GB of RAM costs $1,900, for example—almost $2,000 less than the luxurious Core i9 loadout we've tested today.
But if you absolutely, positively need as much portable performance as possible and are willing to shoulder a big, heavy machine to get it, the Alienware 17 R5 should be near the top of your list. Combining a Core i9 mobile chip with an overclocked GTX 1080 results in astounding performance. As a bonus, the Alienware 17's slick, sophisticated aesthetic makes the laptop look more streamlined than it really is. Its performance is surpassed only by Origin's EON17-X in our testing—a $3,712 beast that packs a powerful Core i7-8700K desktop processor, but with a somewhat coarser design that's almost half an inch thicker and half as long-lasting.
Refinement or raw power: Pick your poison. Regardless of which you choose, Core i9's arrival means that mobile laptops can finally rival top-tier tower PCs in performance. The Alienware 17 R5 heralds an exciting future. "Desktop replacements," indeed.
Best Prices Today: Alienware 17 R5