Google this week released a feature that Android users have wanted since the days of the Nexus phones: Messages on the web. Finally, Android users can log into a browser to see and send messages, just like their Apple pals.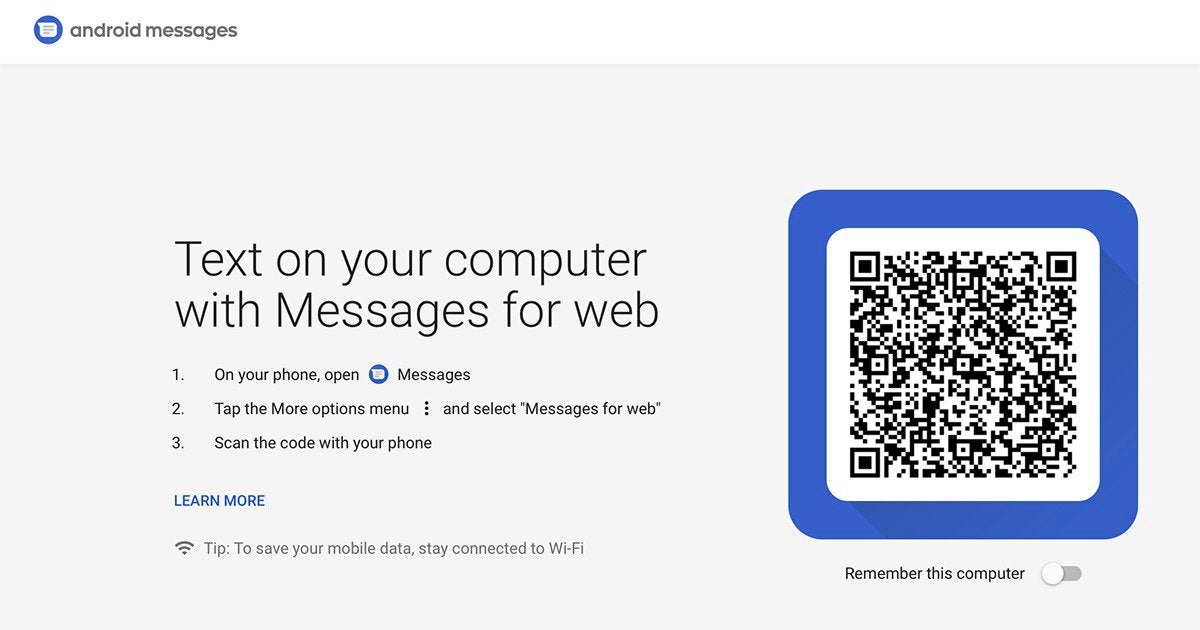 While the feature is still rolling out to phones, it's already live on the web and it's a snap to get started:
Log onto messages.android.com on any web browser.
Open Android Messages on your phone.
Tap the menu icon at the top right.
Select Message for web.
Tap the Scan QR Code button.
Hold your phone up to the QR code in your browser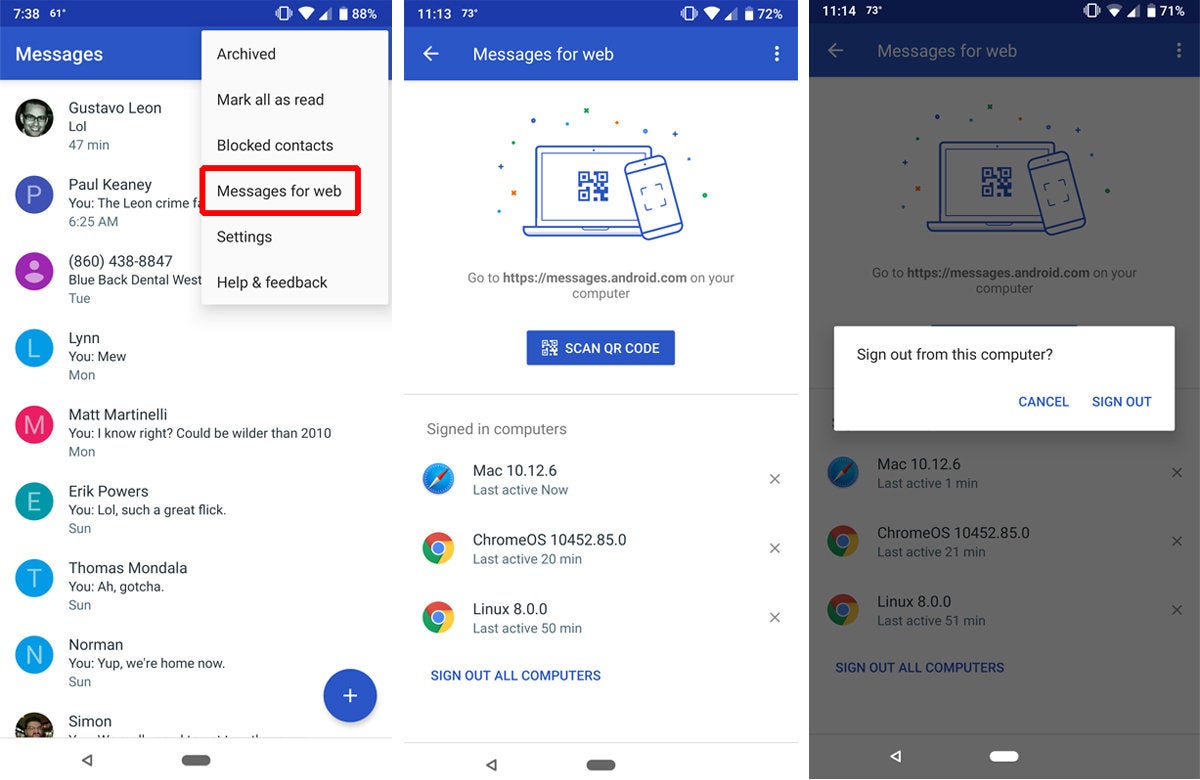 That's it. Once linked, the messages on your phone will sync with the ones on the web, and you'll be able to send and receive messages just like you can on your phone. But is it as good as the system Apple has in place for iPhone users? Here are four ways it's actually better than Apple's Messages on the Mac and four ways it's not:
4 ways Google's Messages is better than Apple's
It works everywhere, even on phones
While you'll need a Mac and an iPhone to take advantage of Messages, Google's Messages for web works anywhere you have a browser. And I mean everywhere. I've already set it up on my Mac, Pixelbook, and Galaxy S9, so I can stay up to date with my texts no matter which device I'm using. I can also keep track of every browser Messages is signed into on my phone by selecting the Messages for web option in the menu.
You can use stickers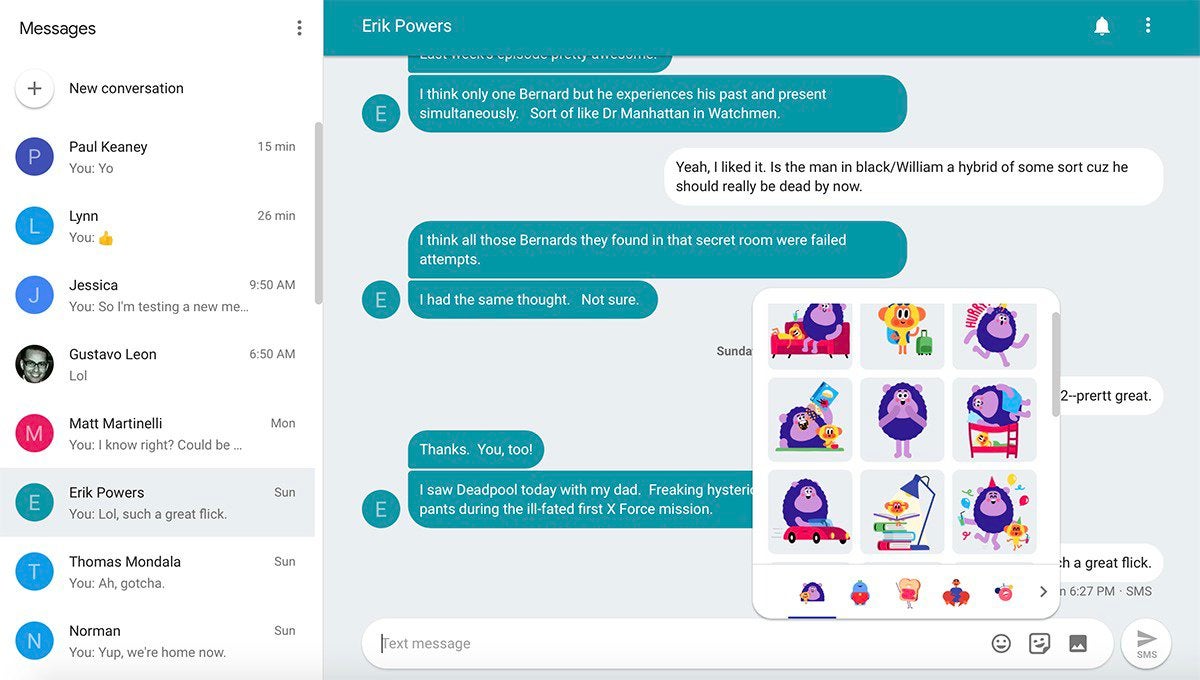 While Messages on the iPhone features a whole bunch of cool stuff, including stickers, effects, apps, and Animoji to dress up your texts, the Mac client is much more bare-boned, with little beyond text and emoji. There isn't even an easy way to add a photo or file. With Messages on the web, Google provides three handy buttons at the right of the message field: emoji, stickers, and attachments. The library of stickers is pretty limited for now, but something is better than nothing (and we hope it keeps expanding).
It syncs fast
Apple's Messages only just gained cloud syncing last month with Messages in iCloud, and you have to be on the latest version of iOS 11 and macOS High Sierra to take advantage of it. But even if you are, it's not as instantaneous as Google's method. Once you're logged into Messages for web, messages and conversations sent or deleted from one source instantly reflect on the other. It's so fast, messages I sent on the web often appeared on my phone even before they were delivered.
There's a dark mode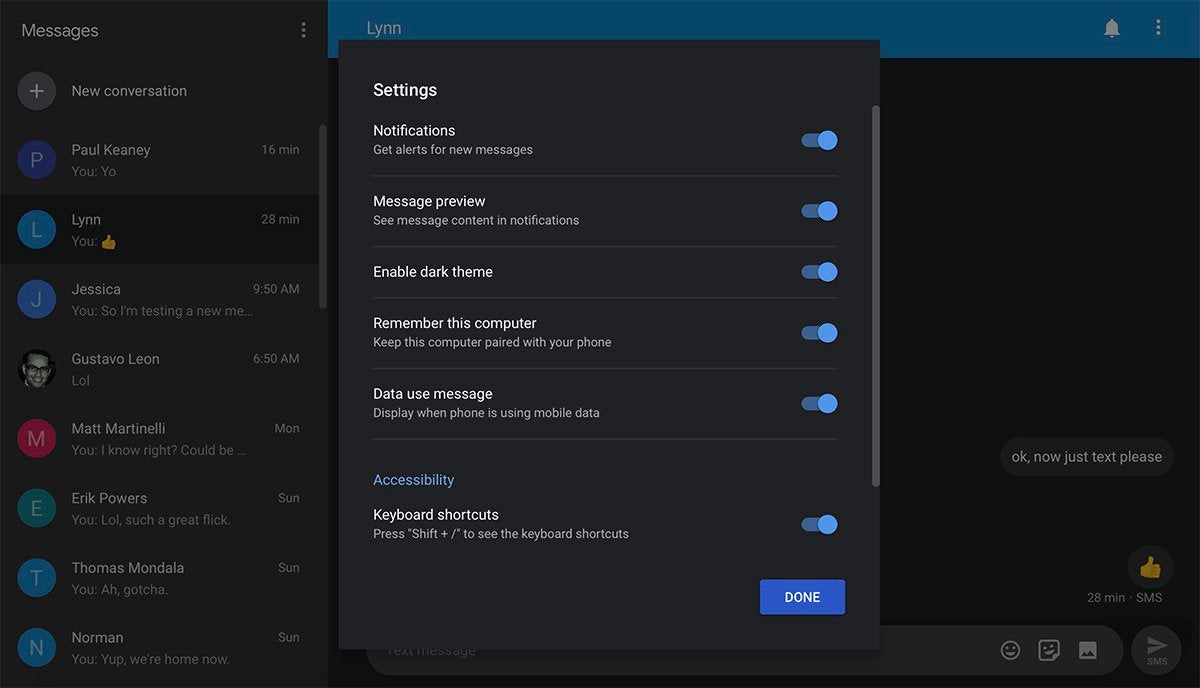 Apple users are finally getting a dark mode in macOS Mojave, but Android Messages has one right now. Click the menu button in the sidebar on the right side and go to Settings. Flip the Enable dark theme toggle, and the whole interface will turn to black.
Four ways Apple's Messages is better than Google's
You can't make calls
Apple's Messages on the Mac is hooked up with FaceTime and Wi-Fi calling, so you can quickly start an audio or video call with any of your contacts (even green ones). That's not the case with Messages for web. While the app on your phone integrates with Duo and Contacts to allow quick calls, the web interface is text-only and is likely to stay that way.
You can't search messages
On both the Android Messages app and Messages on the Mac you can quickly search through your conversation to find old messages with ease, but there's no such method on the web. I'm hopeful it will arrive soon, however, because you can already search within Google Photos on the web.
You can only use one browser window at a time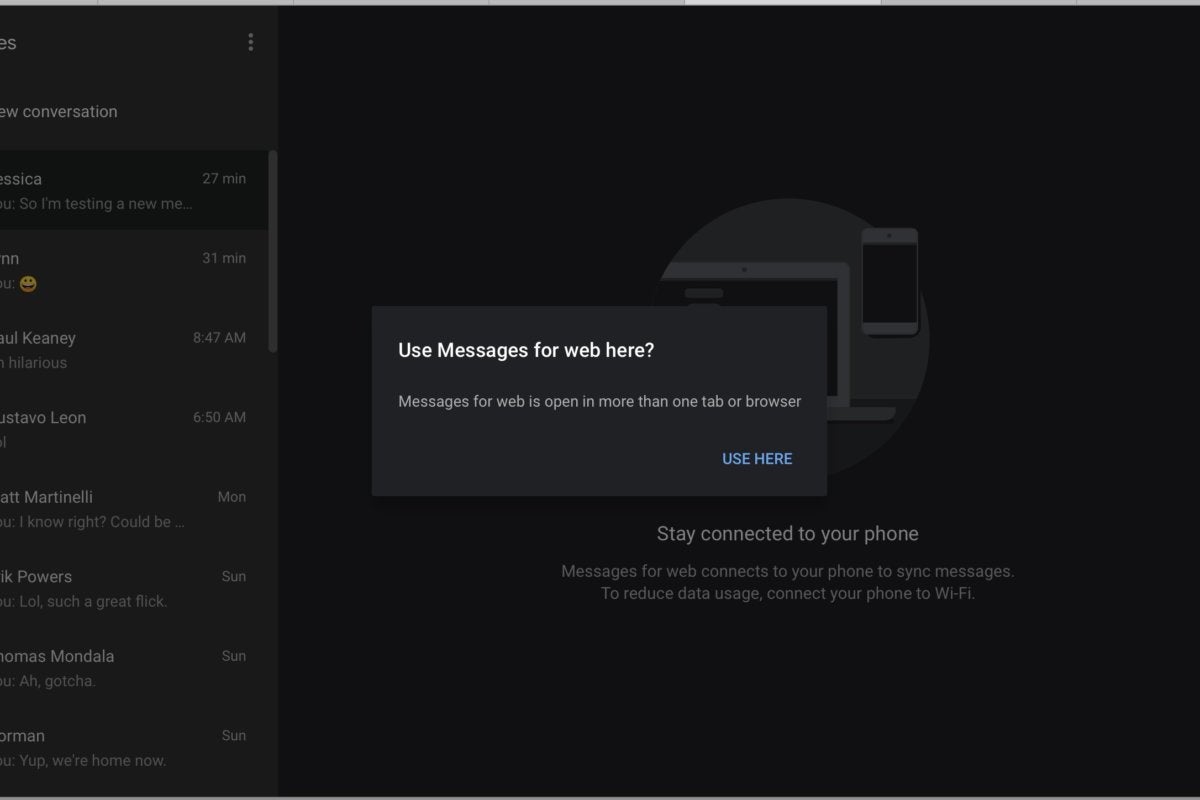 Google's Messages for web creates a one-way link between your phone and browser, so you can't be logged into two places at once. If you forget to log out of your PC or just want to open a second tab in your browser, you'll get a message asking where you want to use Messages for web. Only the window you choose will stay synced (until you switch back). It's a minor inconvenience, but with Messages for Mac you can open two conversations side by side.
Notifications are pretty useless
While Android Messages for web does allow notifications and alerts for new messages as they arrive, they don't tell you much. When using Safari on the Mac, you'll merely see that you have a new message rather than who it's from or what it says. Even in Chrome OS, you can't see pictures or reply without jumping to the browser window.