Podcasts may have started on Apple devices, but millions of Android users listen to them on their phones every day. And now Google is finally getting in on the act with its own standalone podcast player, aptly called Google Podcasts.
While podcasts have always been available for listening inside the Google Play Music app or via searching inside the Google app, Google Podcasts represents the first real default presence for podcasts on the platform. But if Google wants Podcasts to become as synonymous with podcasts as YouTube is to video, it has a long way to go.
The impact on you at home: Google Podcasts would have been a better app in 2016 than 2018, but it's not a terrible first start. Yes, it's light on the features, but Google gets the two most important things right: search and playback. And now that Google has officially recognized that podcasts exist, hopefully it will start building out the app into a powerful player.
Search and ye shall find
The interface looks a lot like the player that was previously hidden inside the Google app, with a search button and menu at the top and a "For You" section that holds your new, in-progress, and downloaded episodes. Below that, you'll be able to discover new podcasts based on popularity and category. Selecting any of the options available will take you to a dedicated screen with info, available episodes for streaming, and a subscribe button.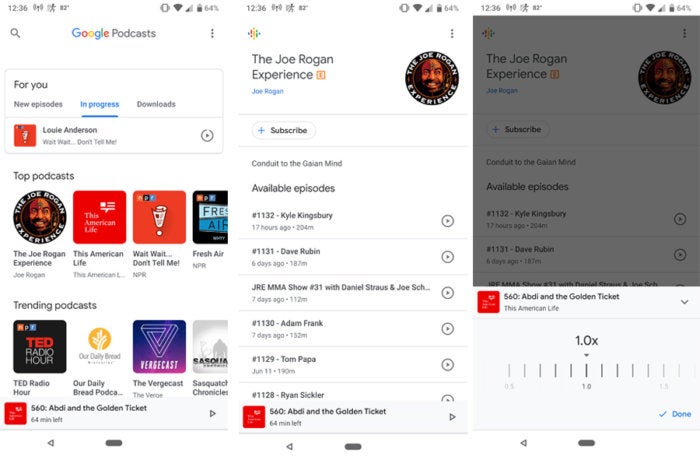 When playing an episode, you can jump forward or back 10 seconds or 30 seconds with a single tap, as well as scrub forward, and a slider lets you slow down the voice by 50 percent or speed it up by 2X (and several stops in between). Additionally, little animations throughout the app do a nice job of showing your playback and downloading progress, and you can mark episodes as played or unplayed with a tap.
And that's pretty much it. The only settings to speak of are options to save or remove completed and unfinished episodes. You can't customize the skip buttons, nor can you make playlists or set episodes to auto download. There isn't support for chapters or Chromecast. And since it lacks basic Outline Processor Markup Language (OPML) importing, you won't be able to access anything you've subscribed to in Pocket Casts or iTunes.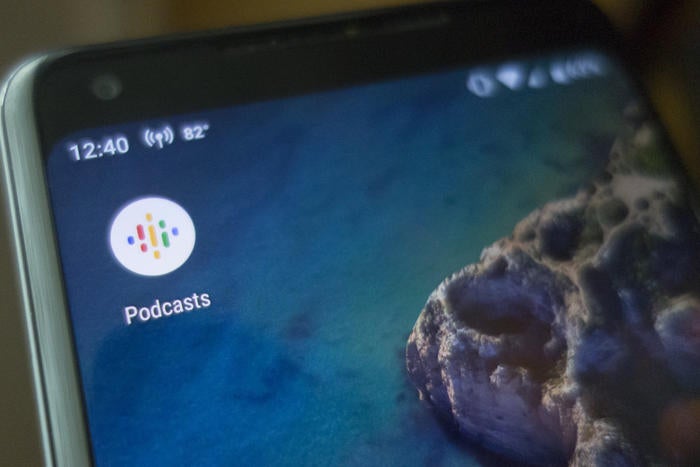 But, hey, it's a start. While light on features, the app is simple and easy to use, with equal attention paid to finding new podcasts and playing ones you've already subscribed to. And Google has put an emphasis on search. The database includes some 2 million podcasts, and Google has baked in its AI tech, so listeners will get personalized recommendations. Podcasts also has Google Assistant and Google Home support, so you can pick up where you left off on any device you've signed into with your Google account.
In its blog post, Google also outlined plans to add automatic subtitling to podcasts so you can read along, a feature that would be something of a game-changer for people with hearing issues. The feature will be powered Google Translate, meaning subtitles could then be made available in a wide variety of languages. However, Google has been known to float features and then forget about them, so it could be a while before we see it.
Goole is also teaming with podcast publishers to boost diversity and accessibility of podcasts. According to the company, the new initiative will be "guided by an advisory board from around the world, with the primary goal of enabling skills development and experimentation from underrepresented voices, as well as cultivating ideas and processes that can scale throughout the industry."
Google Podcasts is available as a free download on the Google Play Store.
Update 2:25 p.m.: This article has been updated with additional information from Google.