At a Glance
Expert's Rating
Pros
Adds extra bandwidth to its dedicated wireless backhaul on the fly
Also supports hardwired backhaul, if you have the infrastructure for it
Built-in, if basic, smart home hub
Cons
No Z-Wave support
Not the fastest router on the market
Low-profile enclosure keeps the antennas low, too
Our Verdict
TP-Link's Deco M9 Plus delivers fast mesh networking, network-level antivirus, and a smart home hub all in one pretty package.
Best Prices Today: TP-link Deco M9 Plus (three pack)
TP-Link joins Securifi and Samsung in building smart home hubs right inside their mesh routers. And why not? You're going to connect the two devices anyway, so it's smart to have just one box. The all-new TP-Link Deco M9 Plus is fast and offers good range, but like Securifi's Almond 3 mesh router, the Deco supports only the ZigBee smart home technology. And unlike Securifi, TP-Link doesn't offer a Z-Wave dongle for those who want it all.
Samsung's Home Connect mesh router does support both ZigBee and Z-Wave, but as you can see from the benchmark charts, that router's Wi-Fi performance is nothing to write home about. I quizzed a TP-Link product manager about the absence of support for Z-Wave, and he said the platform was more popular with service providers than the DIYers TP-Link is targeting. I don't agree with that assessment, but he did say the company could create a Z-Wave dongle if the market asks for it. And the Deco M9 is outfitted with a USB 2.0 port, identified as "reserved."
Specifications
Samsung Connect Home 3-Pack
Price When Reviewed:
$379.99
But let's talk about the Deco M9 Plus's prowess as a router, first. It's a tri-band 802.11ac model that operates one network on the 2.4GHz frequency band and two networks on the 5GHz frequency band, utilizing the lower channels in the 5GHz spectrum for the first 5GHz network and the upper channels for the second. Under typical circumstances, 100 percent of that third network's bandwidth—867Mbps—is dedicated to data backhaul (information sent back from your devices to your router and gateway).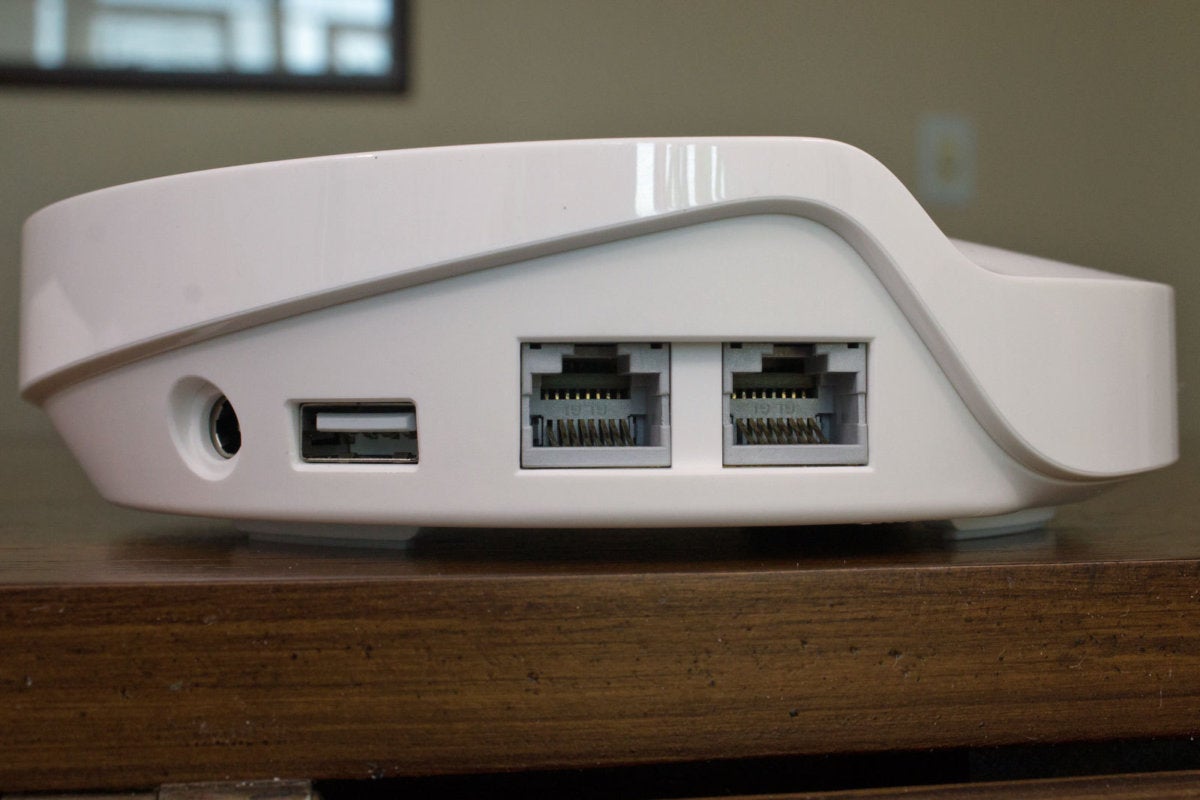 But the Deco M9 melds some of the best features of Netgear's Orbi RBK50 with those of Linksys' tri-band Velop mesh router. The Orbi RBK50 also uses one of its 5GHz networks for dedicated backhaul, but that network supports four 433Mbps spatial streams for total bandwidth of 1,733Mbps. The tri-band Velop dynamically chooses which of its networks should be dedicated to backhaul, but each of its 5GHz networks supports only two 433Mbps spatial streams for total bandwidth of 867Mbps, and its 2.4GHz network offers maximum bandwidth of only 400Mbps.
The Deco M9 can rob Peter to pay Paul: If its dedicated backhaul channel becomes congested, the router can siphon up to 50 percent of the available bandwidth on its second 5GHz network (up to 433Mbps) and up to 50 percent of the bandwidth on its 2.4GHz network (up to 200Mbps) for a combined backhaul capacity of 1,500Mbps—almost as much as the Orbi RBK50.
If your home is wired with ethernet cable in its walls, the Deco M9 can take advantage of that faster infrastructure for backhaul instead. The Velop can do that, too, as can the Orbi (with a firmware update), but both those offerings cost more than what TP-Link is charging for the Deco M9 Plus.
Installation and router performance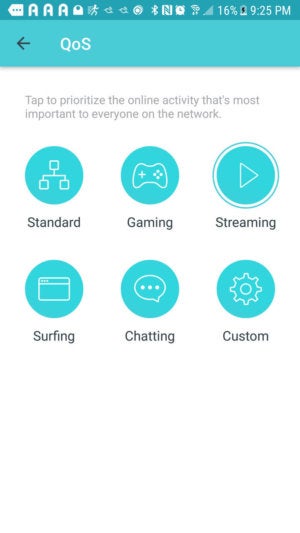 This router was exceptionally easy to set up, thanks to a well-designed app that steps you through the process with clear instructions. If you're setting up a multi-unit system, the first one you configure becomes the router and the remaining units are automatically configured as mesh nodes. You're prompted to choose a name for each node from a location-based list, but you can also come up with custom names if none of those are appropriate. You'll also assign a name to the network as a whole.
The Deco M9 Plus delivered strong benchmark performances at every indoor location I tested. It's TCP throughput of 547Mbps when the client was in close range of the router was exceeded only by the Netgear RBK50 with one satellite. Ditto for its 449Mbps performance when the client was in my great room, 33 feet from the router and separated by an interior wall and several appliances (see my floor plan, below).
TP-Link had to settle for third place when I moved the client into my difficult-to-penetrate home theater, falling behind both the RBK50 and the Linksys Velop, but it once again placed second behind Netgear's router when the client was in the sun room, 65 feet from the router and separated by several insulated walls.
After reviewing the Orbi Outdoor satellite a few months ago, I decided to add four outdoor locations to my benchmarking regimen. Testing is a time-consuming process, so I've only just started on the process of retesting previously reviewed routers outdoors. When I do, I take the opportunity to update them to the latest firmware. This has yielded significant performance gains for the routers I've tested so far, including the Orbi RBK50.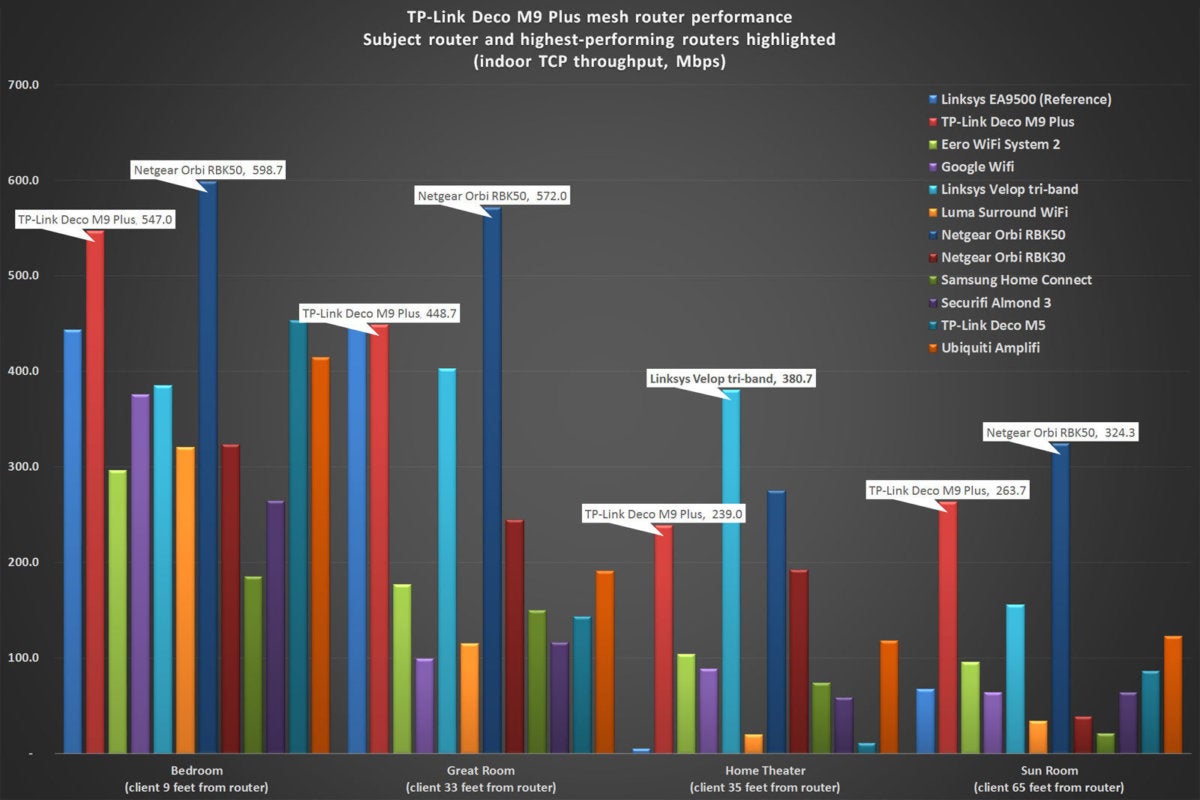 Netgear is unique in offering an outdoor satellite with its Orbi family, so I wasn't surprised to see that combination dominate the benchmarks when the client laptop was placed outdoors. But the Deco M9 delivered very strong second-place finishes at two of the four test locations. A firmware update for the Linksys Velop, on the other hand, enabled it to squeak ahead of Netgear's outdoor satellite in at least one spot.
More on those smart home features
TP-Link says the Deco M9 is compatible with a broad array of smart home devices, ranging from smart light bulbs (GE, OSRAM, Sengled, and others), Nest thermostats and smoke detectors, Kwikset smart deadbolts, sensors and outlets from Securifi and Samsung SmartThings, as well as its own line of smart lighting controls (all of which rely on Wi-Fi, not ZigBee). You'll find a complete list here.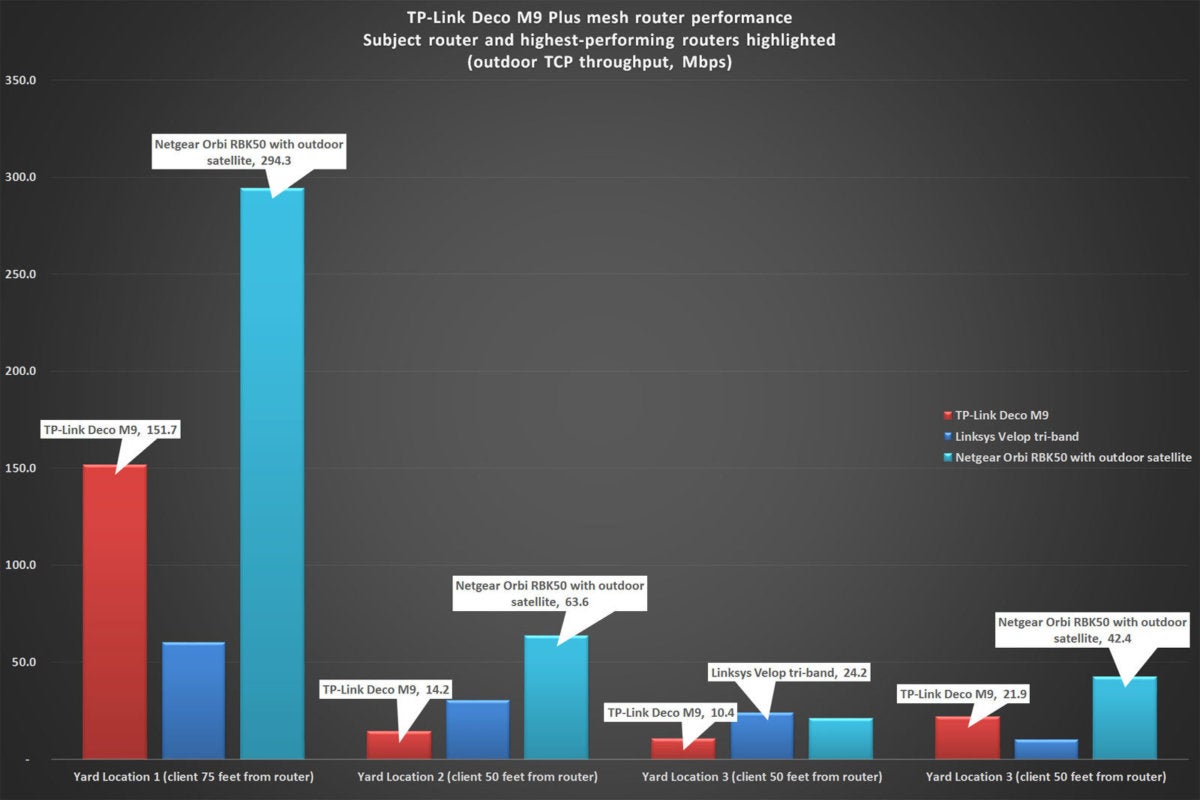 The Deco app allows you to link disparate smart home devices together, regardless of which protocol they use, as long as they're all enrolled to the Deco M9. You can create automation routines based on the day of the week and the time of day, or based on triggers—such as a smart lock being unlocked or a door being opened. You can create more elaborate routines using IFTTT, and there's an Alexa skill that lets you control the Deco M9 using voice commands. You can do things such as turn the nodes' LEDs on and off, enable the guest network, and similar simple commands.
Antivirus protection and parental controls
As with TP-Link's first-generation mesh router, the Deco M5, the M9 Plus features built-in protection from viruses, powered by Trend Micro. There are three elements to this, and each can be enabled or disabled independently. Activating the malicious content filter blocks any client device on your network from visiting websites listed in Trend Micro's database as being unsafe. An intrusion-protection system is designed to protect your home network from external attacks. Should any device become infected, a quarantine system will prevent it from sending sensitive information to clients outside your home network.
A parental controls system enables you to filter content and limit the amount of time individuals can spend online. This works by having you create user profiles for each member of your household. Each profile comes with default rules based on age (child, pre-teen, teen, and adult), content categories, and apps and websites. Children are automatically blocked from accessing adult content, anything related to gambling, and social networks. As you move up in the age groups, you're allowed more discretion (pre-teens, for example, can be blocked from or granted access to social networks, sex education, and games, among other things).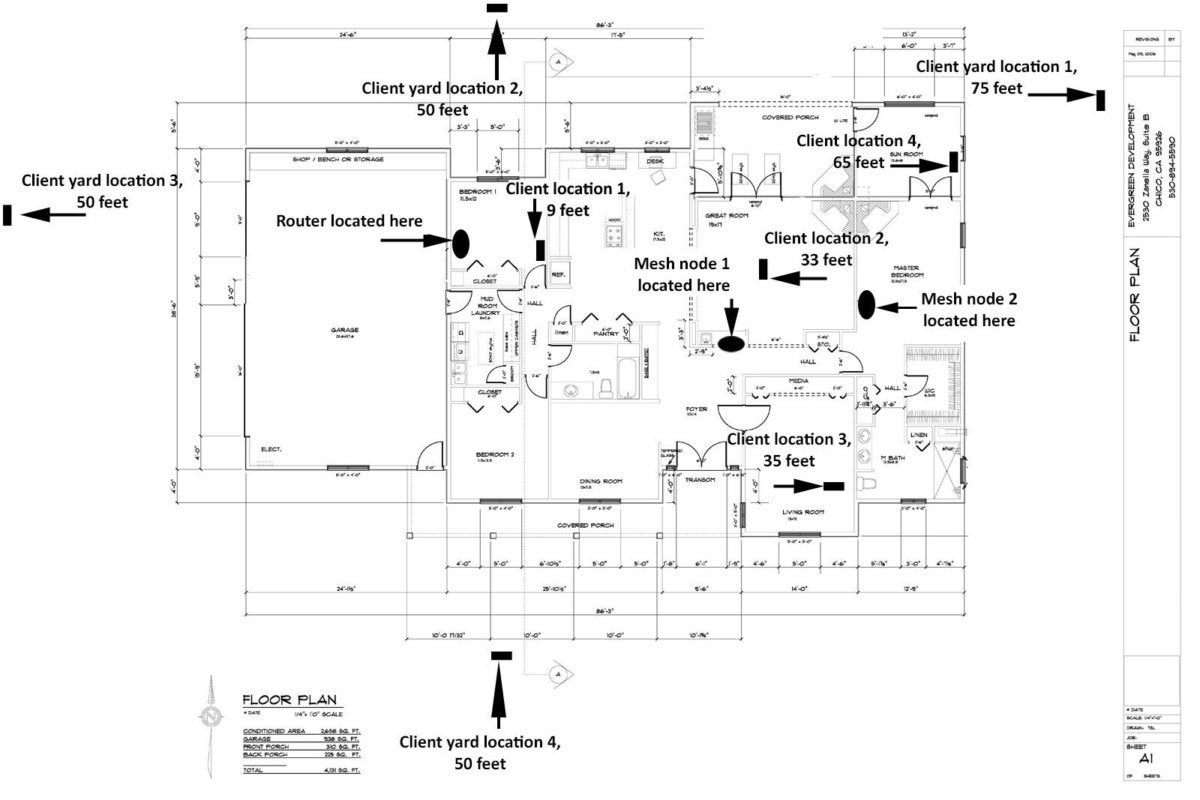 You can also set daily limits on how much time each user is allowed to spend online, with separate limits for Monday through Friday and Saturday and Sunday. And you can schedule separate bed times for school nights and weekends, after which that profile's internet access is automatically blocked. You can also "pause" any user's internet access with one touch.
But as usual, this is where the effectiveness of parental controls breaks down: You must choose the devices that will be assigned to each profile. So it doesn't really matter who is actually using the device: mom and dad will be subject to those controls if they're using an iPad that's been associated with Timmy's profile. It's one thing if you're wealthy enough that every member of the family can have his or her own computer, smartphone, and tablet. In most households, most of those devices are shared amongst the family.
Can it hang with the heavyweights?
As a mesh router, the TP-Link Deco M9 can't touch the Orbi RBK50, and Netgear remains the only game in town if you want a legit outdoor node. But the Deco outperformed the tri-band Linksys Velop in three of the four indoor test locations, and it did the same in the outdoor locations. That's saying something.
If you're interested in just dipping your toes into the smart home pond, the Deco M9 gets you in without a big investment. But you'll outgrow its abilities quickly if you get at all serious on that front, and then you'll have to rebuild from scratch with a more powerful platform. Still, you'll find a lot to like in this box.
As with the Deco M5, the Deco M9 Plus is available in three configurations. The three-pack reviewed here costs $450, although TP-Link says it won't actually be available until later this year. That could be overkill for most homes anyway, as TP-Link says it will cover up to 6,500 square feet. If you don't need that much coverage, a two-pack kit sells for $300 and is said to cover up to 4,500 square feet. Single units are priced at $180 each.
Editors' note: This review was updated with new pricing information shortly after publication. We also corrected the coverage spec for the three-pack (it was previously reported to be 6,000 square feet).
Best Prices Today: TP-link Deco M9 Plus (three pack)