PDF creation is about to become even more convenient within Office apps, thanks to a partnership between Adobe and Microsoft. Unfortunately the pricey subscriptions required make it inconvenient for all except business users. Adobe's updated Scan app, meanwhile, could be the hidden gem among Adobe's new announcements.
Adobe and Microsoft announced an extension of their ongoing collaboration, which began with the Adobe Sign e-signature solution and now adds PDF documents. The agreement calls for the ability to save Word files in the PDF format right from the ribbon within Word, Excel, PowerPoint, OneDrive and SharePoint. Within the latter two applications, Adobe said that you'll also be able to convert PDF documents to editable Office documents.
Converting between PDF and Office formats can be extremely frustrating for the average user, and that frustration is partially responsible for an entire cottage industry of services that promise that they can perform those conversions for you (see PCWorld's comprehensive reviews and ranking of PDF editors, for example). Note that the current version of Word already allows you to save documents as PDFs, though it requires several menu steps. A button on the Ribbon is obviously a lot simpler.
Adobe's vision is to allow Office customers to create PDF files from within Word or PowerPoint, then combine them with Sign to allow a contract to be created, reviewed and confirmed in one fell swoop. It sounds great, but it's a pricey proposition, requiring an Office 365 subscription ($70 per year for Office 365 Personal, on up) and $155.88/year for an Acrobat Standard Document Cloud (DC) subscription. If you want those PDFs to be editable, you'll need to pony up for Acrobat Pro DC, which runs $179.88 per year.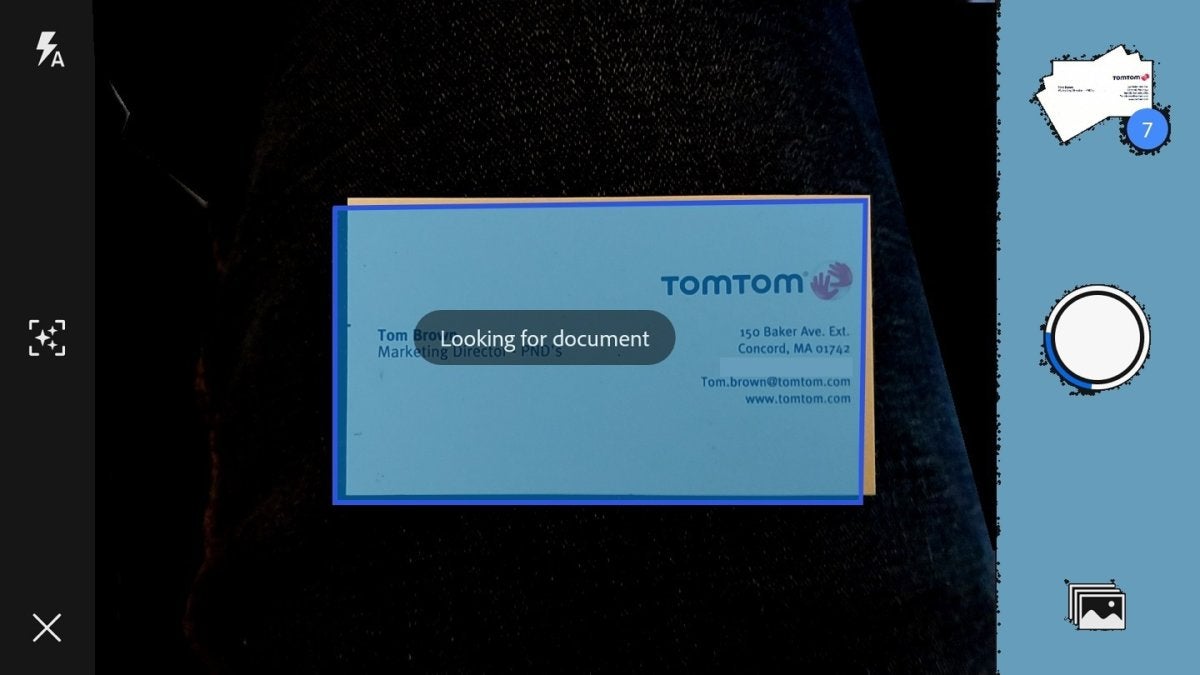 Adobe Acrobat DC is also the foundation for a more practical application: an upgrade to Adobe Scan, a free mobile app for Android and iOS that scans in a receipt or printed sheet of paper or a business card as a PDF. Though other mobile apps (Microsoft's Office Lens, among others) can zoom in and grab a document, Scan reads the business card and uploads the PDF into Acrobat DC—but, more importantly, allows you to export that information to your phone's contact list, and in the proper fields, too. (The exception is the corporate logo, which many OCR readers struggle with.)
It's not clear whether Scan requires an Acrobat DC subscription—in my quick tests, it didn't, and the contacts were saved within my Android phone's contact list. Adobe representatives weren't immediately available to respond to our questions. But the OCR was excellent, assisted by my modern smartphone's high-resolution camera.
What this means to you: It seems a bit ironic that the more practical business app, Scan, is apparently free, while the convenience of PDF integration apparently requires not one but two pricey subscriptions. If your business is willing to foot the bill, however, the ability to go back and forth between Office documents and PDFs just got a little easier.