At a Glance
Expert's Rating
Pros
Upgraded Kaby Lake-R processors
3K display on a par with the competition's
SSD size has increased to 512GB (as tested)
Reinforced keyboard improves the typing experience
Cons
Battery life is still lackluster
Pen holster is an upgrade, but still not as effective as a loop
Still quite expensive
Our Verdict
Lenovo's third-generation ThinkPad X1 Tablet (2018) is one of the best Windows tablets you can buy, boasting a 3K screen, a larger battery, a stiffened keyboard, and more. But check your wallet, because it has a price to match.
Best Prices Today: Lenovo ThinkPad X1 Tablet (2018)
Year in and year out, Lenovo's ThinkPad X1 Tablet ranks consistently among the strongest Windows tablets in the market, despite fluctuations in price and performance. This year, a concerted effort to refresh and update the X1's components elevates the ThinkPad X1 Tablet (3rd Gen) to the top of the heap.
While the review unit Lenovo sent us has the lofty price of $1,547.10 (from Lenovo), the same price as Lenovo's 2017 version of the X1 Tablet, remember that this is built for business users who expect quality and durability. And this year there's now far more bang for your buck. A new 8th-gen Intel quad-core Core processor complements a larger 512GB SSD, a new 3,000×2,000 IPS display, and a larger battery. All four represent upgrades over last year's model. Lenovo also strengthened its structural rigidity of the included, detachable keyboard to improve the typing experience.
The ThinkPad X1 Tablet (3rd Gen) isn't perfect, as battery life is still mediocre. Still, its new capabilities earn it Editor's Choice honors, joining its far more affordable cousin the Lenovo Miix 520 (which has a more consumer-friendly build and price).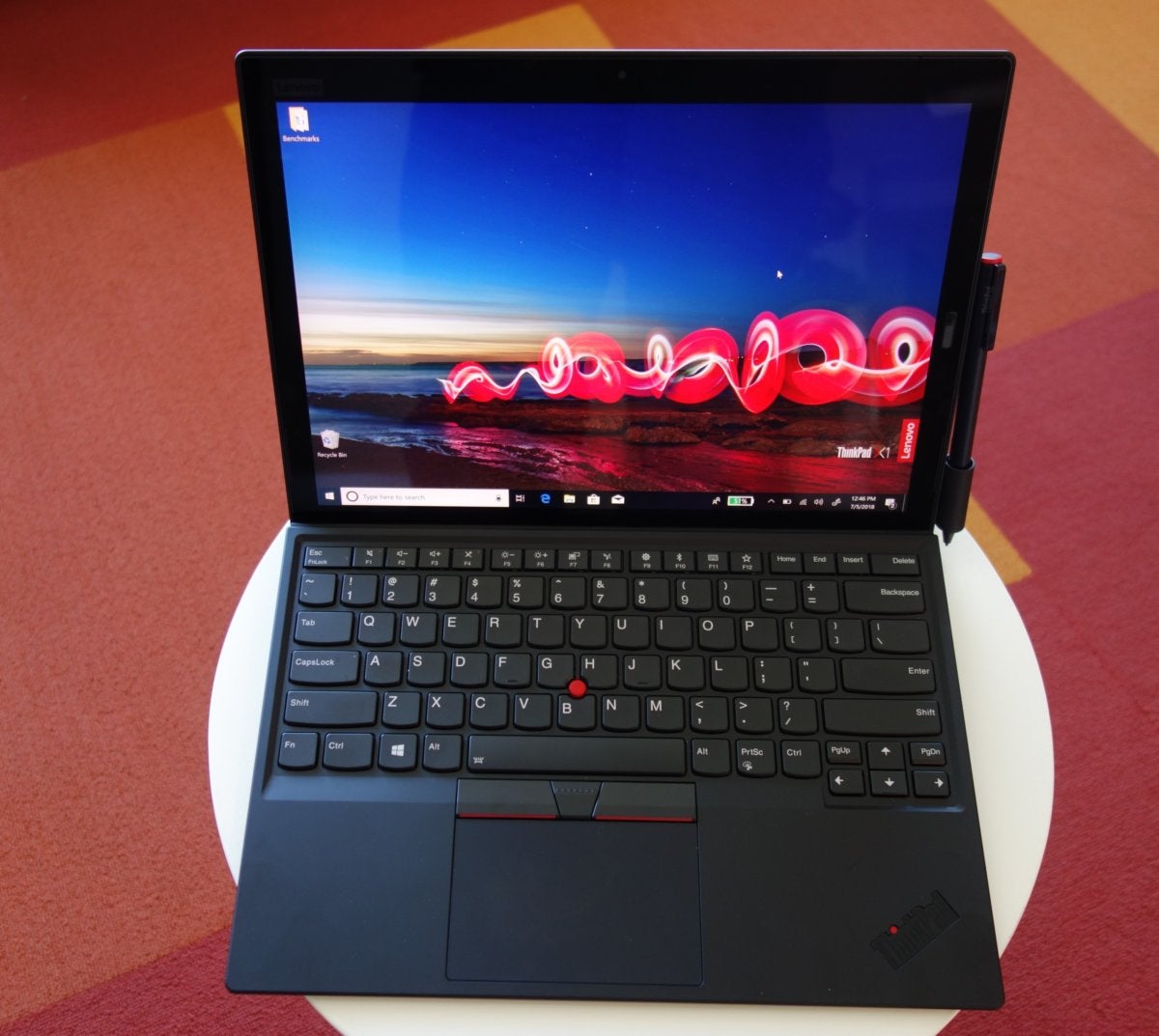 Basic specs
Processor: 1.6GHz Intel Core i5-8250U (Kaby Lake-R)
Memory: 8GB-16GB 1,867MHz LPDDR3 (8GB as tested)
Display: 13-inch IPS (3,000×2000)
Graphics: Intel UHD 620 (Integrated)
Storage: 256GB-1TB PCIe-NVMe M.2 SSD (512GB as tested)
Camera: Front: 2MP, rear: 8MP
Wireless: Intel dual-band 8265 Wireless 802.11ac (2 x 2) & Bluetooth 4.1
Ports: Two USB-C/Thunderbolt 3 (power delivery, DisplayPort, data transfer) ports, nanoSIM card/microSD combo slot, 3.5mm headphone jack, Kensington lock
Battery: 42Wh
Operating system: Windows 10 Pro
Dimensions: 11.96 x 8.88 x 0.35 inches
Weight: 2.76 pounds (Tablet and keyboard), 3.44 pounds (Tablet, keyboard, pen and charger) as measured
Price: $1,719 MSRP; $1,547 as tested, from Lenovo; includes ThinkPad Pro pen and keyboard
Lenovo sells the ThinkPad X1 Tablet (3rd Gen) in three configurations, from $1,410 to $2,369, MSRP; we found a different combination of memory and storage on Amazon, for $2,048.
Lenovo has always leaned on the boxy aesthetic of the original IBM ThinkPad notebooks, and the new X1 Tablet 3rd Gen's magnesium-aluminum construction is no different. Lenovo claims that the tablet has been tested against a dozen MIL-STD 810G tests measuring its ruggedness. Though we didn't repeat those tests, a few drops onto carpet (inadvertent and otherwise) convinced us that it will hold up pretty well.
One of those, where the tablet landed face down from waist height, spurred us to confirm that yes, it uses Corning's Gorilla Glass 4 to protect it. In all, though, we have no concerns with the ThinkPad X1 Tablet's build quality.
One of the goals this latest X1 apparently sought to achieve was parity with its competition, along several axes. One of these is the kickstand, which now reclines the tablet smoothly from nearly vertical to not quite flat (10 degrees or so). Instead of reclining from the bottom, it now reclines from the top, just like every other tablet kickstand in existence. This makes it roughly equivalent in design to Microsoft's Surface Pro (2017).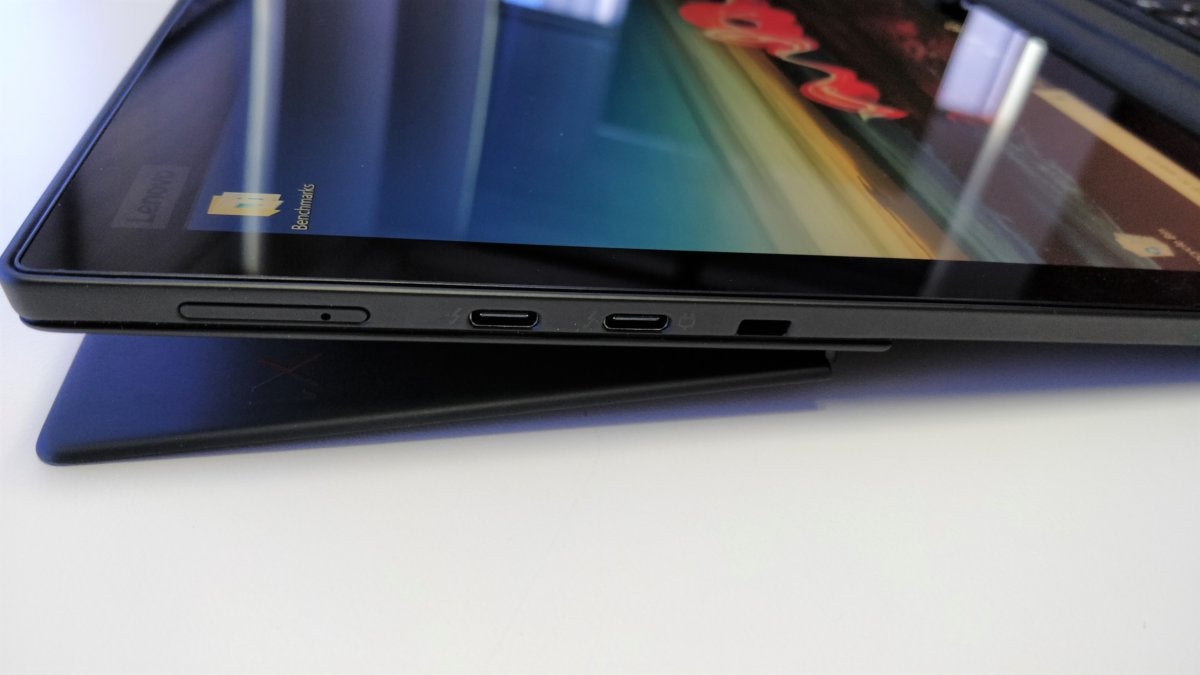 Lenovo did away with the slider switch to release the kickstand, meaning that to recline the tablet you'll just need to crook a finger underneath it. Lenovo also made an interesting, smart choice to slightly round part of the kickstand's outer edge, providing a smoother, more comfortable landing pad as the tablet rests upon your thighs. The microSD card slot under the kickstand has been removed, joining the side-mounted SIM card as a dual-format hybrid slot.
As you unfold the tablet, you're faced with a somewhat thick bezel surrounding the upgraded screen, which houses a fingerprint reader midway up the screen to the right. According to our measurements, the ThinkPad X1 Tablet pumps out 451 nits' worth of luminosity, far more than what you'll need. Below, the included keyboard should be a familiar one to ThinkPad enthusiasts: There's the iconic red pointer TrackPoint nub, as well as the touchpad with its large, red-rimmed buttons just above.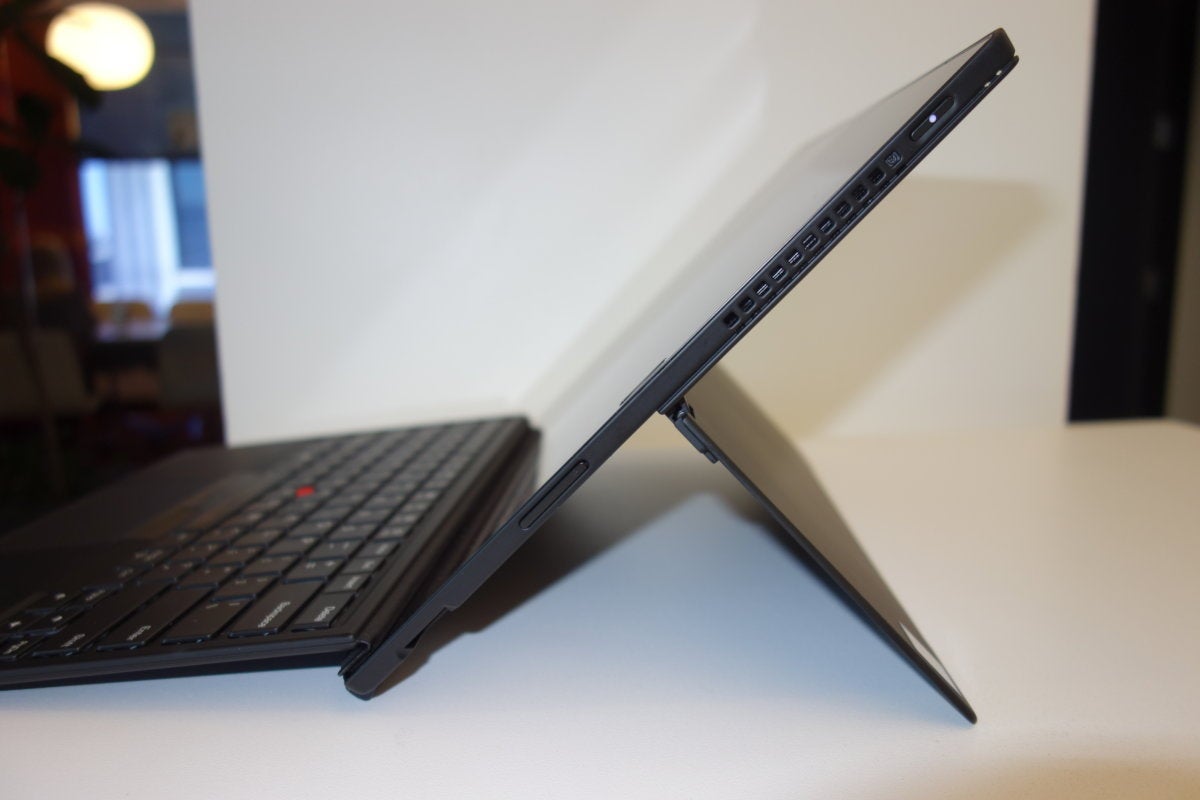 Lenovo hasn't rested on its laurels, however. Lenovo said it made the keyboard stiffer and more resilient, and it does feel like there's less give (or "rebound") while typing than on previous models. Finally, Lenovo also hopped on the connected-PC bandwagon. Though there's no data plan that accompanies the ThinkPad X1 Tablet, there's a SIM slot that doubles as a microSD card holder. If you have an extra SIM lying about, you can add data connectivity to make you more productive on the go.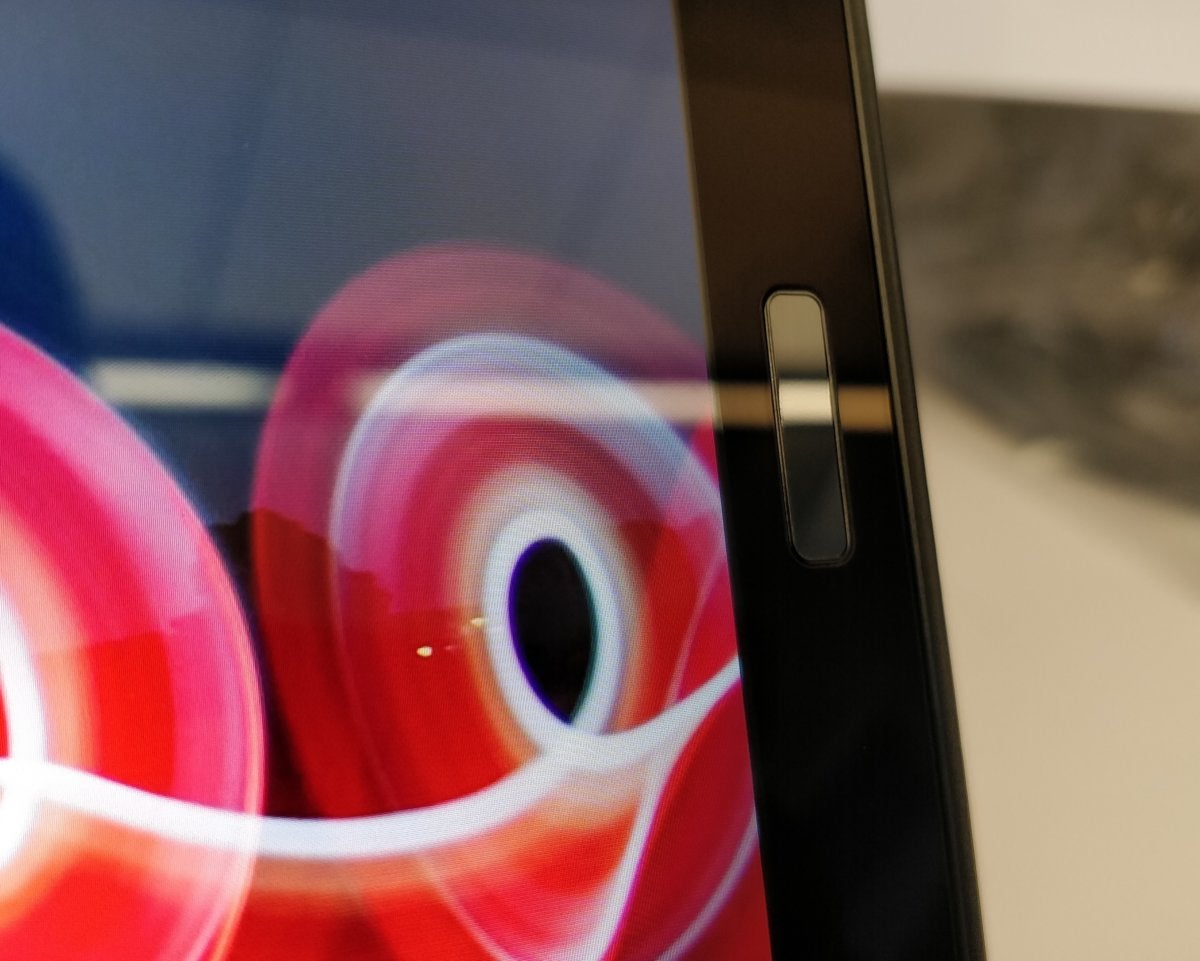 A number of hardware makers have begun shipping utility software that lets you configure and tweak their products to your liking. Lenovo's Vantage utility is excellent. Two hidden features are shown below in this screenshot, which allows you to eliminate one of the typing annoyances listed elsewhere in this review. If you purchase the ThinkPad X1 Tablet, be sure to check it out.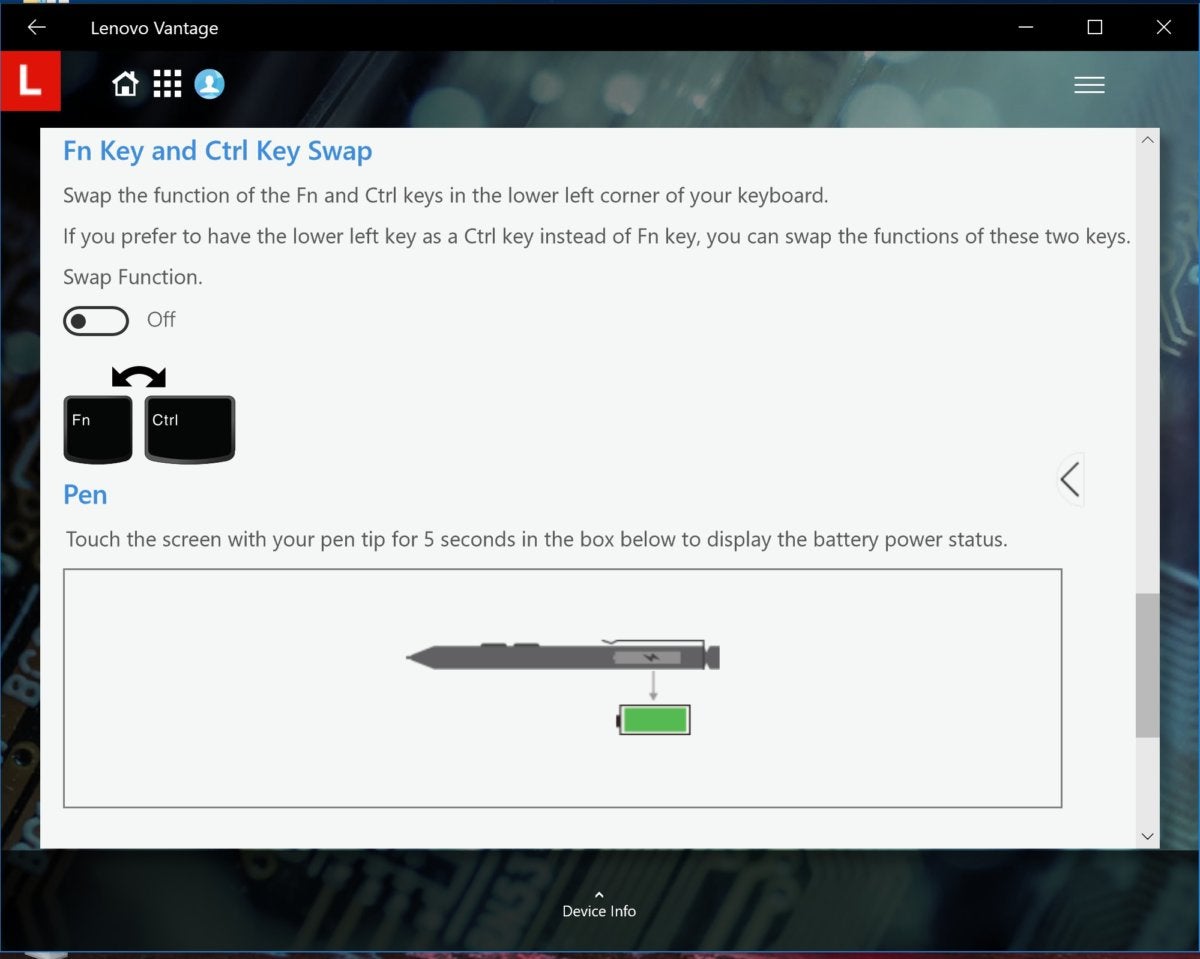 Lenovo bets on a 3K display and USB-C
Finally! Lenovo passed over the 2160×1440 display from the older version and jumped up to the 3000×2000 display used by more and more competitors. Though the IPS display still appears slightly washed-out, the richer color and higher resolution address one of the historically weaker aspects of the ThinkPad X1 tablet lineup.
If the built-in display weren't enough, Lenovo also made a wholesale shift to USB-C ports with Thunderbolt, which can be used to connect external storage or power an external monitor. Lenovo didn't bundle any dongles or other options for backward compatibility, however, so you'll need a dongle or hub to connect legacy USB-A devices.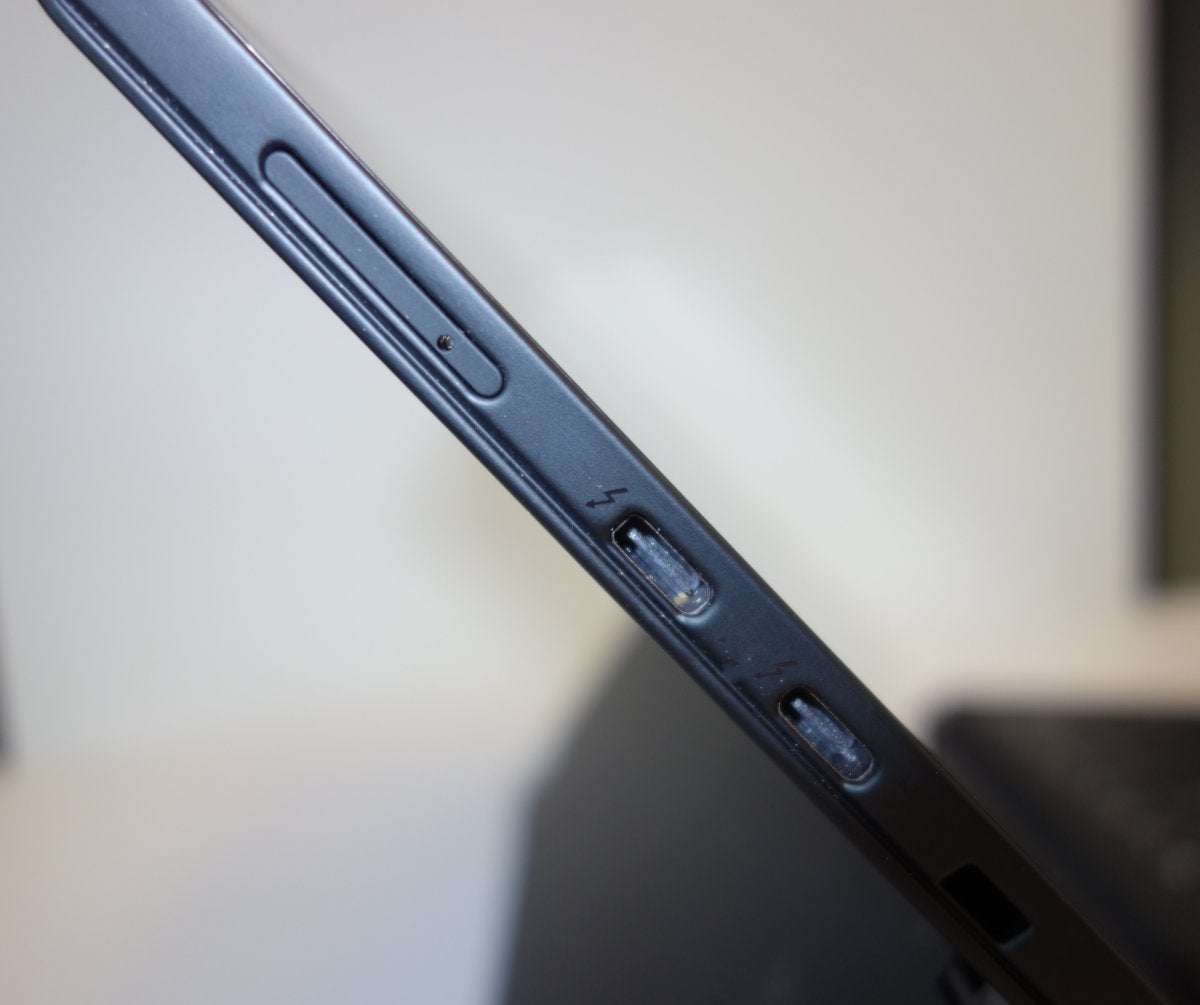 Less noticeable are the addition of new far-field mics that can pick up your voice across the room. Lenovo planned to include the Amazon Alexa assistant app, but it didn't quite make it to our review unit. Nevertheless, if you permit Microsoft's Cortana to respond to "Hey Cortana" while on the lock screen, you can holler across the room to ask questions, set reminders, and perform similar tasks. Those mics seemed to perform about as well as the Harman/Kardon Invoke, another Cortana-powered device. If you choose, you can also turn off the mic entirely via a keyboard function key.
Typing experience has improved
Lenovo's lineup of ThinkPad X1 Tablets has always ranked among the sturdier typing experiences in mobile computing, and the latest ThinkPad X1 Tablet continues the tradition. While I felt that that the last-generation's typing experience took a step back, this generation feels like a return to form. The keys remain a bit stiff for my preferences, but they're broad, offering plenty of landing space for your fingers. The 1.5mm key travel provides satisfactory depth.
Lenovo reinforced this third-generation ThinkPad X1 Tablet's keyboard, and the results are noticeable. I nearly forgot that I was typing on a tablet keyboard. There's still a tiny bit of that soft, hollow sensation we've come to expect, and the keyboard still noticeably flexes. Under your fingers, however, it feels surprisingly close to a laptop's equivalent.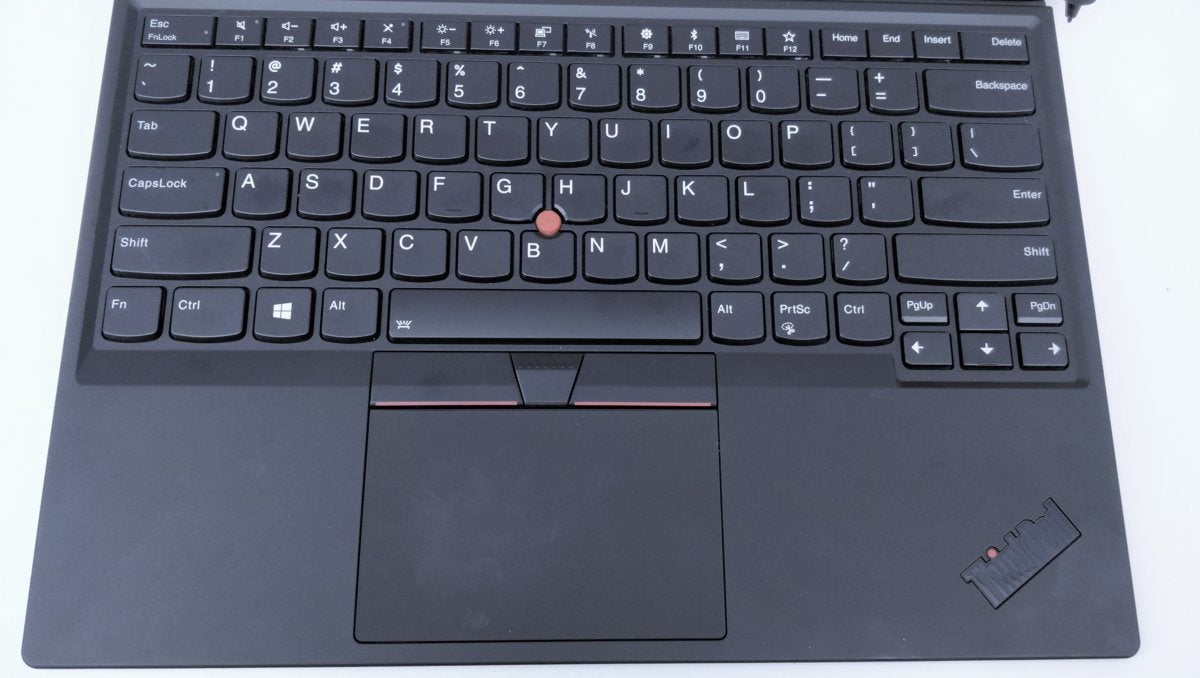 Lenovo stuck to the basics within its function keys, and a set of four large arrow buttons help provide navigation. Just be aware that—as with the prior ThinkPad X1 Tablet—the bottom row of Lenovo's keyboard puts the Function key before the Control key on the left-hand side, and not after, a marked difference from most Microsoft and Logitech keyboards.
Though I used the TrackPoint extensively in earlier days, trackpad have improved enough to make the legendary eraser nub largely irrelevant. Still, the TrackPoint is relatively unobtrusive, and the X1 Tablet's plasticky trackpad isn't quite as good as some of the others I've used. In other words, some users might still want the TrackPoint.
Unfortunately, Lenovo also took one thing away from the ThinkPad X1 Tablet: its suite of cool, though somewhat impractical, add-on hardware modules. Though the projector module was a bit anemic, the barrel battery was a handy addition. The larger 42Wh battery (up from 36Wh in the prior generation) doesn't entirely make up for it.
Longtime ThinkPad users generally pointed to the screen as one of its weak points. With the X1 Tablet, it's the audio that's somewhat mediocre. No one expects the quality of sound emanating from a tablet speaker to be anything special, but it's the volume that's subpar. It's highly recommended that if you do buy the X1 Tablet, dive into the audio settings and turn on the included Dolby Atmos enhancement (Control Panel > Speakers Properties > Dolby Atmos)—you'll be thankful for the levels boost that improves the overall experience. Audio is really best experienced with headphones, however, as with most tablets.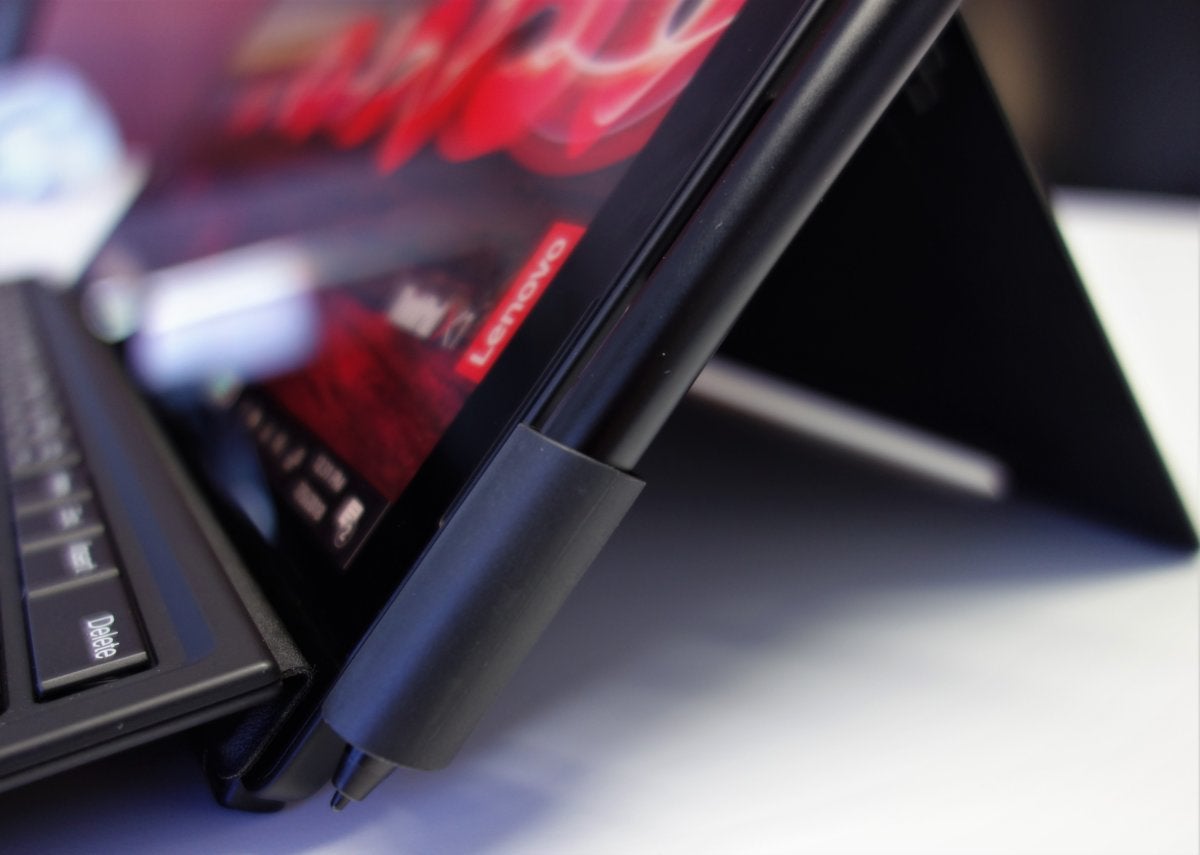 Lenovo's tablet designers seem to have a love-hate relationship with the pen loop, which has appeared both as a passive attachment that could be inserted into the USB-A port, and more recently as a dedicated loop. With this iteration, Lenovo has somewhat thoughtfully compromised: there's no dedicated pen loop built in, but there's a dedicated notch designed specifically for the pen holster. Purists won't have to worry about a pen loop breaking up the clean lines of their tablet, and pen fans won't have to sacrifice an otherwise useful I/O port. But problems can crop up when you transport the tablet, as the holster can snag, and you're forced to put the ThinkPad X1 Tablet into your bag, stylus up.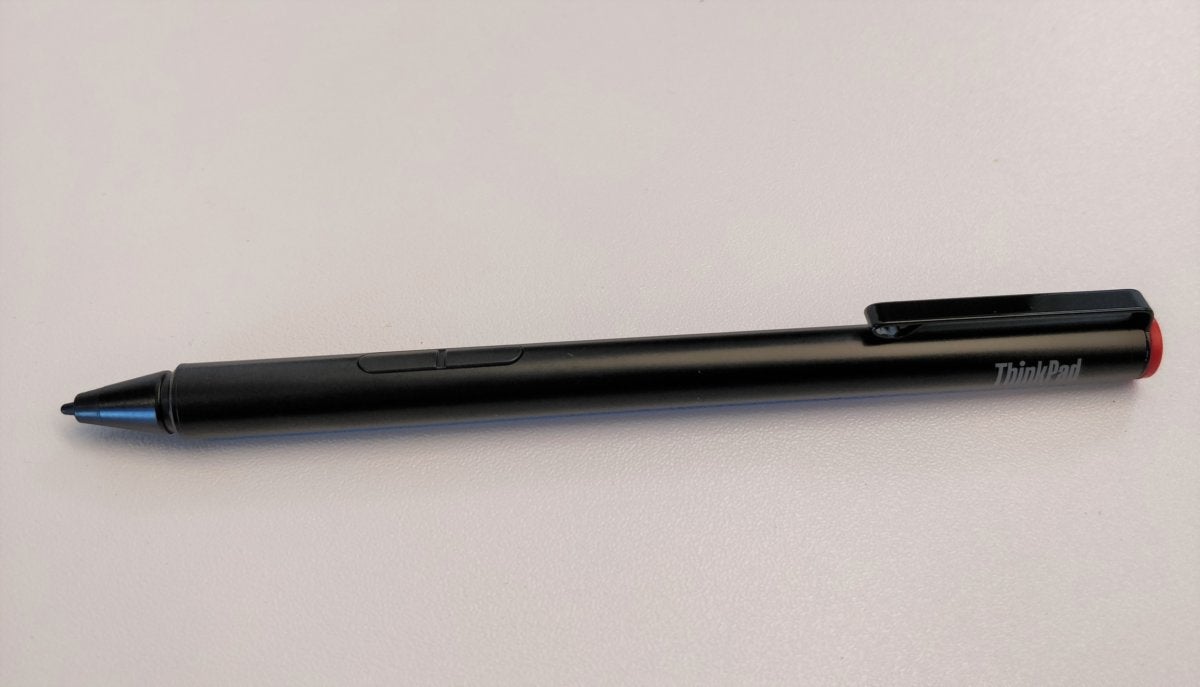 As for the pen, Lenovo's included two-button ThinkPad Pen Pro stylus registers up to 4,096 levels of sensitivity. I preferred Lenovo's Active Pen 2 that shipped with the Miix 520, primarily for its top-mounted button and clean lines, but it lacked the pocket clip that the Pen Pro includes. The Pen Pro is rated at 156 hours of use with its single AAAA battery (included). We didn't test that aspect, but the Pen Pro feels quite comfortable in the hand and inks with just a tiny bit of latency. Lenovo includes a Lenovo Pen Settings app to configure what each button does, rather than using Windows.
Performance: 8th-gen Core chips give it a big boost
Lenovo's ThinkPad X1 Tablet lineup has tended to emphasize productivity, which points toward the PCMark Office test, primarily, for benchmarking. But with this generation, Lenovo has added a more powerful 8th-generation Core processor. We expected that would boost the X1's performance, and generally, we weren't disappointed. Using Intel's Extreme Tuning Utility, we discovered that the ThinkPad X1 Tablet doesn't throttle itself to adhere to thermal limits. But it does artificially limit performance to meet its own power threshold, which has somewhat of the same effect. Some of the benchmark scores, as a result, may be lower than you'd otherwise expect.
We compared the ThinkPad X1 Tablet (3rd Gen) against several recent tablets as well as some notebooks. We also note the respective CPUs and display resolutions, to better gauge how each fares against the other. The ThinkPad X1 Tablet's peppy SSD and 8GB of memory don't hurt, either.
PCMark Work, which measures performance across a range of office tasks, including spreadsheets and word processing. Ironically, this was the test where the ThinkPad fared among the worst, though it was still competent (any score over 2,000 is good).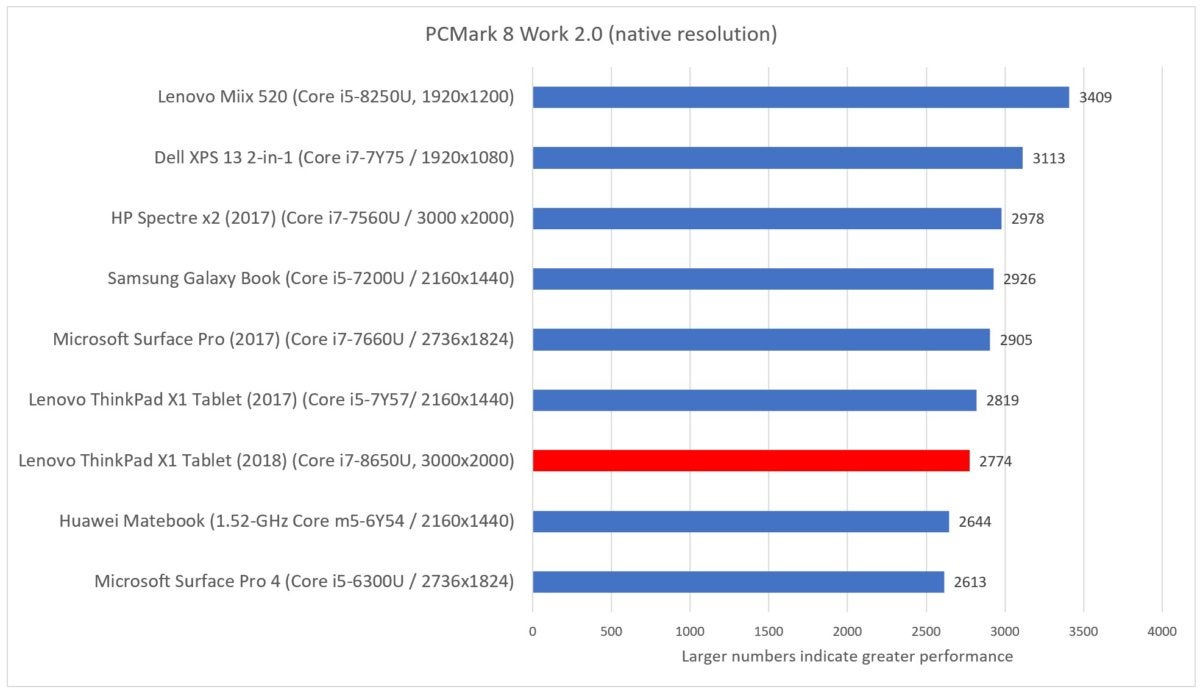 PCMark also recently released PCMark 10, which puts tablets and notebooks through an updated series of home, work, and creative tasks. We don't have enough aggregate scores to compare, but our review unit scored 3,423.
We also compare them using the PCMark Home and Creative benchmarks, which track real-world activities such as web browsing, photo and video editing, and light gaming. Most of the products we test handle these tasks with aplomb, especially those with more advanced integrated GPUs. While the ThinkPad X1 Tablet's Core i5-8250U offers nothing special here, its performance is still satisfactory, though, the ThinkPad X1 Tablet crashed the Creative test twice. It also performed quite well in the Home benchmark.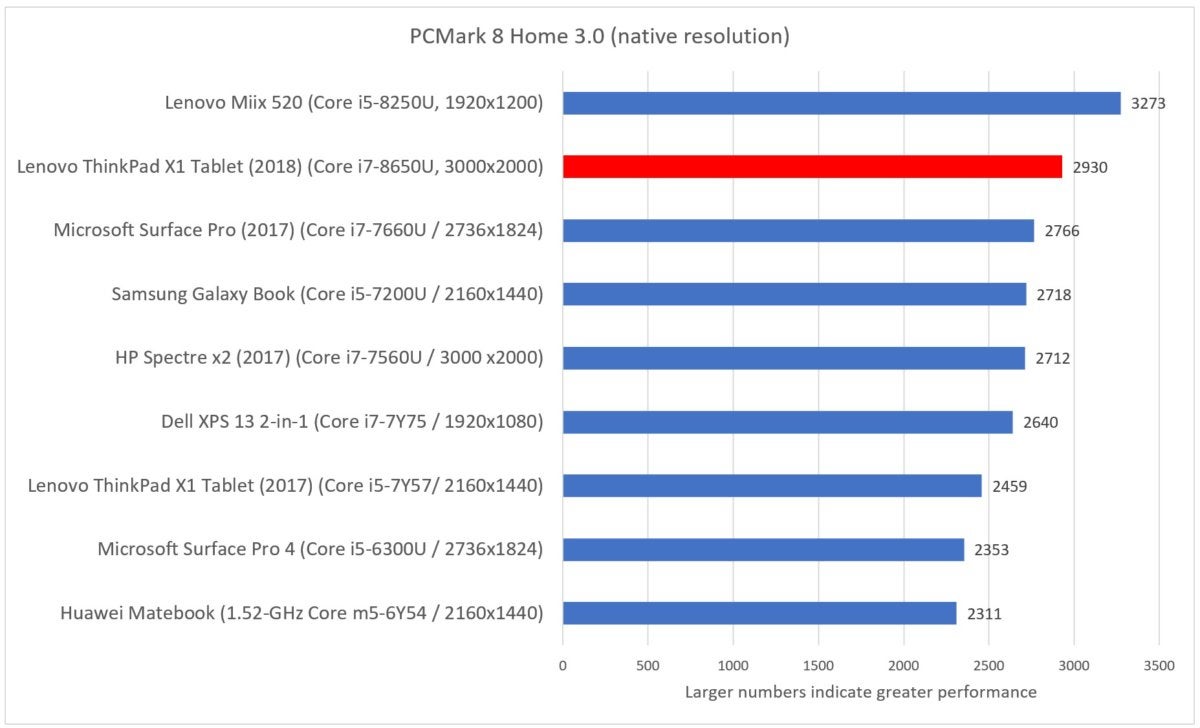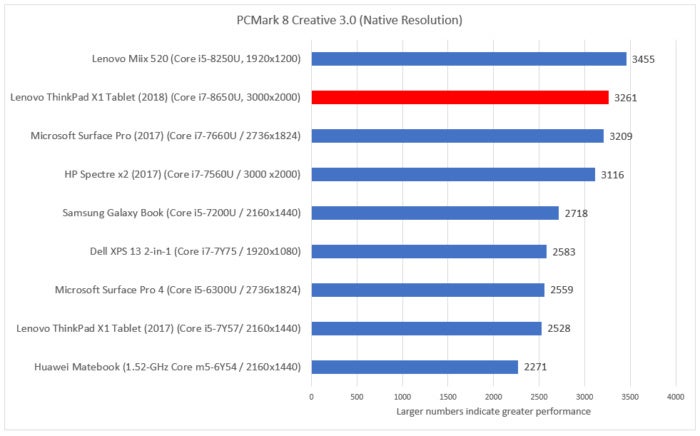 Our testing also includes the Cinebench benchmark, which renders a 2D scene in real time, putting all of the CPU's cores to the test. It requires just a few seconds for the fastest gaming machines to complete, and longer for devices like the ThinkPad X1 Tablet. Against a cohort of older tablets, our review unit's quad-core CPU is bested only by another quad-core CPU—this one in its cousin, the Miix 520.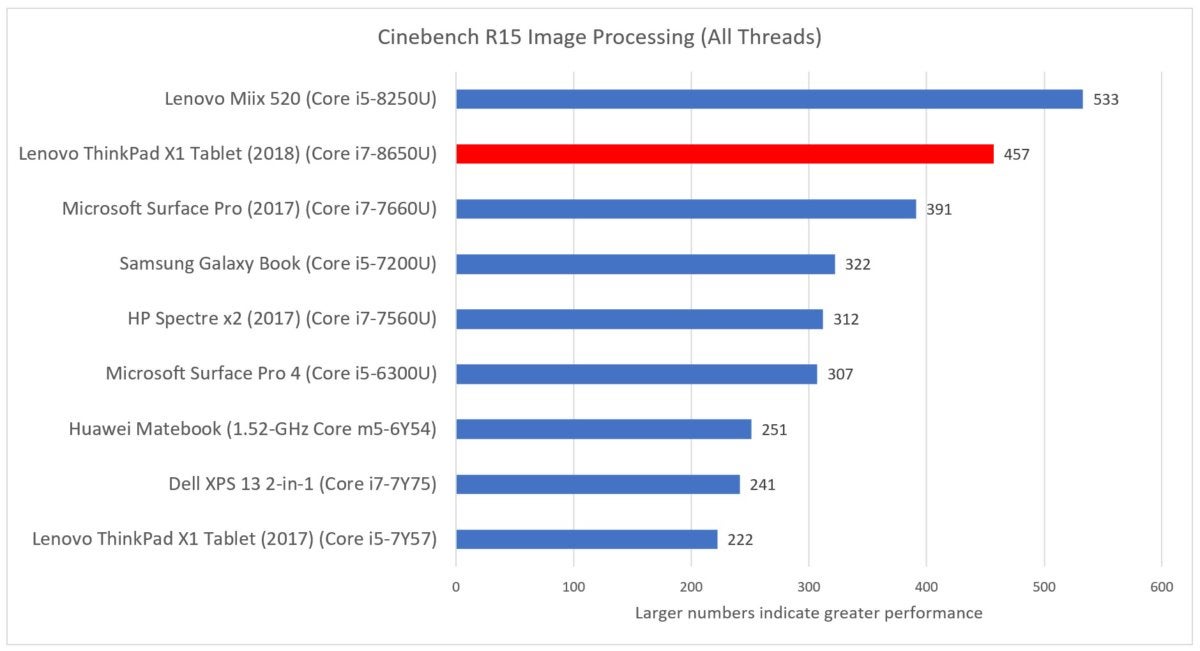 While Cinebench computes how fast the ThinkPad X1 Tablet's CPU cores fare across a short sprint of a test, the HandBrake test is more of a marathon. Using this open-source tool, we calculate how long it takes for a 4K movie to be converted into a format for Android tablets. The X1 does well here, too.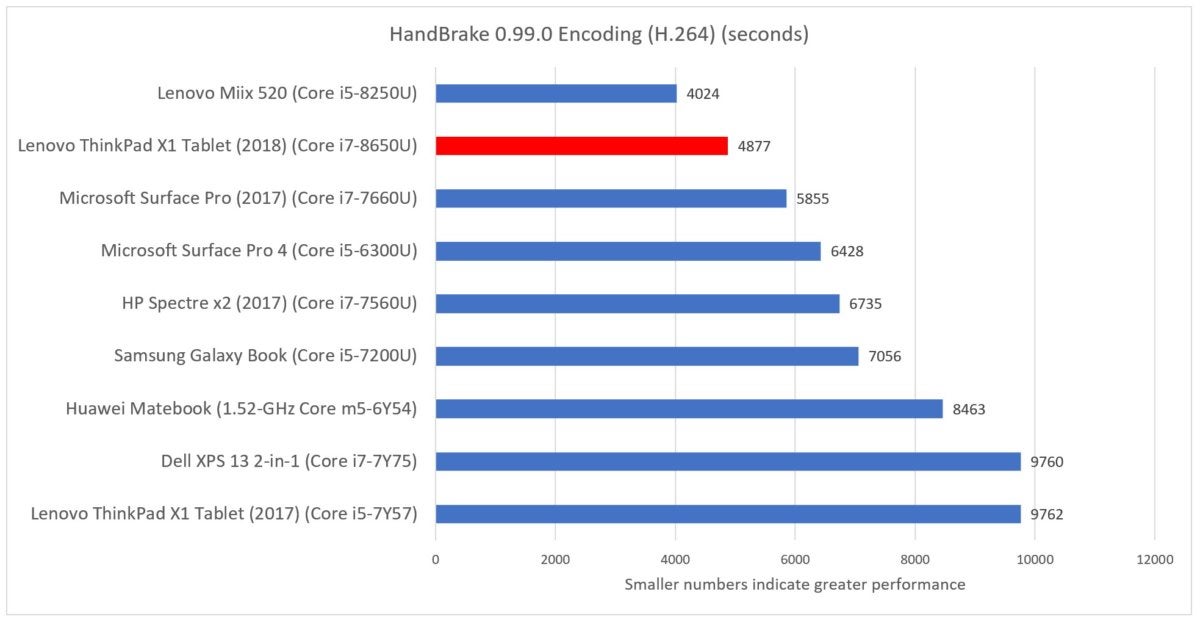 Finally, we look at 3D performance. While we're not expecting much from a productivity-minded tablet, the Futuremark 3DMark test, using the Sky Diver benchmark, proves that Lenovo isn't that far off the mark.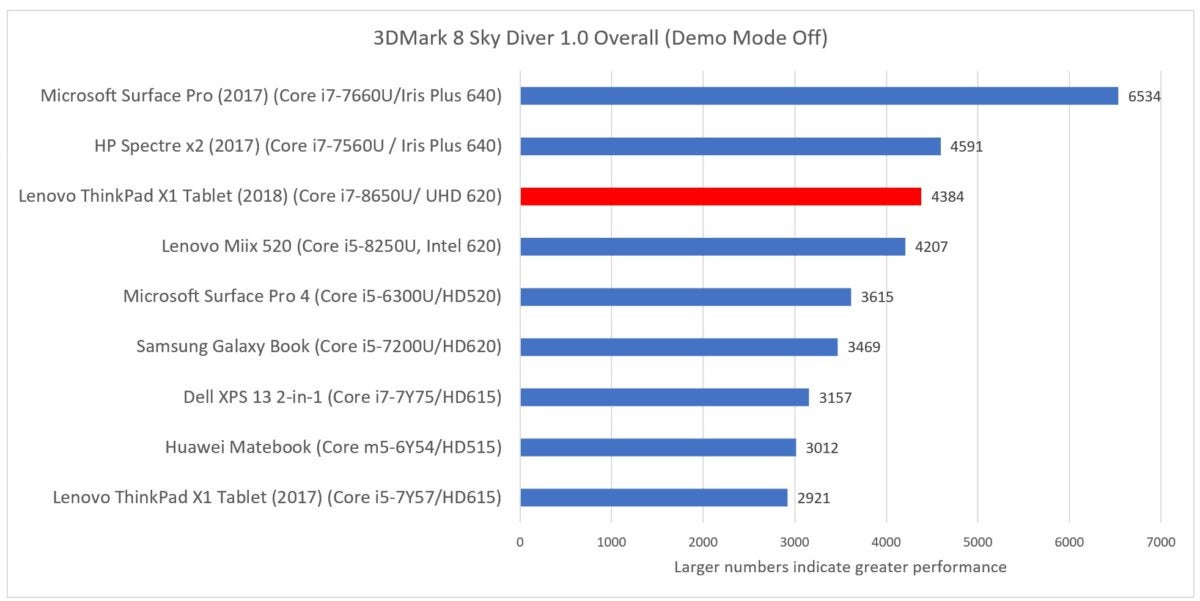 One area in which Lenovo's tablets have struggled is battery life, and unfortunately this is a tradition the ThinkPad X1 Tablet maintains. Its battery life is actually shorter than that of its predecessor, though that almost certainly has something to do with pushing far more pixels in its display.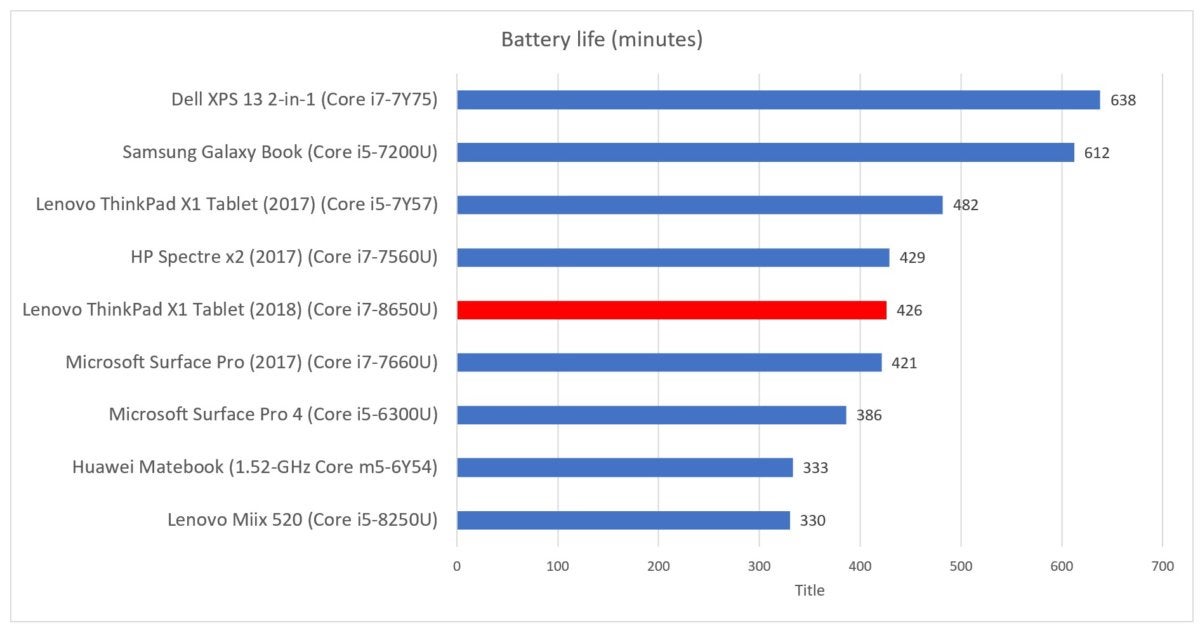 Conclusion: Excellent, though expensive, quality
The Lenovo ThinkPad X1 Tablet (3rd Gen) has shorter battery life and a higher price than we'd like. Still, for the same price as its predecessor, it improves the CPU, display, and other specs that matter, as well as chassis design and even the keyboard. Among pro-level tablets HP's latest Spectre x2 is worth a look, too, as is the slightly cheaper Samsung Galaxy Book. But the ThinkPad X1 Tablet (3rd Gen)'s the strongest overall, and the one to earn an Editors' Choice.
Best Prices Today: Lenovo ThinkPad X1 Tablet (2018)