At a Glance
Expert's Rating
Pros
Impressive graphics performance for the price
Boasts Coffee Lake Core i5 CPU with Hyper-Threading
Comfy keyboard with above-average speakers
Cons
Bulky and heavy
Middling battery life
Relatively dim, non-touch display
Falls short of 60-fps visuals at maxed graphics settings
Our Verdict
It's big and heavy, with so-so battery life and a fairly dim screen, but if you're shopping for a gaming laptop that handle AAA titles without breaking the bank, the $750 Coffee Lake-powered Acer Nitro 5 delivers the goods.
Best Prices Today: Acer Nitro 5 AN515-53-52FA (Core i5-8300H, 1TB HDD)
Acer's Nitro 5 gaming laptop says you can have a modest budget of $800 or less and get a decent amount of horsepower for playing AAA games. While most of the Nitro 5's parts are midrange at best, it takes things up a notch with its new Coffee Lake CPU, offering solid mobile gaming performance in an affordable, if somewhat hefty package.
Gamers who insist on maxing out their graphics will have to settle for middling frame rates on the Acer Nitro 5, and battery life is on the short side. But even with those caveats, the Nitro 5 is a good value.
Note: This review is part of our best laptops roundup. Go there for details about competing products and how we tested them.
Nitro 5 specifications and price
We tested the $750 version of the Acer Nitro 5 (Model AN515-53-52FA), which comes with an Intel Core i5-8300H processor and 8GB of RAM, a 15.6-inch FHD display, Nvidia GeForce GTX 1050 graphics with 4GB of dedicated GDDR5 VRAM, and a 1TB 7,200rpm SATA hard drive.
The Coffee Lake CPU that powers the Nitro 5 marks the first Core i5 chip to boast Hyper-Threading, a feature that serves up two threads per processor core. This allows the quad-core i5-8300H to deliver eight threads of processing power. While few current games take advantage of Hyper-Threading (a feature that was formerly found only in Core i7 CPUs), it'll still come in handy for multitasking gamers who (for example) want to stream while they shoot. (Want to learn more? Check out our story on the best CPUs for laptops.)
While the Nitro 5's Coffee Lake Core i5 CPU qualifies as cutting-edge, its GTX 1050 graphics card—while by no means a slouch—sits near the bottom of Nvidia's GeForce 10 Series line. As we'll see in a bit, that means crushing gamers' dreams of silky-smooth frame rates at Ultra settings. Still, bargain hunters who can live with something closer to 30 fps can crank up their graphics settings all the way. See our story on how to choose a gaming laptop GPU to learn more about choosing this essential part.
Mentioned in this article
Nitro 5 AN515-51-55WL
Price When Reviewed:
$799.99
There's some good news if your budget can stretch a bit more, too. For about $100 more, you can step up to a model (specifically, the AN515-51-55WL) with GTX 1050 Ti graphics and a 256GB solid-state drive, plus a 2.5-inch bracket, a SATA cable, and enough screws to install a second drive. Nothing against the budget model we've tested, but as you'll see in our performance section, moving up to a GTX 1050 Ti would make a noticeable difference in the Nitro 5's gaming prowess.
Design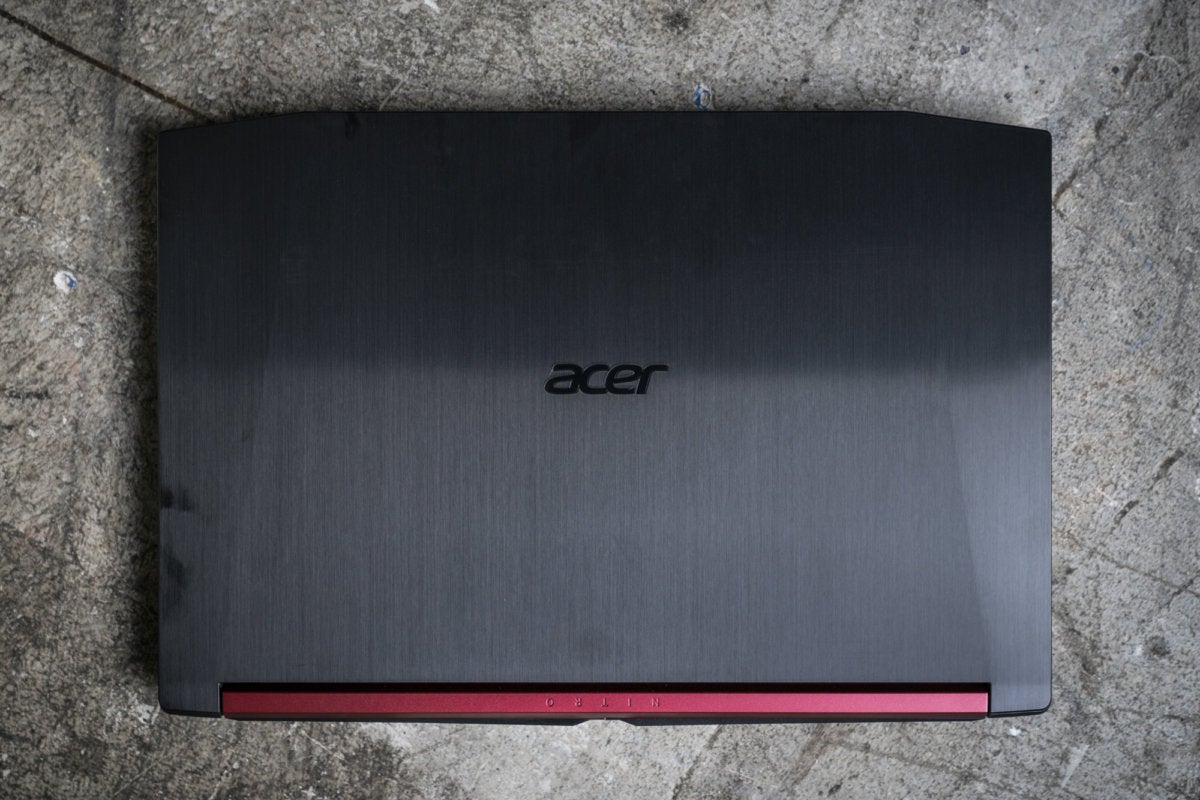 There's nothing small about Acer's Nitro 5 budget gaming laptops, and this new Coffee Lake version is no exception. Measuring a fairly bulky 15.4 x 10.5 x 1 inches and tilting the scales at a hefty 5.4 pounds, the Nitro 5 barely squeezes into my 15-inch laptop backpack. It's as heavy as it looks, too, although, to be fair, that's more in comparison to a mainstream laptop than to a gaming laptop, where hefty is the norm. Pack in the charging cord and power brick (and yes, you'll need them, given the Nitro 5's relatively meager battery life), and you'll wind up with a more than 6.5 pounds of hardware to lug around.
Hulking though it is, the Nitro 5 manages to look reasonably sleek thanks to the brushed finish on its lid, its crimson hinge and matching backlit keyboard, complete with highlighted WASD keys. While it's quite an eye-catcher compared to business-minded laptops, the Nitro 5 is actually a bit low-key as far as gaming laptops go.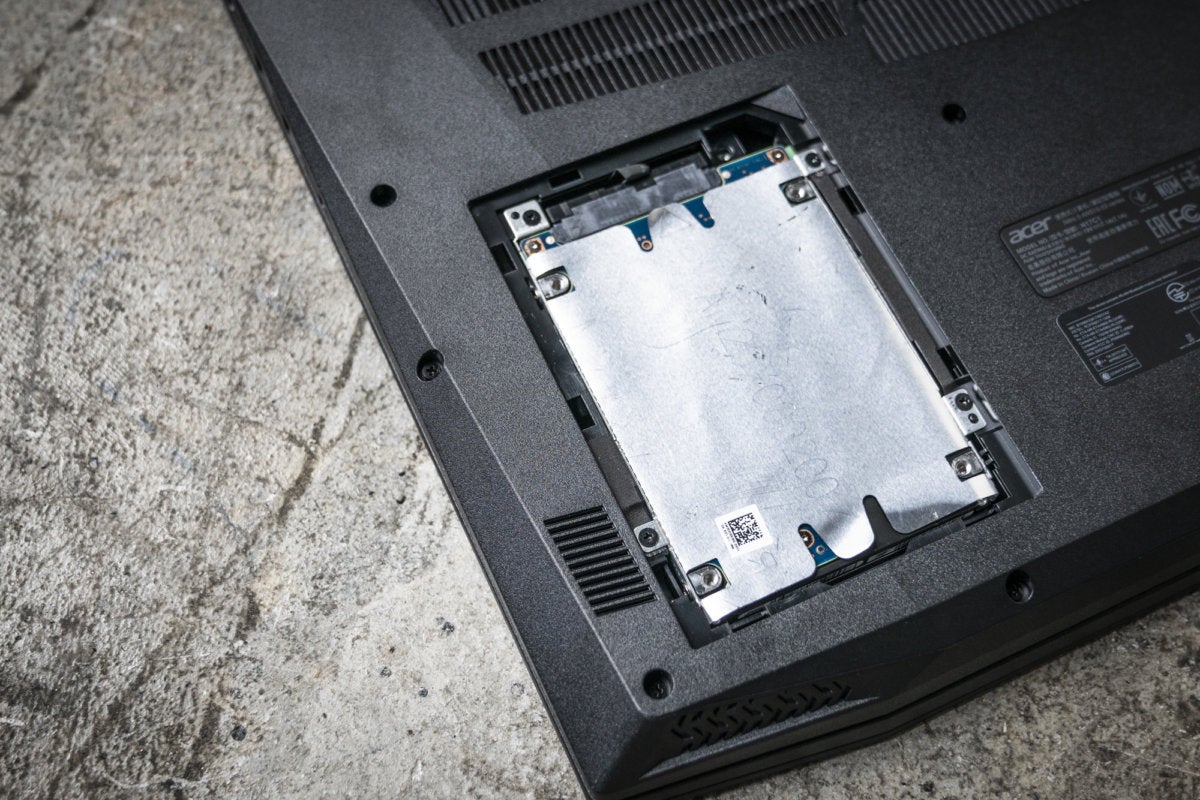 Flip the Nitro 5 on its back and you'll find a pair of removable panels. One is for the drive bay (there's room for only one drive, meaning you'll have to replace the existing drive to upgrade your storage), and a second for upgrading the RAM. You can open each panel by loosening a single screw and pulling on a thumb tab.
Display
The Nitro 5's 15.6-inch, 1920×1080-pixel display looks relatively sharp and vivid given the laptop's budget price. Measuring just 251 nits (or calendas), the non-touch display is somewhat dim, just barely exceeding our minimum standard for comfortable indoor viewing. In other words, good luck making out the action if you're gaming near a bright window or outdoors.
Viewing angles on the Nitro 5's IPS panel were fine, if not particularly awe-inspiring. There's no evidence of inverted colors when viewing the matted display from extreme angles, as we've seen on some cheaper laptops. That said, the screen dims noticeably when viewed from the side, starting at about 50 degrees or so. Looking from above or below, the screen is at its dimmest when viewed from about 45 degrees, before brightening a tad as we edge closer to 90 degrees.
Keyboard, trackpad, speakers & extras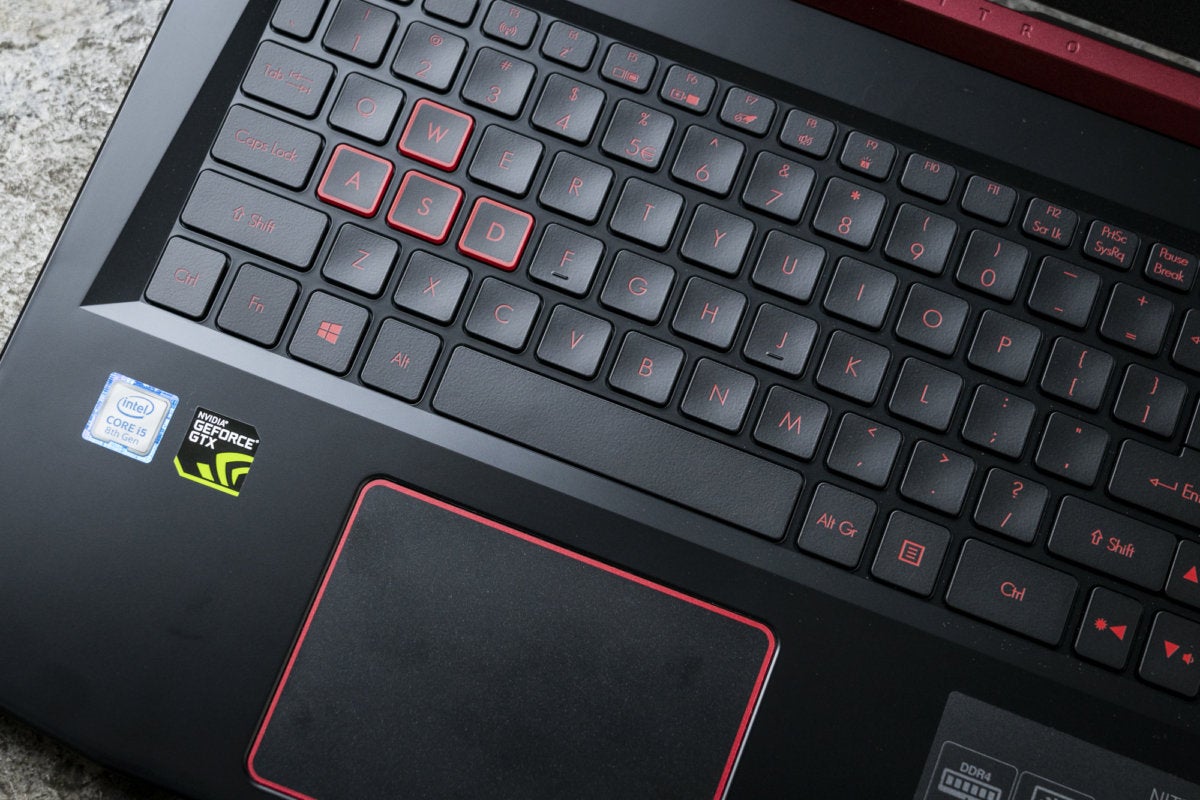 The Acer Nitro 5's keyboard feels solid and snappy, with a tactile bump in the middle of each keystroke and a satisfying, springy rebound. The slightly concave keys boast decent travel for a laptop and discovery is relatively easy, but the keyboard would feel even roomier had Acer dispensed with the 10-key numeric keypad. Indeed, the arrow keys look needlessly squished thanks to the dedicated keypad, which seems out of place on a gaming-centric laptop like this one.
The Nitro 5's mid-sized trackpad sits a little left of center, directly below the main keyboard. The trackpad requires a fair amount of pressure to click, and I also noticed a few accidental inputs as my palms grazed the trackpad while typing. Given that most gamers will prefer using a mouse, my trackpad quibbles shouldn't be much of a problem for the Nitro 5's core audience.
The Nitro 5's built-in speakers are surprisingly good for a budget gaming laptop, boasting relatively robust, dynamic sound—nothing a set of dedicated speakers couldn't do better, mind you, but not bad compared to the tinny audio you commonly get from laptop speakers. My usual test tracks, including "Live and Let Die" by Paul McCartney and Wings, along with Mozart's Symphony No. 26, sounded detailed and roomy, with a slight hint of bass. I was also pleased by the delicate crunch of snow and ambient forest sounds in Rise of the Tomb Raider, as well as the glorious cacophony of exploding demons in Diablo 3. You can sweeten the audio with Dolby sound processing as well as crank up the volume to impressively loud levels, handy for drowning out the Nitro 5's roaring fans.
The Nitro 5's 720p webcam videos look expectedly soft and grainy, but it's still serviceable for video chat.
Unfortunately, the Nitro 5 lacks a fingerprint sensor for signing in with your fingertip, nor does it include an IR camera for facial recognition.
Ports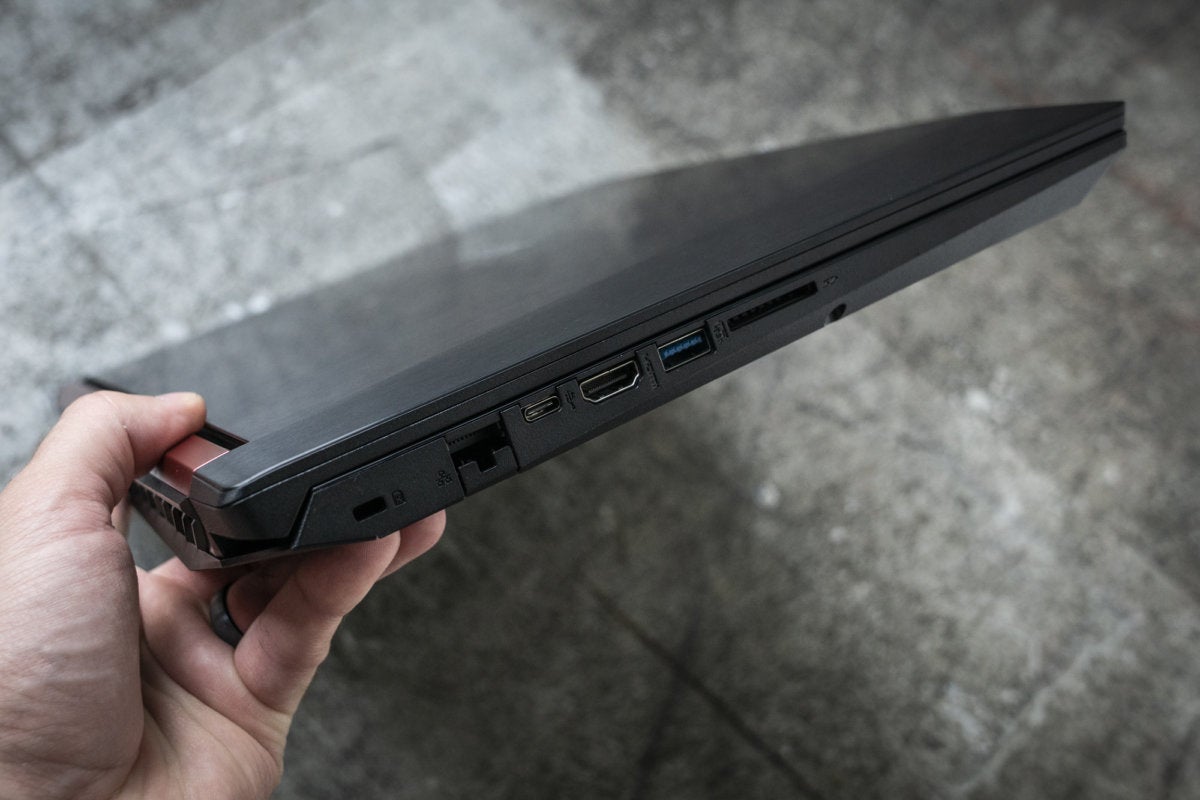 The Nitro 5 comes with a decent selection of ports for a budget gaming laptop, starting on the left side with ethernet, USB 3.1 Type C Gen. 1 (up to 5Gbps), USB 3.0 Type A (with power-off USB charging), a full HDMI 2.0 port, and an SD card reader. Also on the left side: a Kensington security lock.
On the right, you'll find a barrel-shaped charging port, a pair of USB 2.0 ports, and a combo audio jack.
We would have preferred more USB 3.0 ports and maybe a Thunderbolt 3 port or two, but again, the Nitro 5's port lineup isn't bad considering its sub-$800 price tag.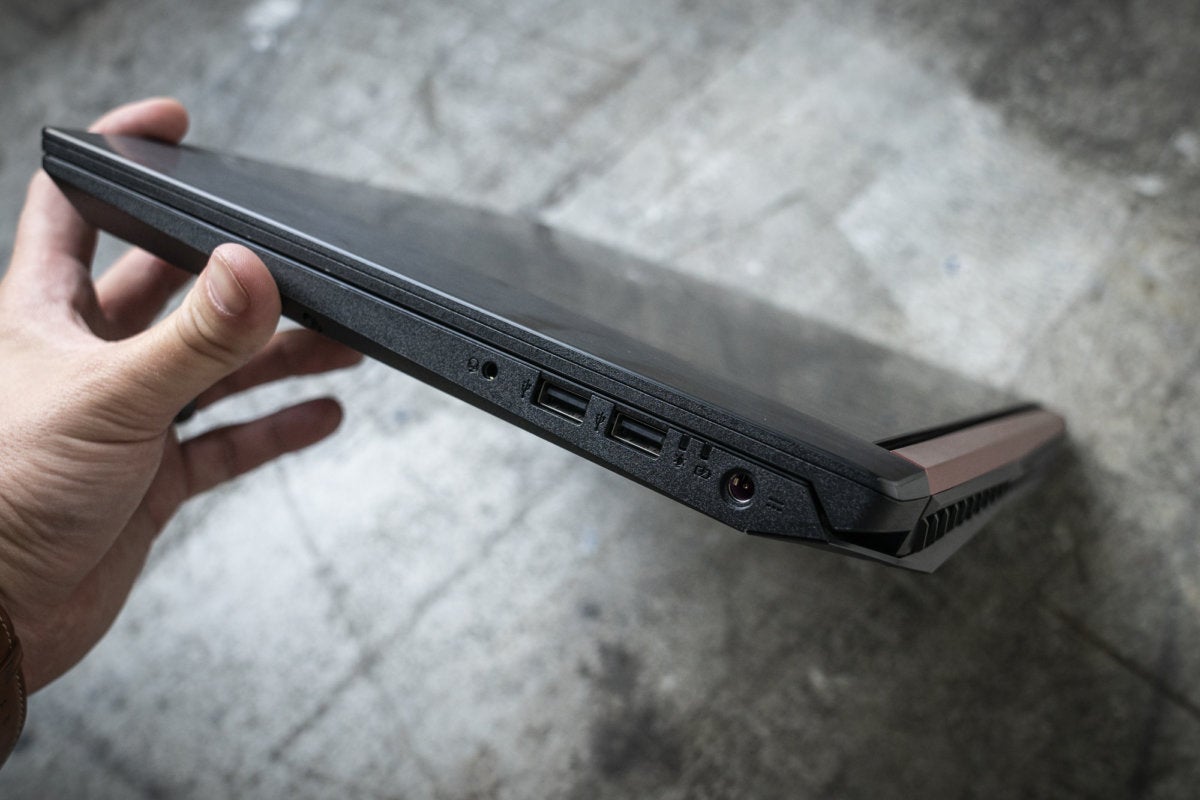 General performance
When it comes to a $750 gaming laptop like the Acer Nitro 5, you need to manage your expectations. Its performance was competent or better in our gaming-focused tests, but it hung back noticeably in some situations, most likely because of thermal throttling. You should still enjoy speedy productivity and multitasking, and max-settings gaming, provided you can settle for 30-fps visuals. Oh, and keep that charging cable handy.
Cinebench R15
We start with Maxon's Cinebench, which tests a CPU's raw power—and the more threads, the better.
Here's a chance for the Nitro 5's 4-core, 8-thread i5 Coffee Lake processor to shine. In the single-threaded test, it jumps right into the mix with Core i7 CPUs and easily bests pre-Coffee Lake Core i5 chips. This is a good indication that it'll perform just fine on most mainstream applications and games.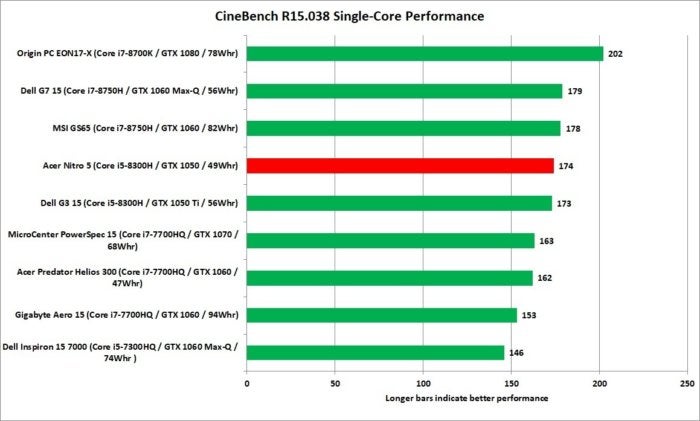 The story changes when we run Cinebench in multi-threaded mode. The laptops with 6-core, 12-thread CPUs get to strut their stuff, leaving all the quad-core chips jostling for second place. The Acer Nitro 5 lags behind its peers, with only a 7th-gen Core i5 laptop bringing up the rear. Just remember that there still aren't many applications that support multi-threaded CPUs, so the score here doesn't affect how most people will experience the Nitro 5.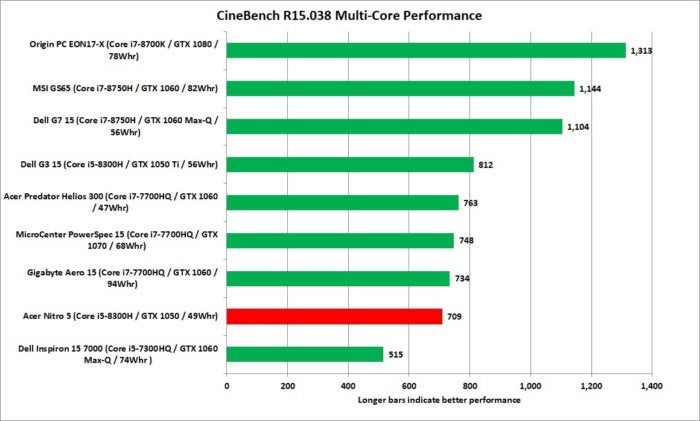 HandBrake
After Cinebench's sprint, we send the CPUs on a marathon. The free HandBrake utility lets us measure how well the CPU performs over time with the intensive task of converting a 40GB video file into Android tablet format.
Dual-core laptop processors often need more than 6,000 seconds (an hour and 40 minutes) to complete our Handbrake benchmark. The fastest mobile quad-core CPUs can finish in fewer than 3,000 seconds (about 50 minutes, under an hour).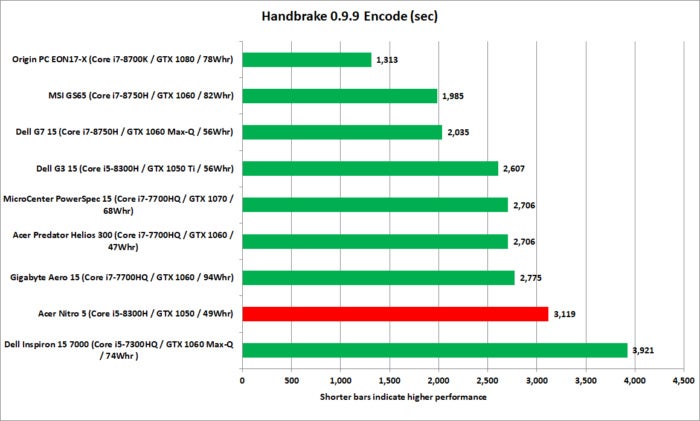 The Nitro 5's Handbrake score of 3,119 seconds, or a little less than 60 minutes, is respectable for a quad-core system. Frankly, we were expecting a little more from this new Coffee Lake-era mobile performance chip. Our guess is that the Nitro 5 taps the brakes on performance to keep things cool under the hood.
(Incidentally, users who want to tinker with the Nitro 5's cooling fans can do so with NitroSense, an Acer utility that comes with a "CoolBoost" mode that ups the maximum fan speeds.)
Gaming performance
The Acer Nitro 5's gaming performance is dictated by its lower-end Nvidia GeForce GTX 1050 graphics card, and its benchmark results fell right in line with our expectations. In short, while the Nitro 5 delivers frame rates comfortably north of 30 fps at "Ultra" settings for typical AAA games, you'll need to downshift your graphics settings to boost those frame rates into the 60-fps range.
3DMark's Fire Strike Extreme is a synthetic benchmark that focuses on pure GPU performance. The Nitro 5's score of 5,476 is actually decent. The reason it's at the bottom of this chart, is because every other laptop shown has a GTX 1050 Ti or better.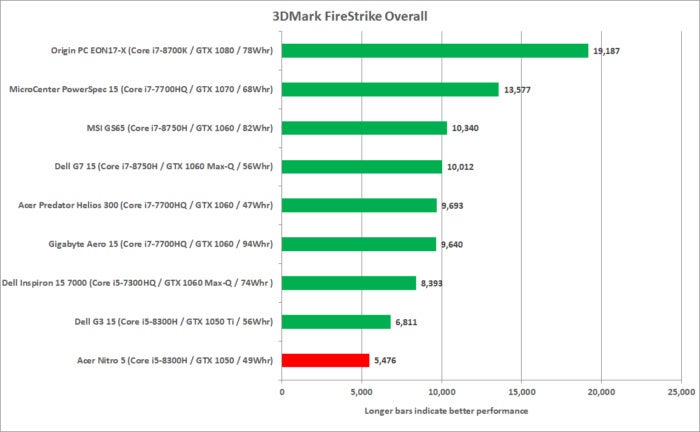 We're not trying to make the Nitro 5 look bad. Compared to other GTX 1050 laptops, like the i7-7700HQ-powered Dell XPS 15, the Nitro 5 ends up looking pretty good. We're just showing the trade-off of going with a lower-end GPU in a bargain gaming laptop.
Moving on to some actual games, we first tested the Acer Nitro 5 with the oldie-but-goodie Tomb Raider at its Ultimate graphics preset, with the display set at 1920×1080 (and V-Sync off). The Nitro 5's GPU may be at the bottom of this chart, but that's still logging a very good 53.7 frames per second.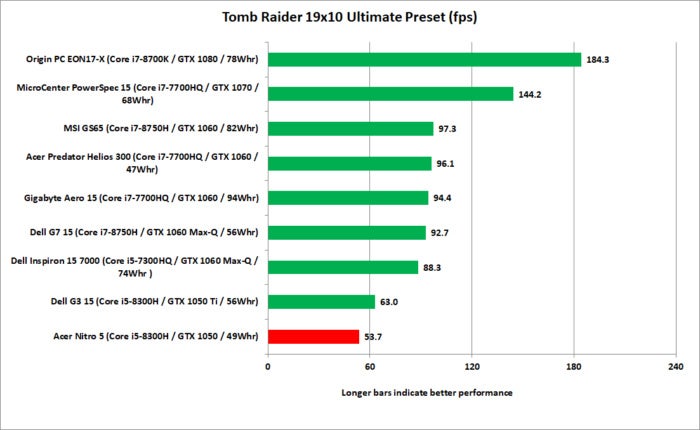 Now for something a little harder: Middle-earth: Shadow of Mordor at 1920×1080 and Ultra settings. The Acer Nitro 5 struggles a bit more, managing 47 fps and again bringing up the rear compared to laptops with huskier GPUs.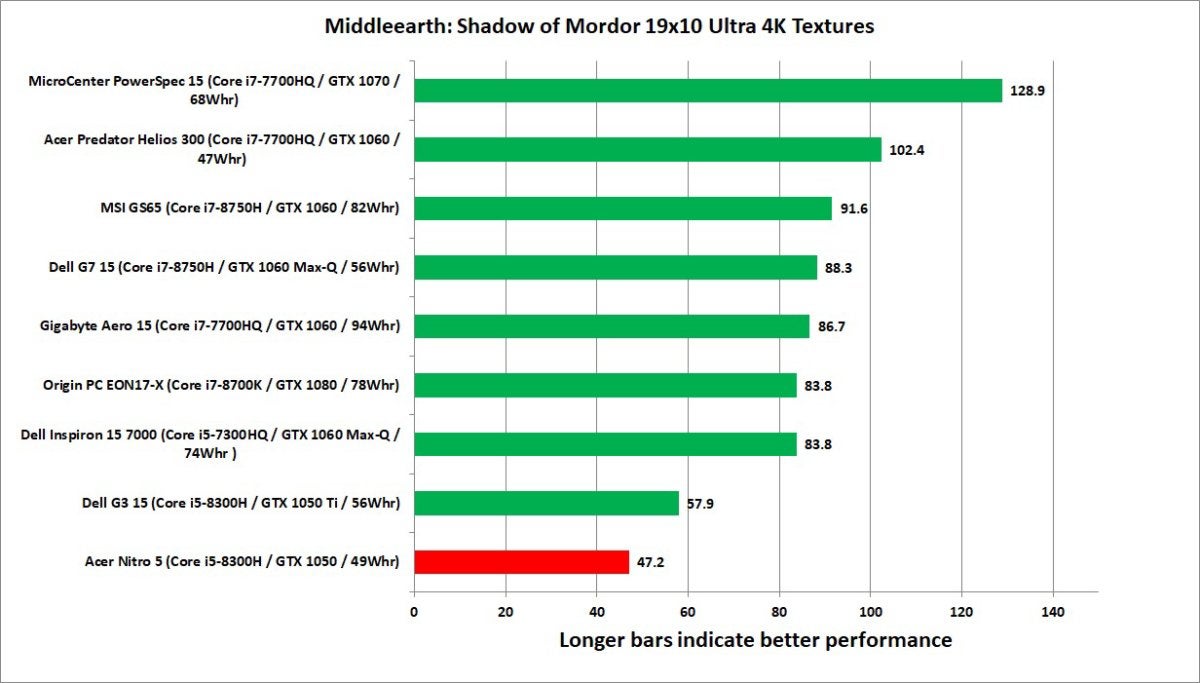 We could show you the Nitro 5 on Rise of the Tomb Raider, as we usually would, but the trend is the same. Pushed even harder by this graphically intensive game, the Acer Nitro 5 tries its best, reaching 39.2 fps and trailing all the better-equipped competition.
That's still solid gaming performance from a budget gaming laptop, albeit shy of 60-fps nirvana. For those craving buttery visuals on the Nitro 5, a little optimization through the GeForce Experience app managed to do the trick with just a few minimal compromises.
Battery life
You can't expect all-day battery life from a gaming laptop, and while the Acer Nitro 5 is no exception, we've seen much worse.
We test battery life in a laptop by looping a 4K video with screen brightness between 250-260 nits—which, for the Nitro 5, meant cranking its brightness setting all the way up—and with the volume set at 50 percent, headphones on.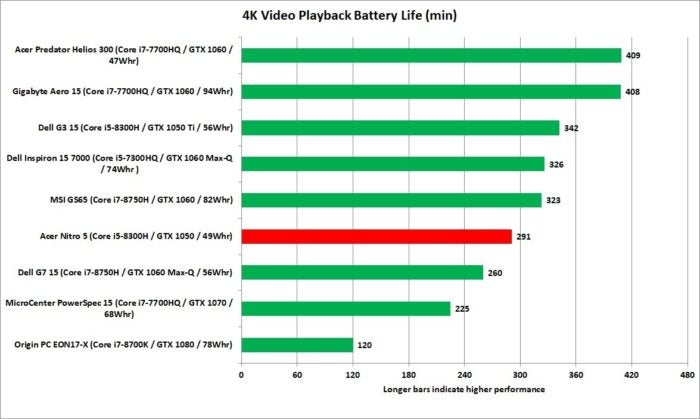 The result: about 291 minutes, or just under five hours. That's not too shabby given the Nitro 5's gaming focus and its middling 48Whr battery. Indeed, we've seen gaming laptops with larger batteries that could barely make it past the 90-minute mark. Nevertheless, you won't want to forget the Nitro 5's hefty power brick if you're taking it beyond your family room.
Conclusion
Budget gaming laptops don't get as much of a break as their mainstream cousins. They still face intense pressure to deliver. The Acer Nitro 5 is big and heavy, with so-so battery life and a fairly dim screen. But if you're shopping for a gaming laptop that can handle AAA titles without breaking the bank, the Acer Nitro 5 delivers the goods.
Best Prices Today: Acer Nitro 5 AN515-53-52FA (Core i5-8300H, 1TB HDD)